Hikkaduwa
"I come to this place every year during 7 years."
"For real? Do you like it so much?"
"Indeed. Hikkaduwa is a paradise."
Hikkaduwa is the most popular resort in Sri Lanka.
This is an ordinary tropical village on the Indian Ocean, stretching for five kilometers along the coastline, not far from the city of Galle.
The majority of Hikkaduwa has single-story buildings.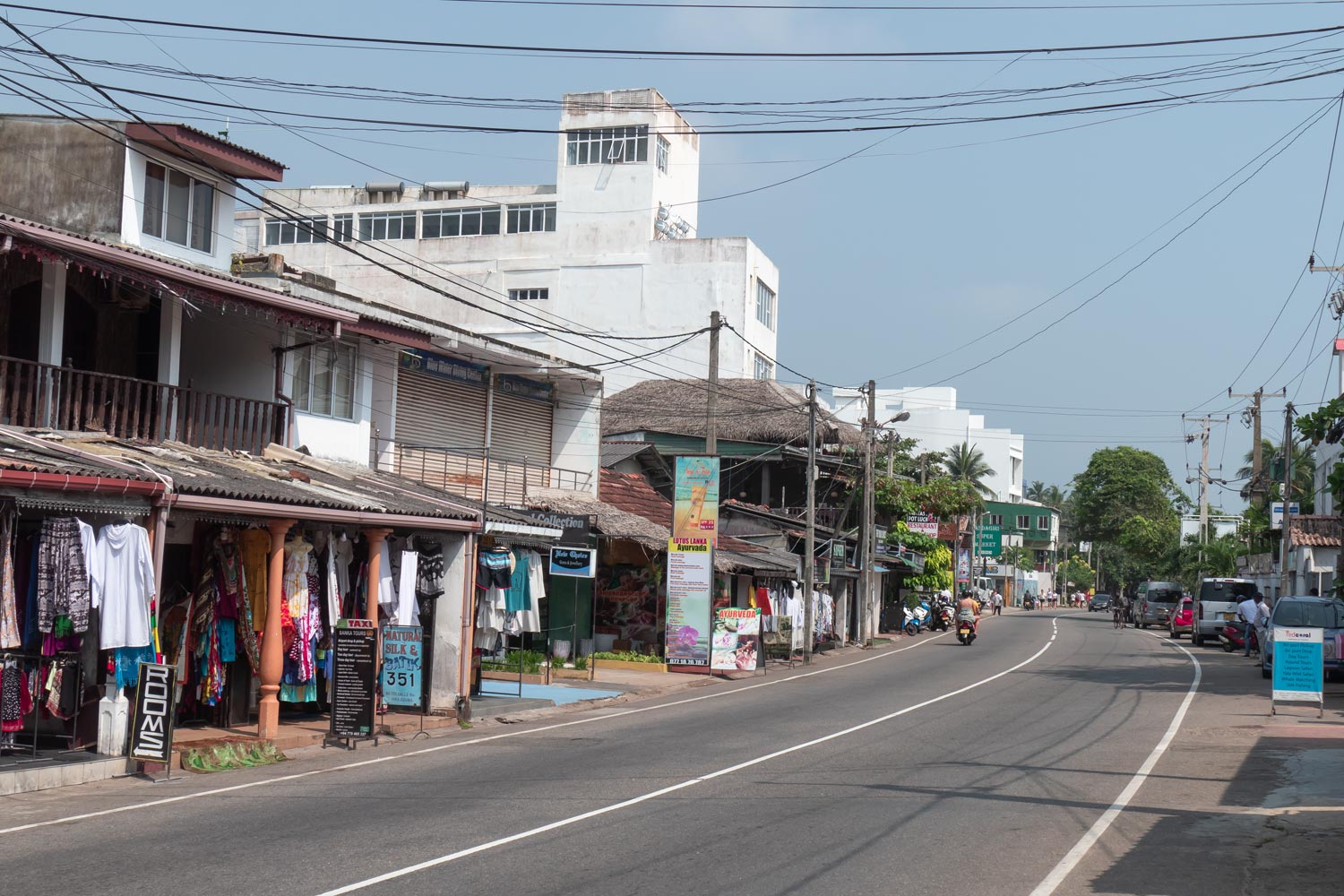 Occasionally, there are multi-story buildings, mostly hotels.
Hikkaduwa stretches along the Indian Ocean coast, and a narrow road runs along the same coast, connecting all the western coast of Sri Lanka.
Buses run along the road, on which you can get to Colombo or Galle. They are not too comfortable, often overcrowded and without air conditioning. But it is not needed: the bus rushes at a crazy speed, and the wind blows through the window with the force of a fan.
If you have to wait too long for the bus, a tuk-tuk scooter will always come to the rescue.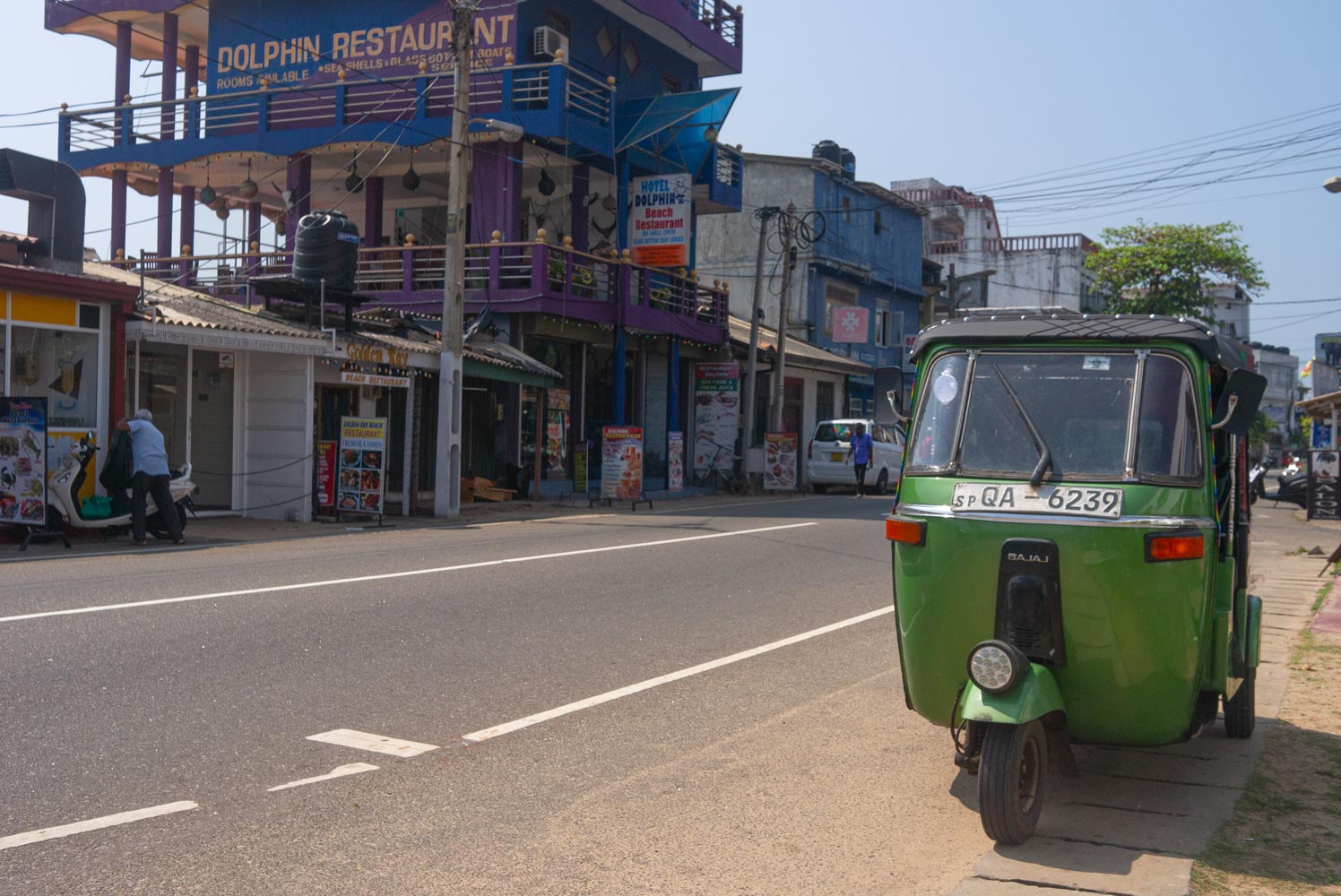 Along the road, there are local boutiques where you can buy any type of tropical clothing, as well as restaurants and cafes.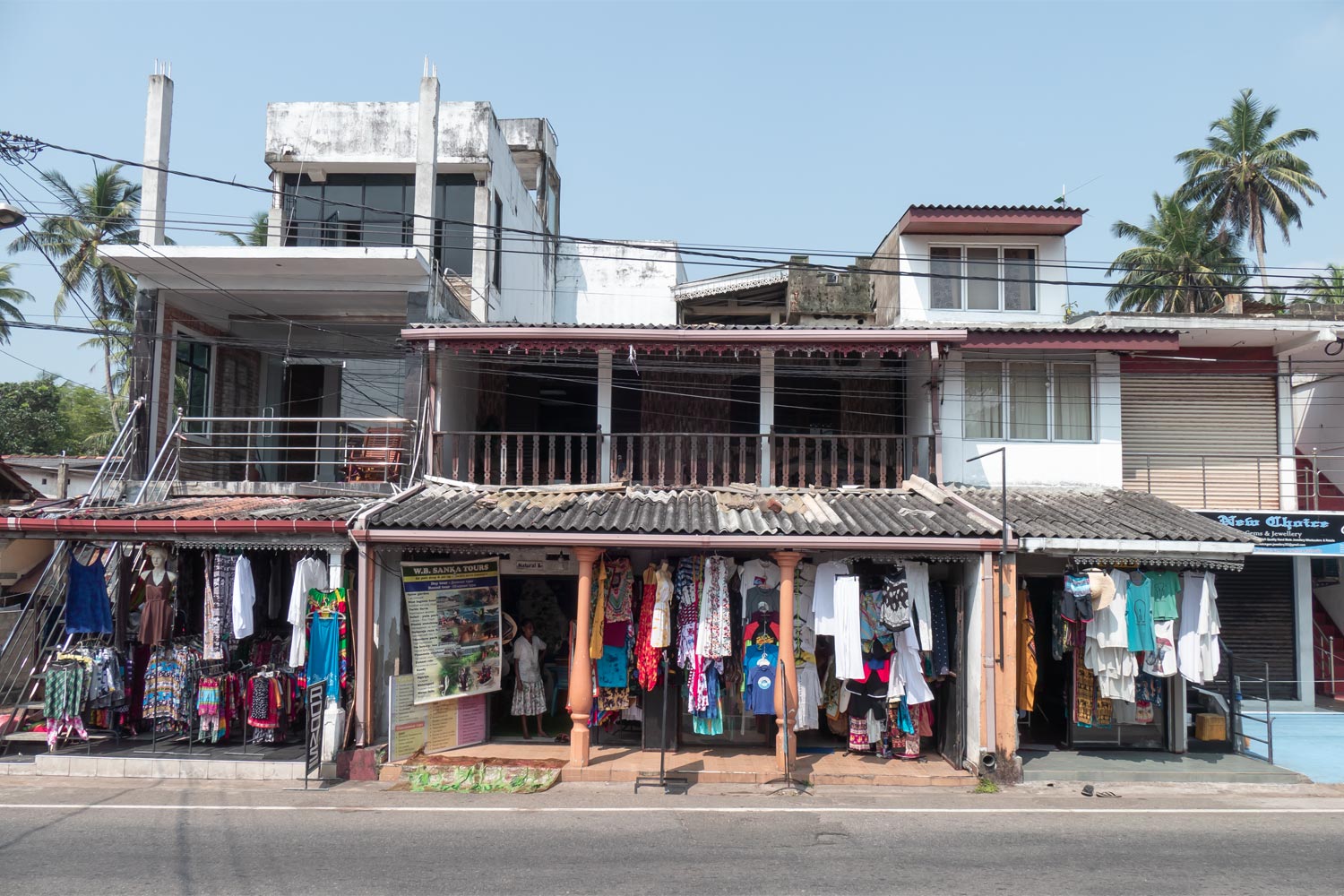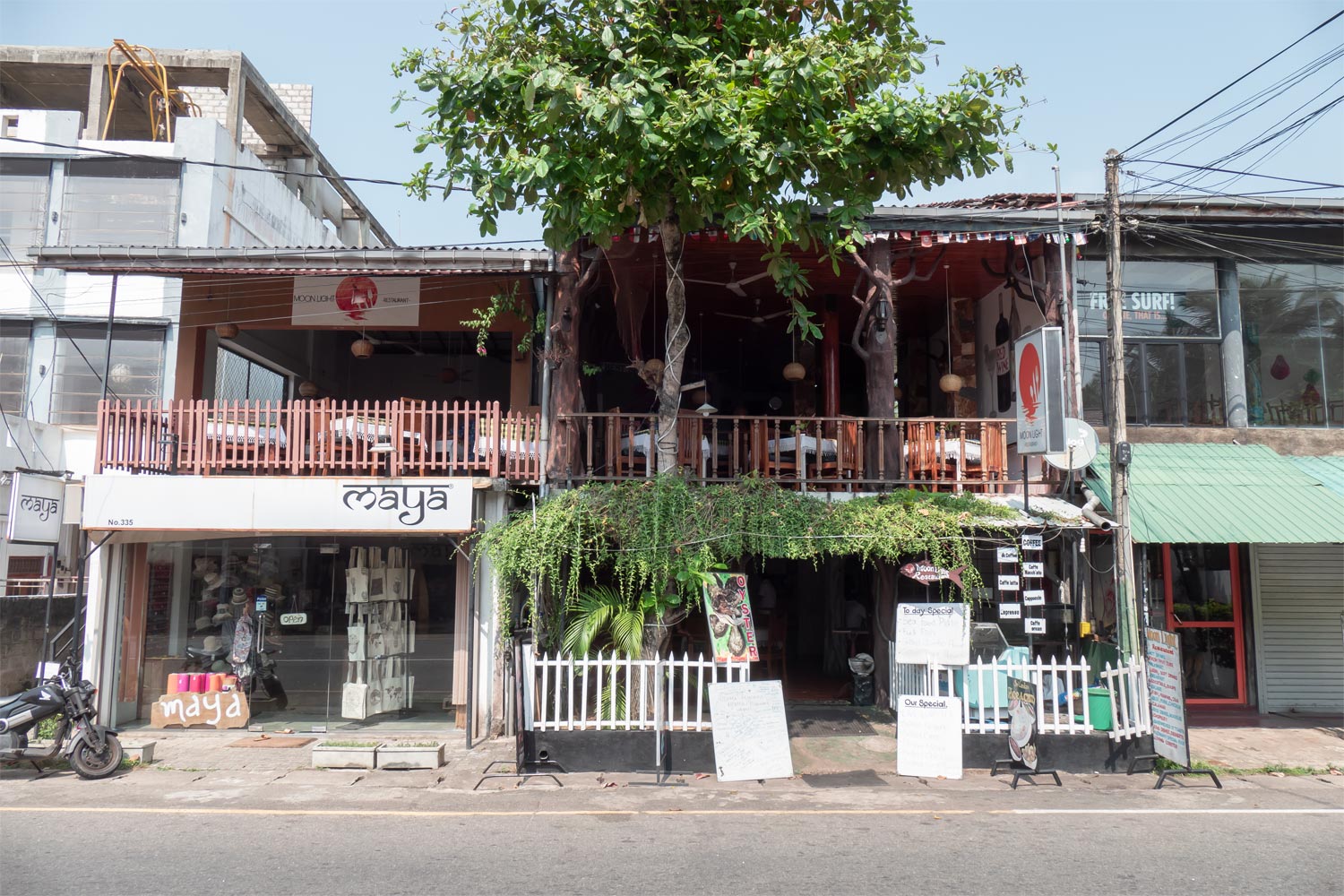 In Hikkaduwa's establishments, you can find anything.
Here they serve pizza, hamburgers, steaks (including beef), salads, mixes of vegetables and fruits, dumplings, stuffed cabbage rolls, Thai soups, Italian ragu, Spanish paellas, shrimp and octopus rice, chicken noodle soup with shredded ginger, french fries, mashed potatoes, kebabs, crabs, mollusks, a dozen types of fish, a dozen types of juice, tea, coffee, and cookies.
Cafes usually look like sheds, but the food is delicious almost everywhere.
Prices in restaurants may vary, but not by a lot. Sri Lanka is a socialist state; perhaps that's why the price in a restaurant on the ocean shore is only slightly higher than in a cafe in the middle of the island.
The prices themselves are very, very low. Especially after Sri Lanka suffered a default.
For example, a shark steak with french fries and salad leaves in a restaurant on the Indian Ocean shore cost only 1200 rupees. At the current exchange rate, it is only 4 dollars. The shark was caught that same morning.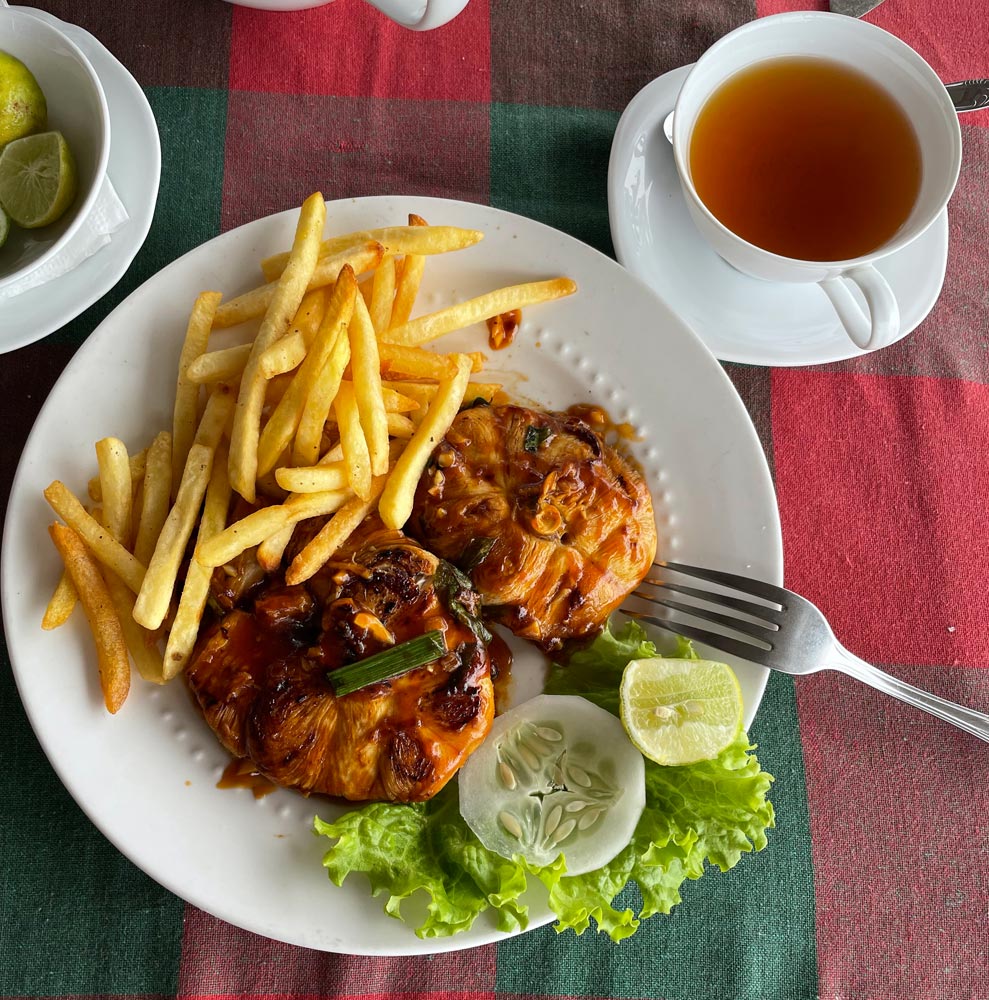 This is ordinary food. As for delicacies like lobster, the price of one sea creature is around 8-10 thousand rupees, depending on the weight. It's approximately 25 dollars. The required lobster will be caught from the aquarium upon the customer's request.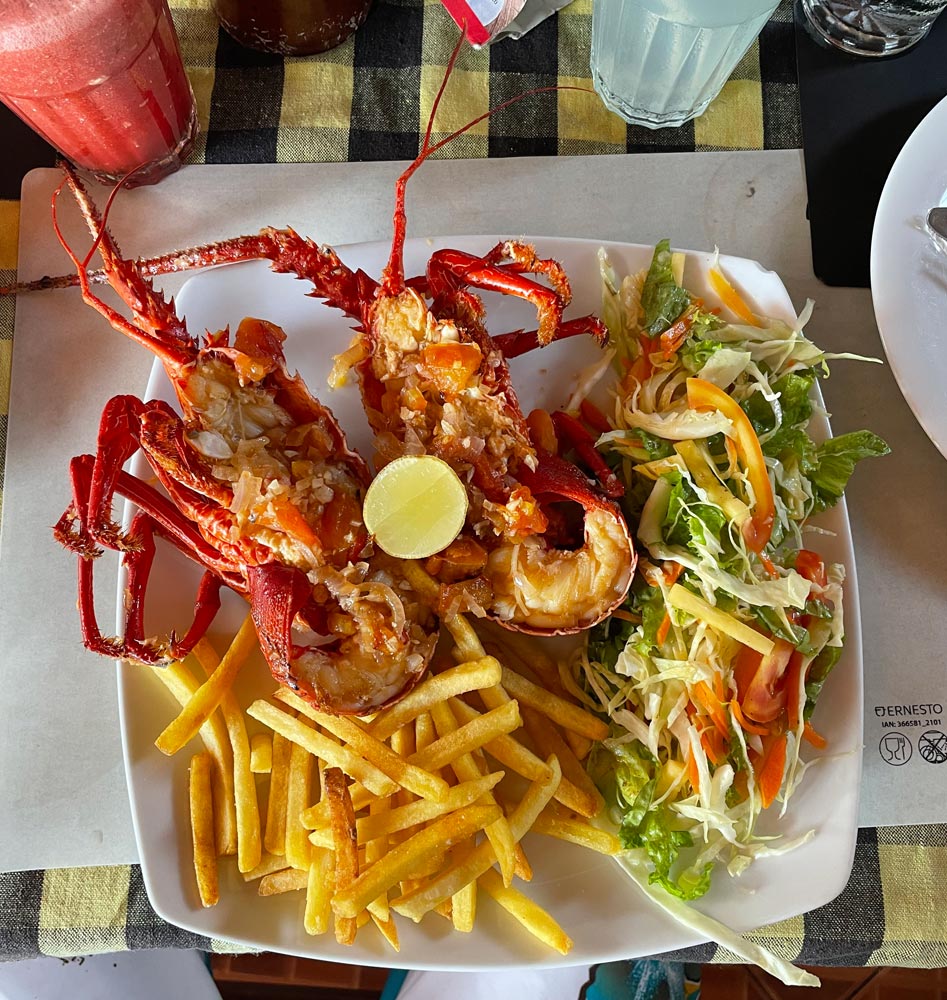 And the markets in Hikkaduwa are full of seafood. Here you can buy a kilogram of fish for 3-5 dollars and a kilogram of shrimp for 5-7 dollars, right from the counters. The entire catch is swept away within a few hours, so refrigerators are not needed.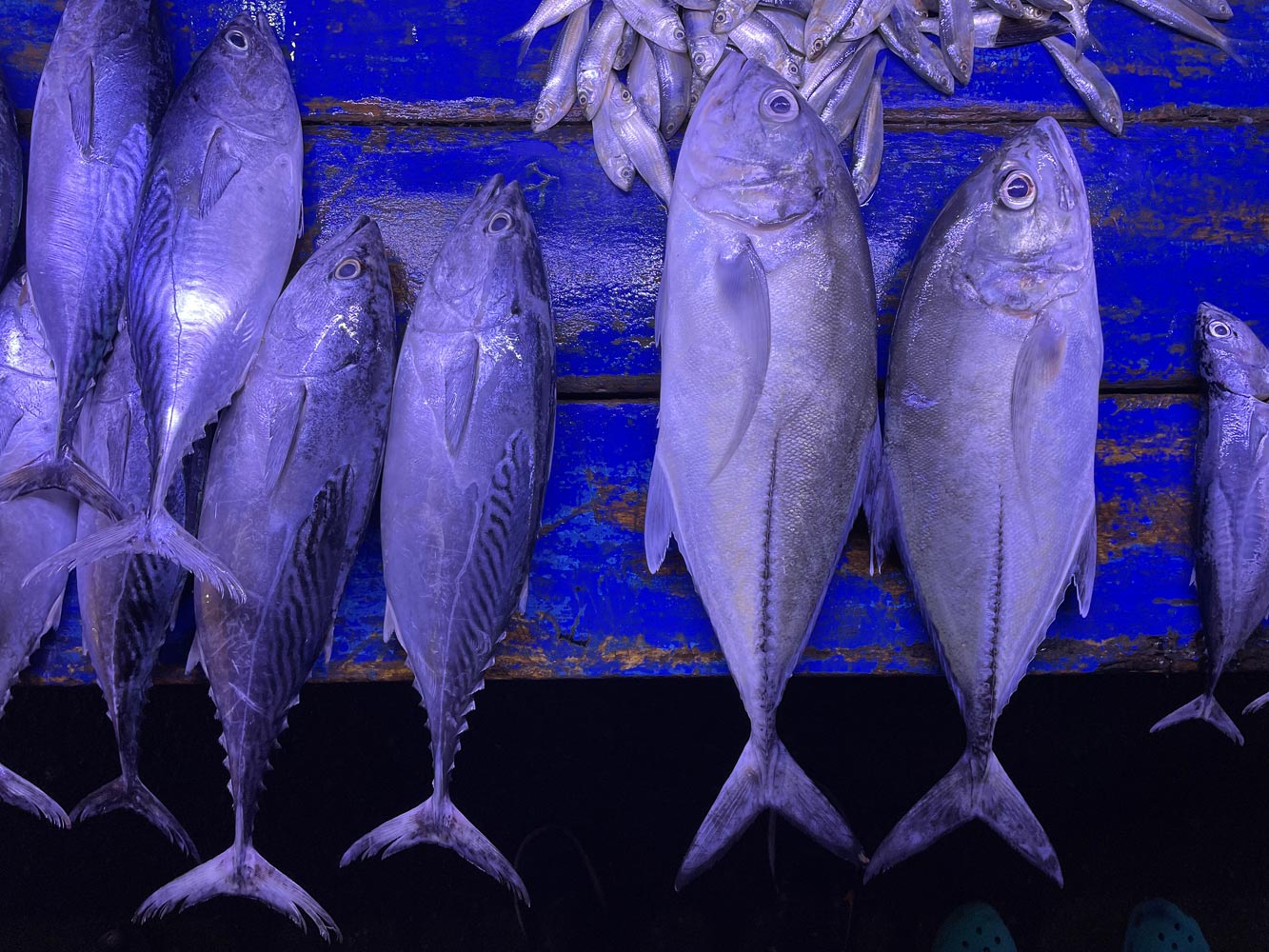 But still, the main thing in Hikkaduwa is the beach.
During my endless travels in 2022, I saw many beaches. Phuket, Bali, Nice — they pale in comparison to Hikkaduwa. Sri Lanka's beaches are a true paradise on earth.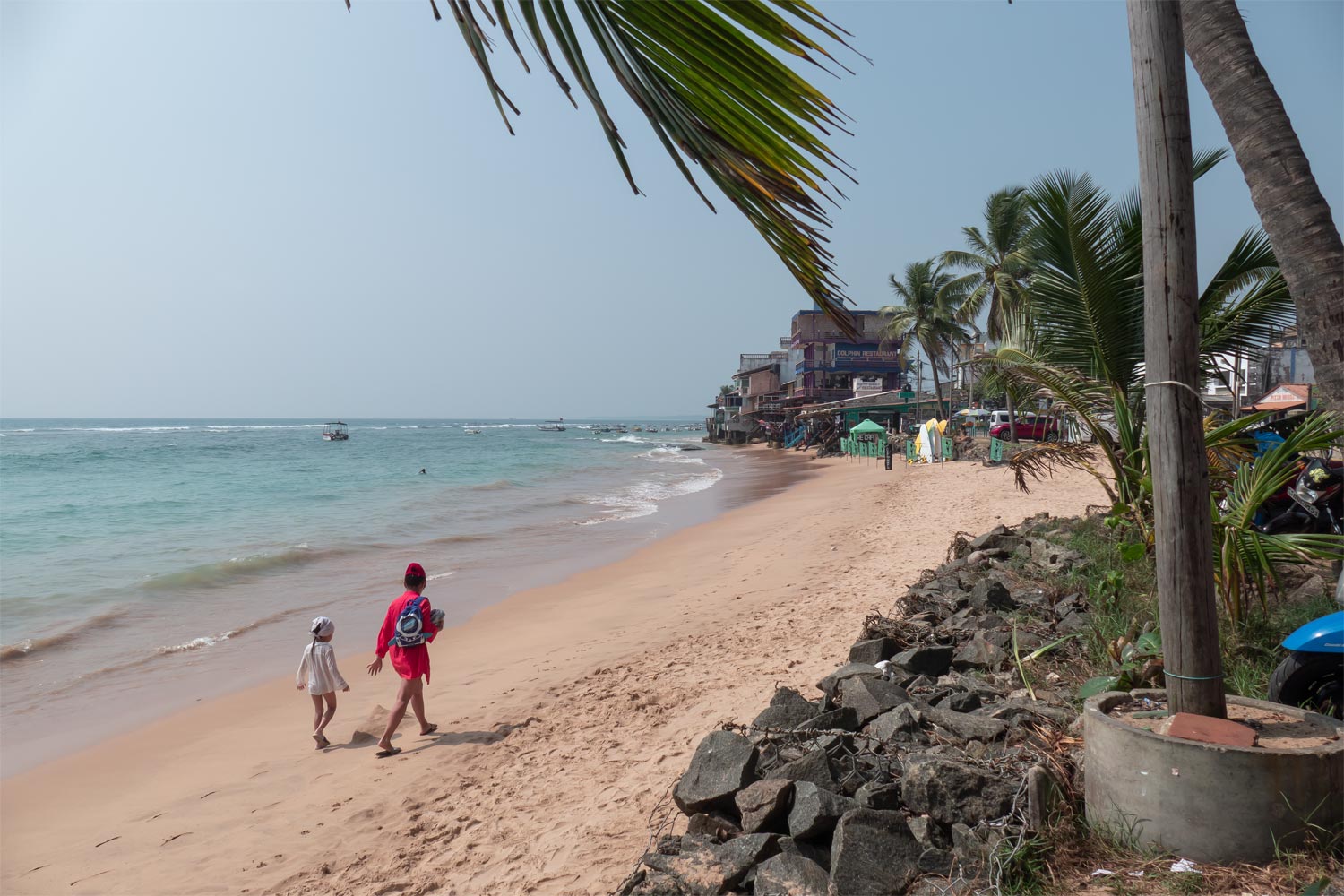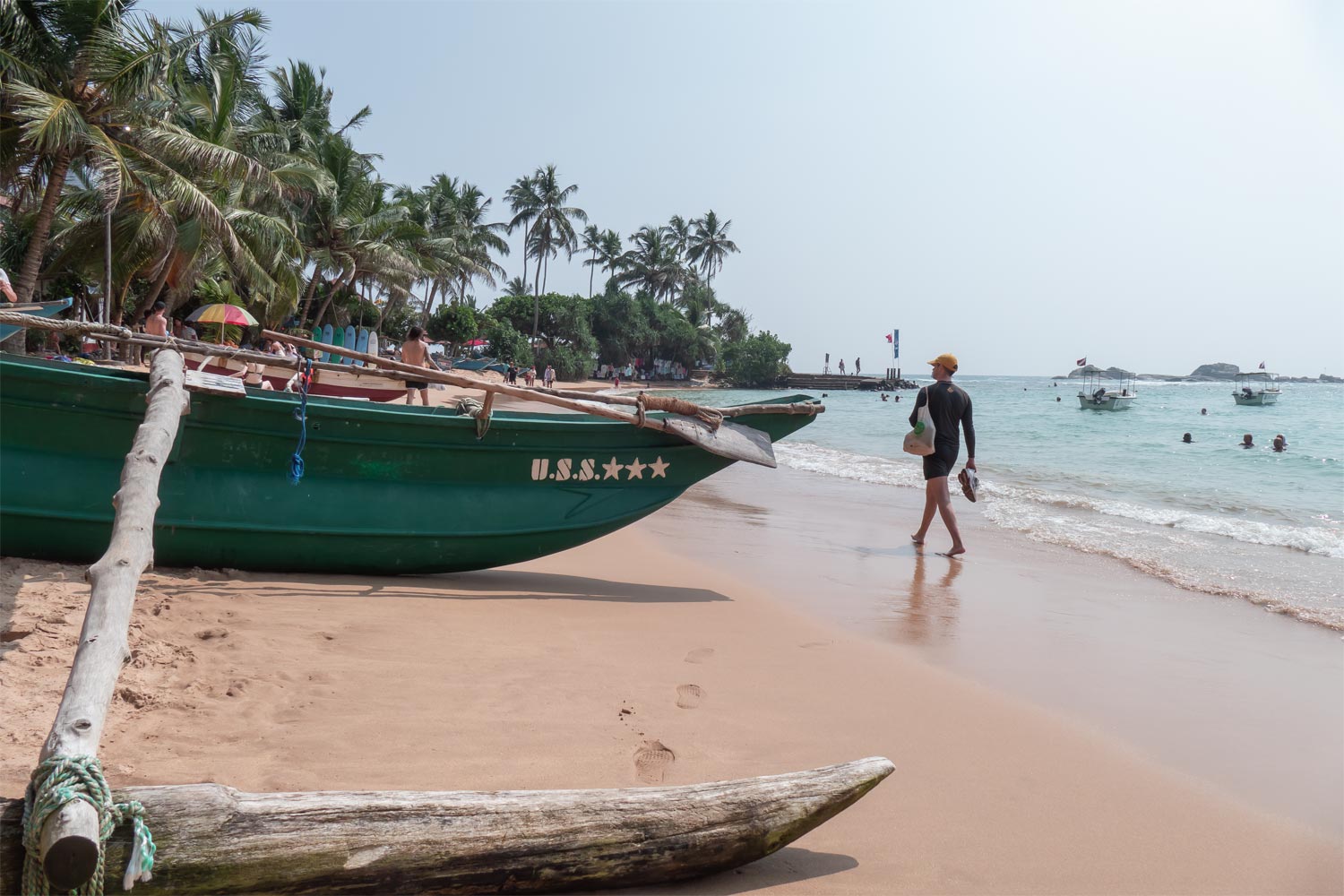 In addition to the fact that the Indian Ocean splashes around Sri Lanka, and palm trees grow on the shore, the beaches have everything the reader has seen in the movies: moored boats, lifeguard huts, surf schools, kiosks with cold coconuts.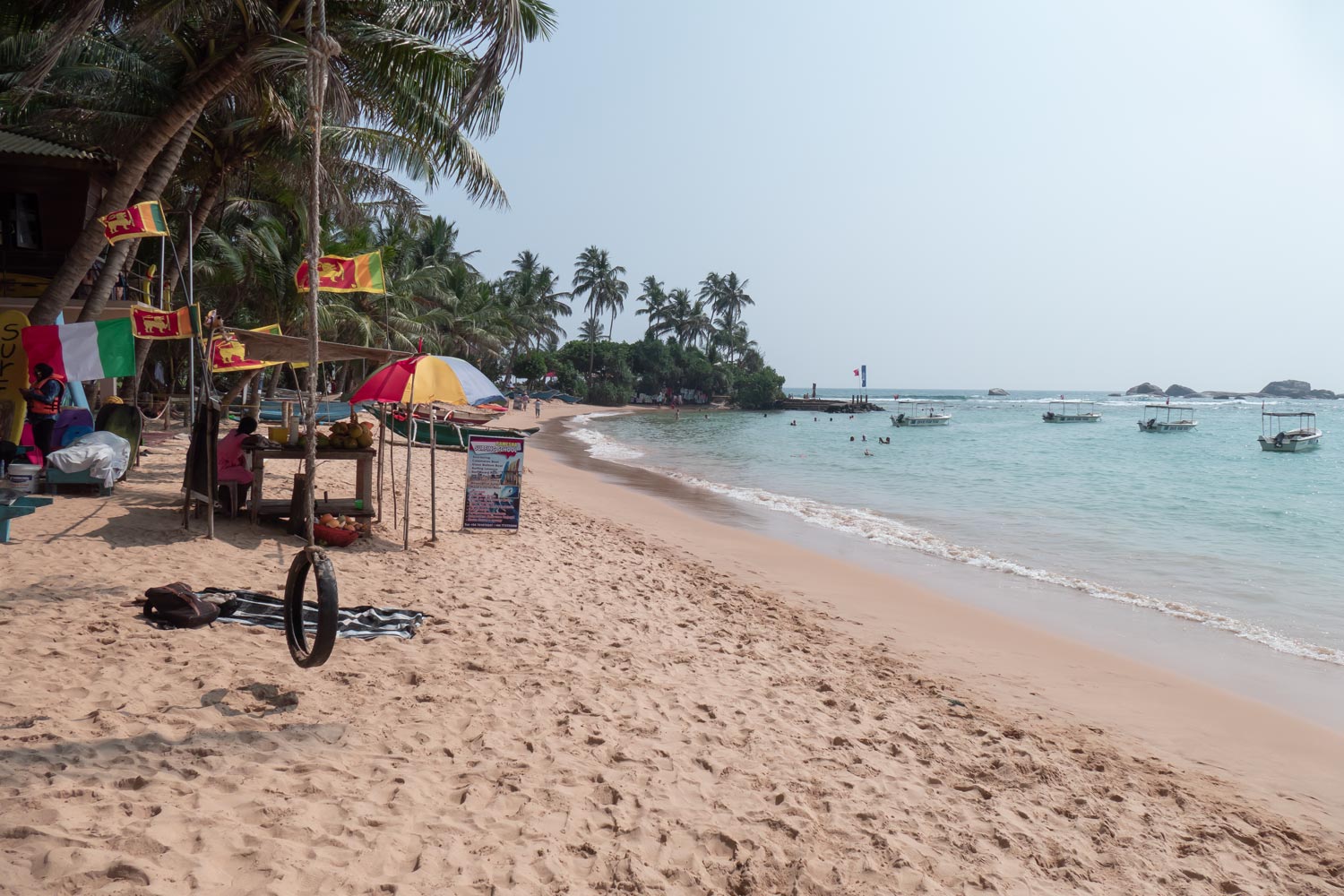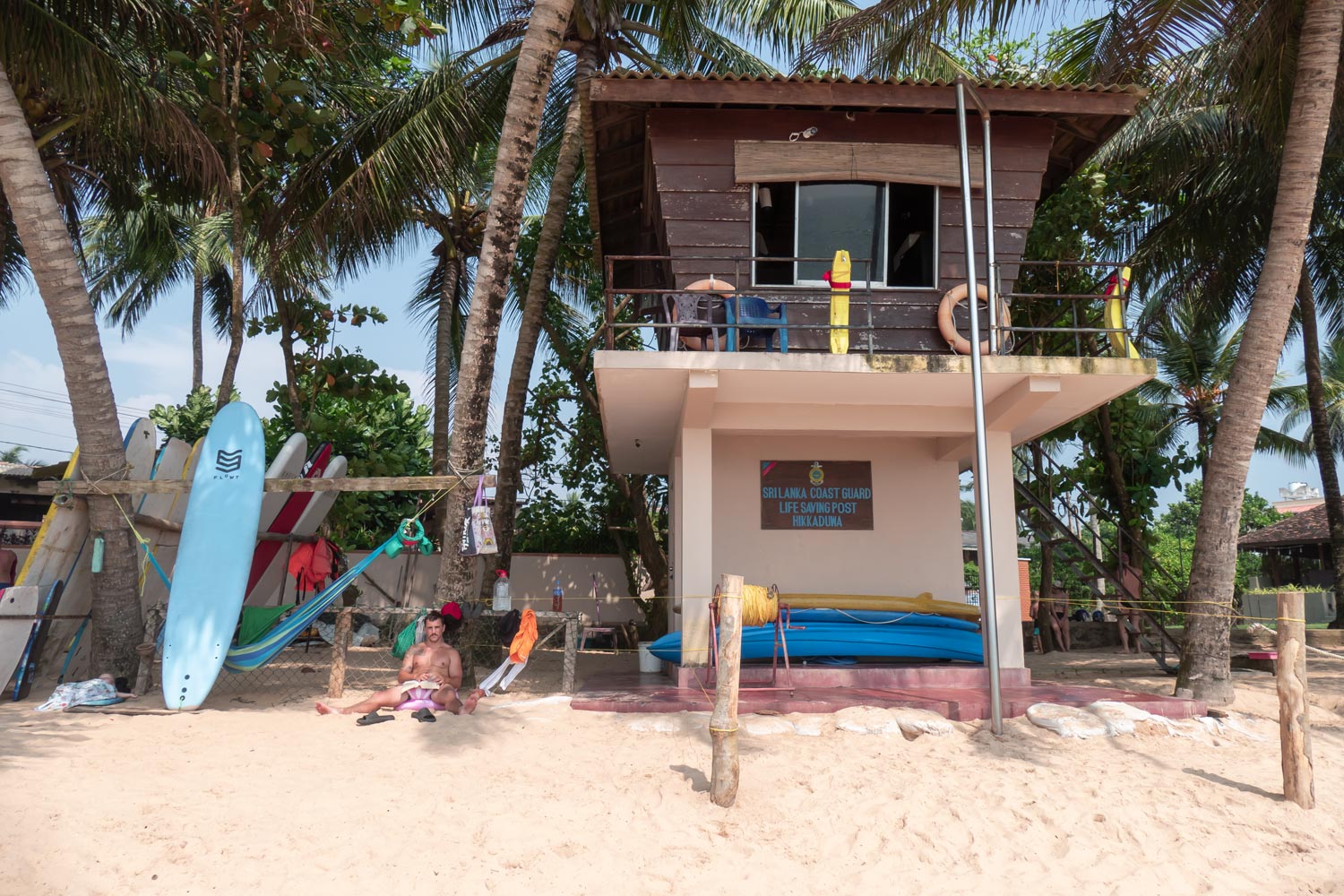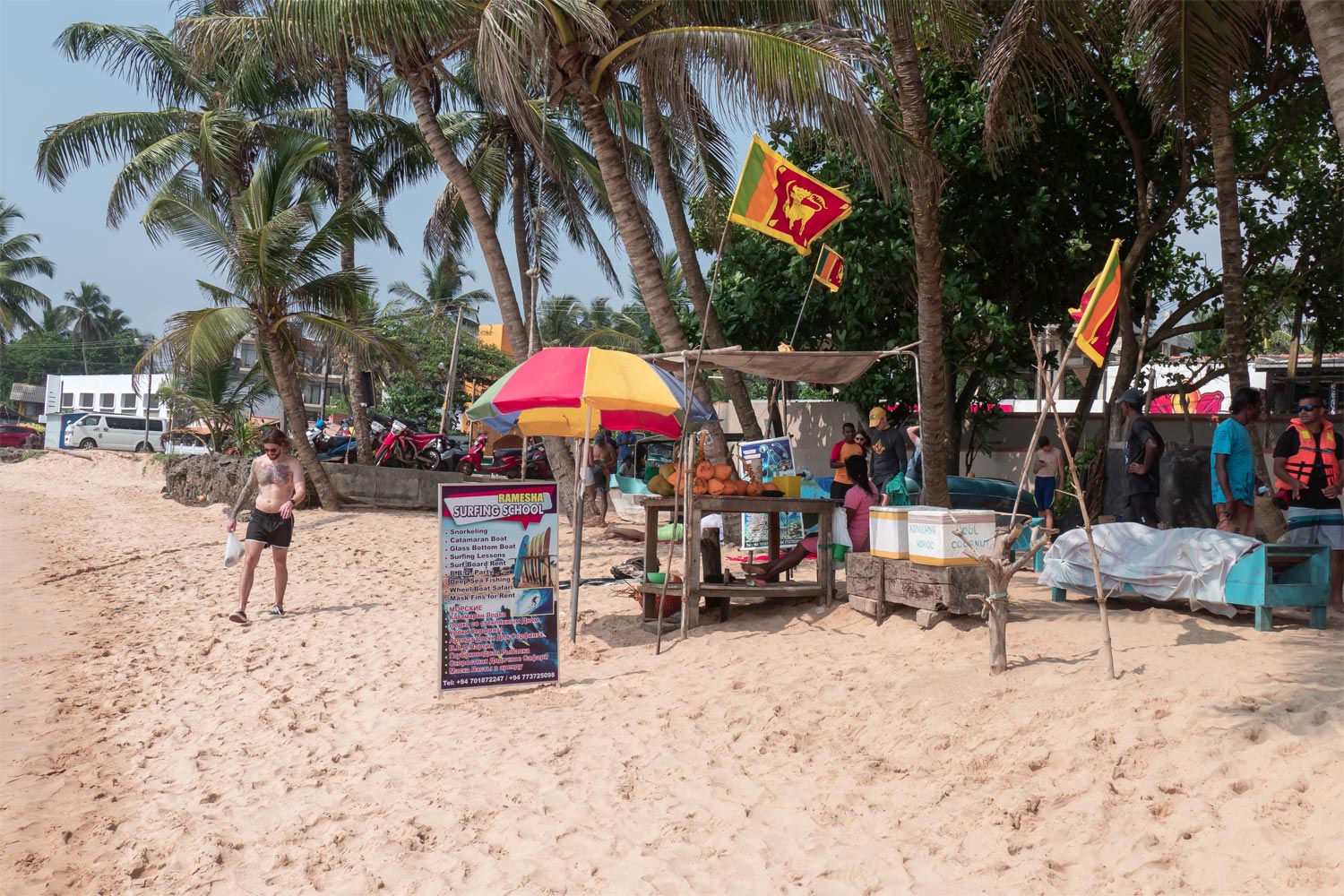 Almost the entire coastline is occupied by restaurants that are not just located close to the shore, but sometimes even extend into the ocean, supported by wooden poles.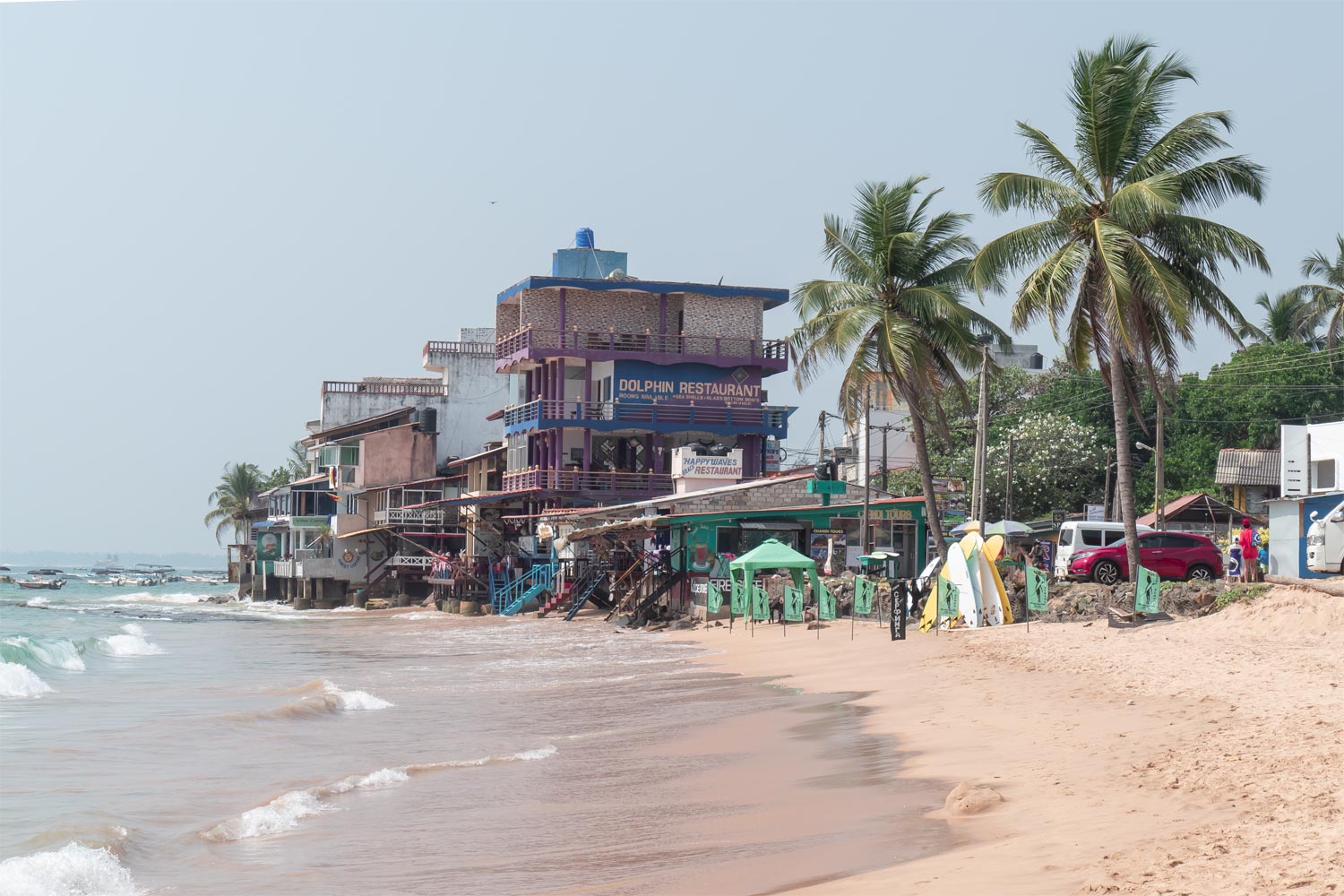 Sometimes the ocean can be stormy. In this case, it is difficult to swim on a wild beach due to the waves. But in Hikkaduwa, there is Hikkaduwa Beach, where a coral reef was fortunately found. There are no waves on this beach, even in bad weather.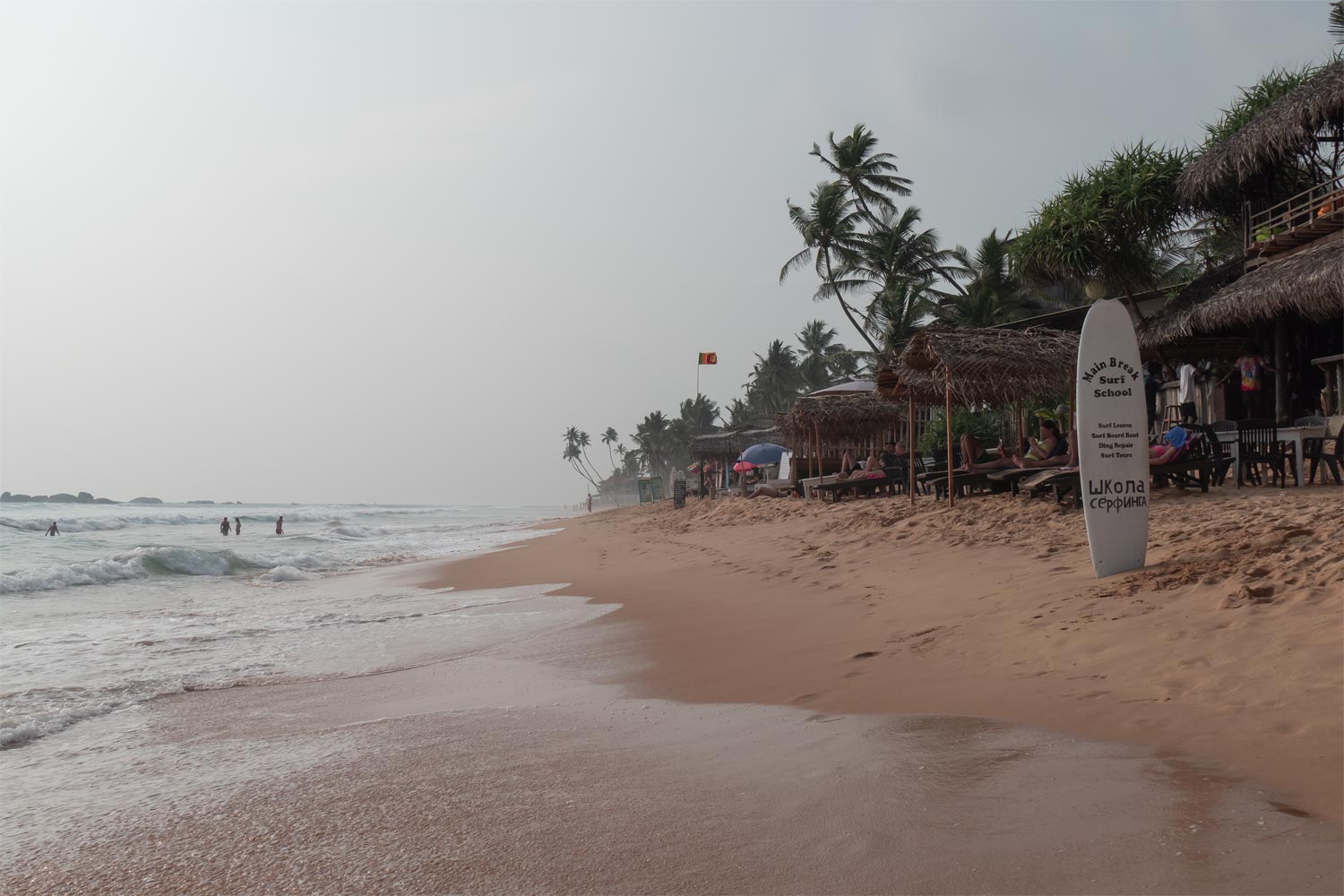 Next to it is Turtle Beach — a beach named for the giant green turtles that live there.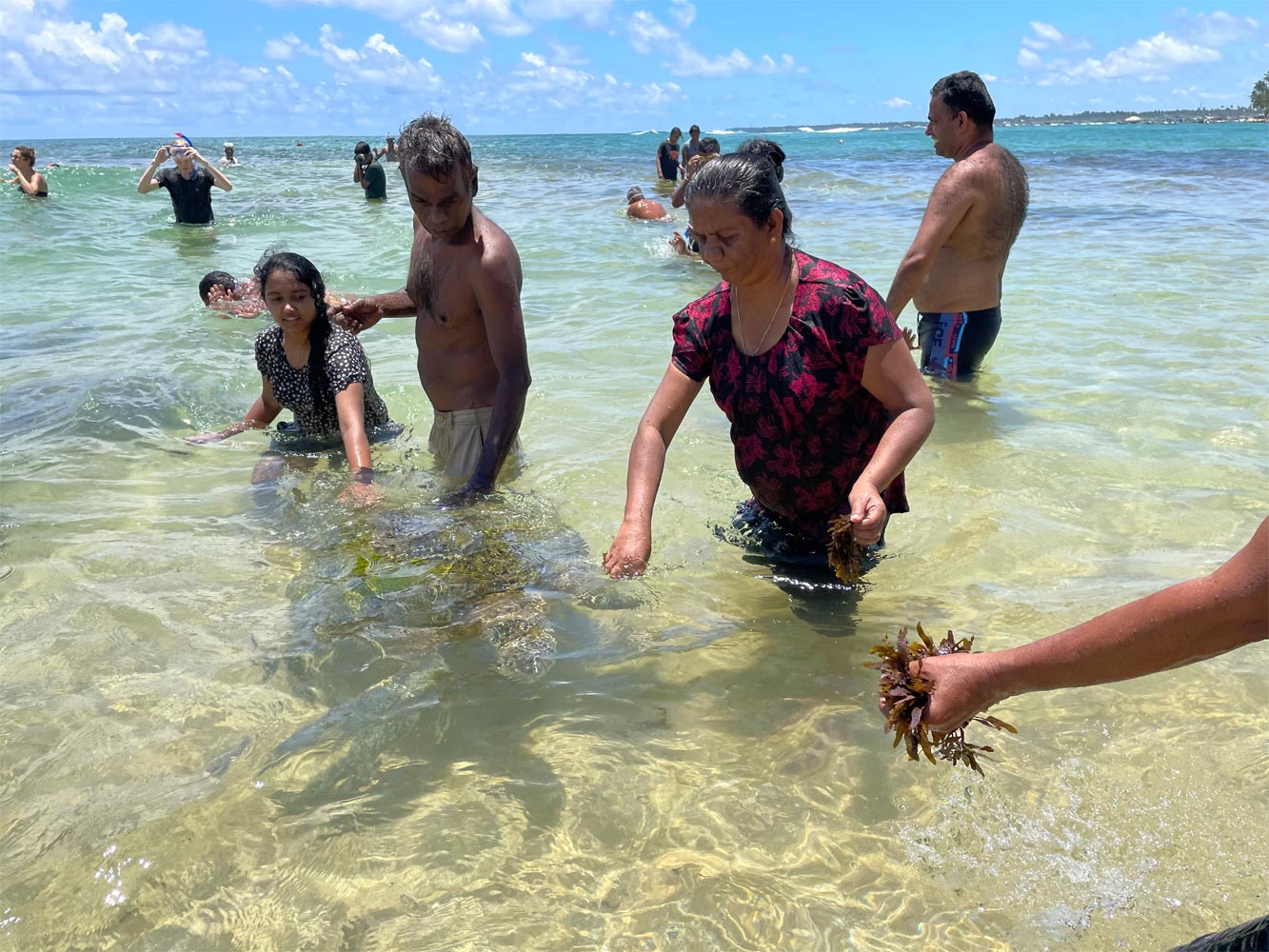 Local residents have been feeding the turtles with seaweed for many years and sell this service to tourists.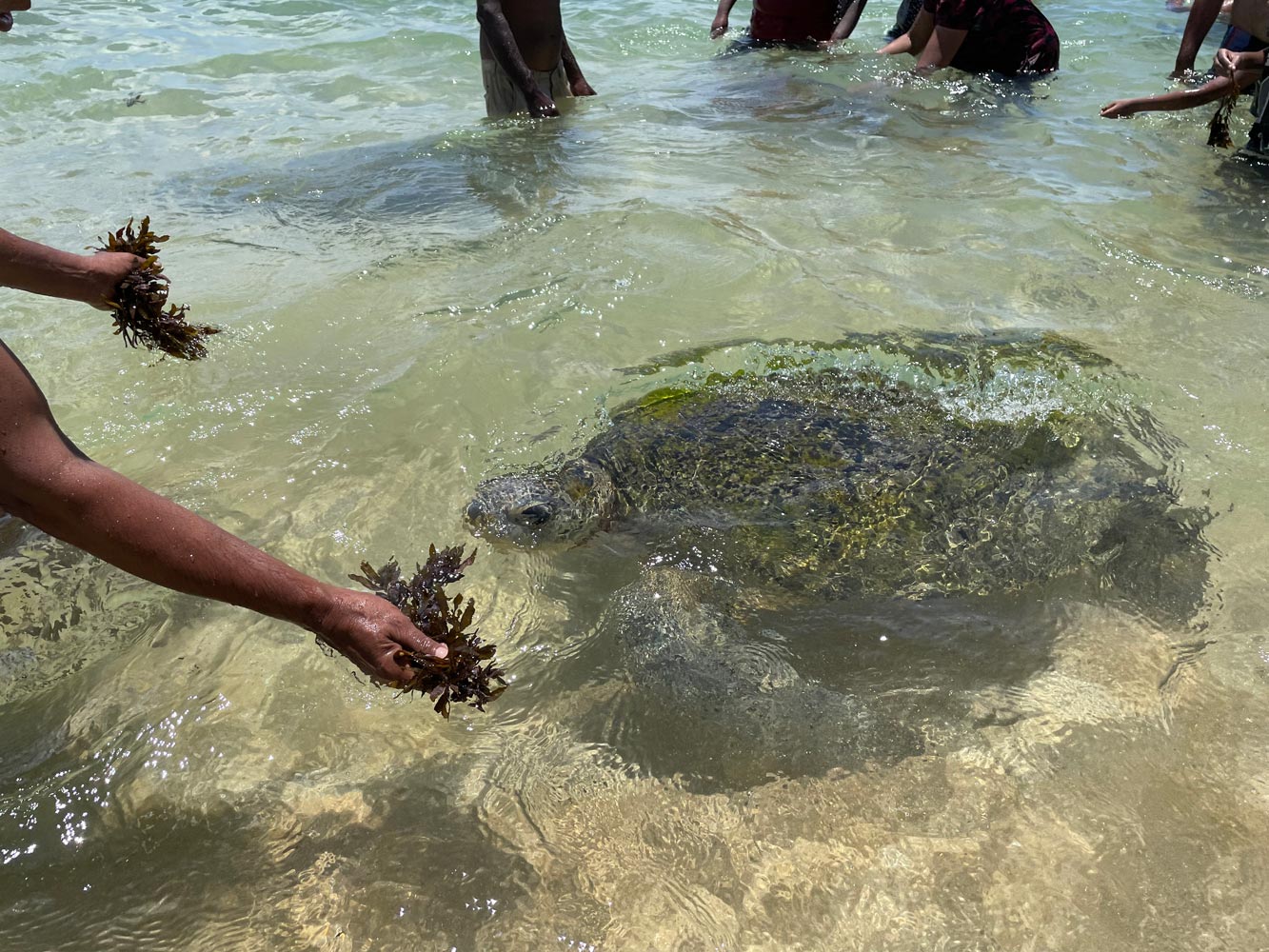 There are about a dozen turtles on the beach. You can swim with them, but be careful: a wave can carry away the turtle, and it may hit your leg with its shell, causing pain.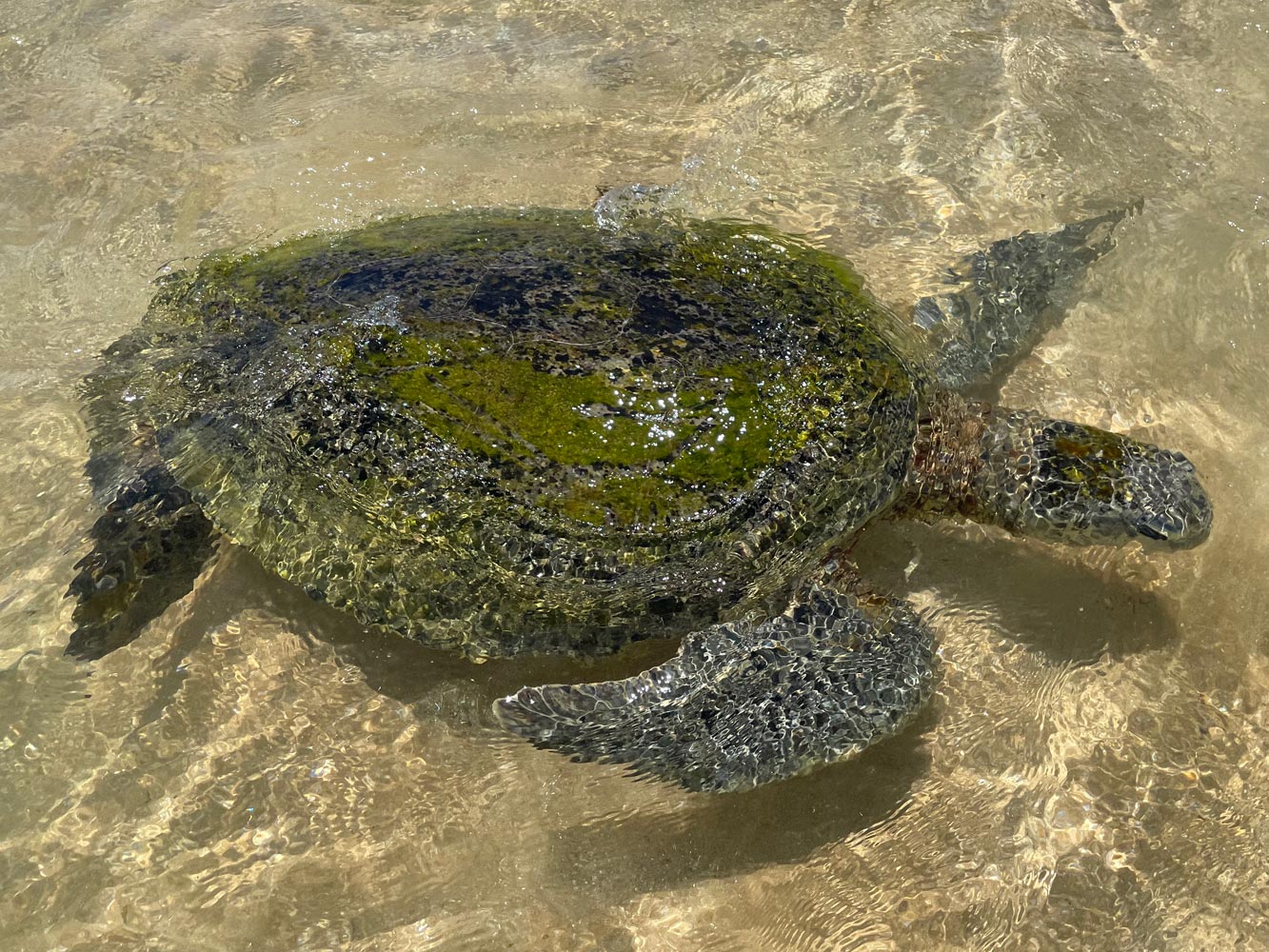 Living in paradise is very cheap. A modern villa with an area of 100 square meters, three bedrooms, three air conditioners, a kitchen, and a garden costs $500-800 per month, depending on the location and level of luxury. For such money, it's not possible to rent even a one-room apartment in every country, but here you can rent a whole villa.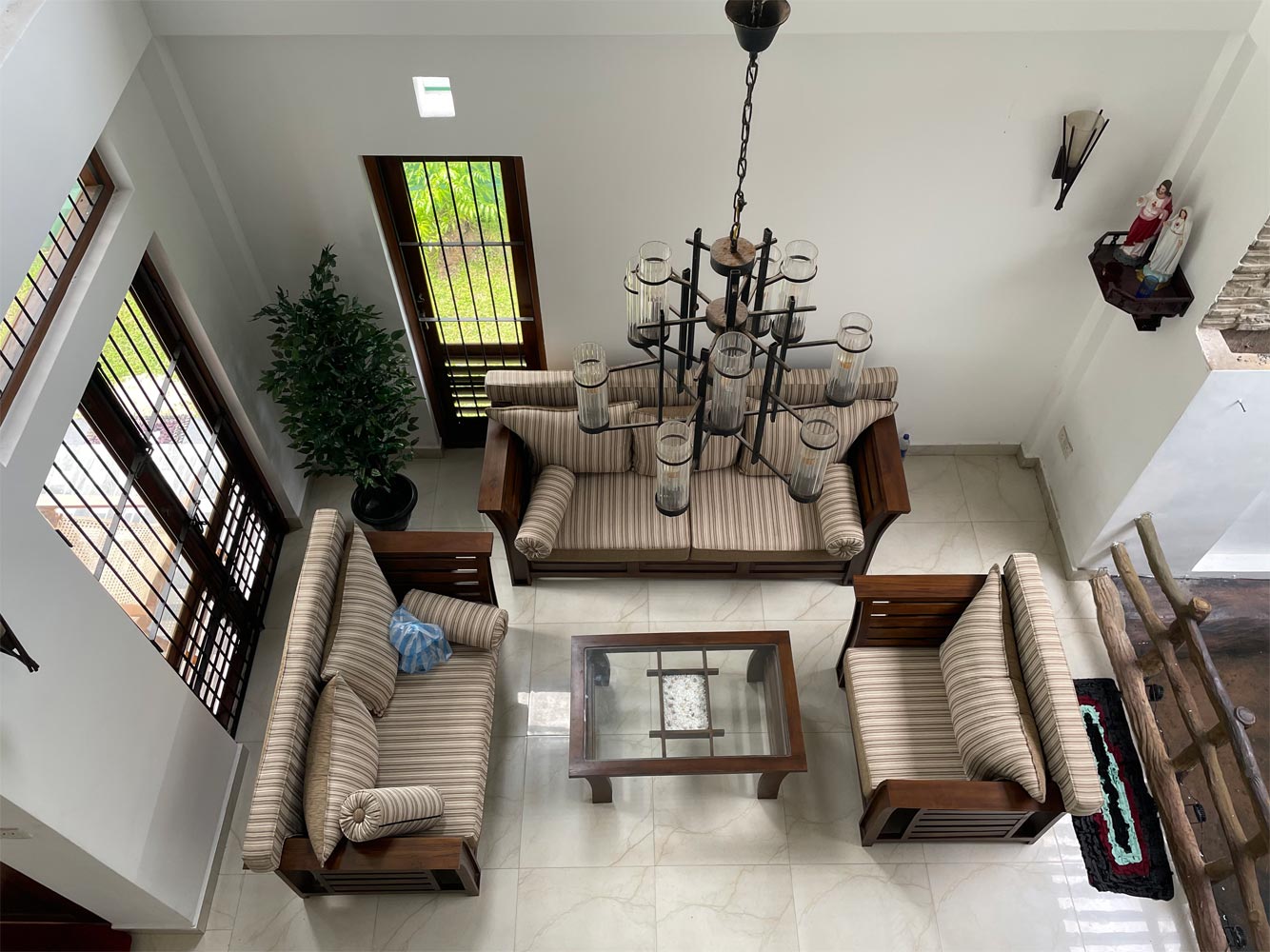 Iguanas are found in the villas. They are not dangerous if not provoked.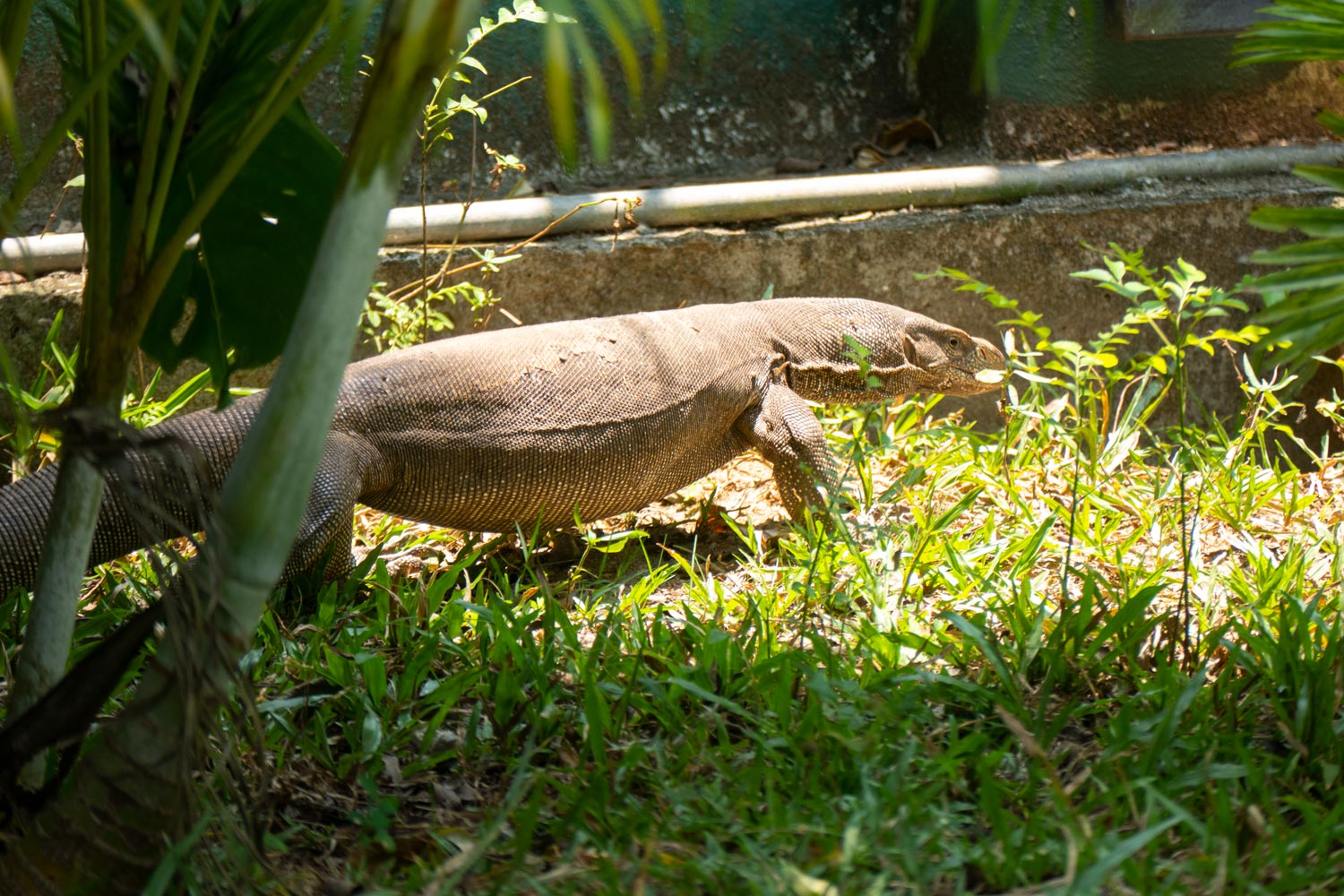 Squirrels jump along the branches.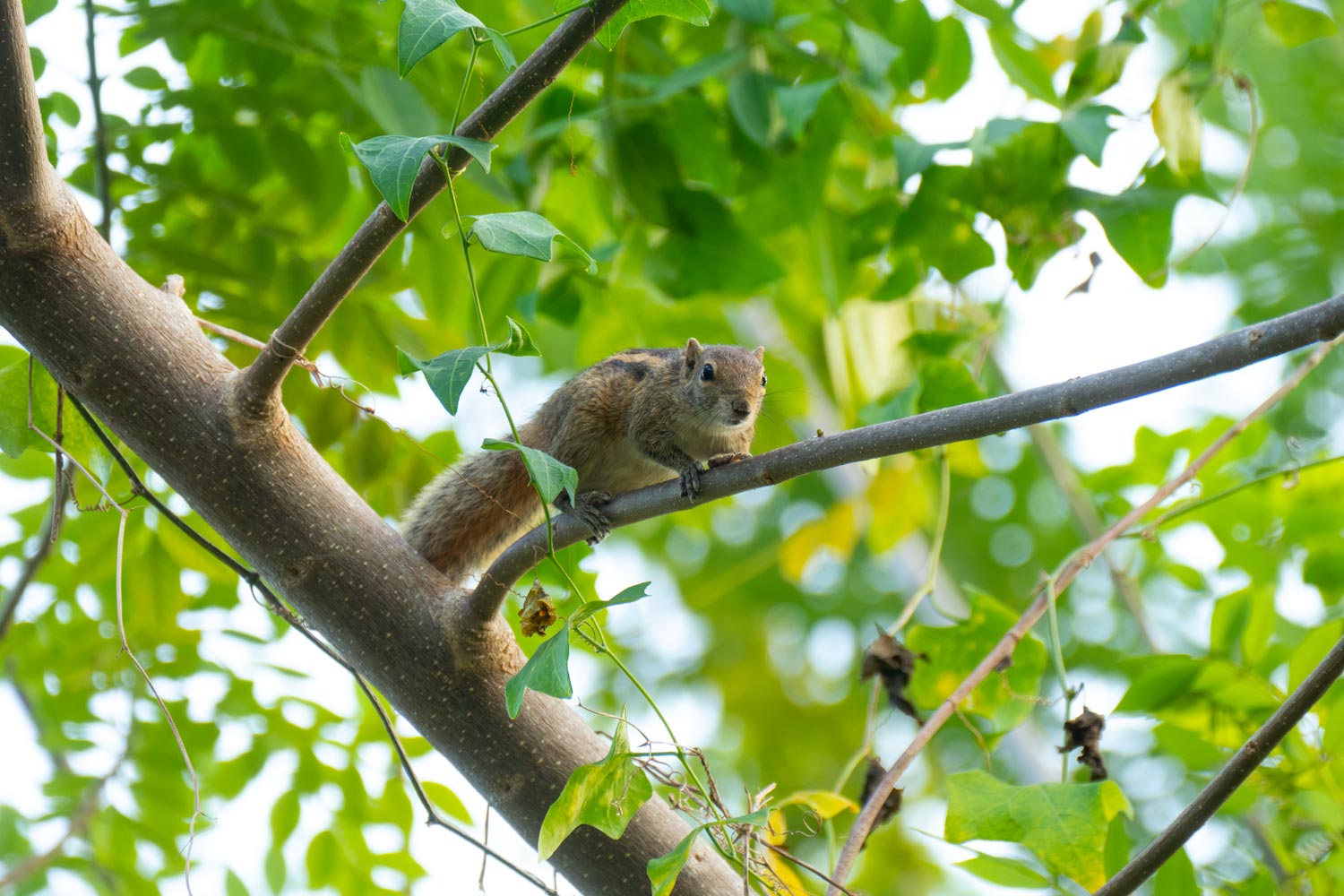 Mongooses go about their own business.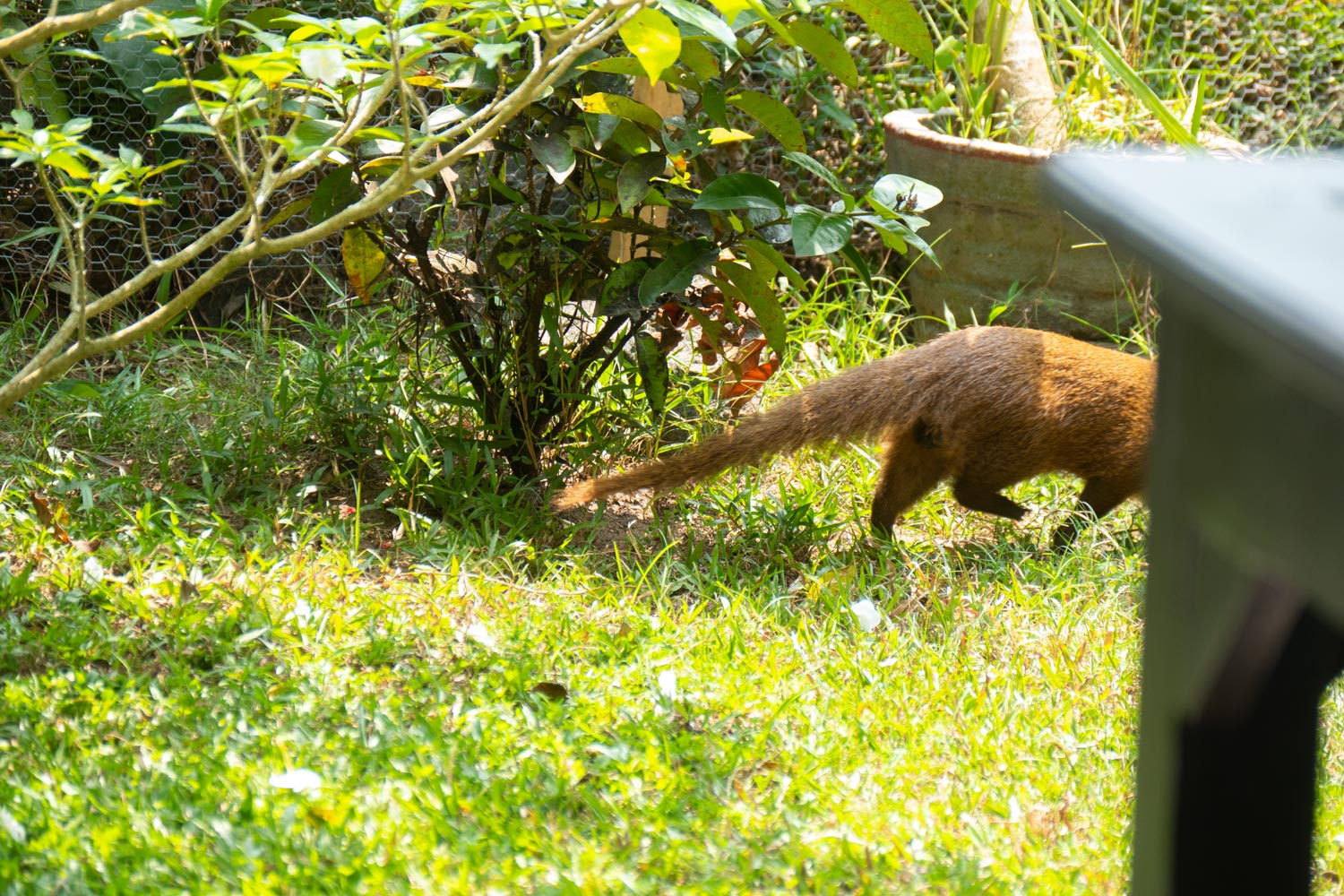 Cicadas and crickets chirp in the bushes.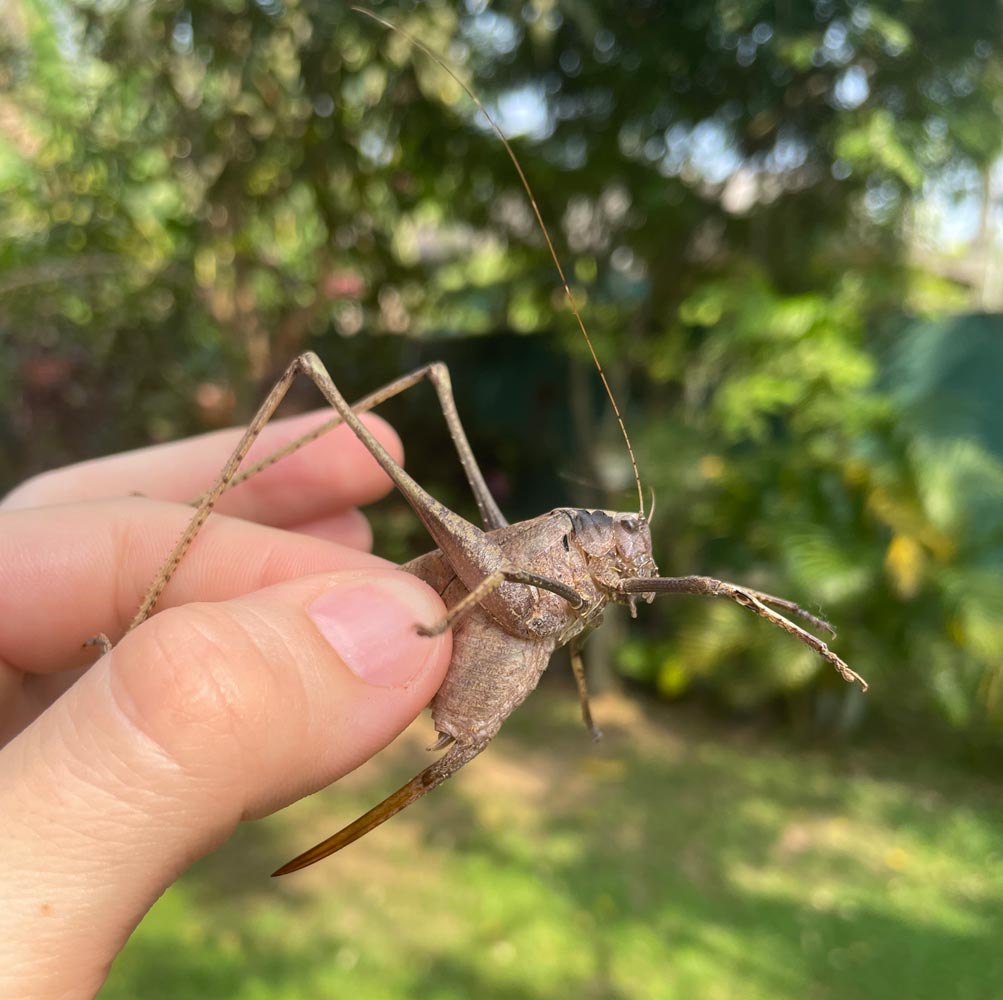 And a poisonous spider can easily be found on the curtain. It is also not dangerous. Even if you try to catch it, it will just run away. I checked. The spider can only be provoked by pushing it into corner.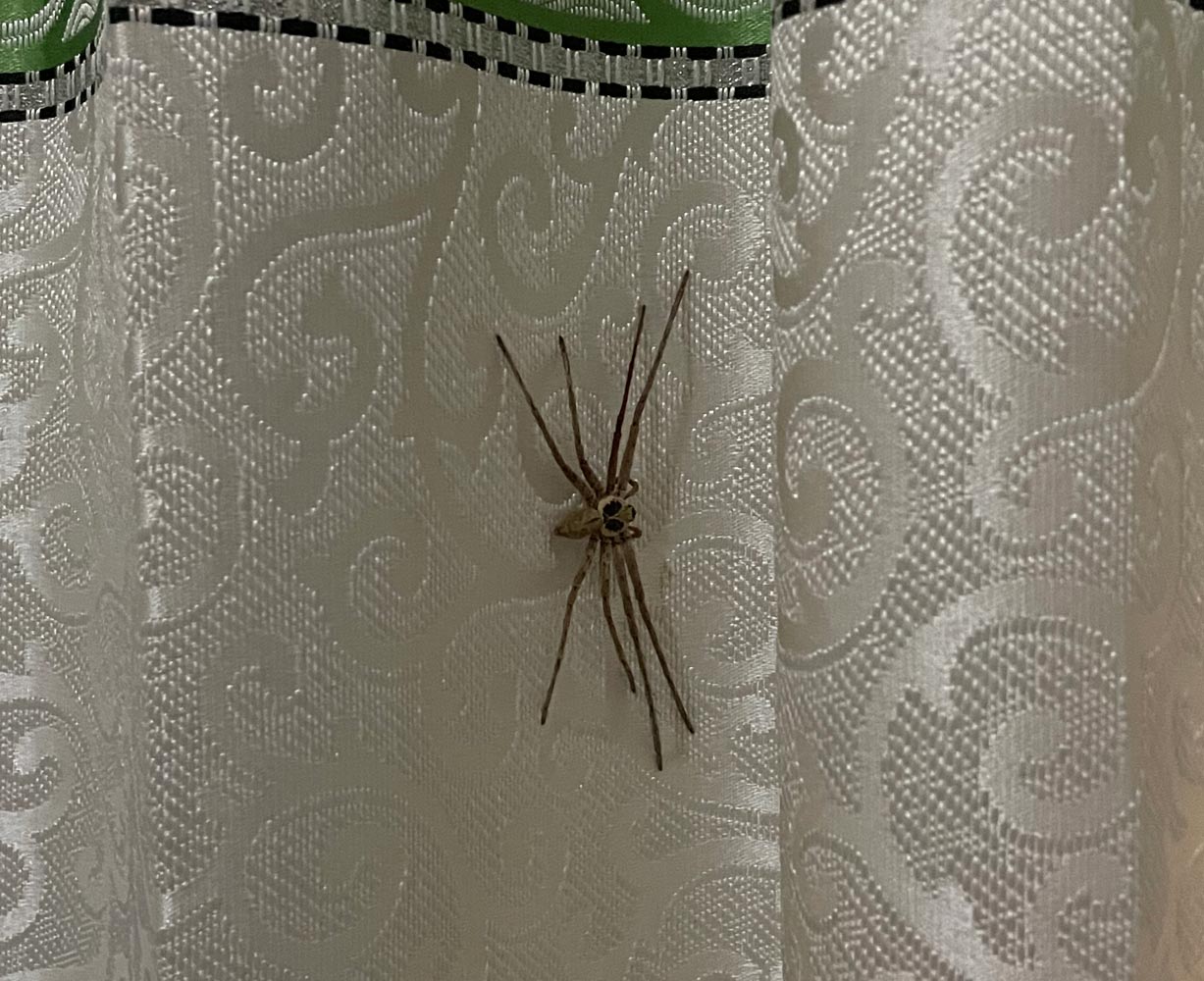 Paradise, in one word.
The only thing that prevents living in Sri Lanka is the severe crisis triggered by the quarantine in Europe and the war unleashed by Russia in Ukraine. The flow of tourists has dried up, and fuel prices have skyrocketed. Sri Lanka has nothing to feed power plants, and electricity is being cut off for several hours each day. Only a Zen Buddhist can survive in such conditions.
Someday the crisis will end, and Sri Lanka will once again become the best place to relax.