Los Angeles. Part Three.
Hollywood, Beverly Hills, and Santa Monica
To get from Angelino Heights to Hollywood, you need to go back to downtown and take the subway. It's closer to noon on the clock, so there are a lot more people around.
At one of the stations, a short, slightly overweight woman in her forties to fifties boards the train. She is wearing a light white puffer jacket and a blue dress with hearts. She carries a backpack on her back and a pink child's chair in her hands.
The woman enters, places the chair next to the doors, and sits on it right by the exit of the train car. Then she takes out a toy mirror with a colorful frame and starts examining herself from all angles, stylishly primping in the reflection.
After admiring herself for a few minutes, she puts away the mirror in her bag and takes out a children's toy from her backpack, a doll, and starts stroking its head. She says, "You're my wonderful, good, dear Dolly! I love you so much."
I exit at Hollywood subway station.
A homeless person walks past me, muttering something to himself, and I decide to listen in on what the next L.A.'s looney is talking about.
Dragging his legs with an odd gait, oblivious to me and anyone around, the homeless person walks along Hollywood Boulevard and repeats in a slurred speech: "This is all mine! Everything here is built with my money! I'm the most famous here, I'm the owner here, they took all my money and built this, but it's my money! It's all mine!"
Perhaps going insane in Hollywood is easier than anywhere else. Against the backdrop of the global obsession with luxurious lifestyles in Beverly Hills, amidst the stellar careers of many celebrities and movie actors, losing one's mind due to personal failures is very simple.
From this side, Hollywood is best portrayed in the film "Sunset Boulevard."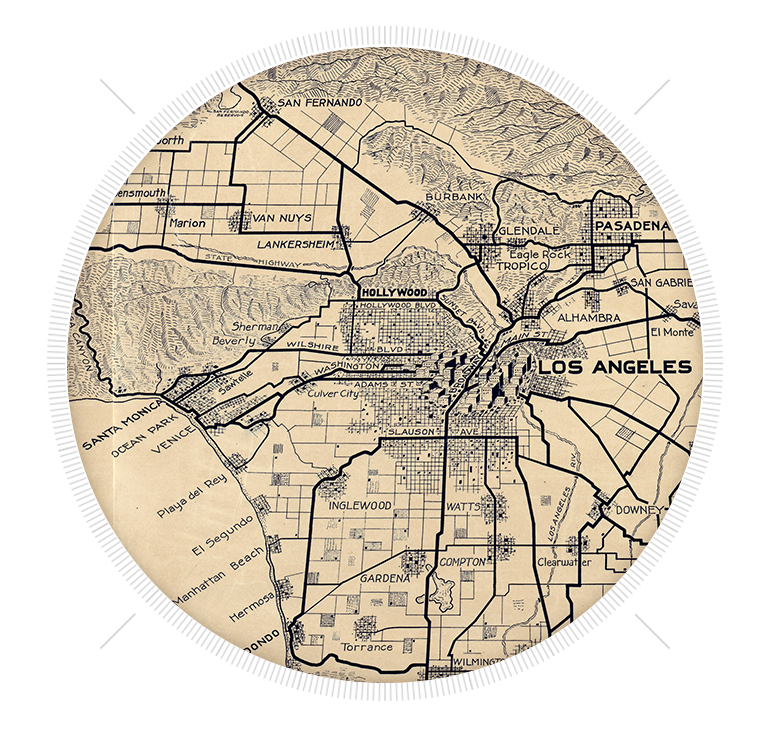 Hollywood
Hollywood is typically understood as an abstract "all this stuff" with stars on the sidewalk, signs on the hills, and a bunch of studios. Essentially, that's true, but Hollywood is actually a vast district of Los Angeles, and the attractions are scattered far apart from each other within it.
The famous Walk of Fame is one of the most inflated bubbles in the world, just an unremarkable stretch of street in the Hollywood district. You can come here and not understand why there are so many people that you can't even see any stars beneath your feet.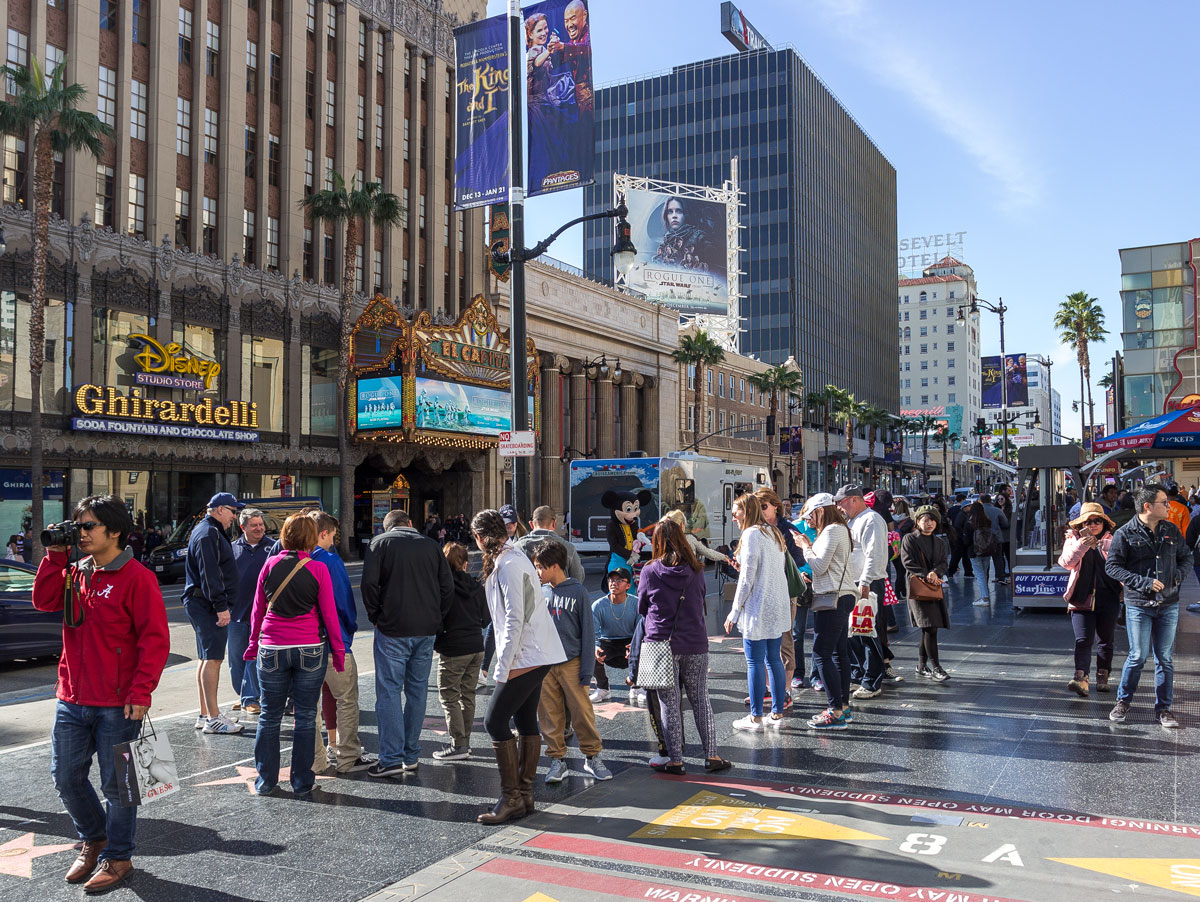 The stars with the names of celebrities are embedded into the same concrete slabs that you can find on the streets across America, only these ones are black.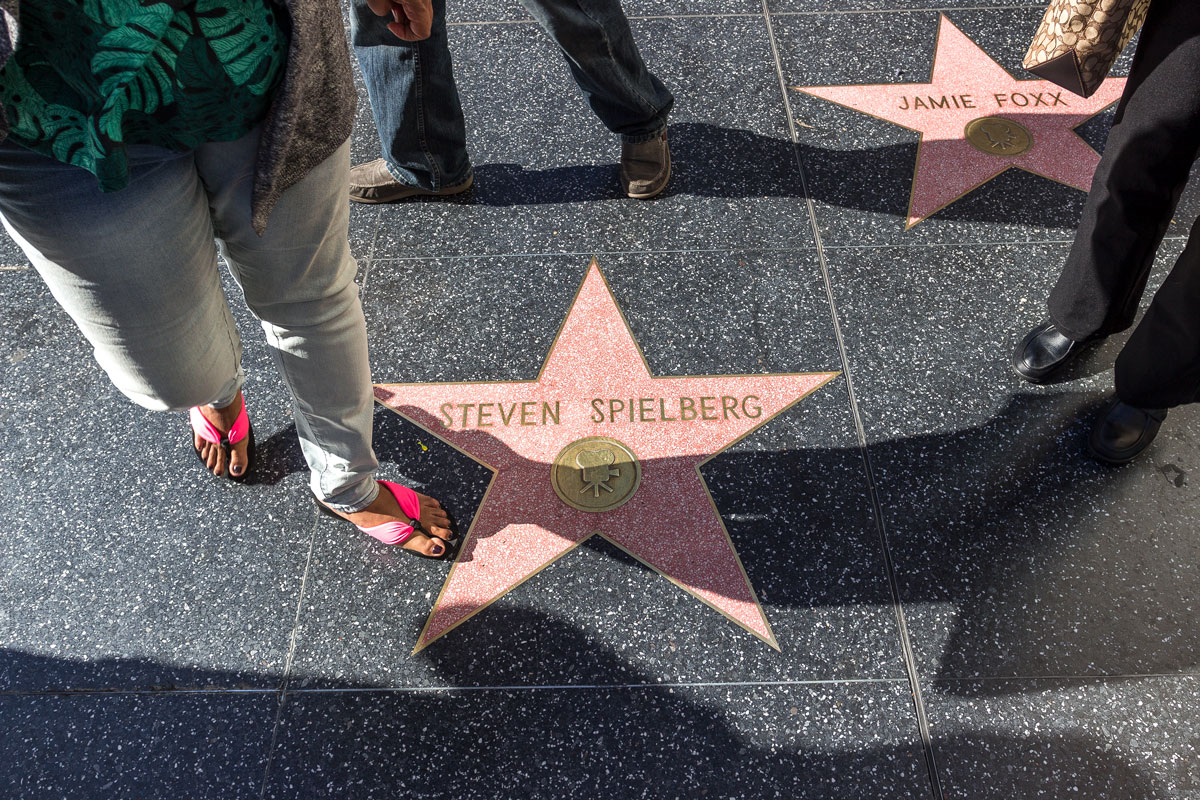 What can I say? It was originally a good idea. They designated a small section of Hollywood Boulevard near prestigious theaters, which are the first to screen Hollywood premieres and attract all the Los Angeles elite, for the stars to be placed under.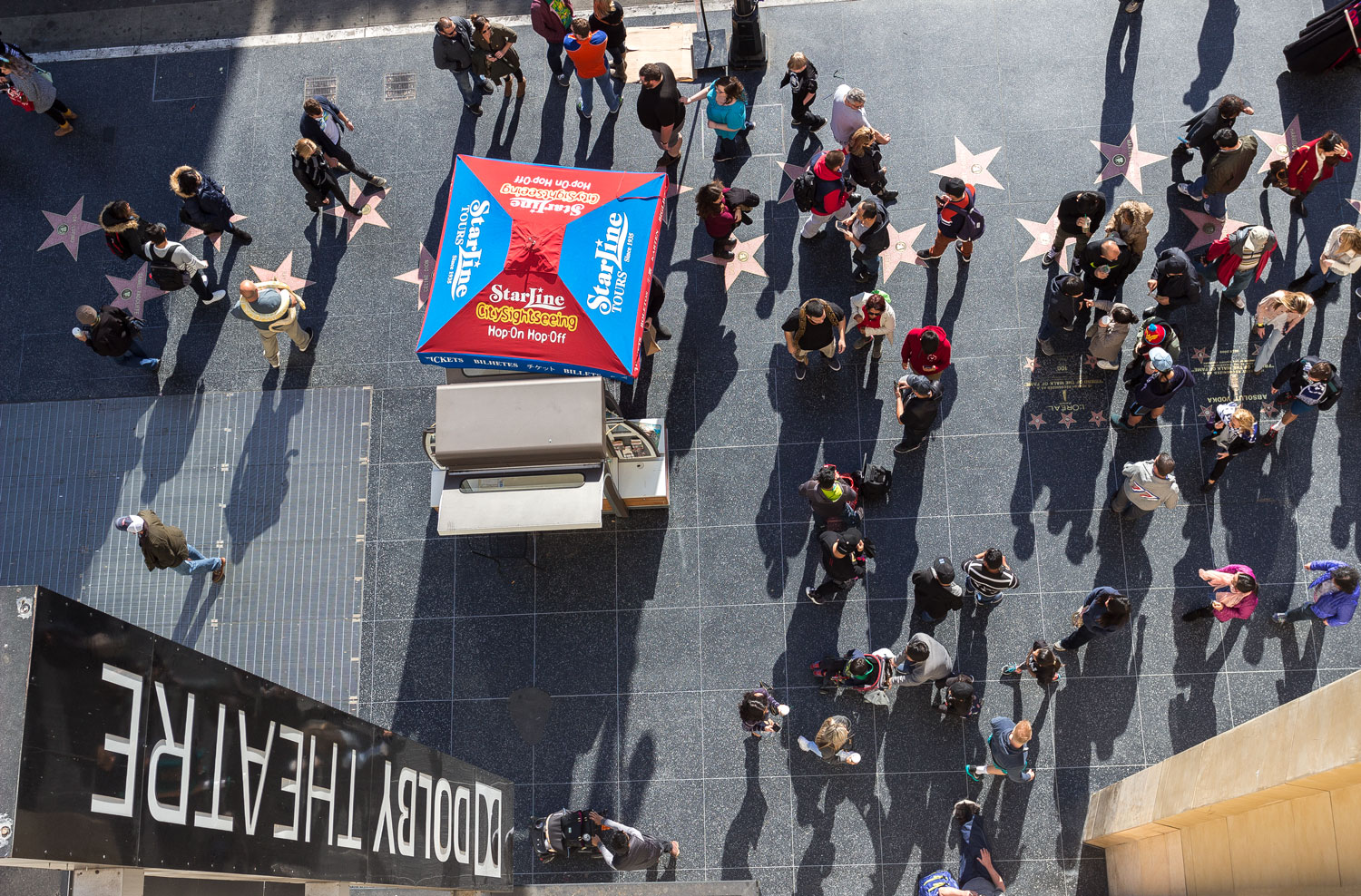 They installed the first 8 stars on this section of the street, and interestingly, none of the initial names hold much significance now. Most of them were actors from the silent film era who passed away before 1960. In short, they installed 8 stars and forgot about them for many years.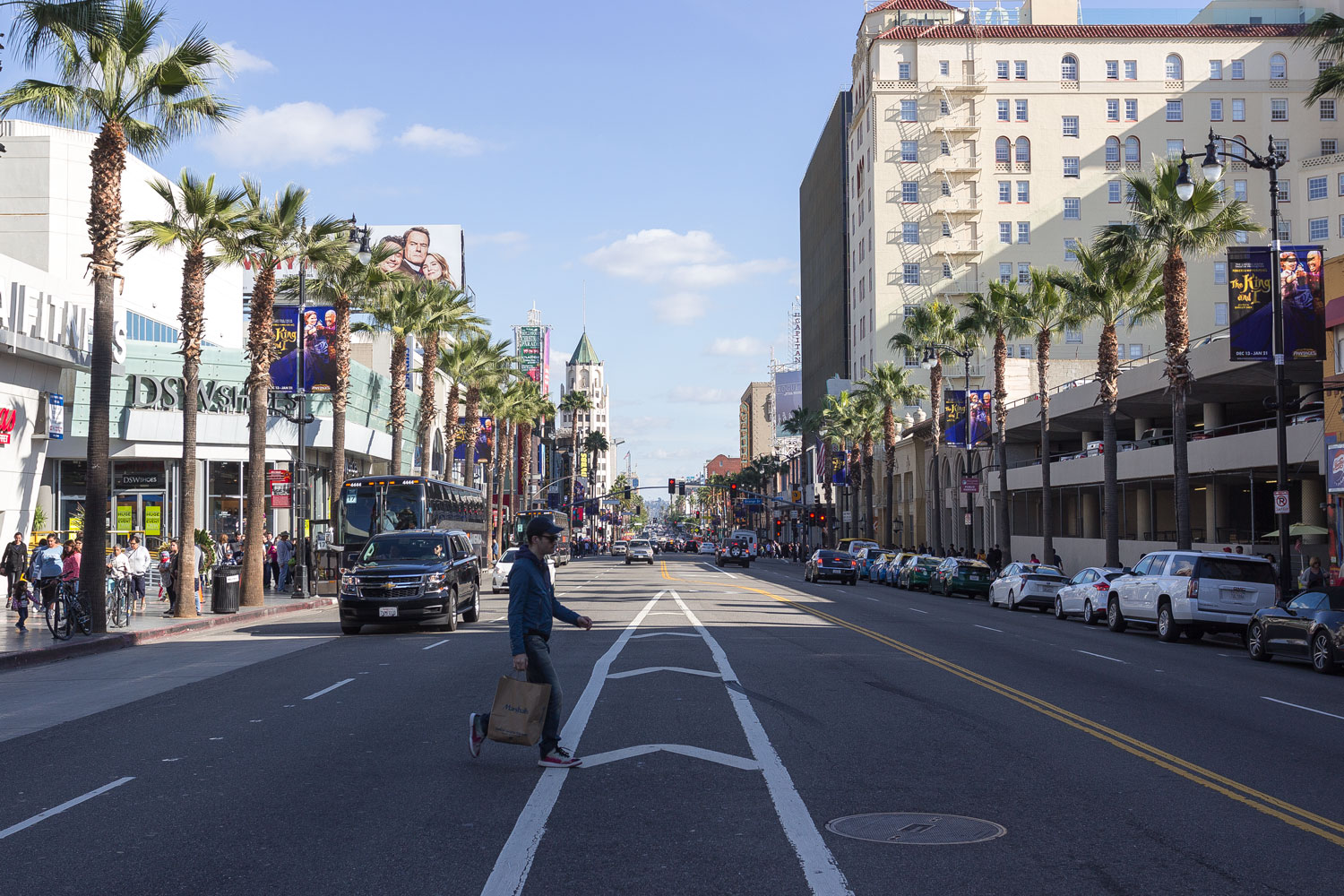 But then a disaster struck the Walk of Fame — at some point, it was remembered, promoted as a tourist attraction, and suddenly, too many people wanted to have their own star. As a result, the stars started multiplying at an astonishing pace. However, the street is not infinite. So, initially, the stars filled up the entire sidewalk on one side of the boulevard.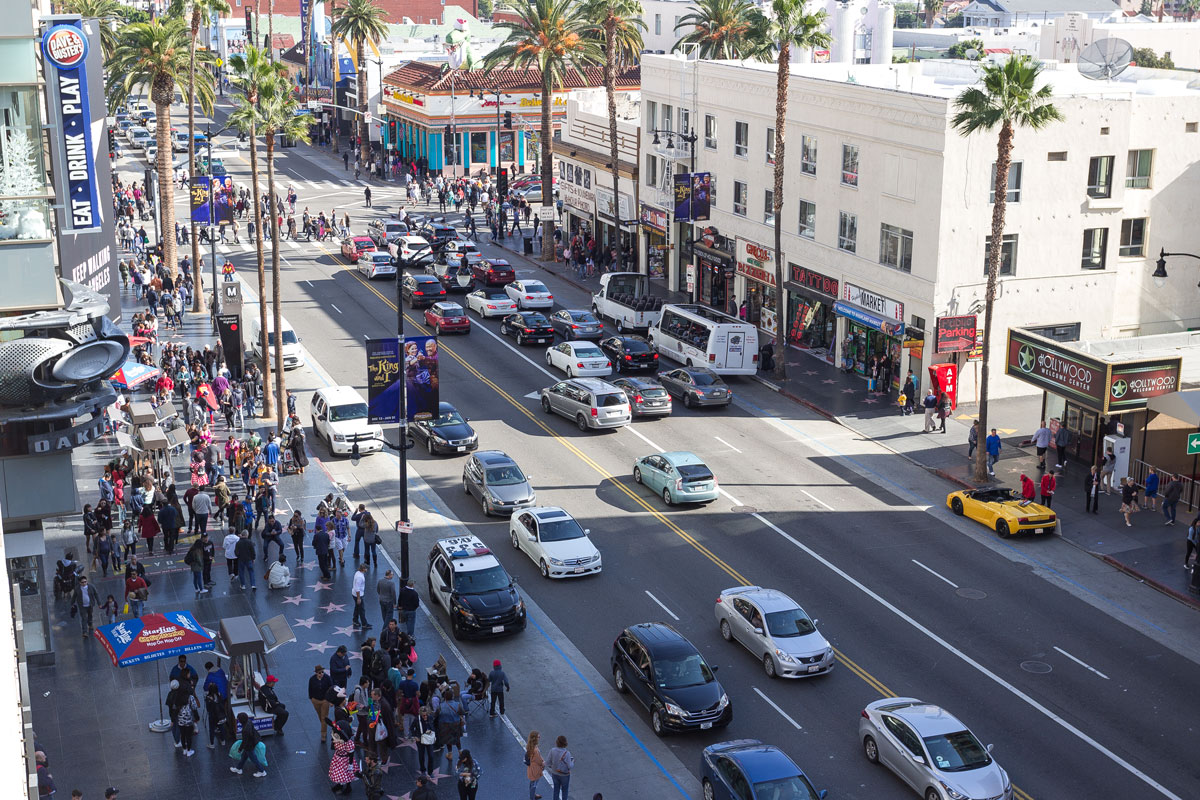 Then they moved on to the other side and filled up another sidewalk.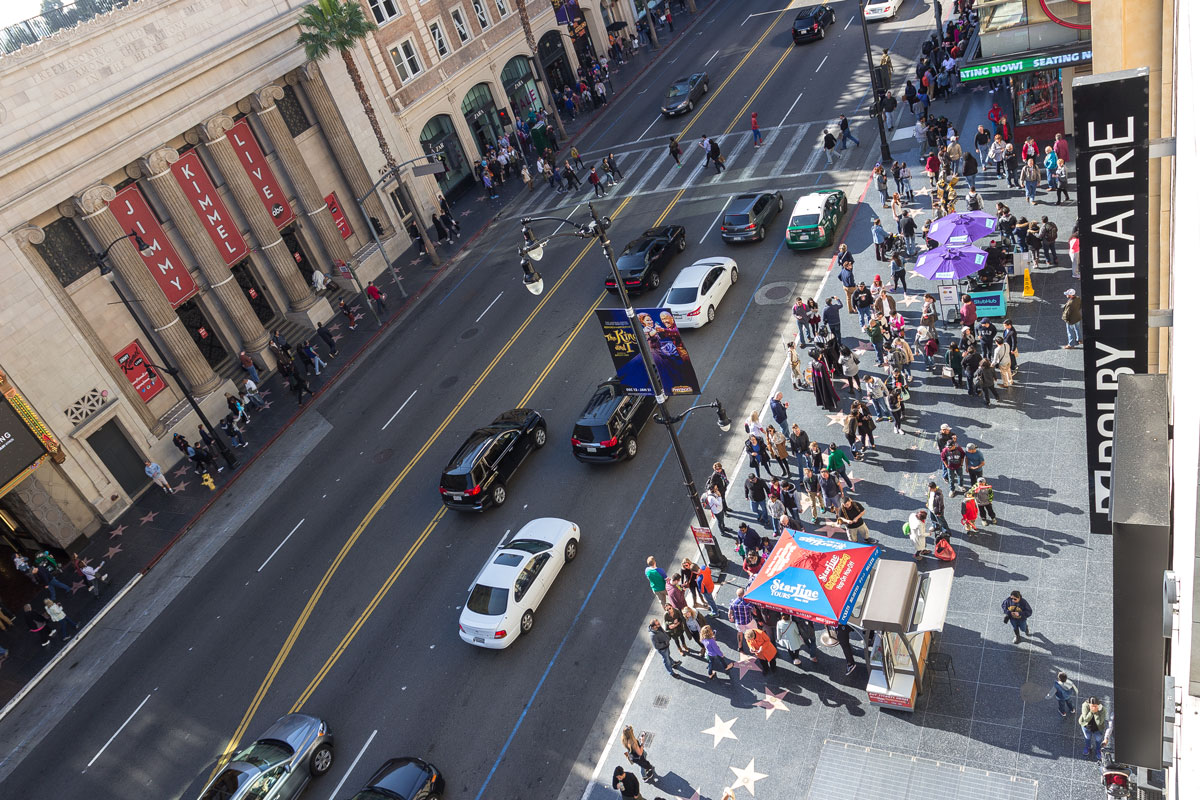 And then the stars went completely haywire and started spreading like crap across all the alleys and streets around. It's just hilarious to look at it now: the stars are placed in two tight rows on a broken sidewalk that tourists don't even reach.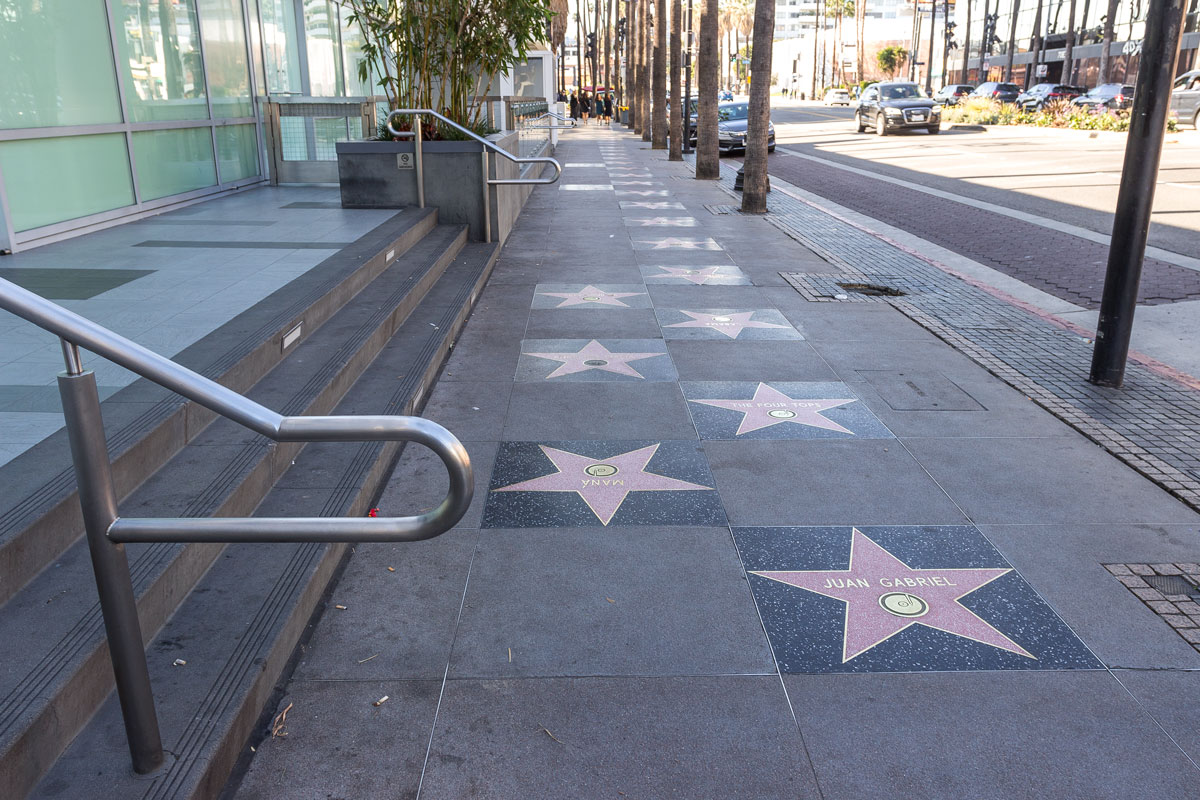 Today, the Walk of Fame stretches for a total of 4 or 5 kilometers on both sides of the boulevard and extends a bit into the alleys.
The number of stars is about to surpass 3 thousands. Perhaps soon they will start placing them all over Los Angeles instead of tactile paving for the blinds.
The alley is surrounded by cinemas from all sides. The demand for movies in Hollywood is insane. Everyone dreams of coming here and watching a new film right in the heart of the film industry.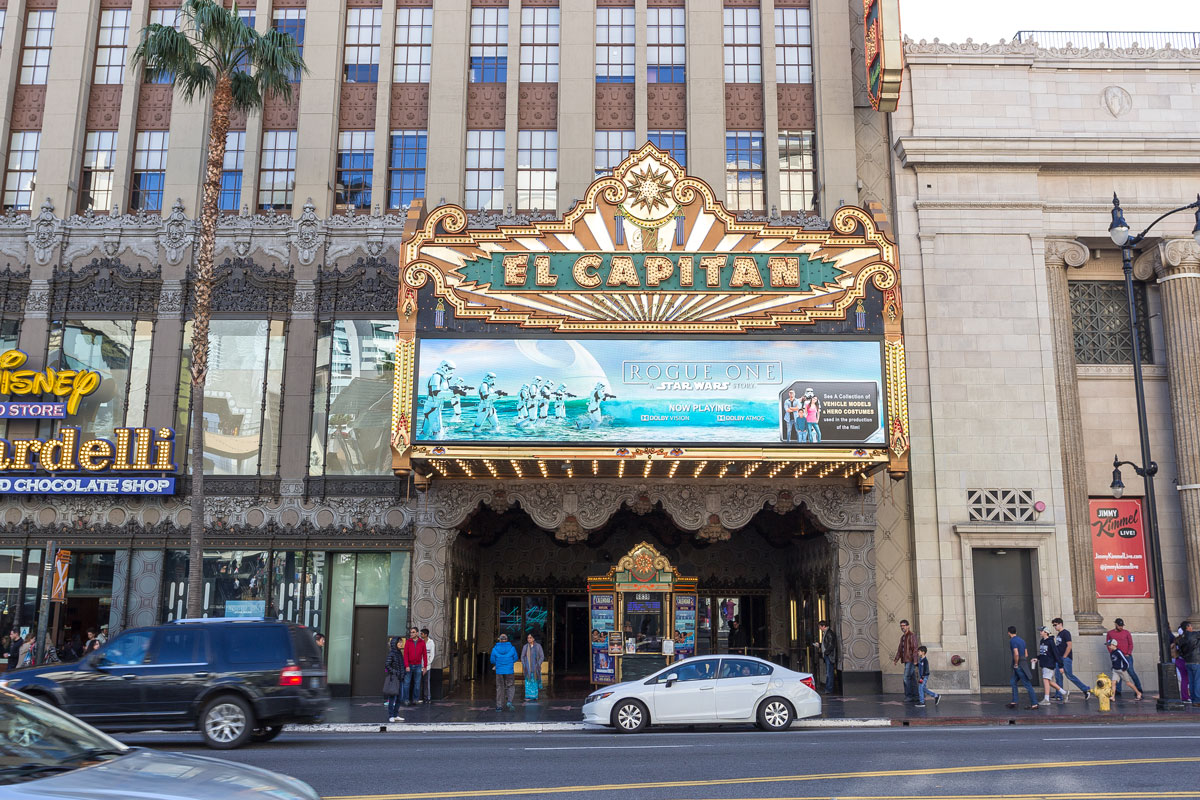 Hollywood cinemas are not much different from a good movie theater in any other city. They have softer seats, pleasant lighting from sconces, and excellent sound.
During those days, the premiere of the musical La La Land was taking place. Watching a film about Hollywood in the heart of Hollywood is the best experience one can have here. Especially such a film! After all, even its title is just a slang name for Los Angeles. That's why everything you drove past during the day is shown to you again in the movies in the evening. And it's the same with many other films: they start to look completely different after a trip to the USA.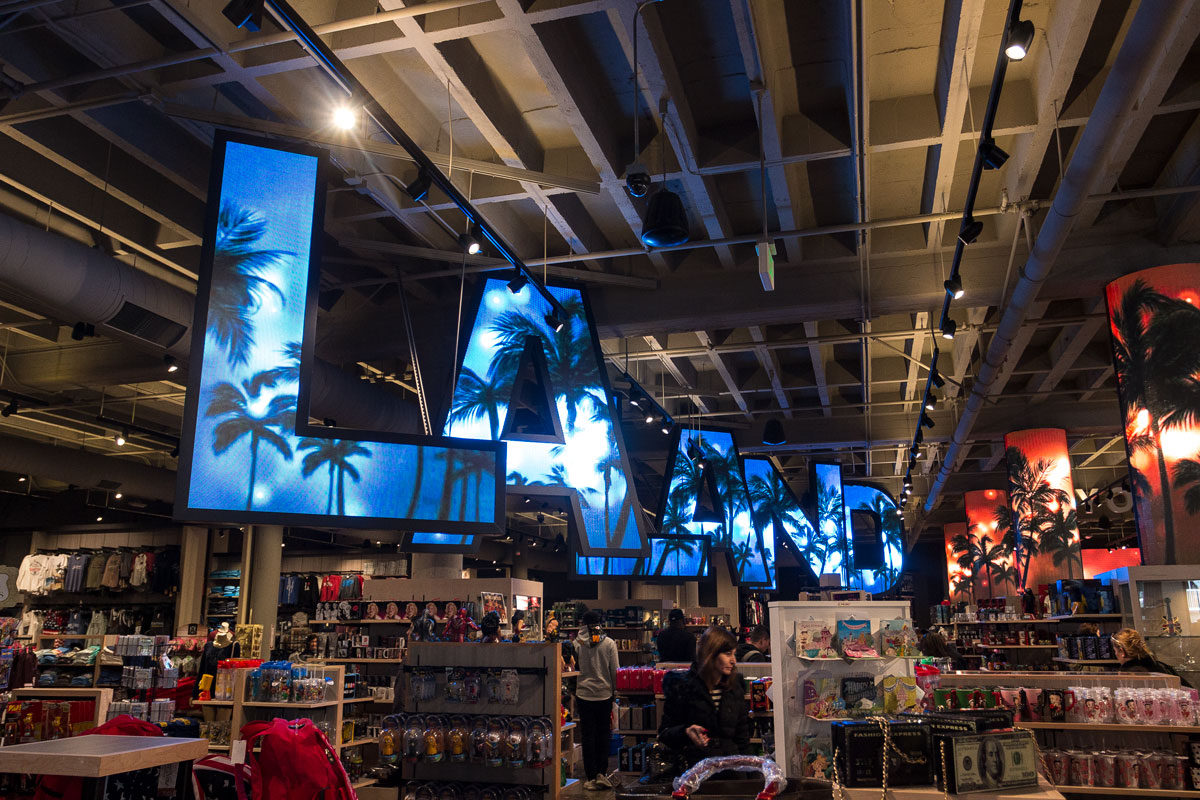 In general, it doesn't really make sense to come here for any other purpose. I mean, why bother to see the stars? Take a photo with Mickey Mouse?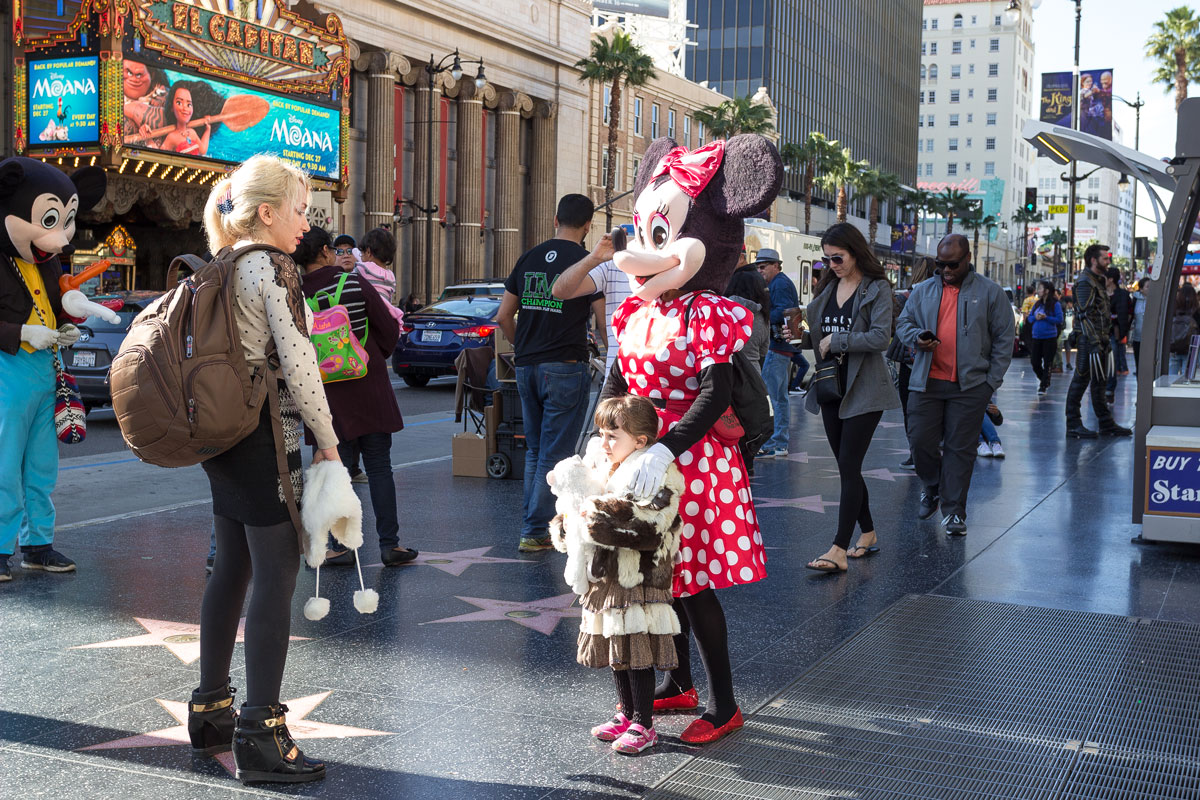 Hollywood Boulevard.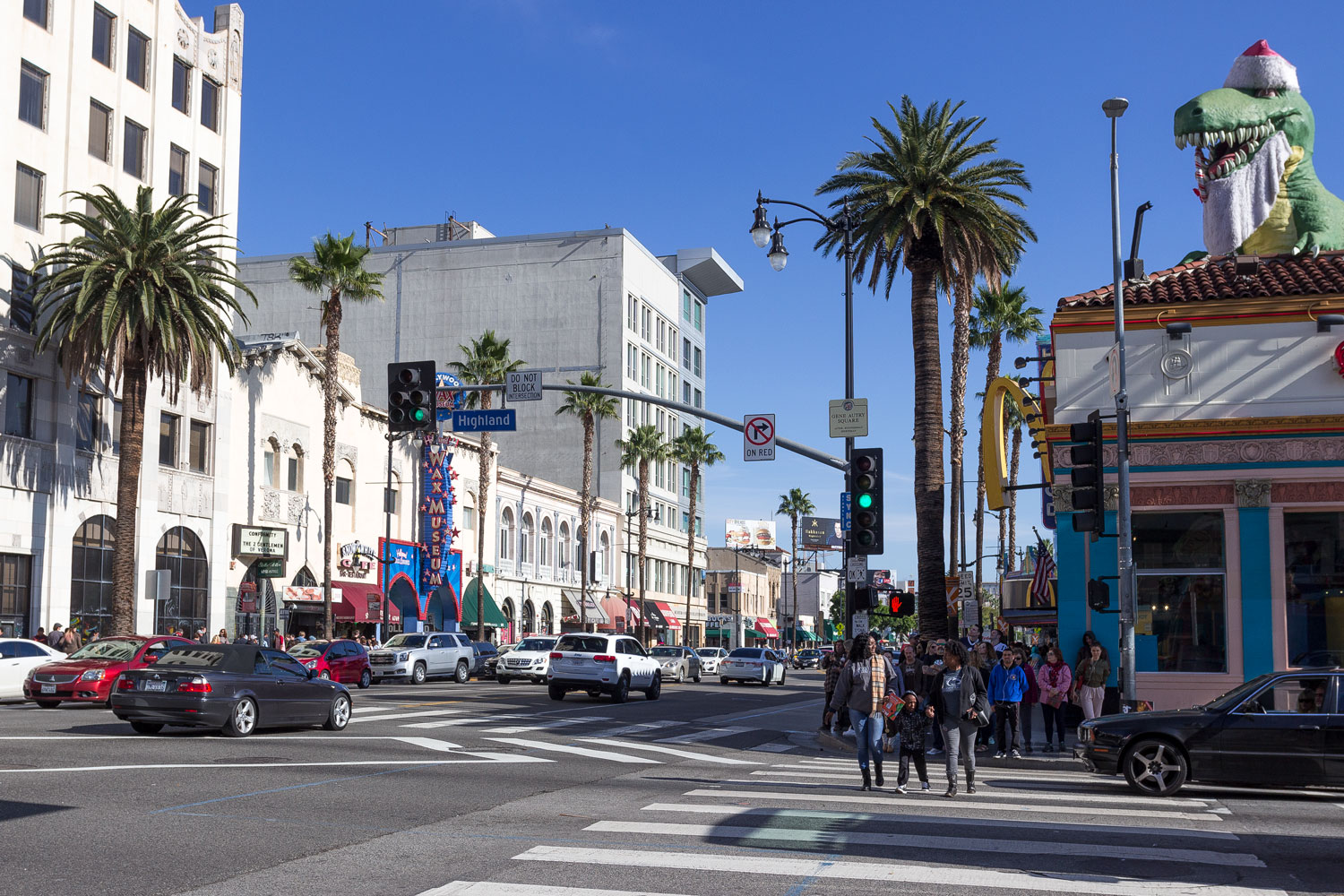 Crowds of tourists.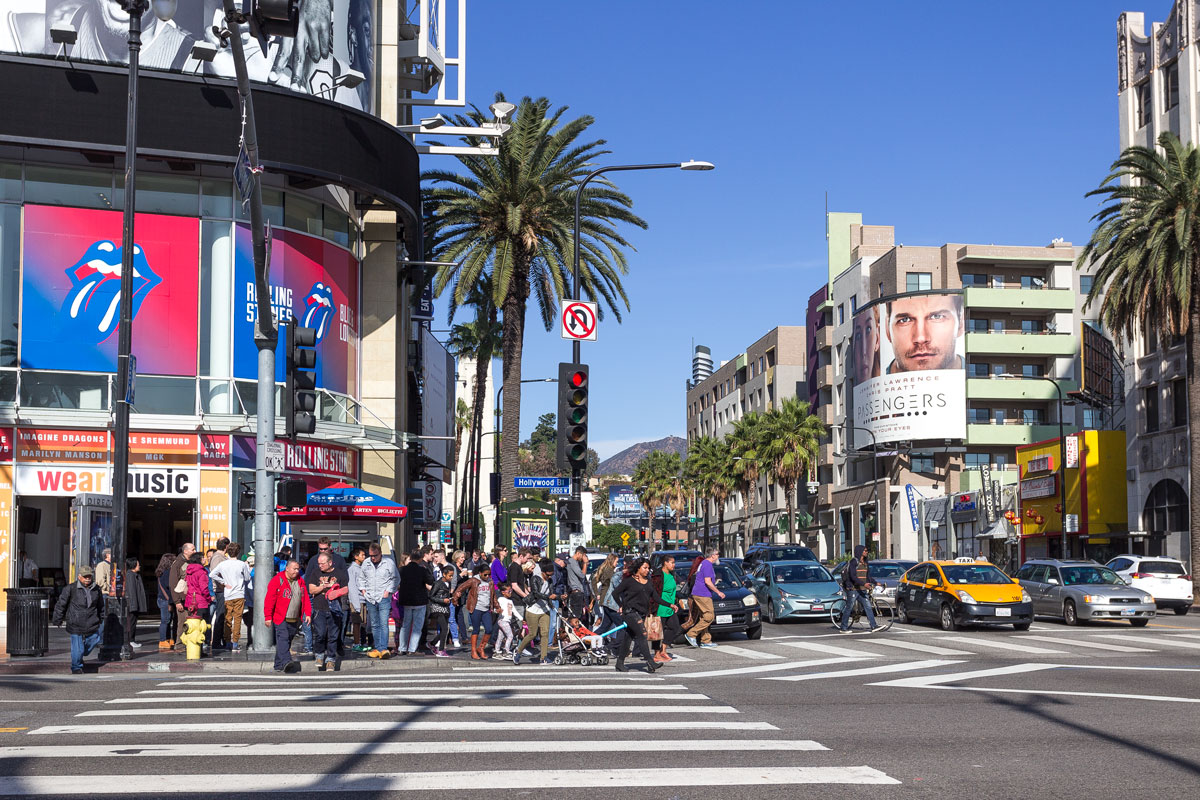 Shopping Hollywood-style.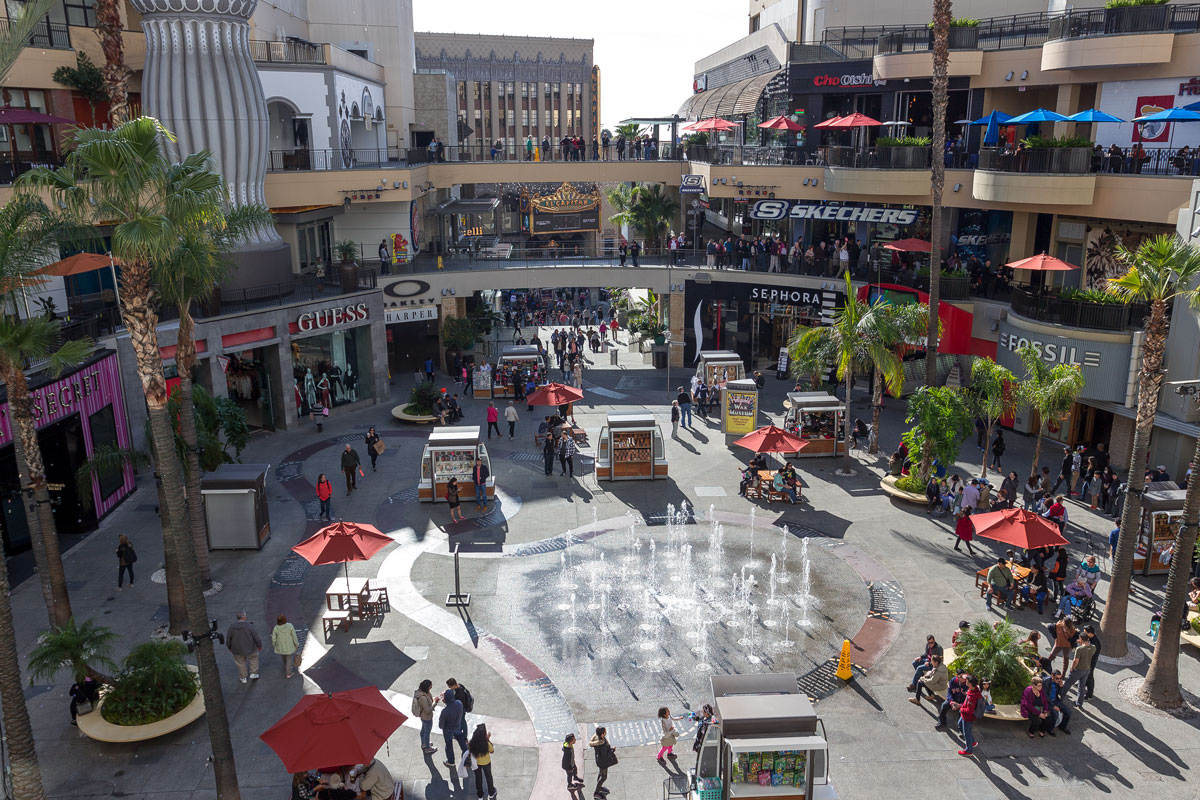 Streets near the boulevard. Typical Los Angeles.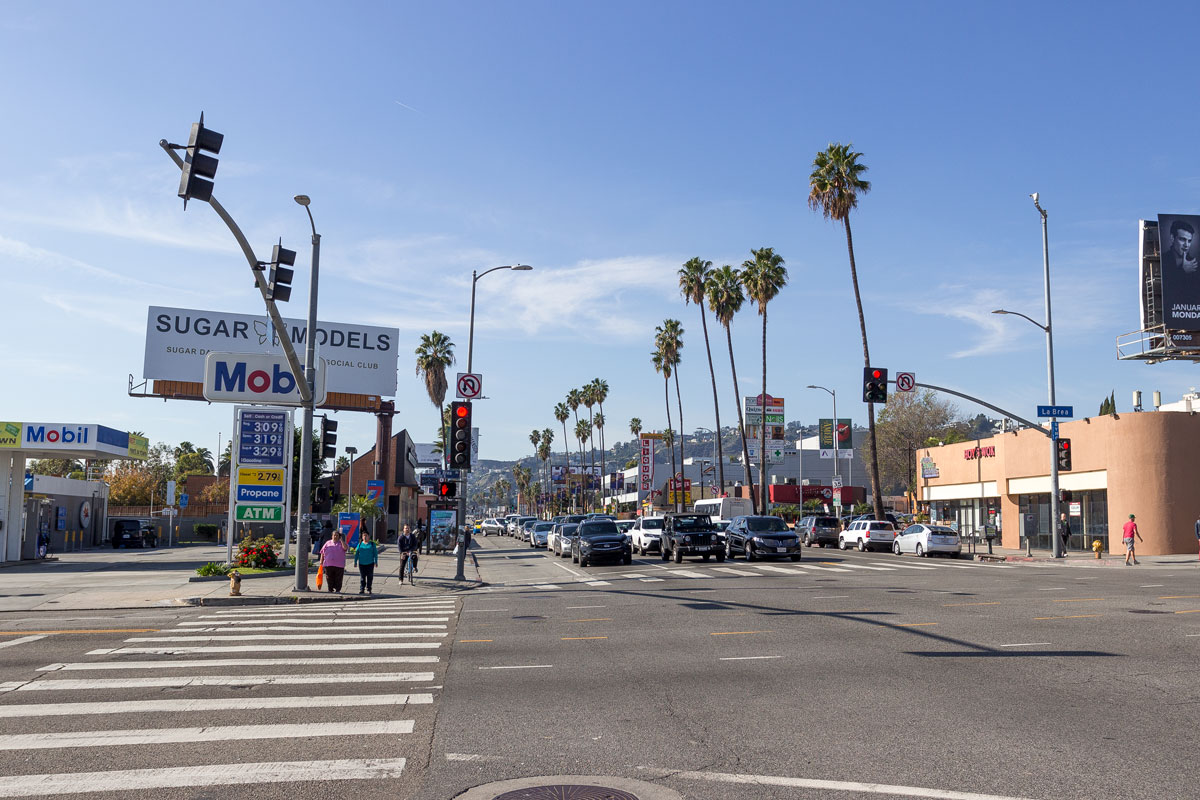 There is an observation deck near the alley. From here, one can enjoy one of the best views of the city.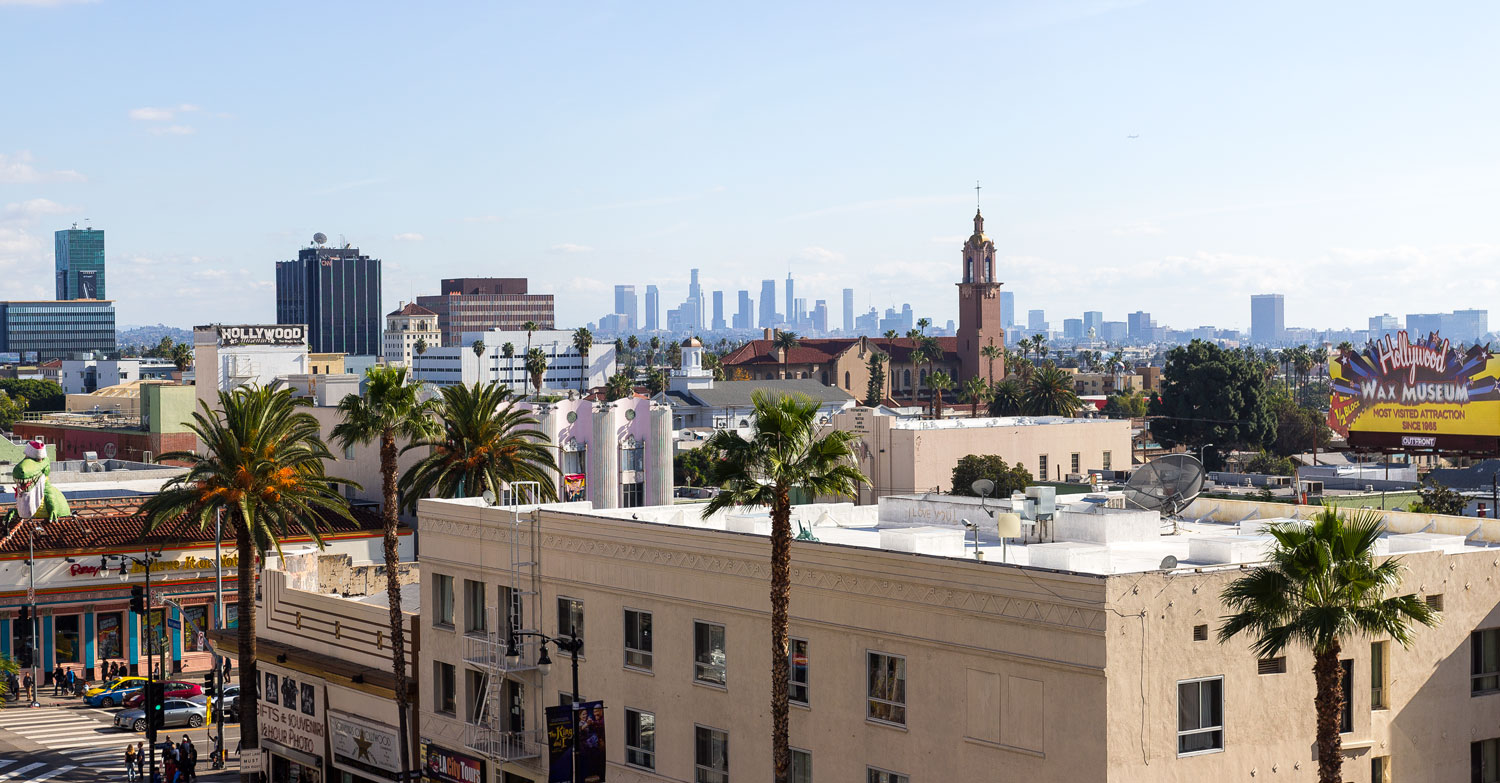 And also to the famous sign somewhere far on the hills.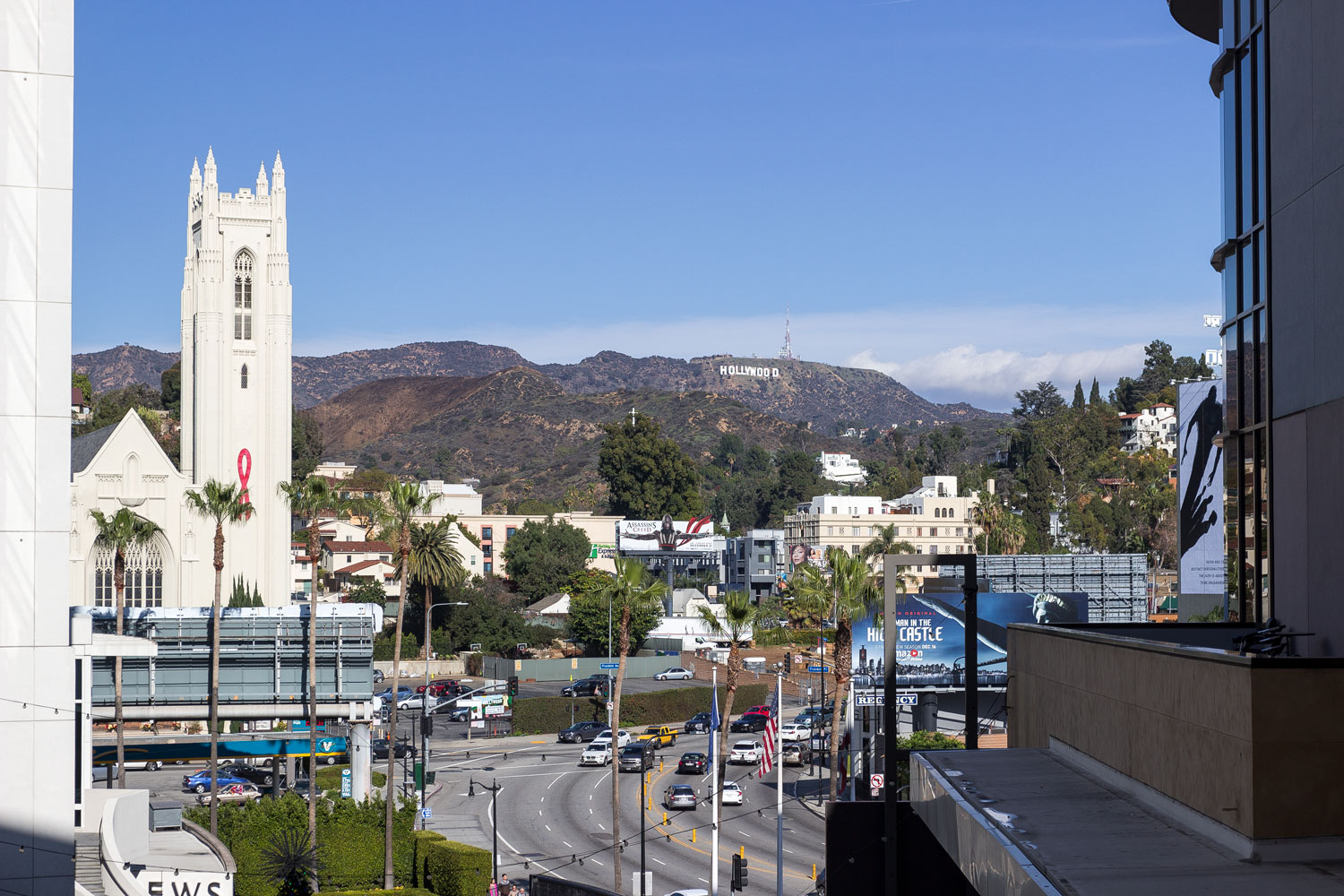 The Hollywood sign is not interesting at all. It's not possible to get close to it, and essentially, it's just letters standing on a hill.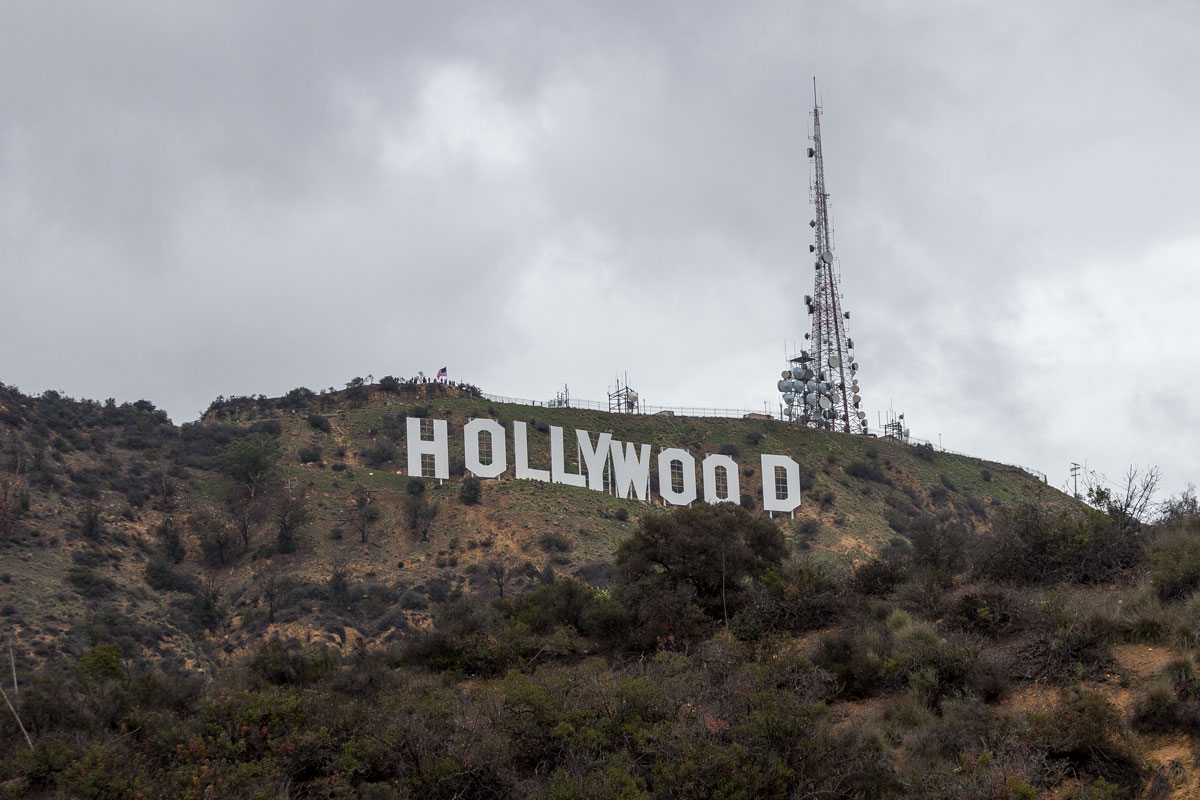 Sometimes the sign falls victim of street artists. Just during my trip, someone hung pieces of black fabric on the letters and turned the word "Wood" into "Weed." The sign hung there for only a few hours, but it became a source of memes throughout America for a long time.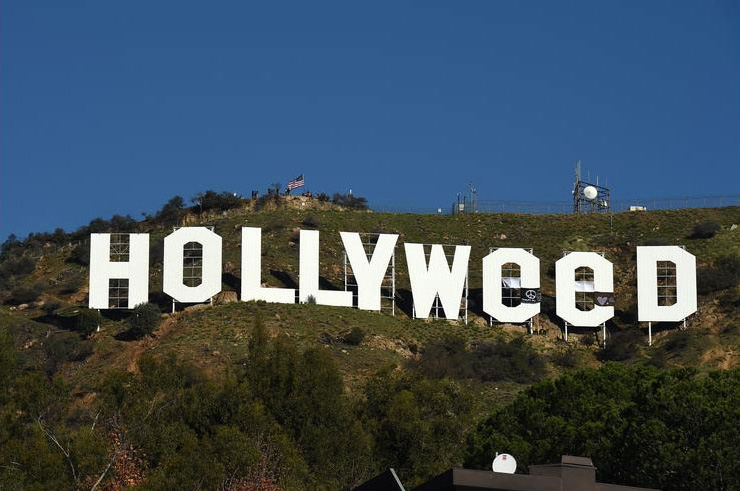 There is also Griffith Observatory on the hills. It was once used to train pilots for the Apollo space program. Now it is a museum.

The entire Los Angeles is at your fingertips from the Hollywood Hills.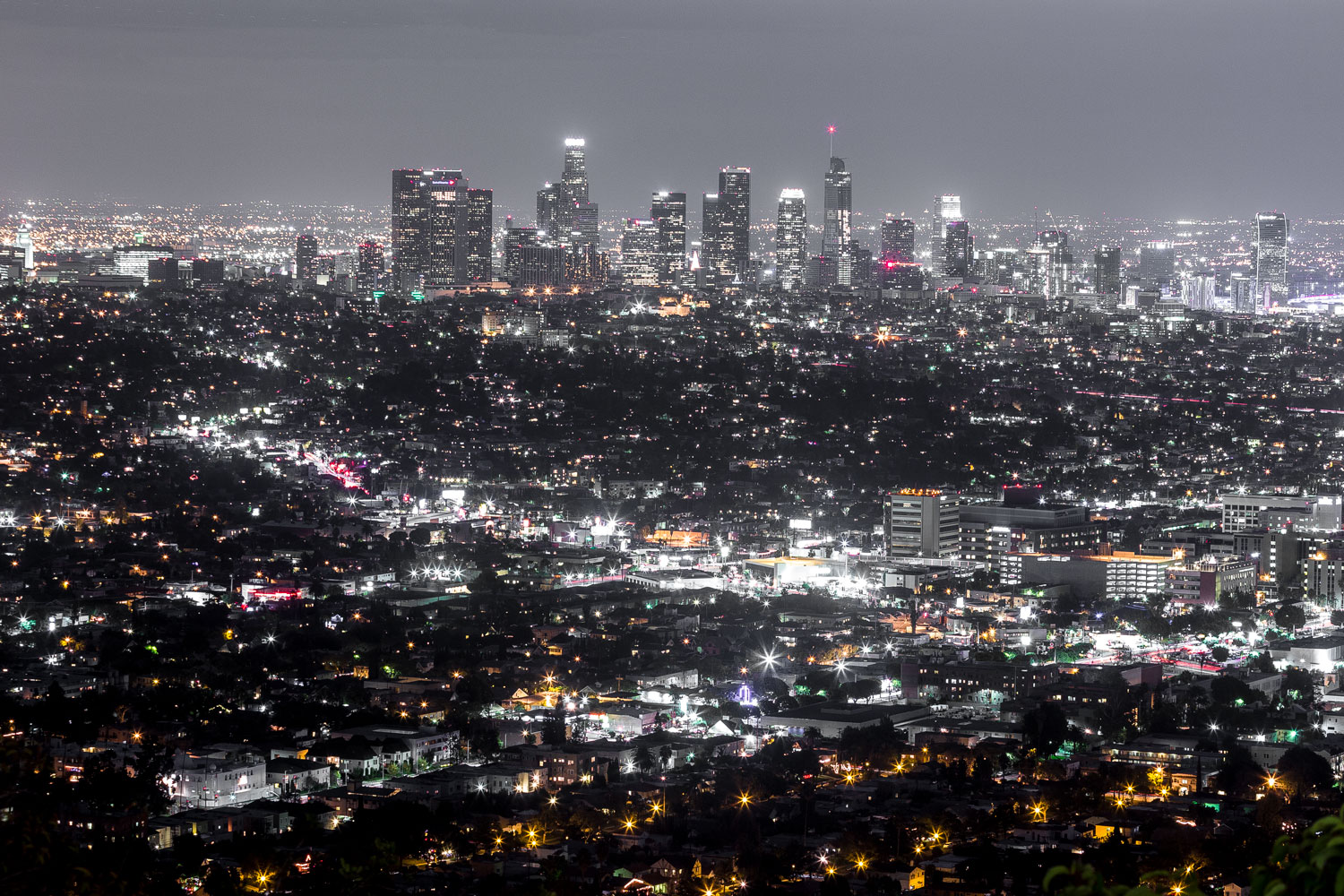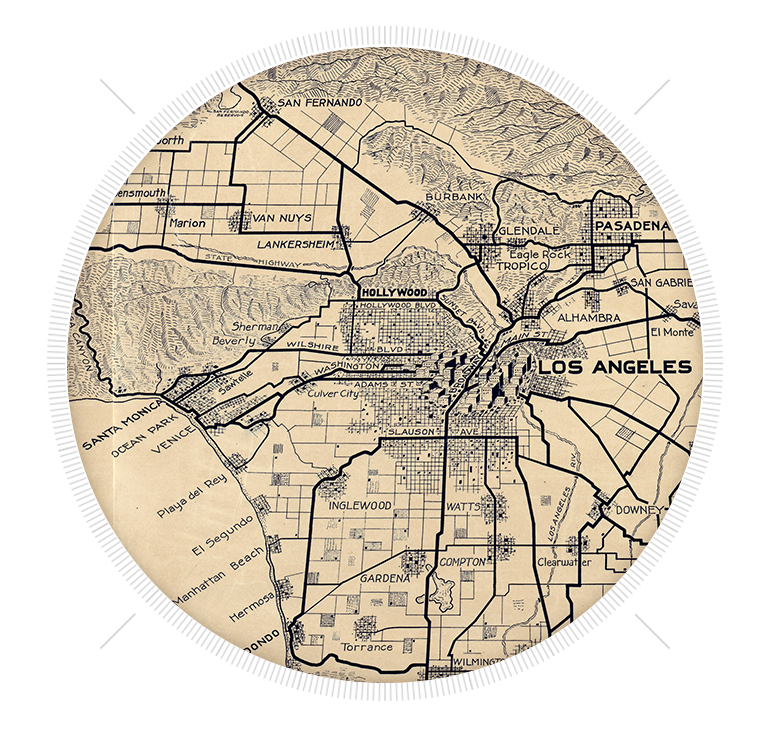 Beverly Hills
To get from Hollywood to Beverly Hills, one needs to perform feats of geodesy. It's not possible to reach there by metro, and the bus network in L.A., while allowing access to any point in the city, is so inconvenient and confusing that the author ended up going in the wrong direction twice.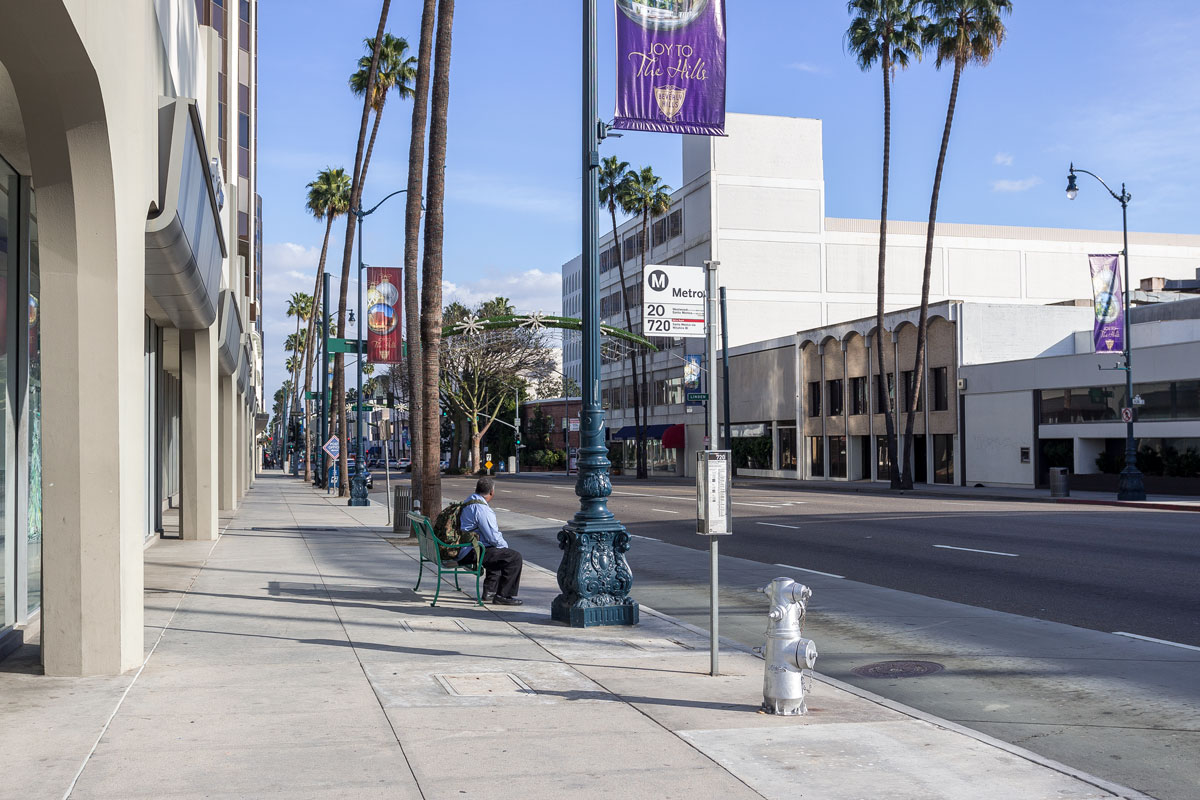 Beverly Hills is, by a wide margin, the most elite neighborhood in Los Angeles.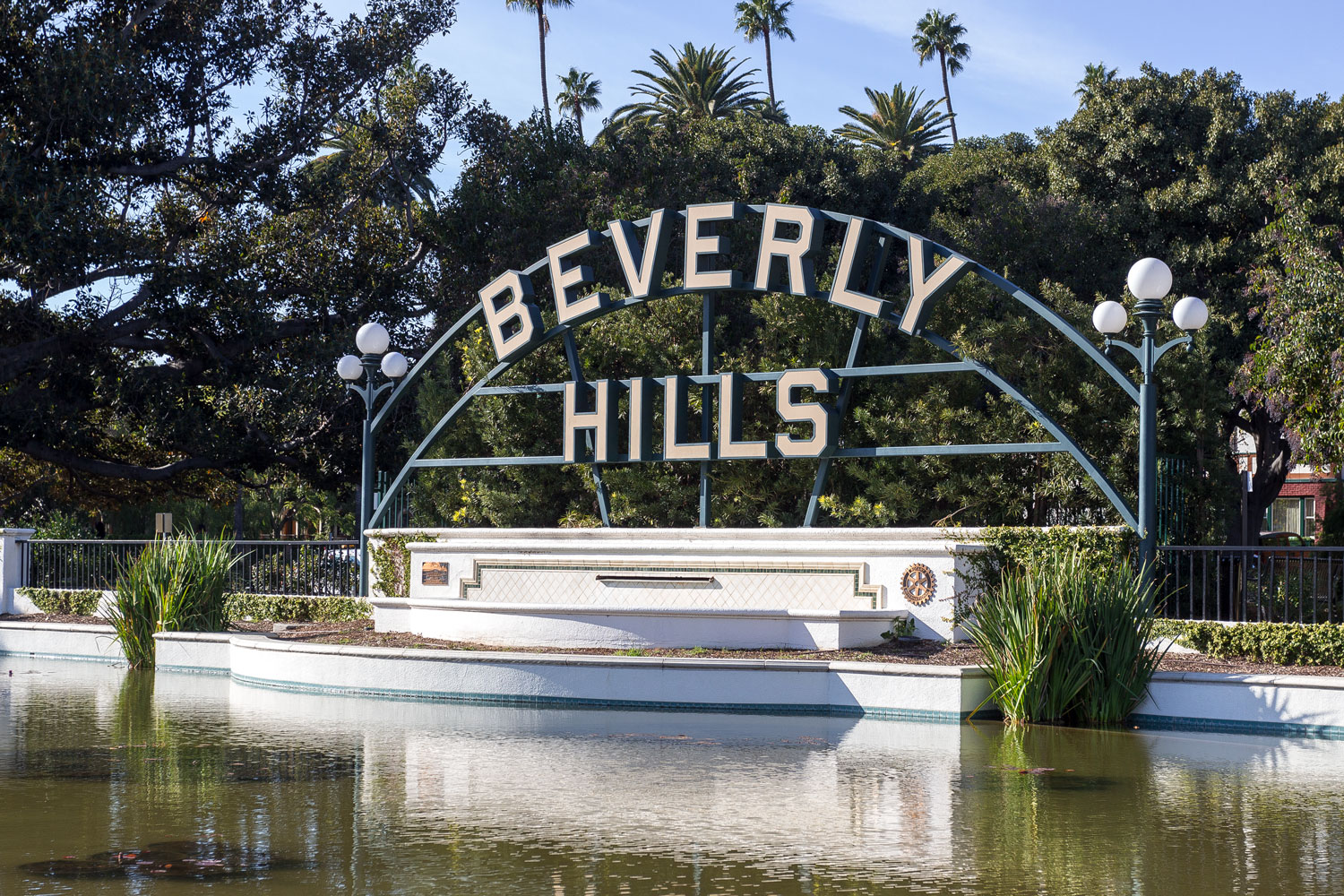 On the streets of Beverly Hills, there are exactly two types of people: tourists and celebrities.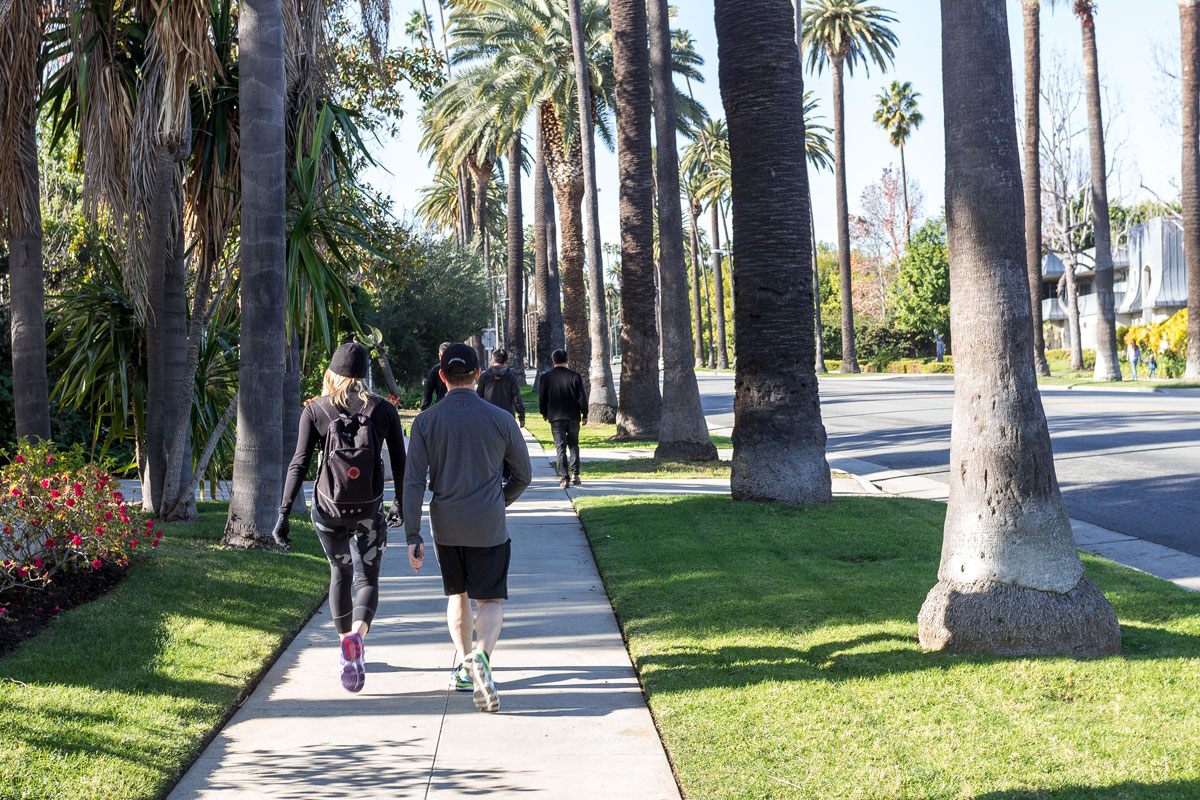 Homes here start at a minimum of 3 million dollars.
The average mansion here costs around 10-20 million dollars, but prices can reach astronomical values of 100 million dollars. An astronomical sum indeed. However, those houses are the size of observatories. If all of Krasnogorsk (my town near Moscow) were to move in, it would possibly be affordable.
Beverly Hills is beautiful.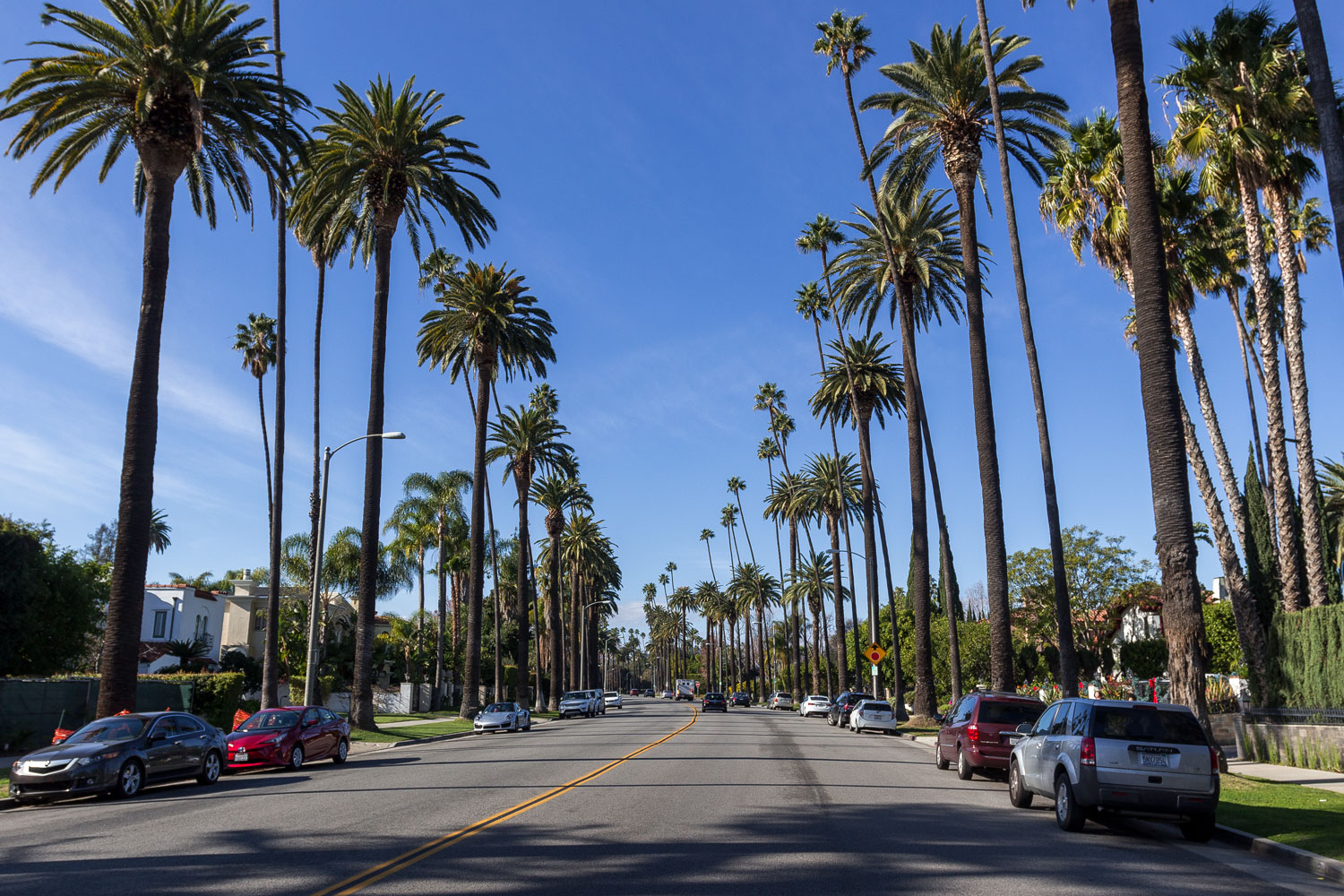 Every photo here turns out like a magazine cover. The hallmark of Los Angeles — giant, slender palm trees — mostly grow in Beverly Hills and the surrounding areas.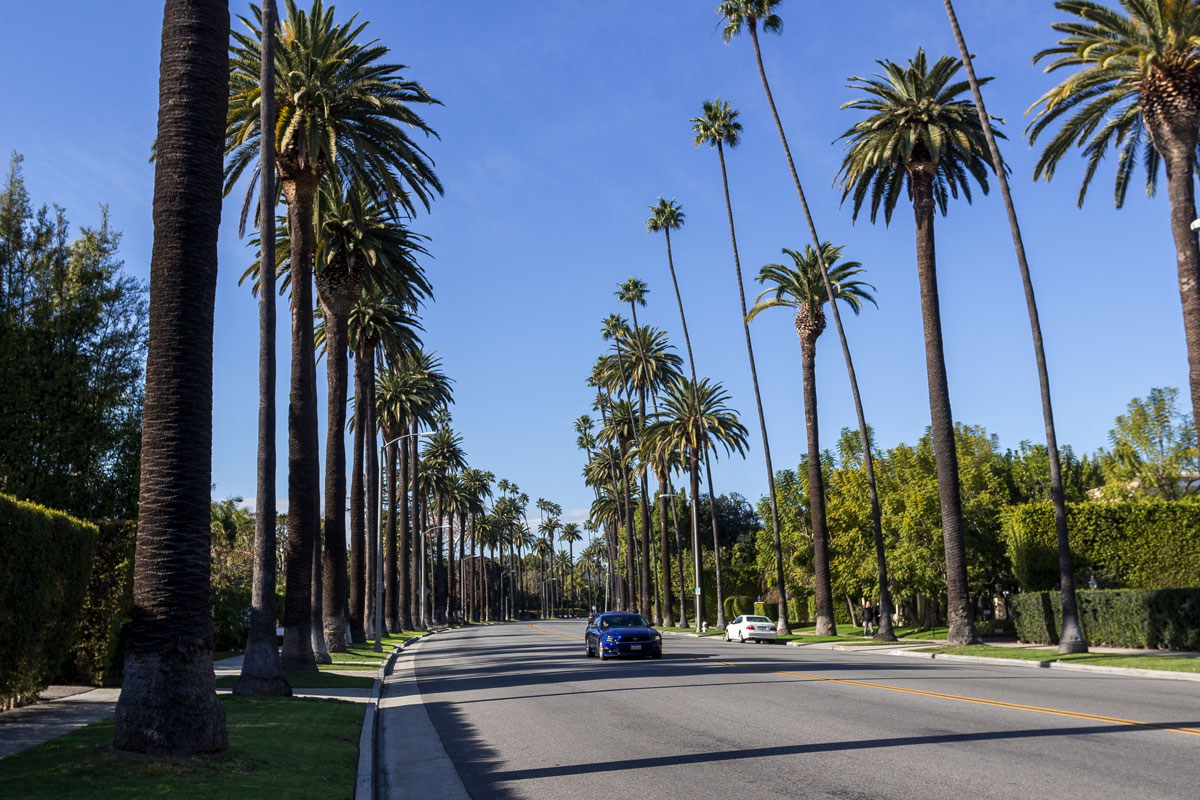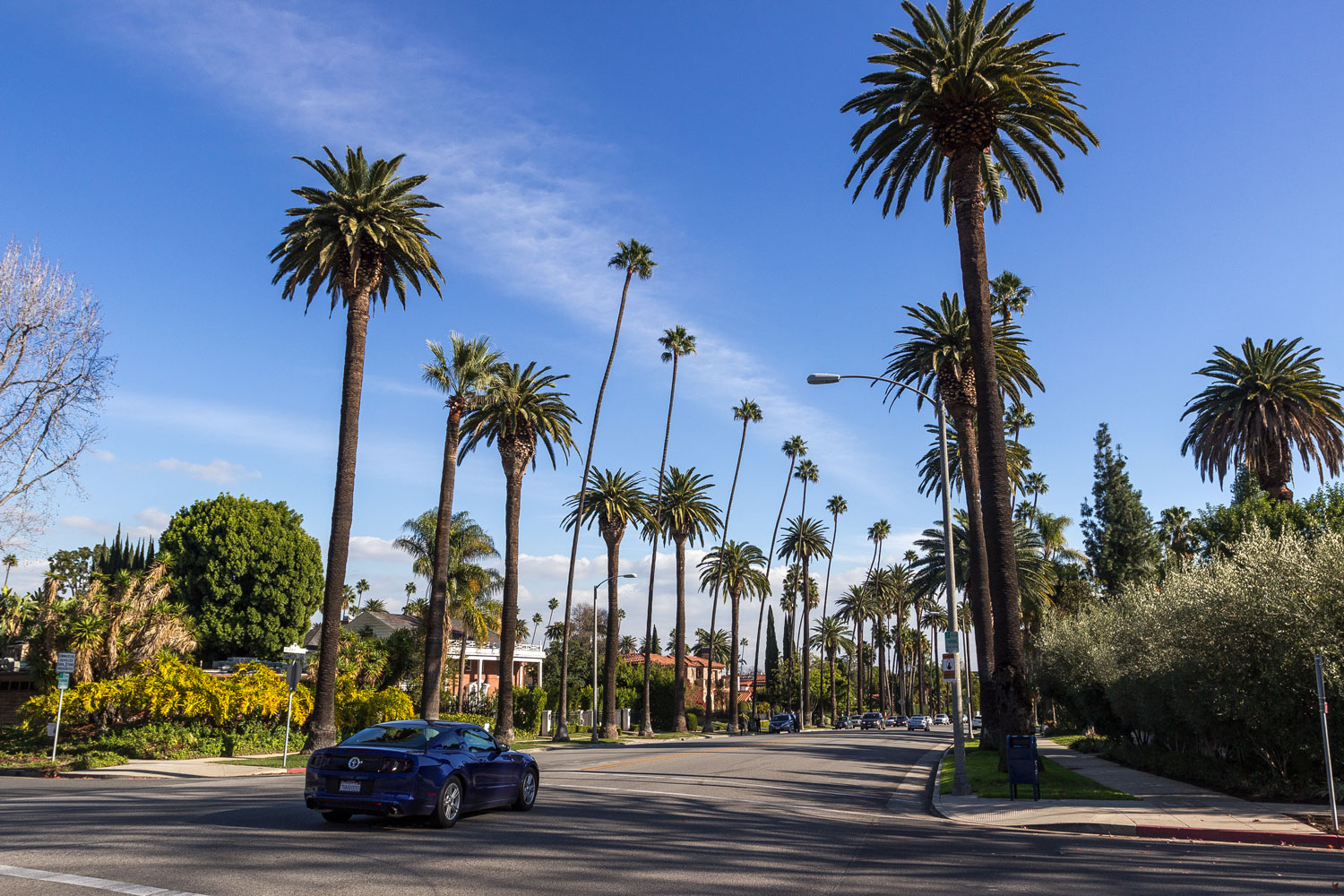 In the area, there are not only palm trees, but also other trees. Every single street is beautiful without exception. It makes you want to drop everything and delve into the study of botany.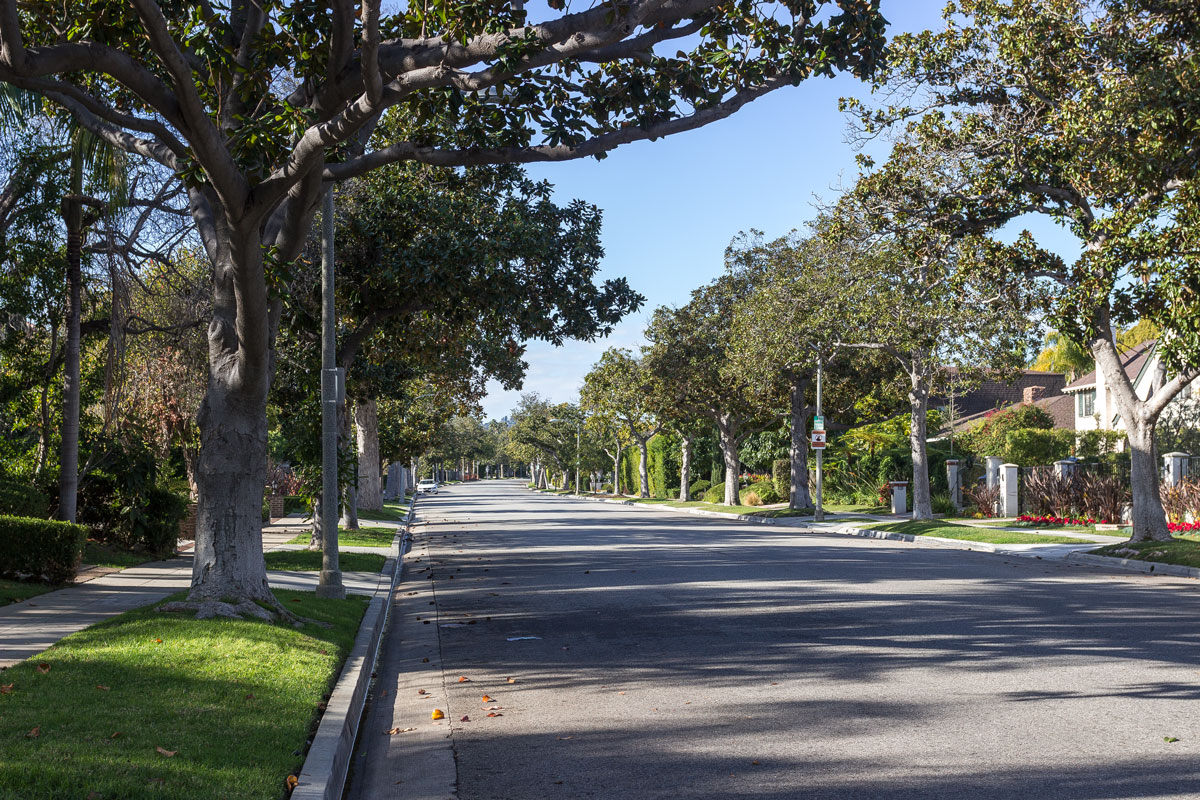 In America, sidewalks are made with concrete blocks instead of tiles. It's another distinctive feature of this country. The blocks are very convenient for running and look just as good as tiles.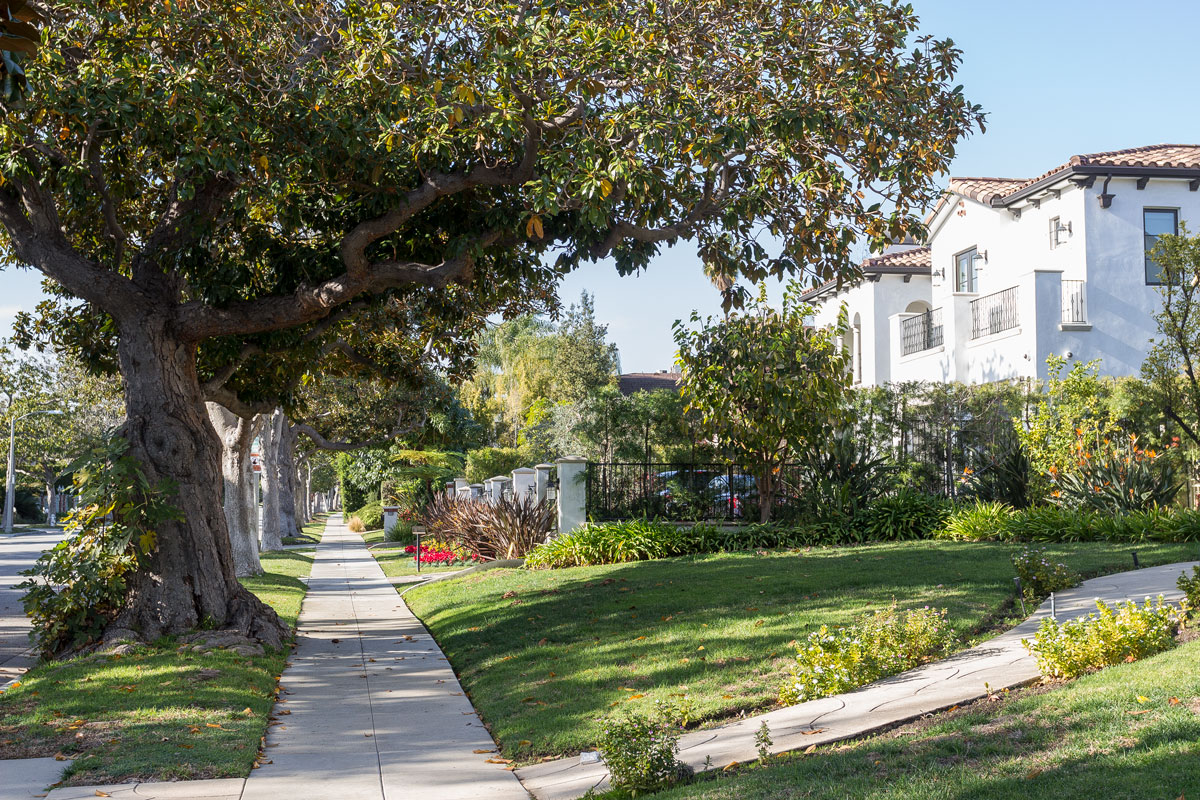 The most ordinary house in Beverly Hills.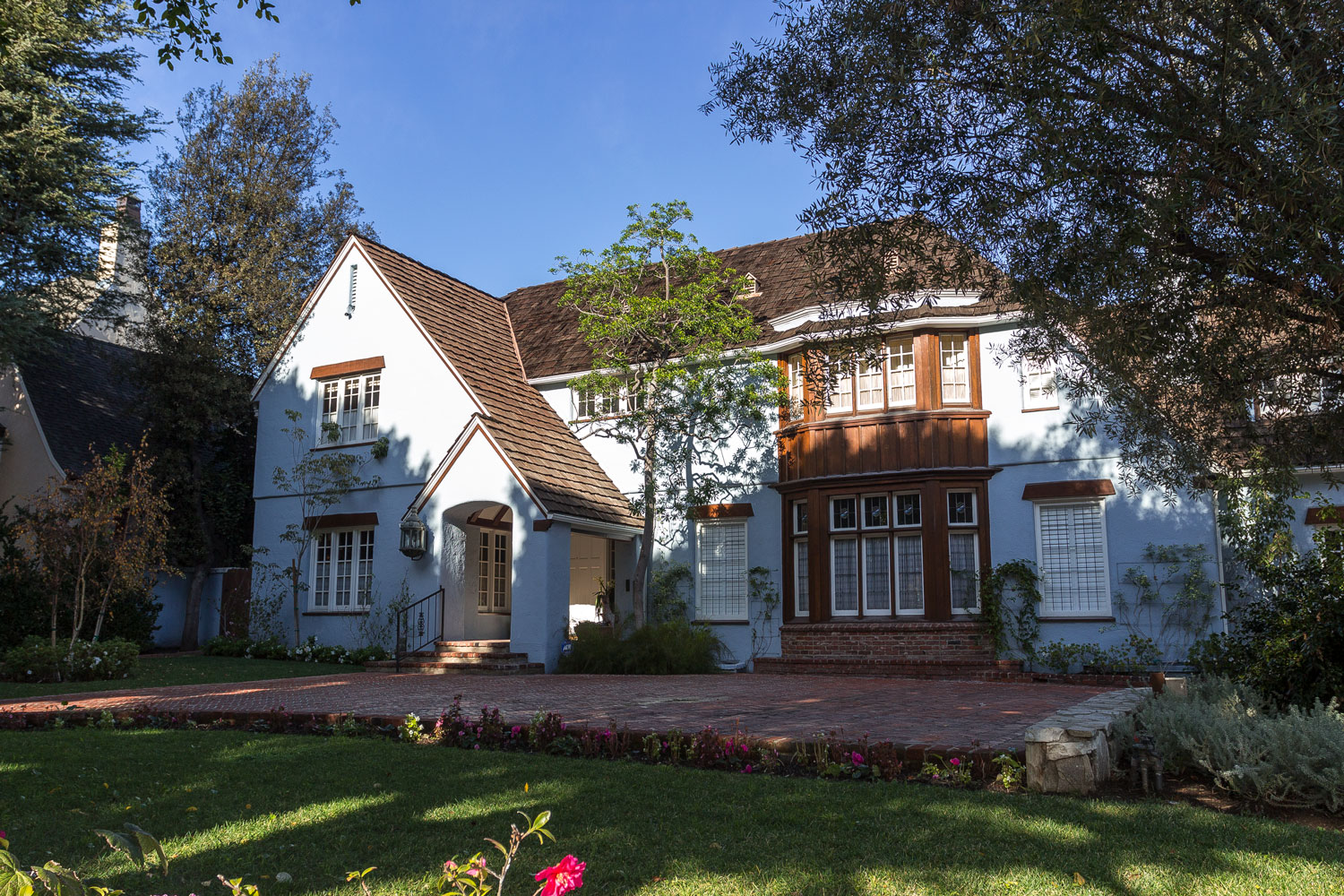 More affluent housing.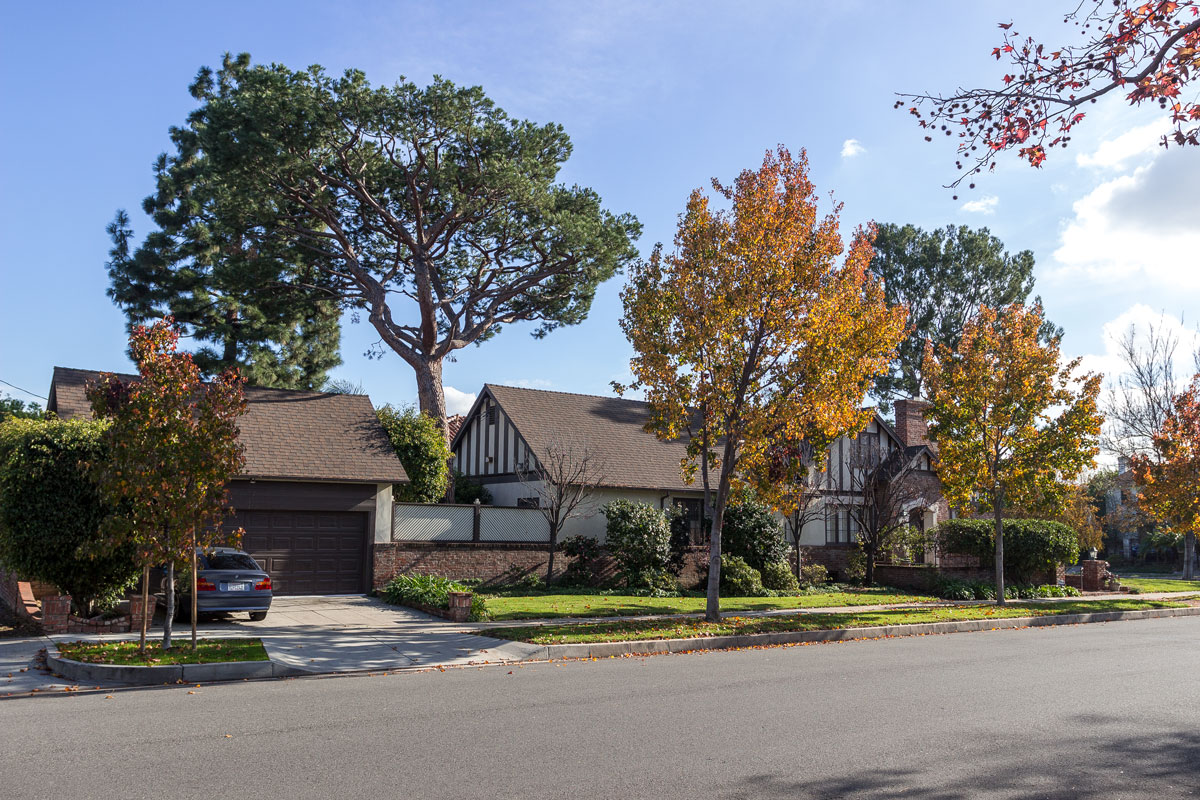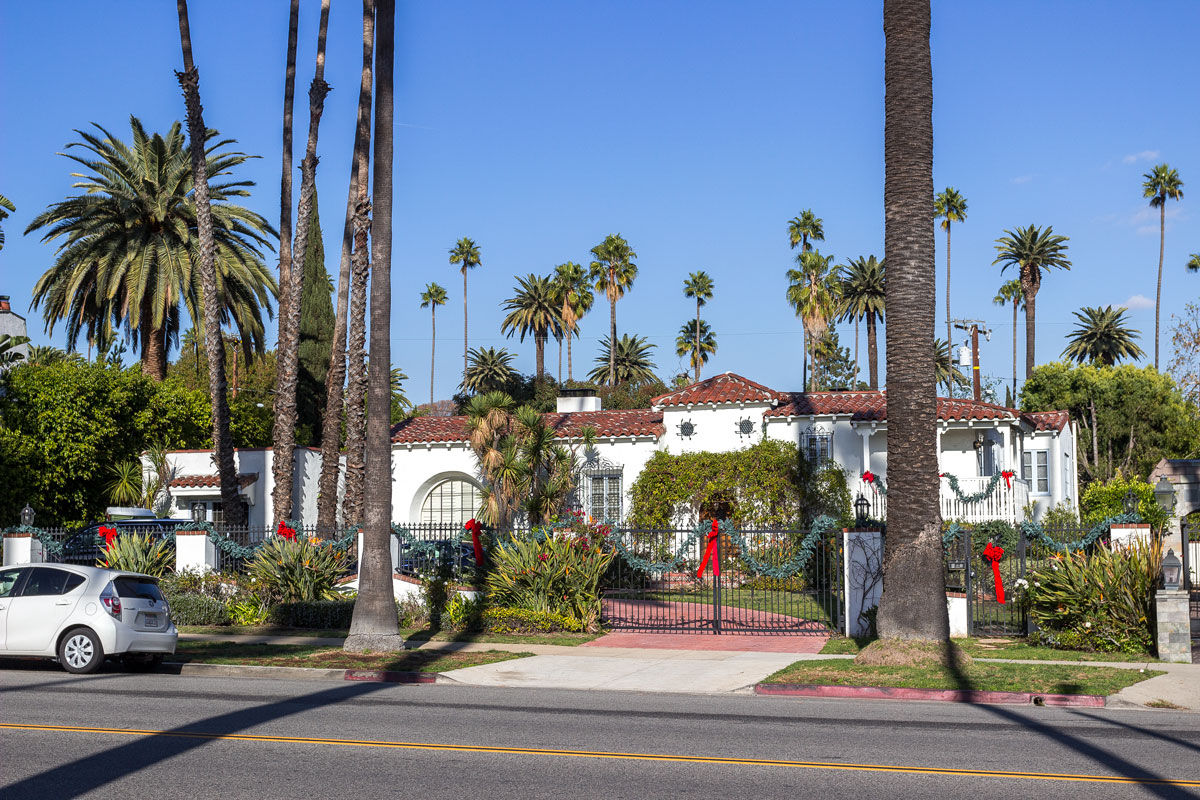 A two-story mansion.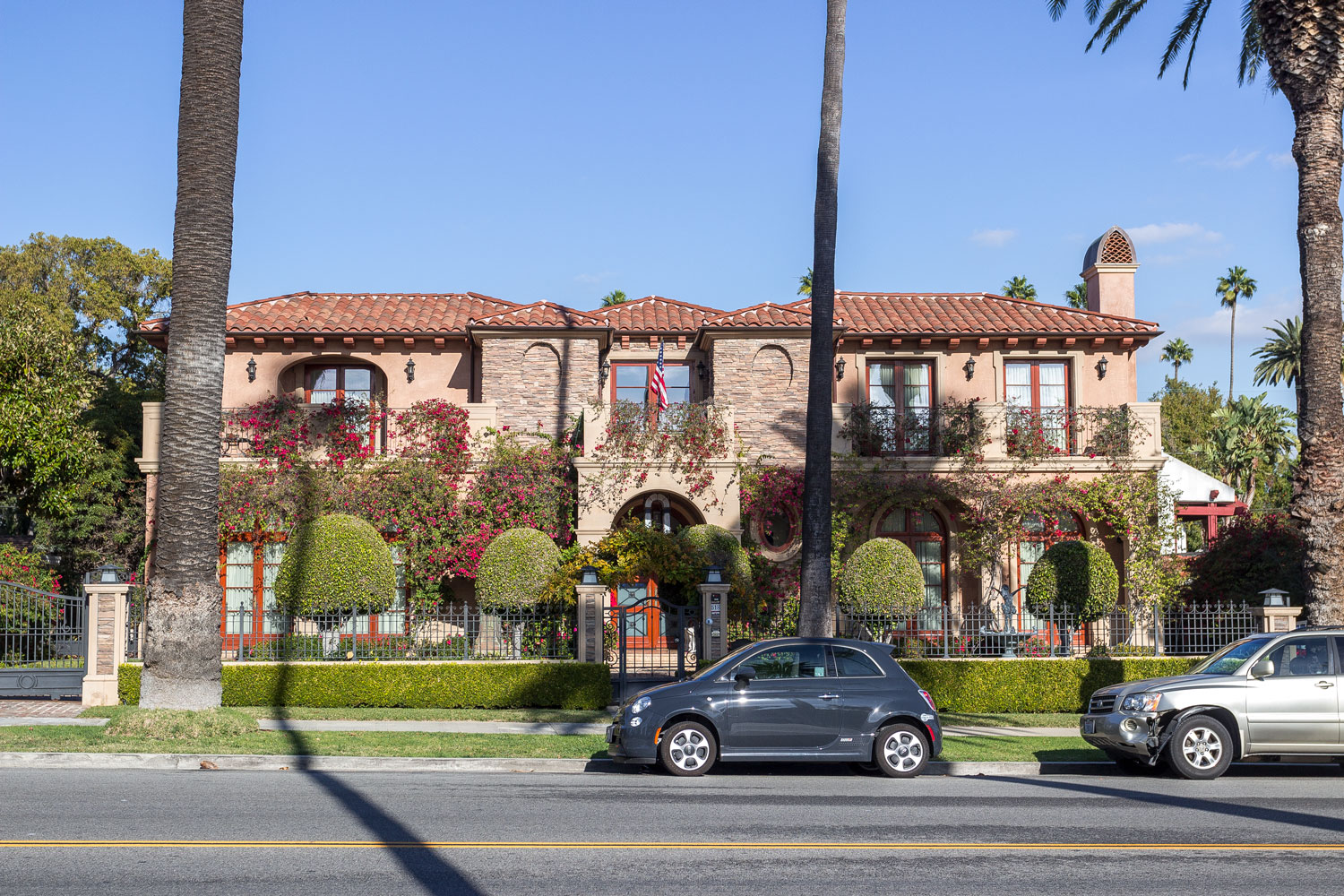 Of course, not all residents of Beverly Hills are movie stars. Directors, screenwriters, supporting actors, people from other arts, and probably just wealthy individuals live here as well. There are special maps for paparazzi with marked locations of the homes of the most famous Hollywood personalities.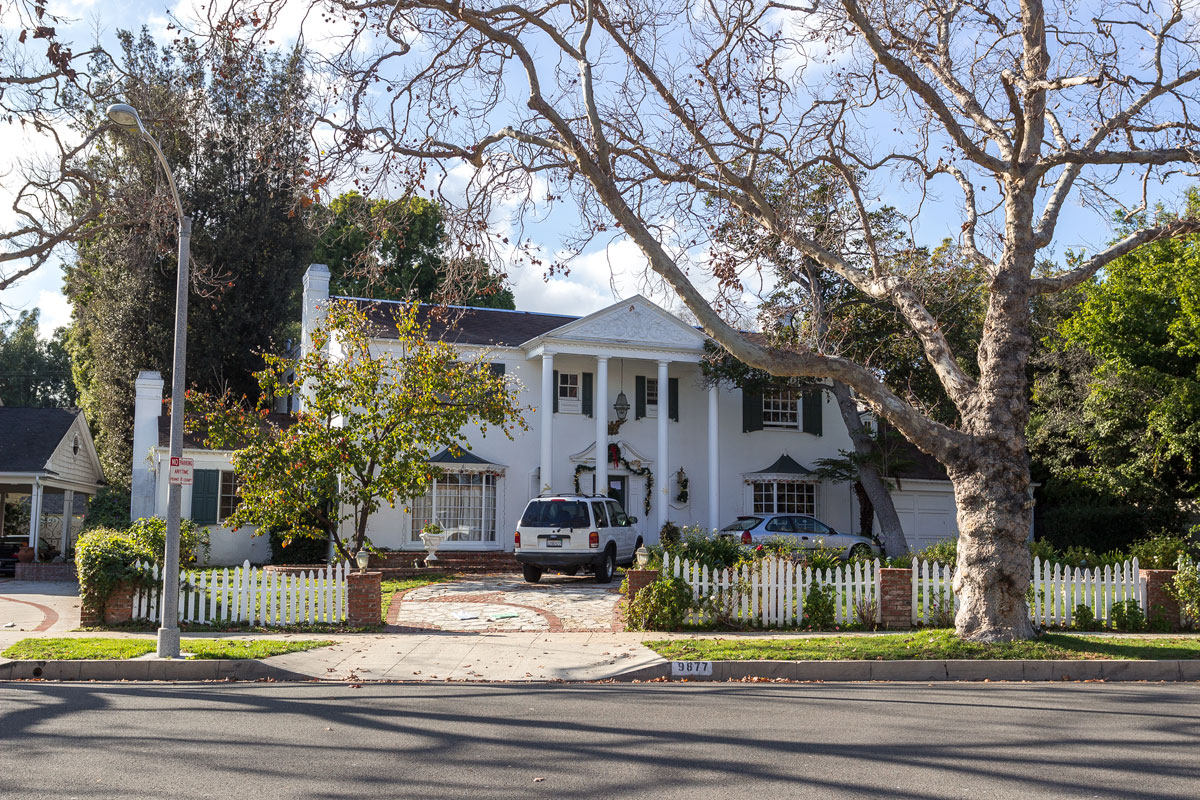 And here's the absolutely incredible Spadena House with its fairytale architecture. It's not an epithet — that's actually the name of the architectural style: fairytale.
Originally, the house was built for silent film director Irvin Víctor Willat. That's where the story ends. One would think that something like Harry Potter should be filmed here. In reality, the house is completely unremarkable, and its fairytale style is highly disliked by Beverly Hills residents. Thus, there have been long-standing plans to demolish it and acquire the land, but some realtor stood up in its defense.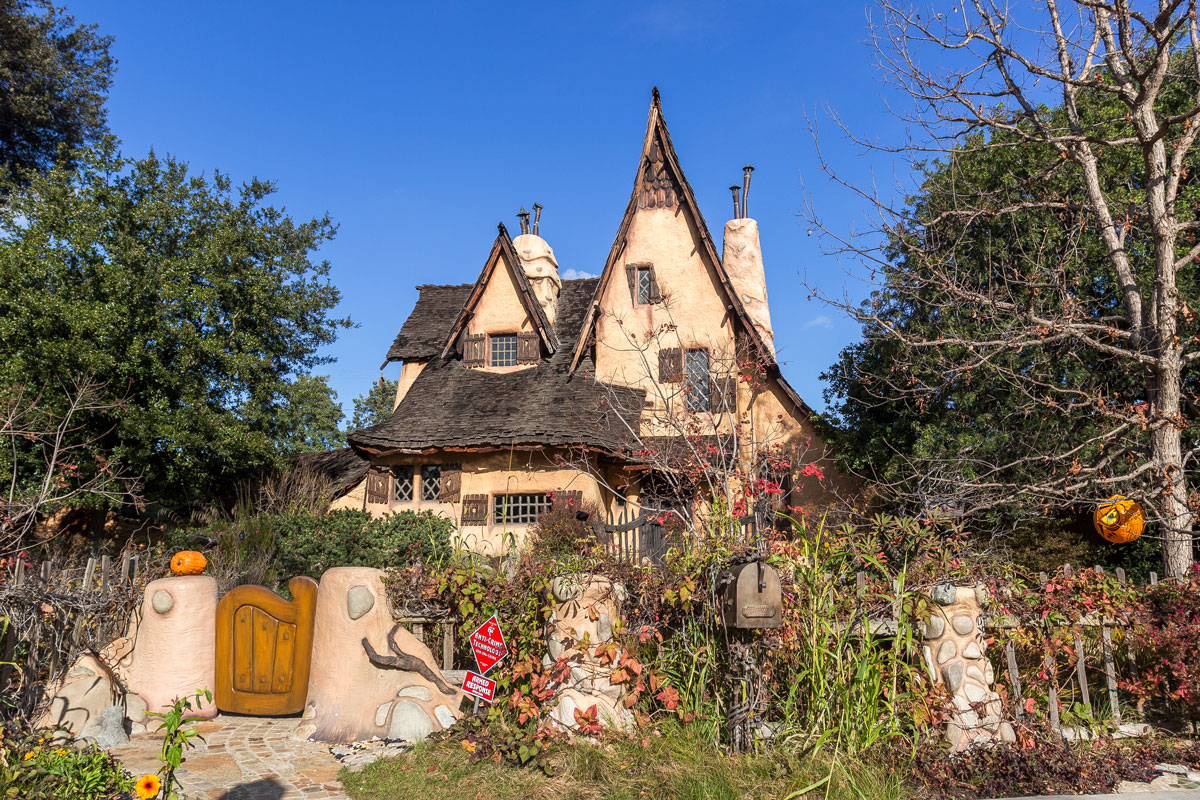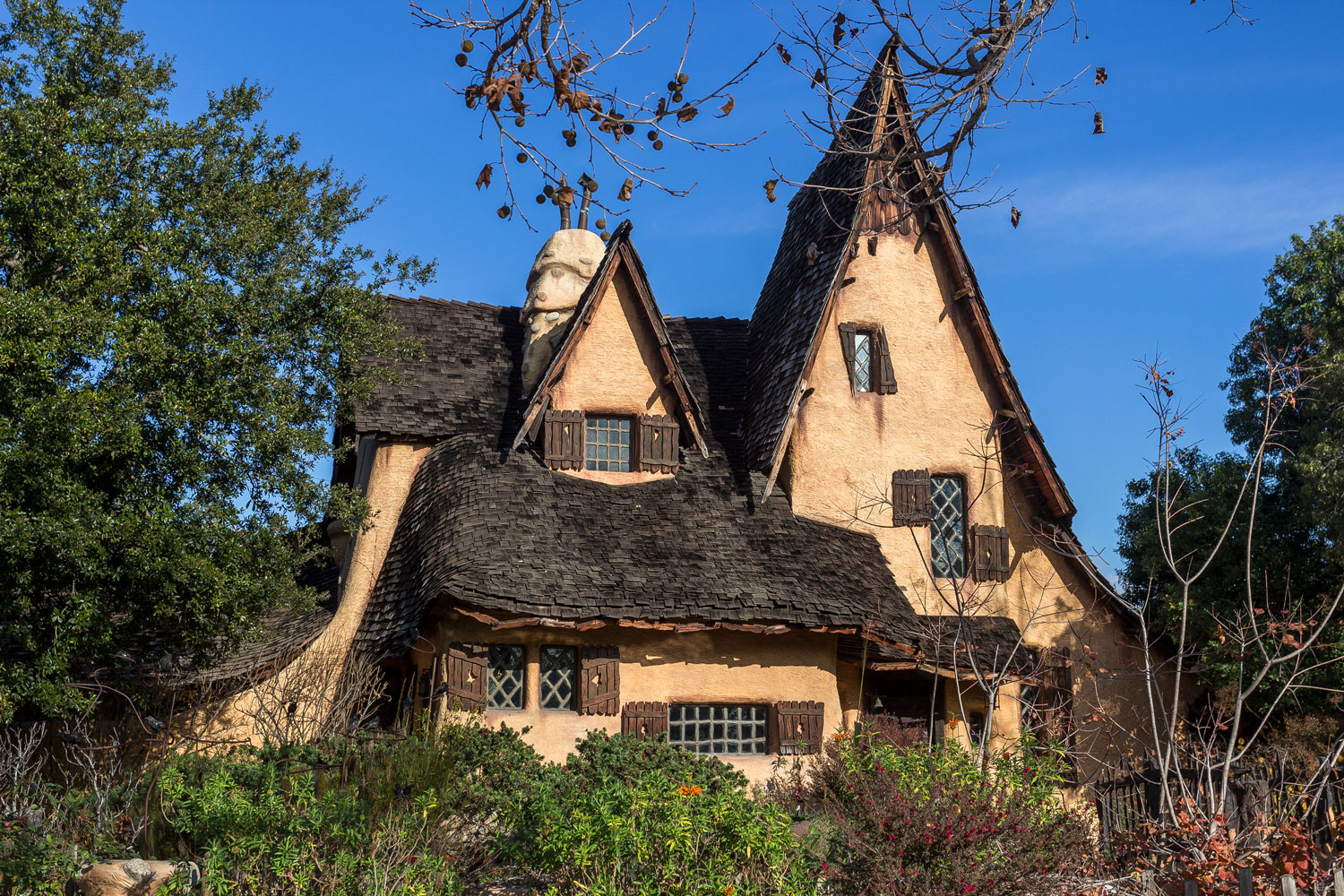 How do people live in such houses? Let's take a look.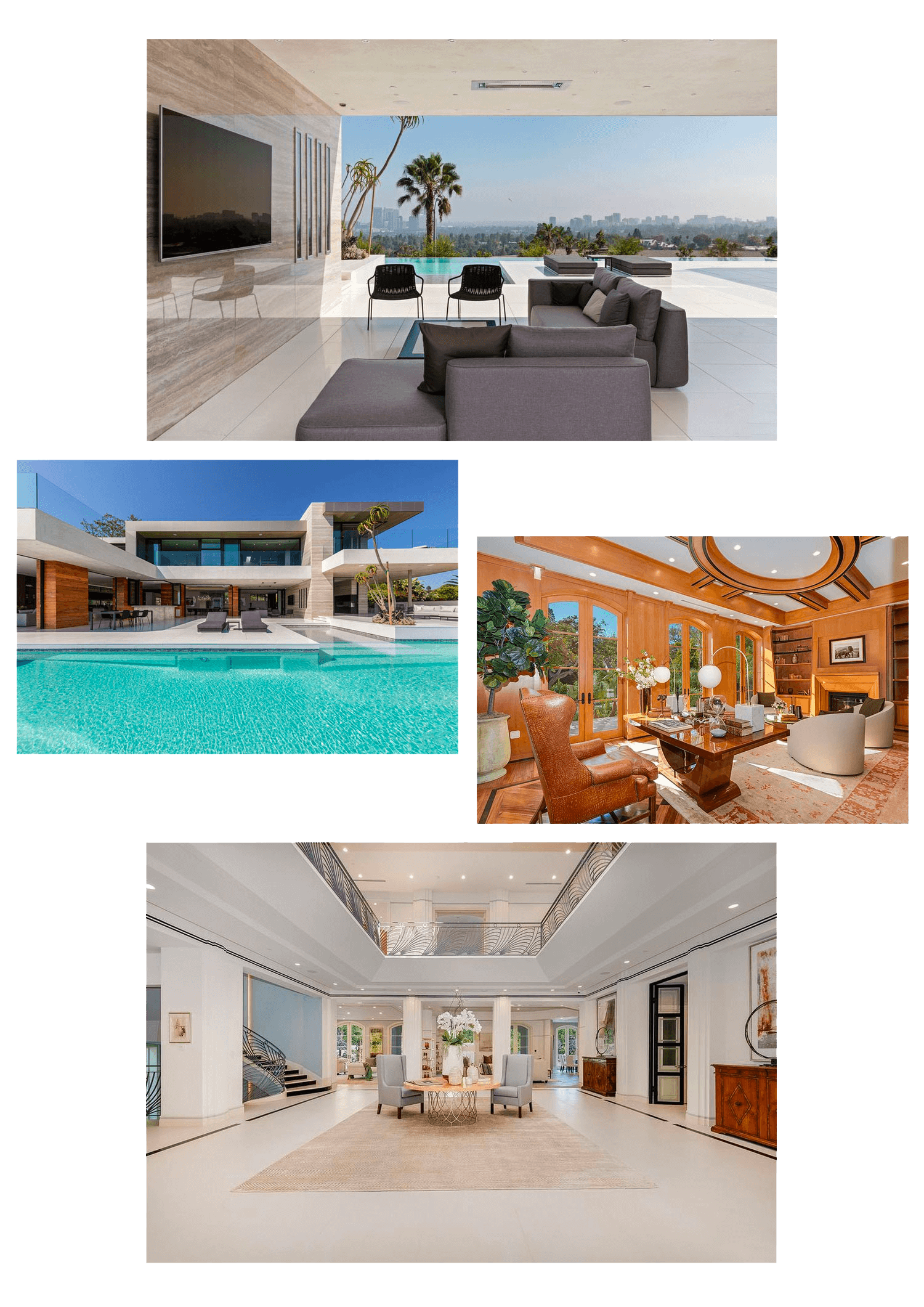 Expensive cars.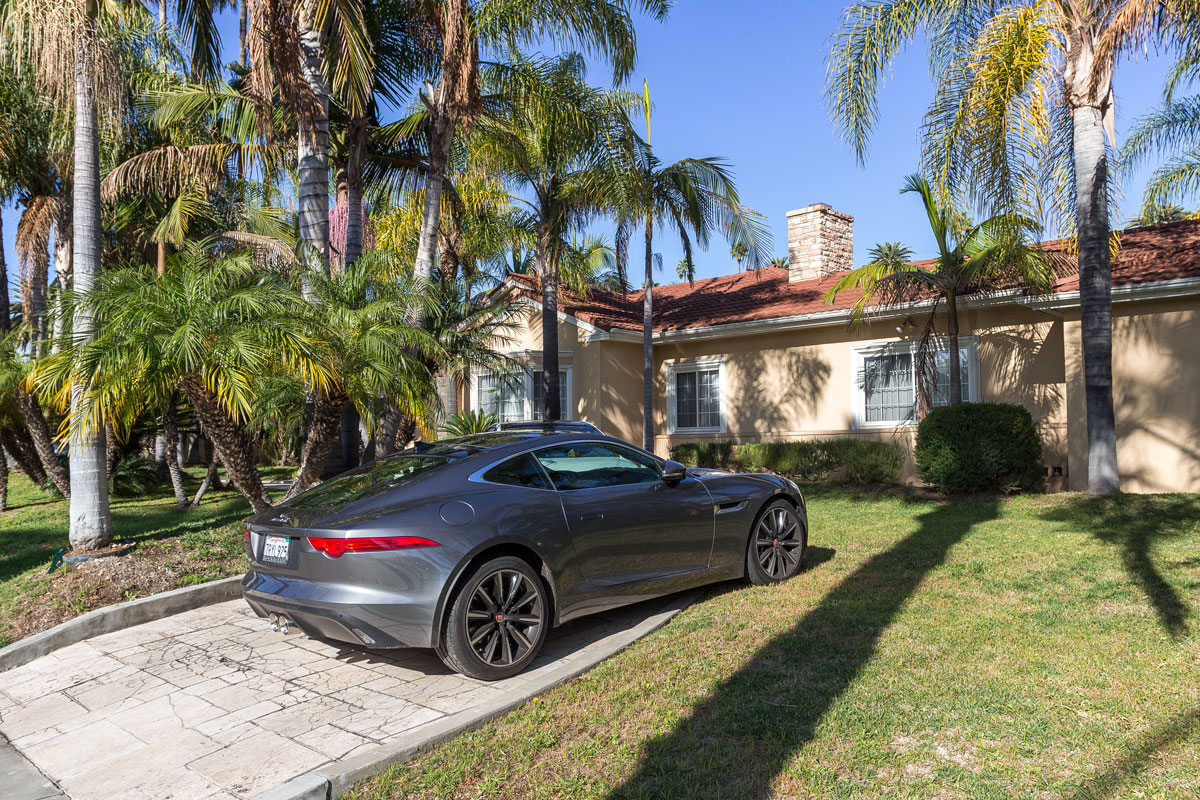 A fresh newspaper appears at the doorstep every morning.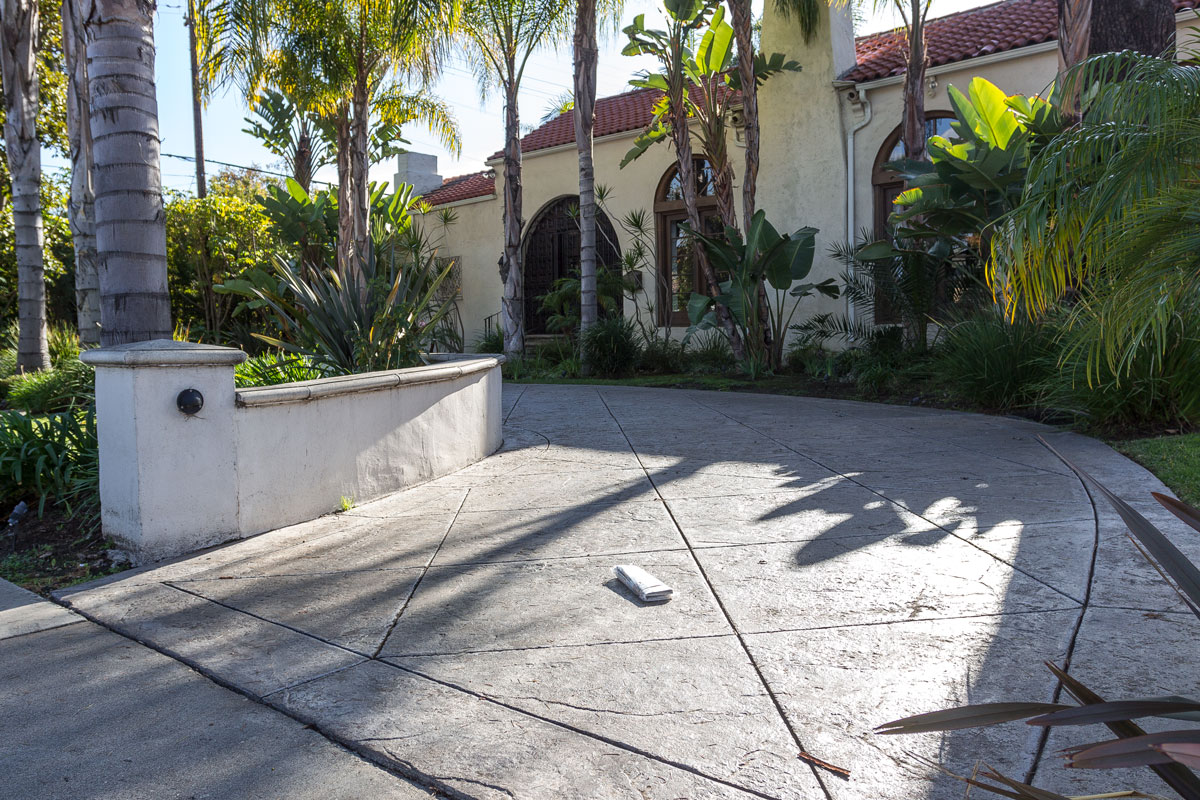 Details. Street sign, manhole with an electrical cable, stormwater drainage.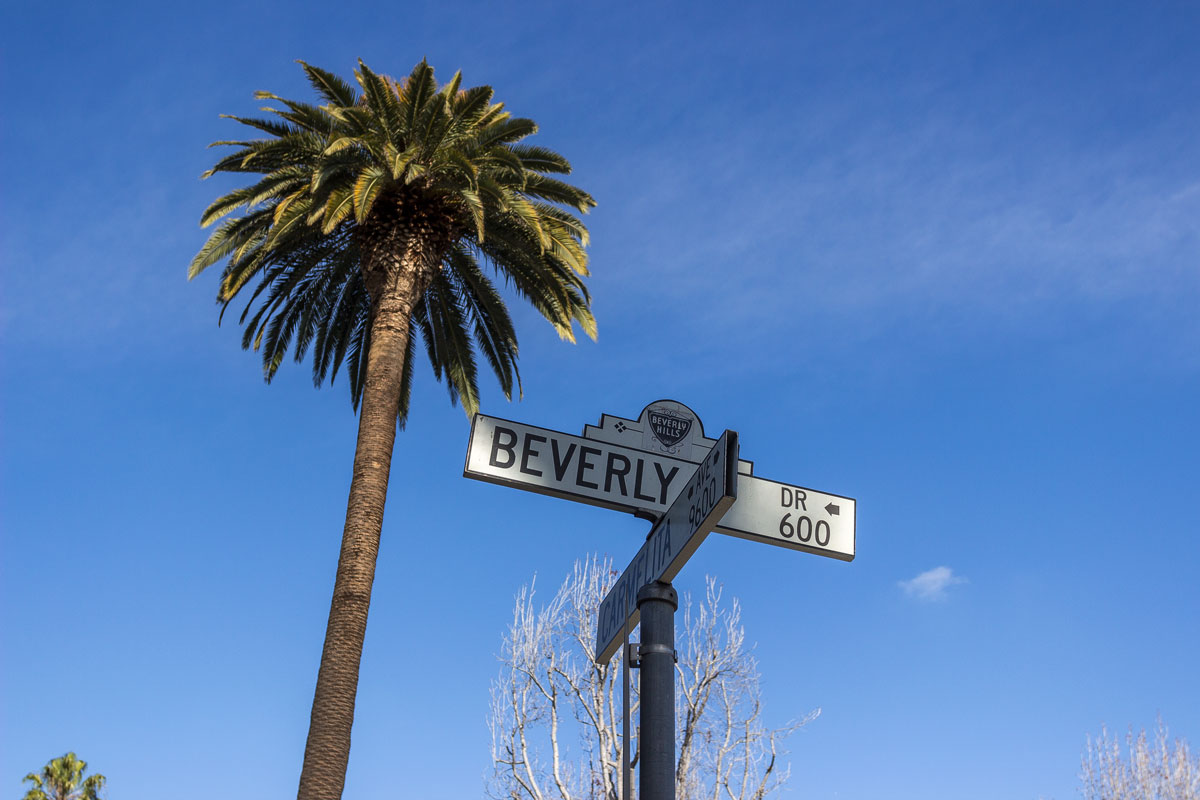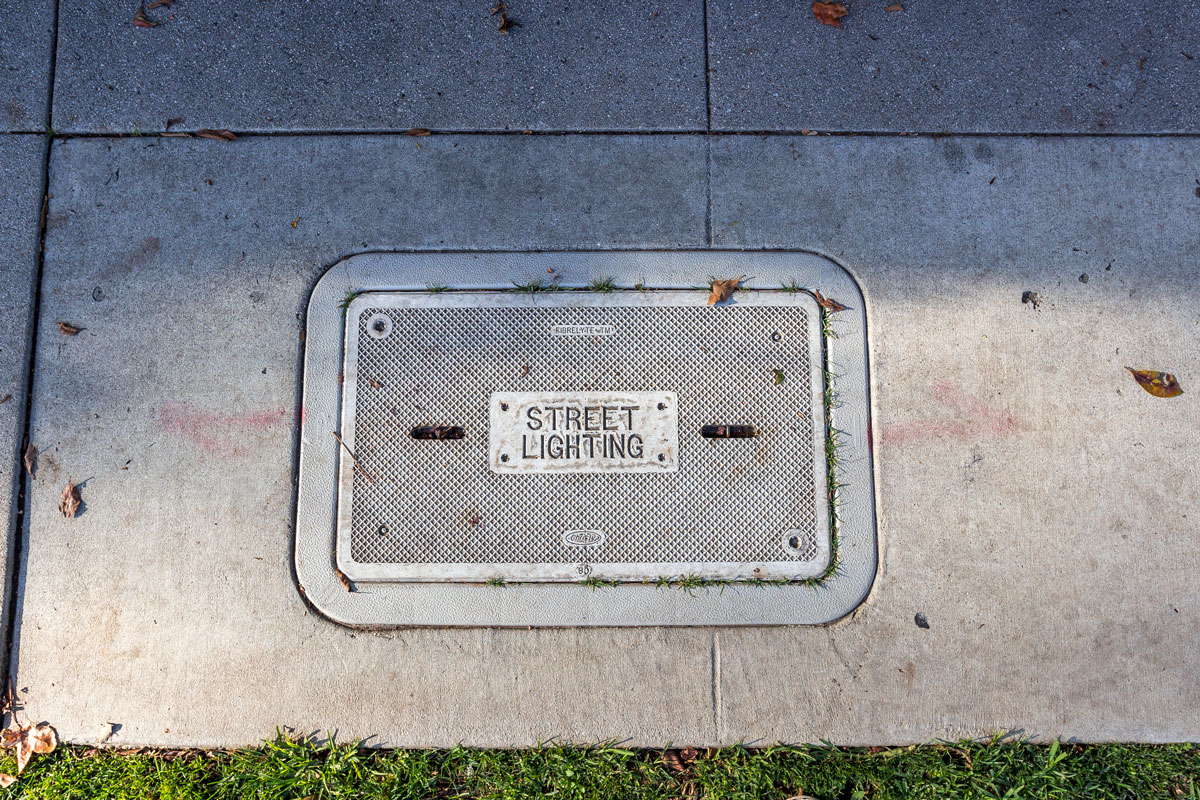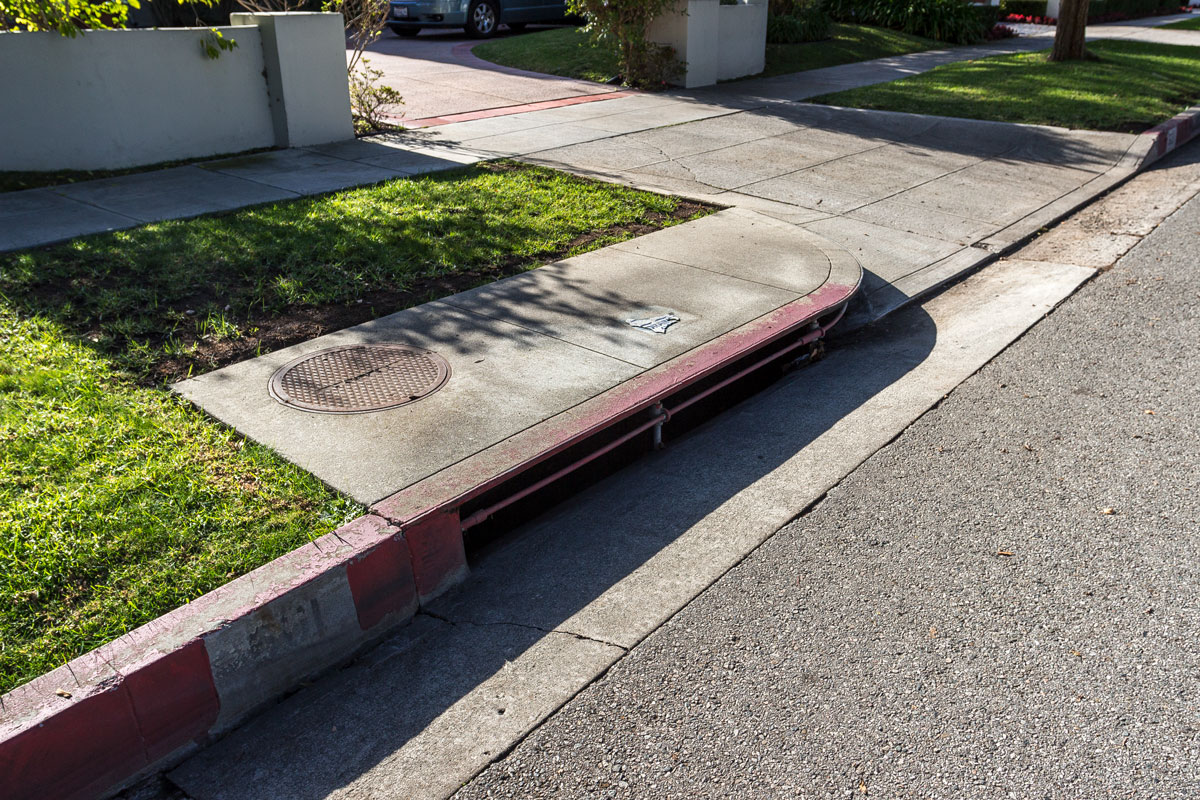 A vintage car emerged from the garage of one of the houses. The driver waved at me through the windshield. It seems that if you stroll around Beverly Hills for long enough, you might actually encounter a celebrity.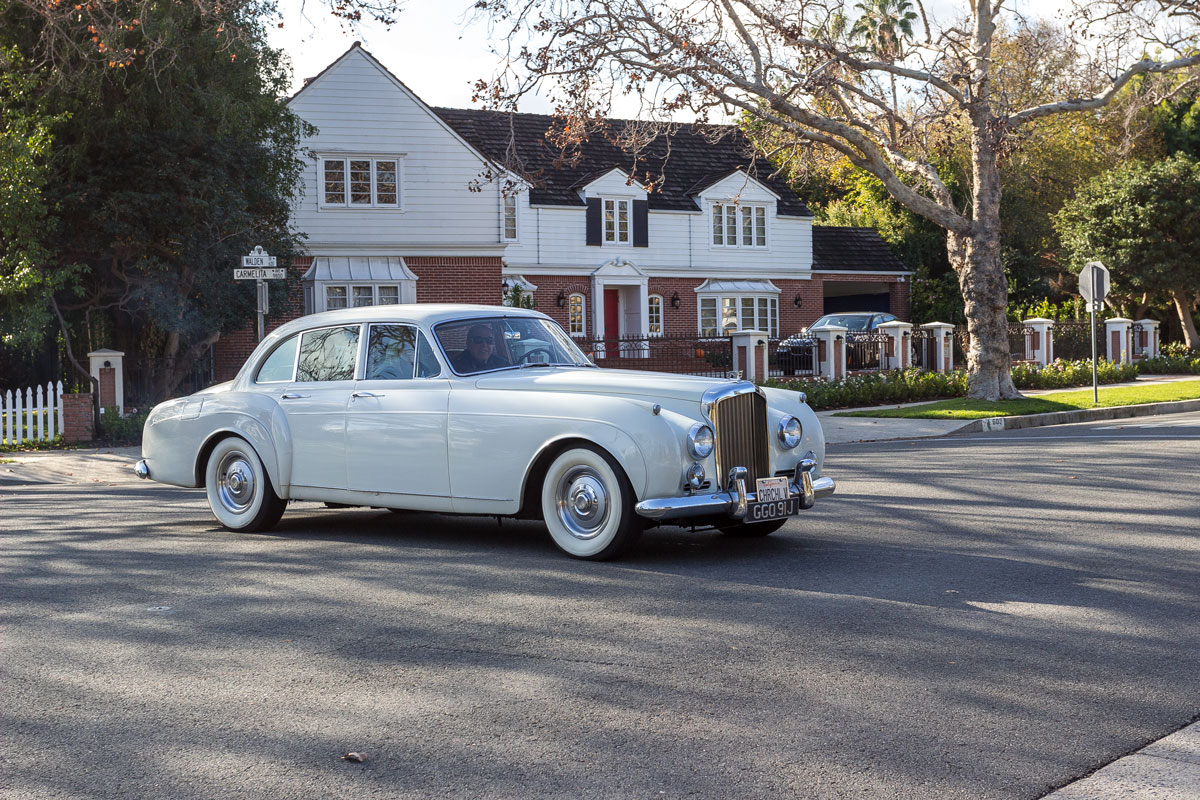 Living in Beverly Hills is wonderful. It's the best neighborhood in Los Angeles. It must be that its residents never go downtown or to the southern parts of the city — they have absolutely no reason to be there.
The daily journey of a star begins in Beverly Hills and ends in Hollywood. From home, it's a half-hour drive along the beautiful Sunset Boulevard or Mulholland Drive — straight to Universal Studios.
Presumably, this path intersects with the real Los Angeles only at one point: the bus carrying Mexicans heading to the subway at 5 in the morning also passes by Universal Pictures.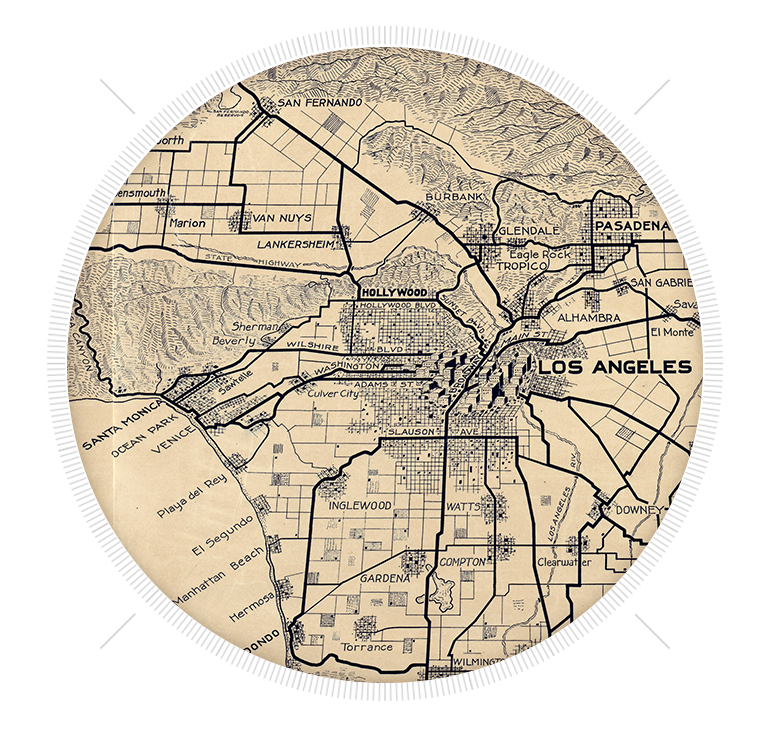 Santa Monica
If there is a place in Los Angeles more beautiful than Beverly Hills, it is Santa Monica. Technically, it's a separate city, but visually inseparable from L.A.
Santa Monica seems to be the most European part of Los Angeles. It features pleasant pedestrian streets, shops, cozy cafes, street performers, and a relaxed way of life.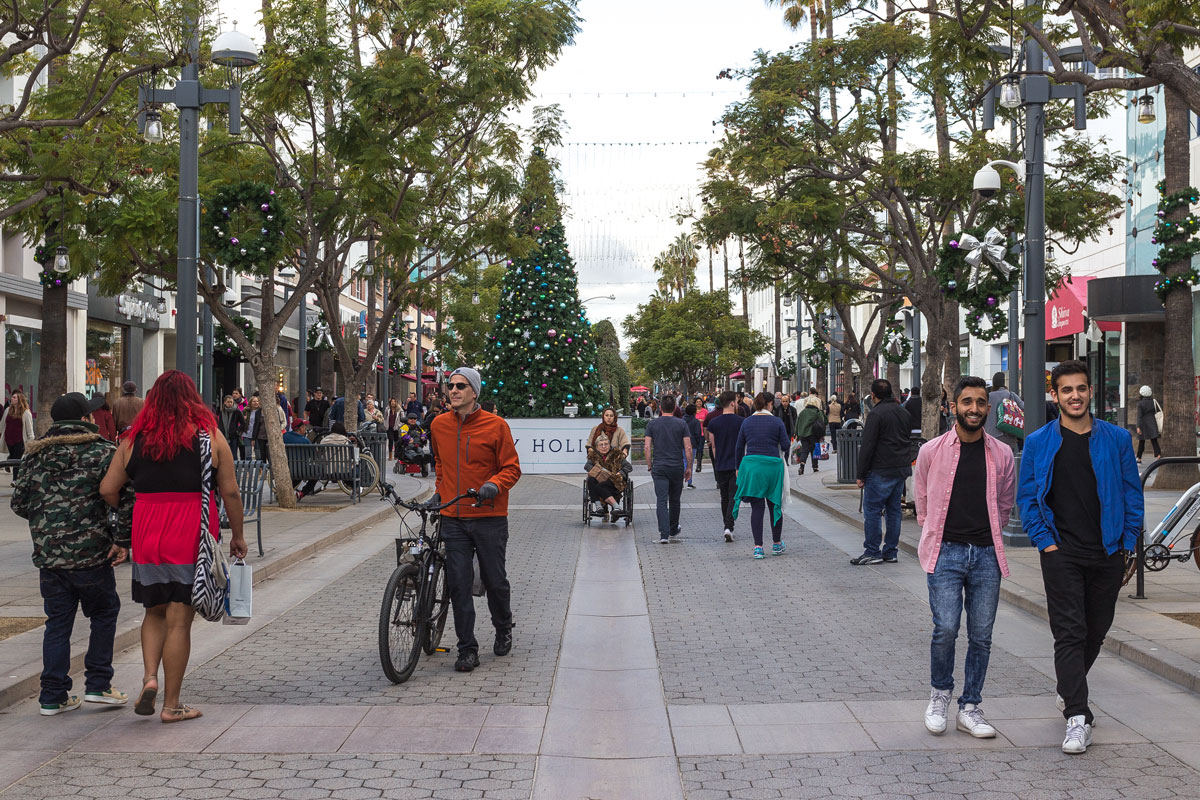 Santa Monica is located right on the coast of the Pacific Ocean. And the coastline adds all the magic to this place — Santa Monica is somewhat reminiscent of Miami.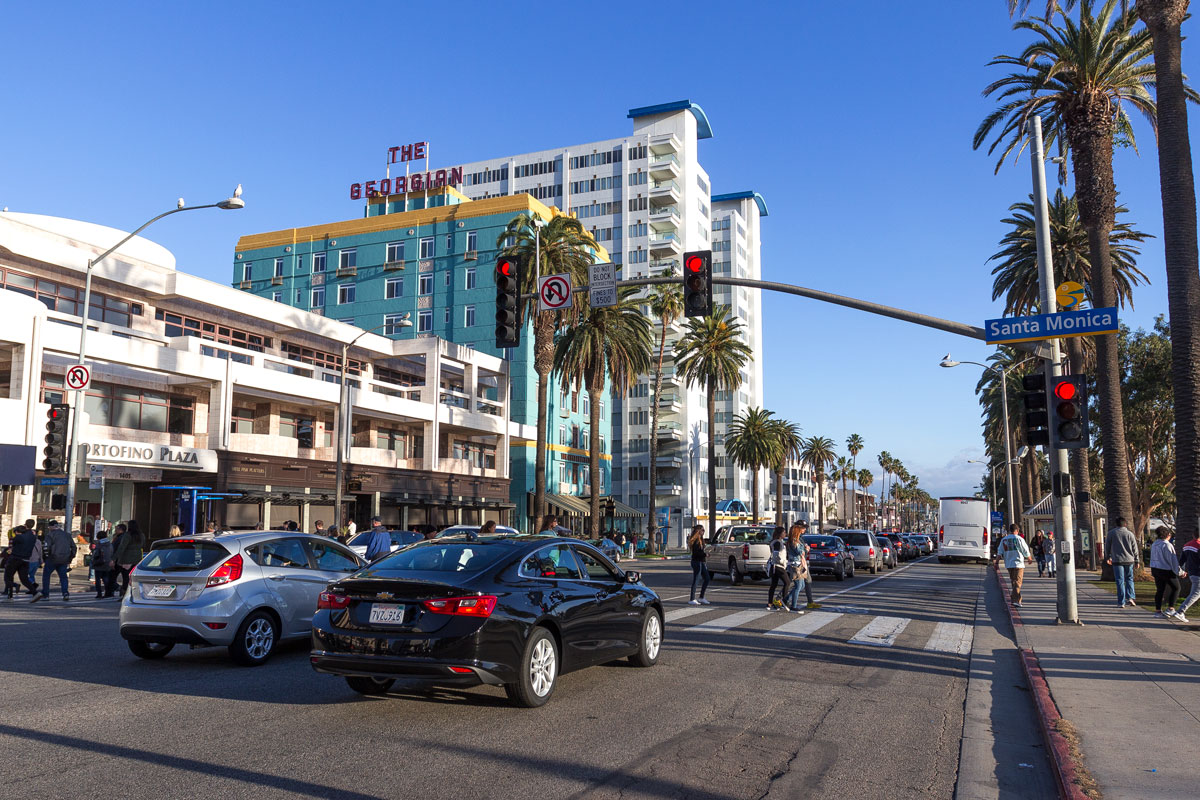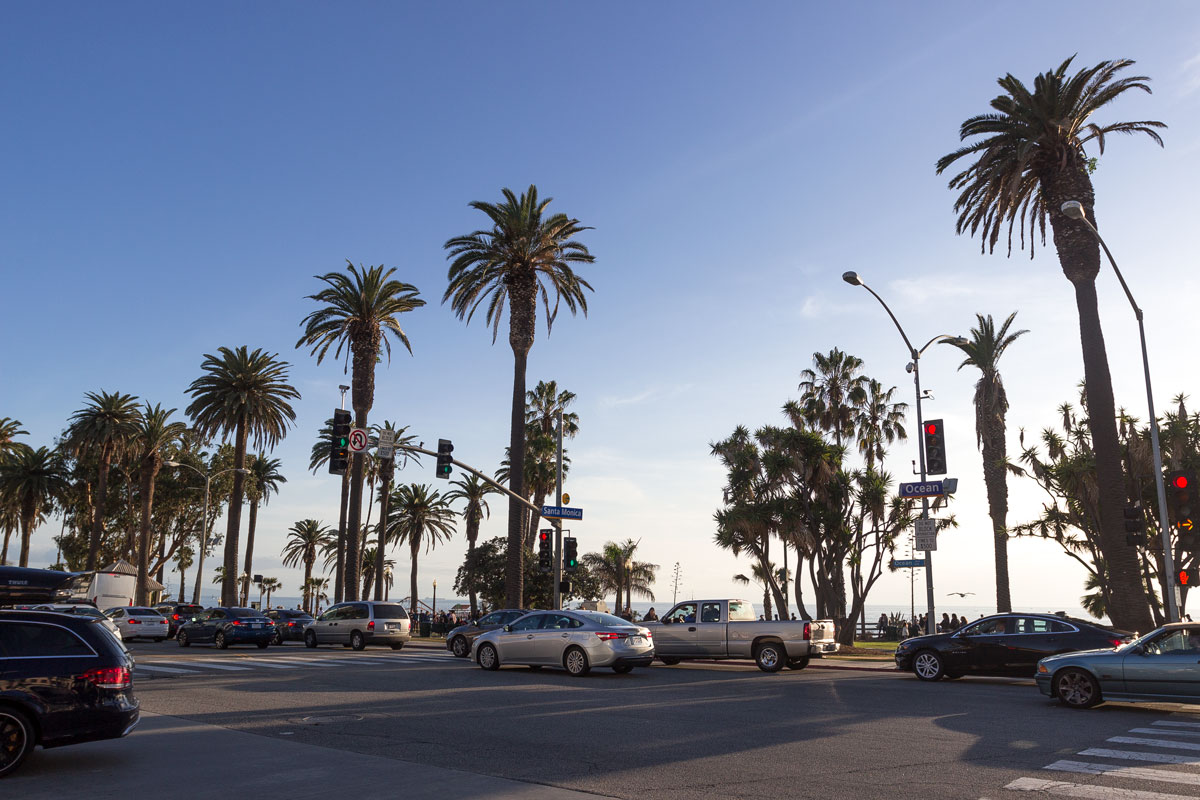 In Santa Monica, there are only shades of pink and gold.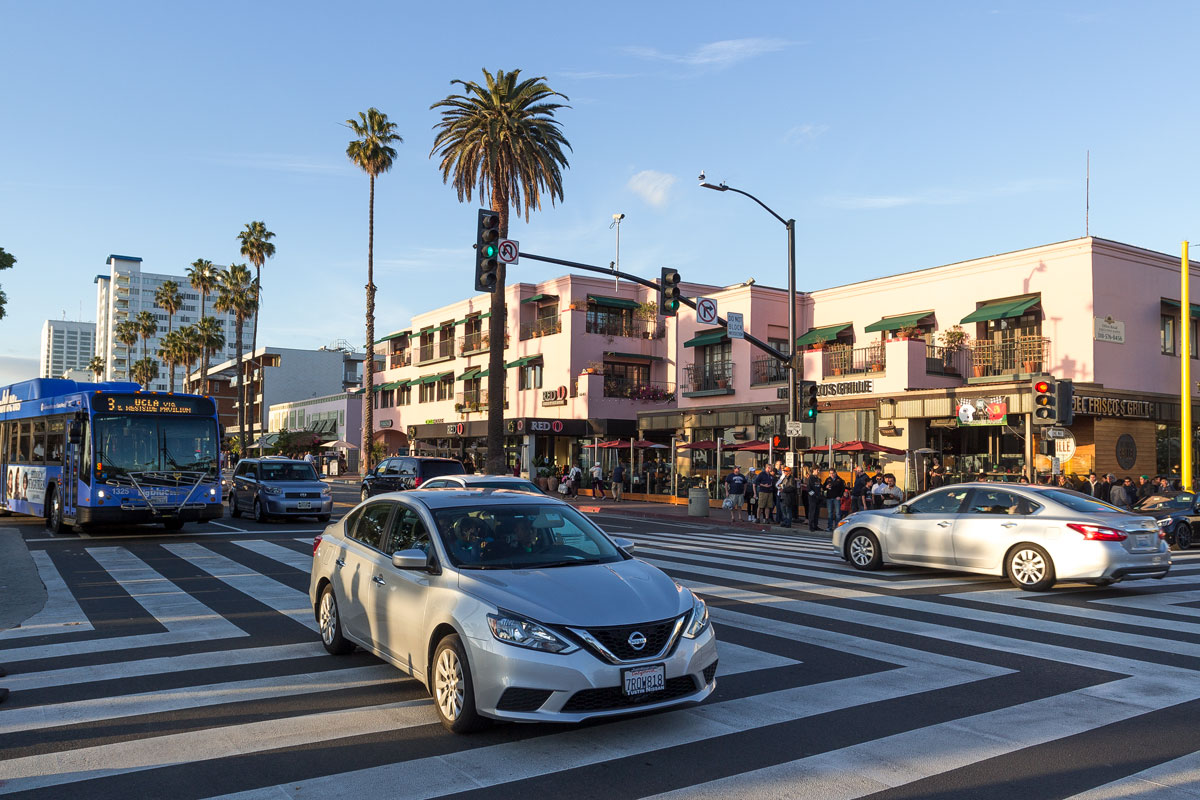 In Santa Monica, the entire beauty of the United States fully manifests itself. It's astonishing how abruptly this country can change.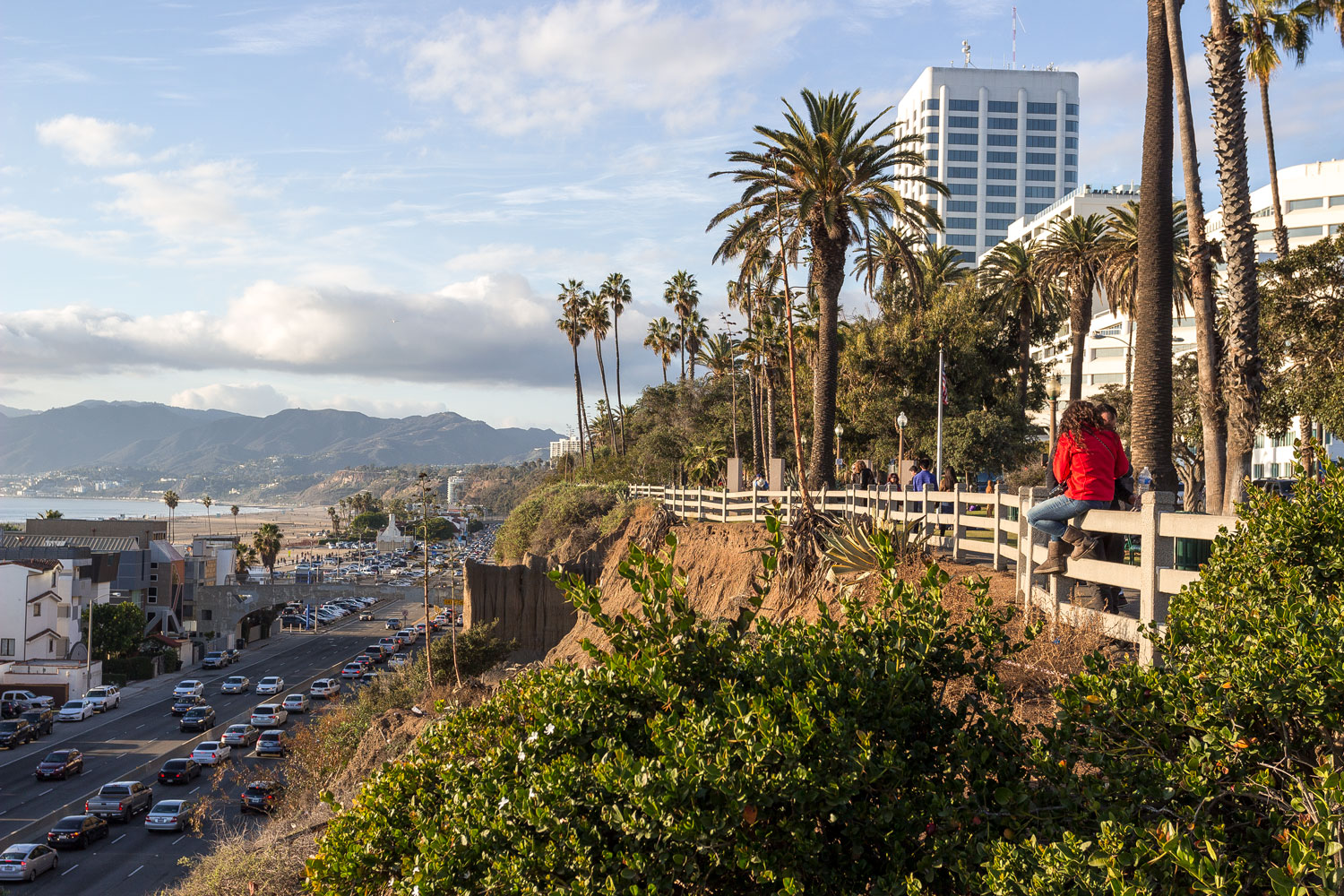 It's hard to imagine that this ocean beach with a golden sunset and soft shadows from towering palms is in the same city where exist vast ghettos and concrete skyscrapers.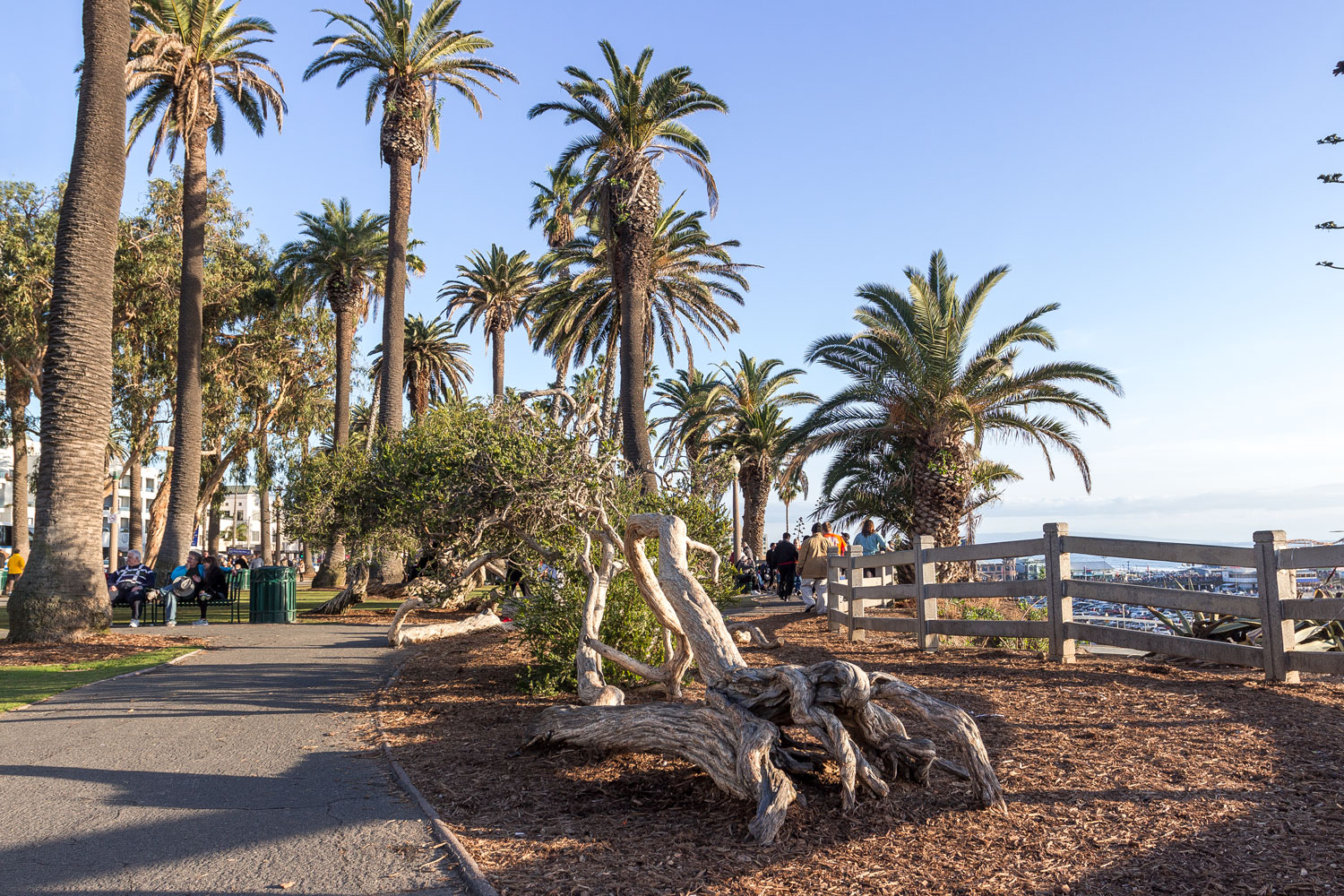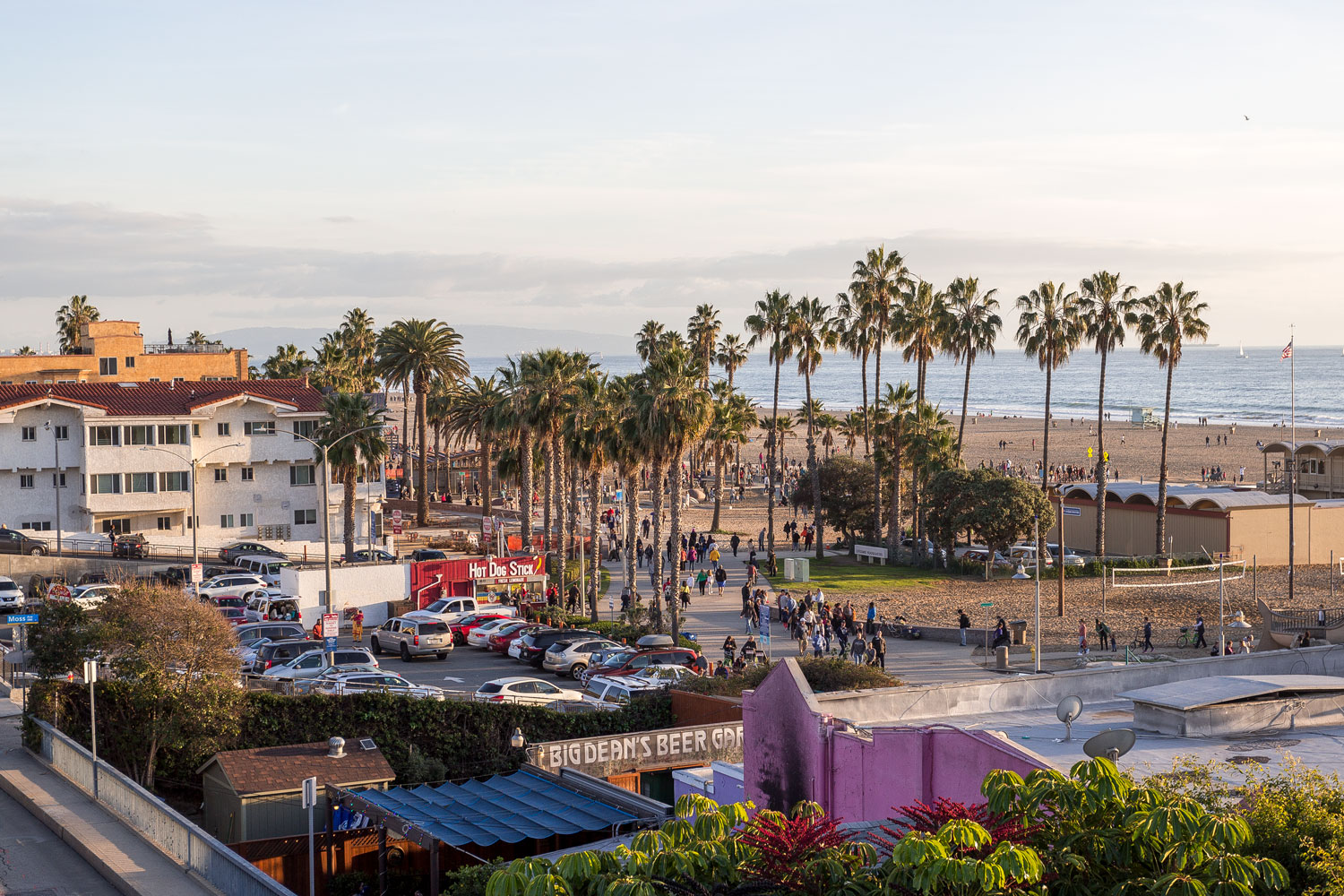 Concrete jungles are transformed into just jungles.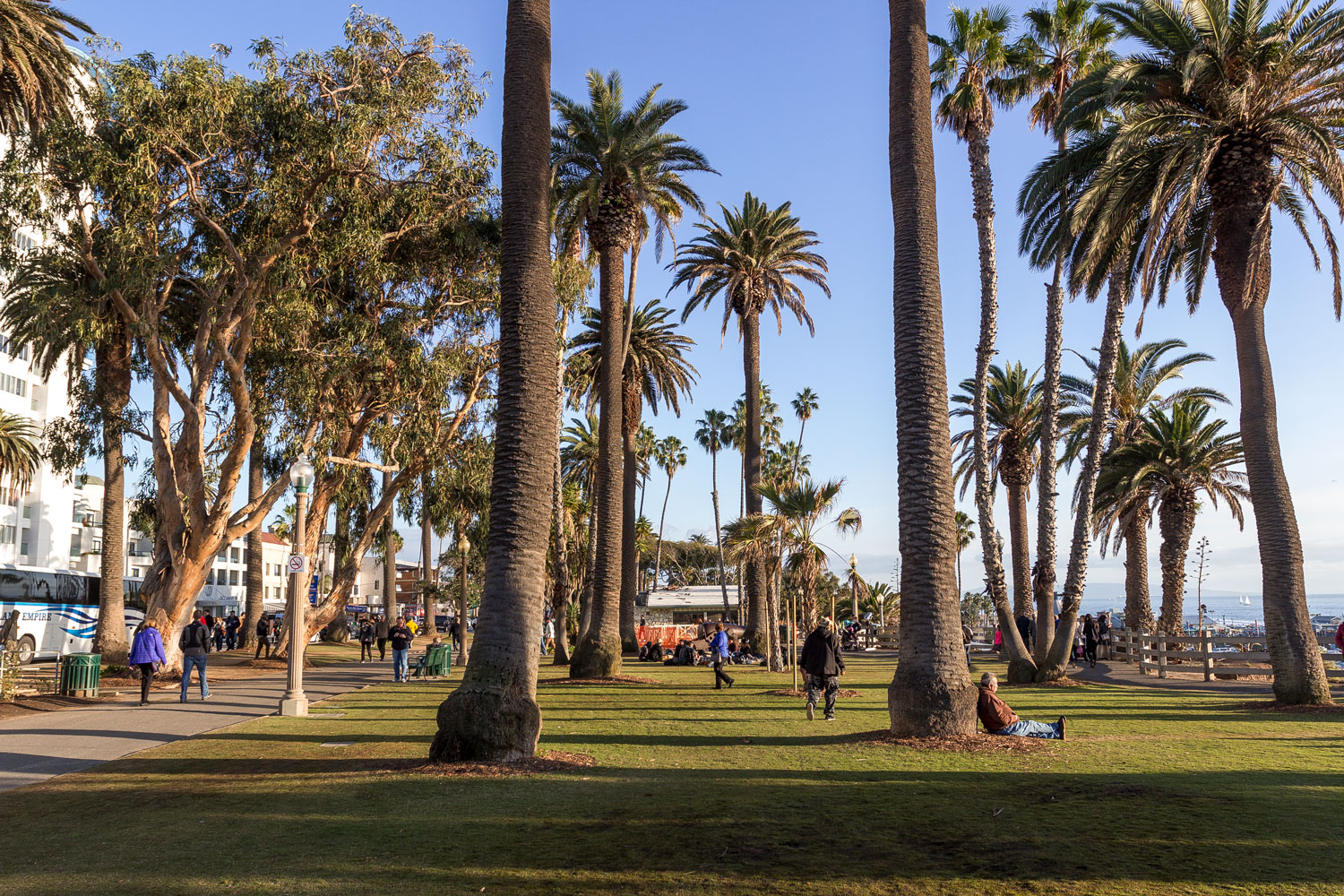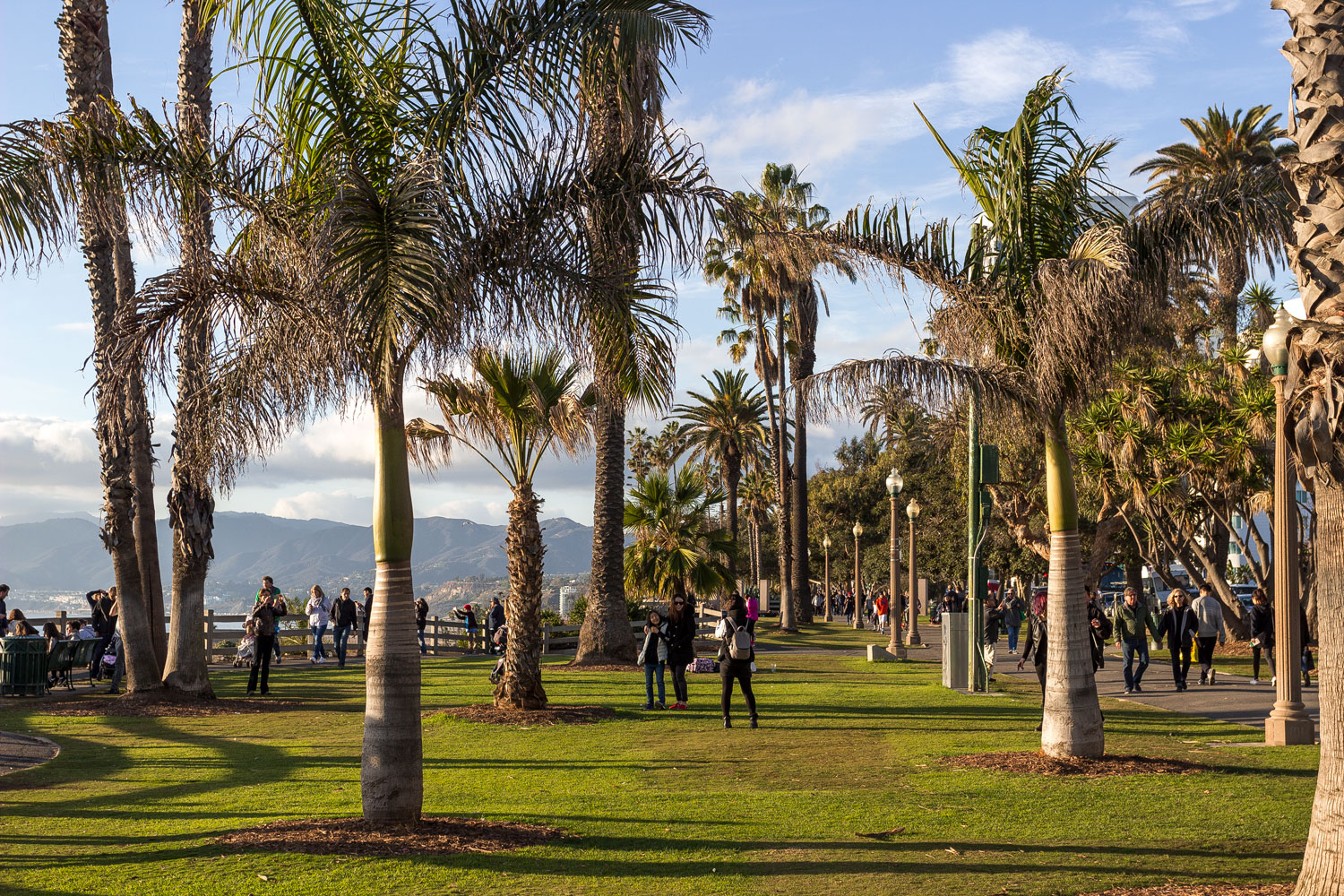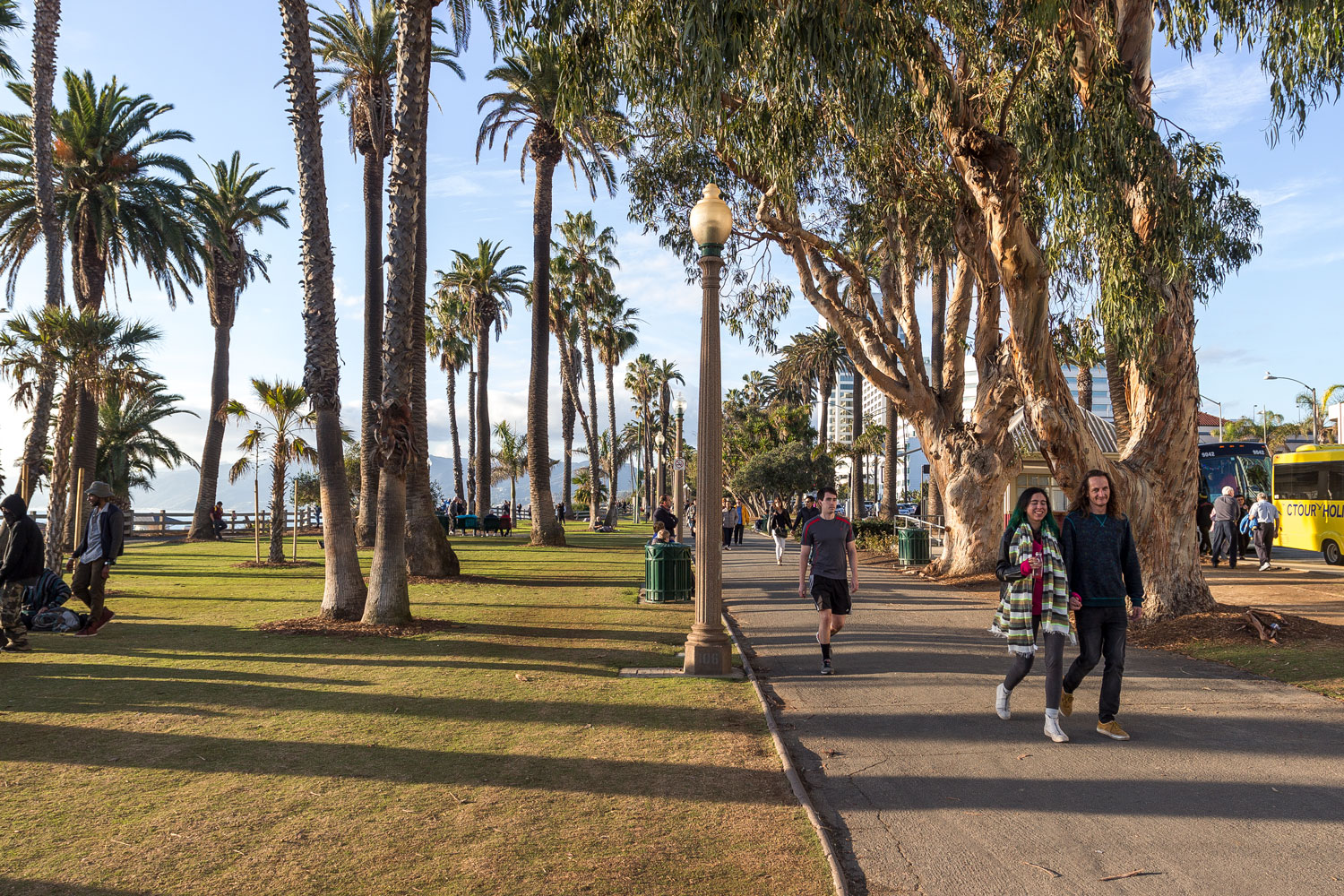 Not every city can boast such a waterfront.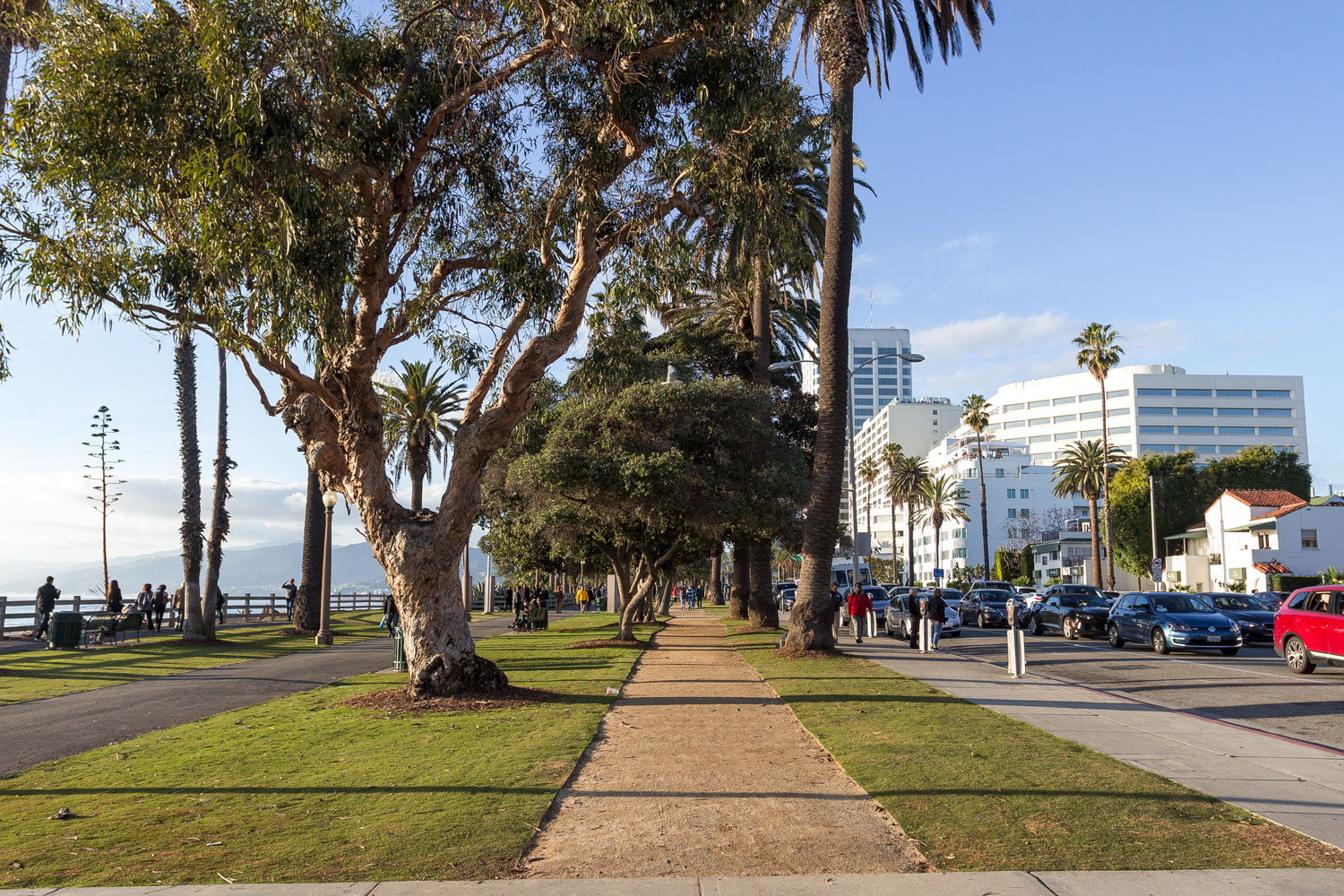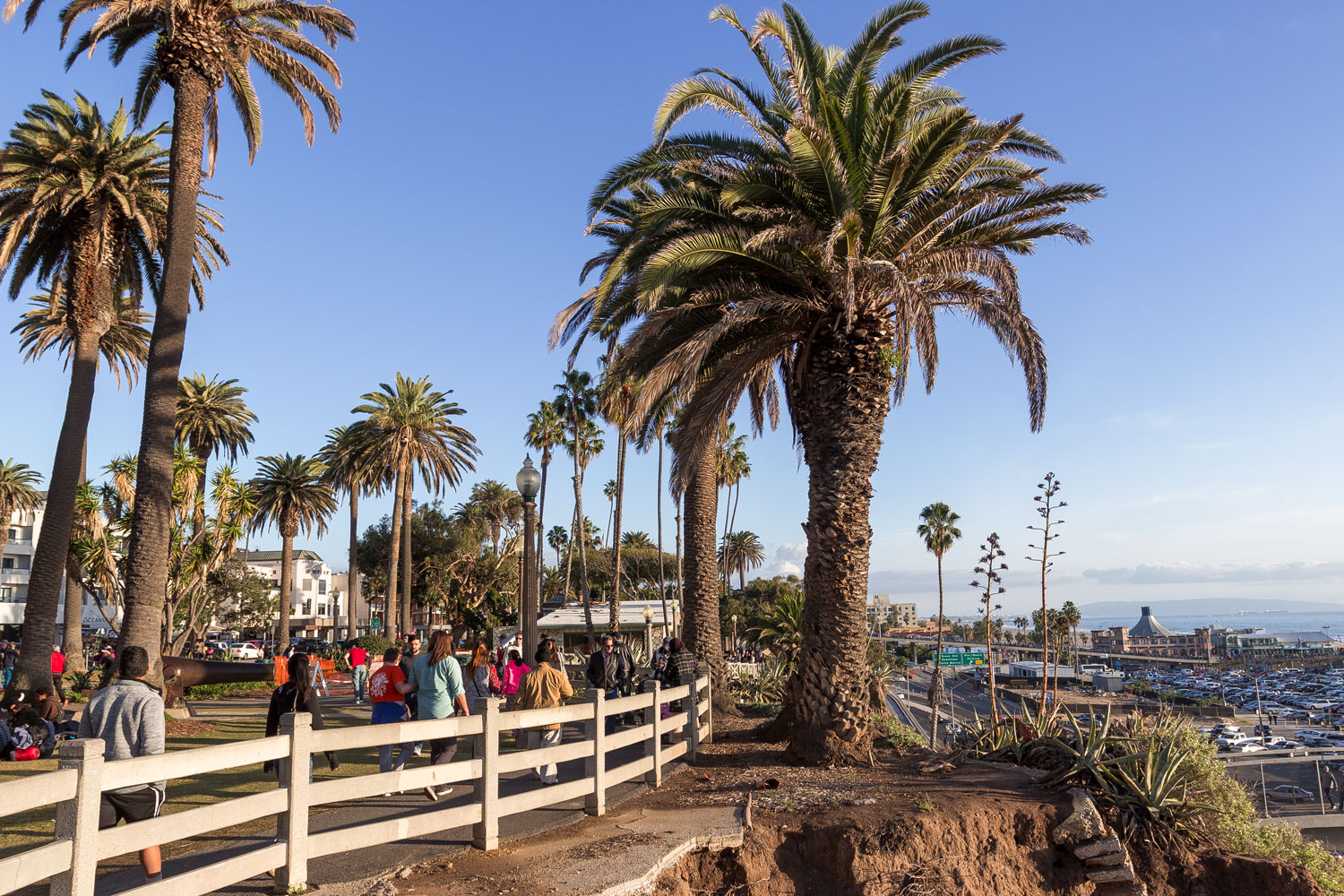 The only thing that gives away America is the giant, overcrowded parking lot next to the beach. The whole city comes to Santa Monica to watch the sunset. A wooden pier juts out into the ocean a couple of hundred meters away.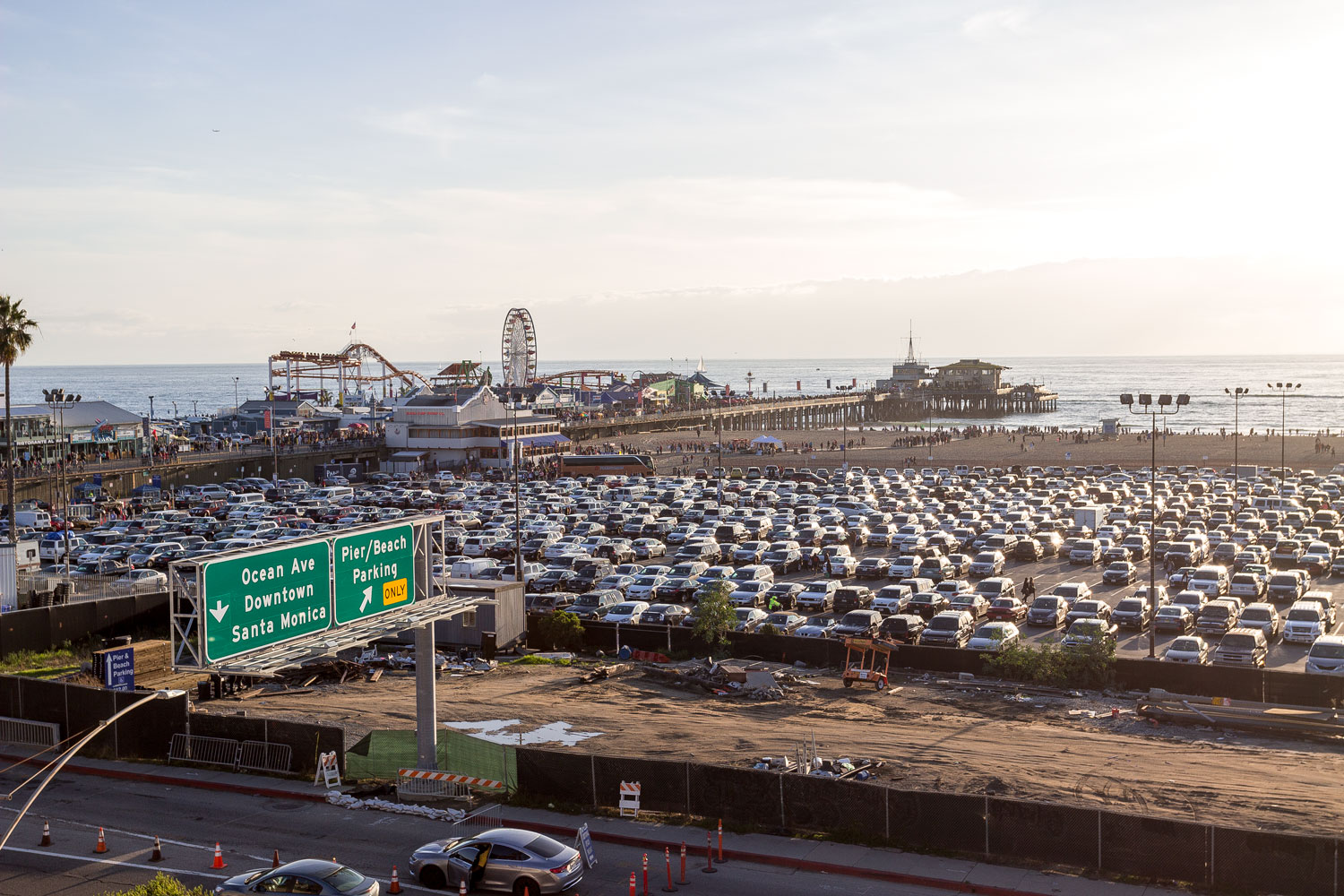 The tradition of Americans is to install Ferris wheels and attractions on the coast. A similar park exists in Brighton Beach as well.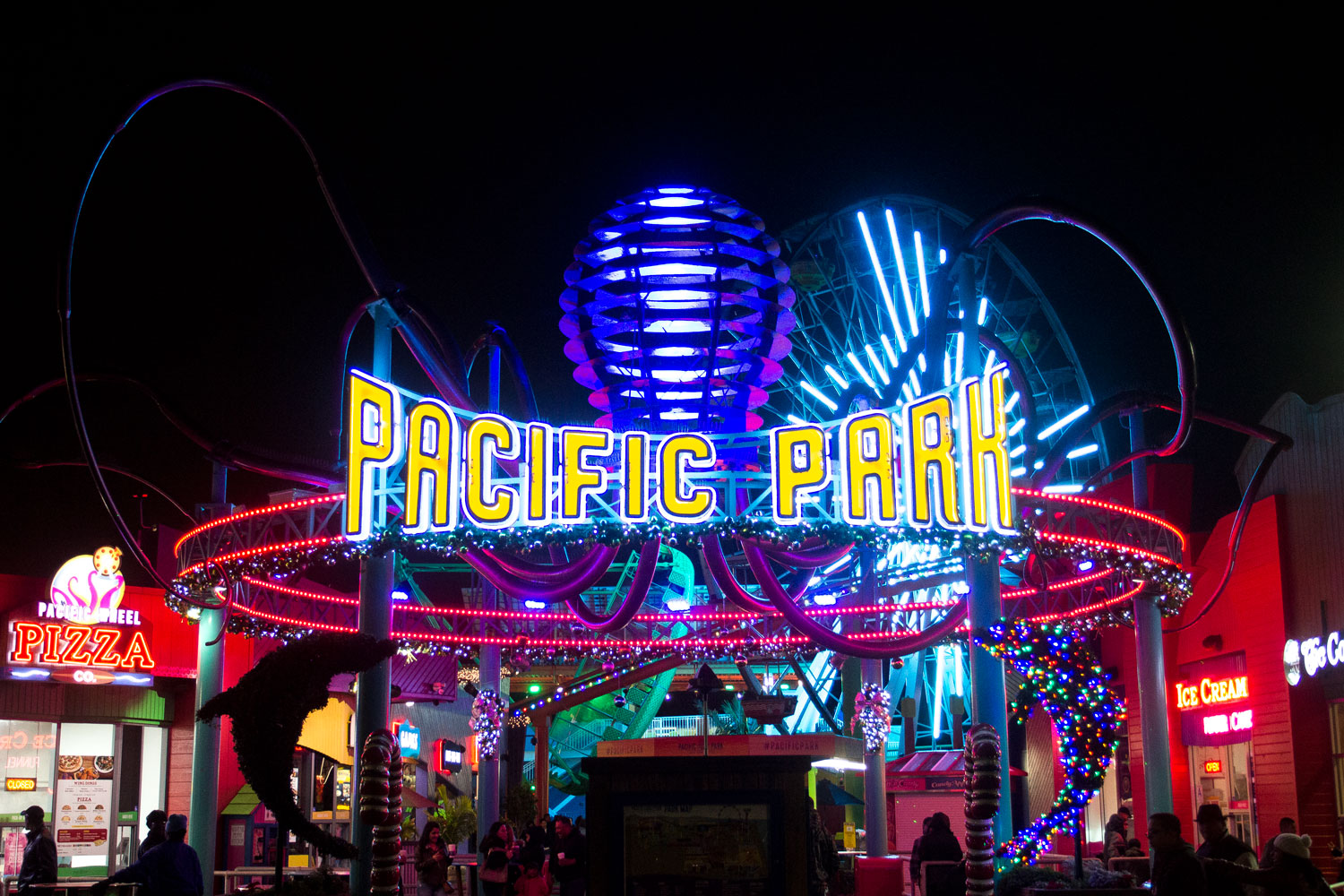 They also brought in a bench to the pier, claiming it was the one where Forrest Gump sat, and opened a restaurant based on the movie. It's a completely fake, commercial, and soulless project.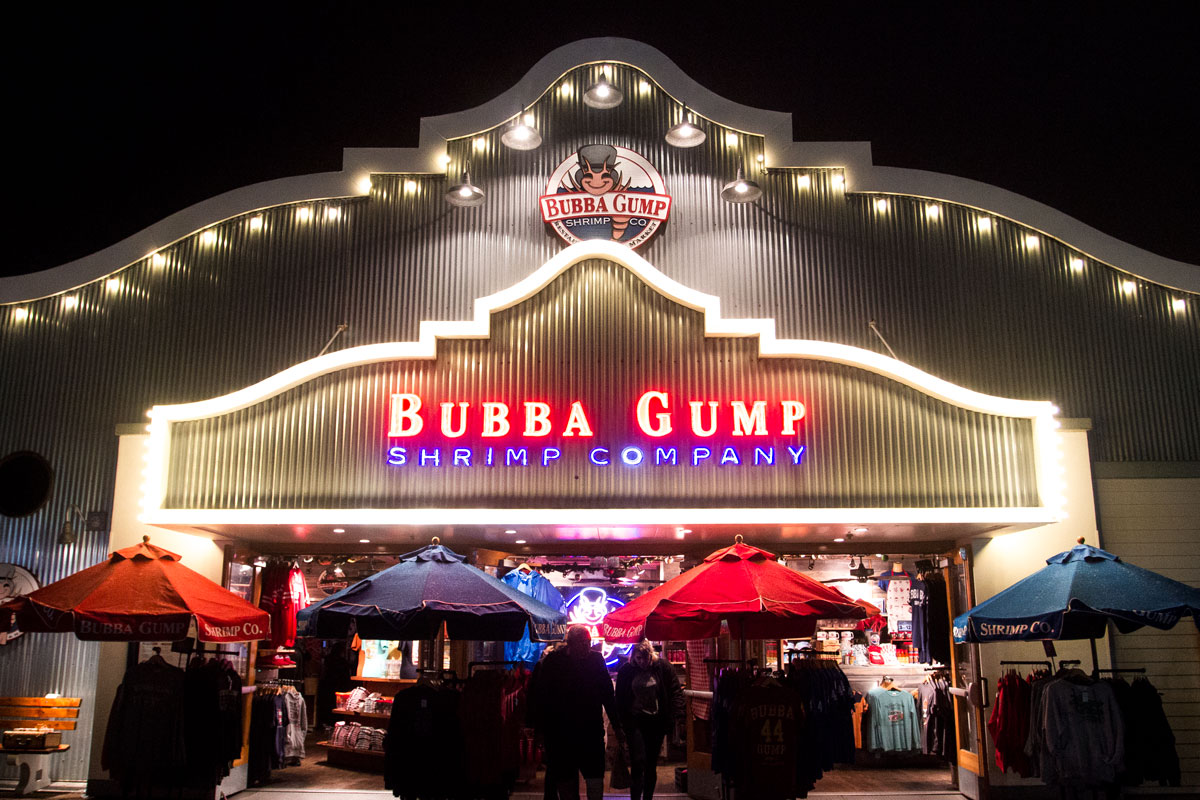 What is truly interesting is that Santa Monica was the endpoint of the famous Route 66. The main "street" of America, which once diagonally traversed almost the entire country, starting in Chicago, concluded here on the coast of Los Angeles.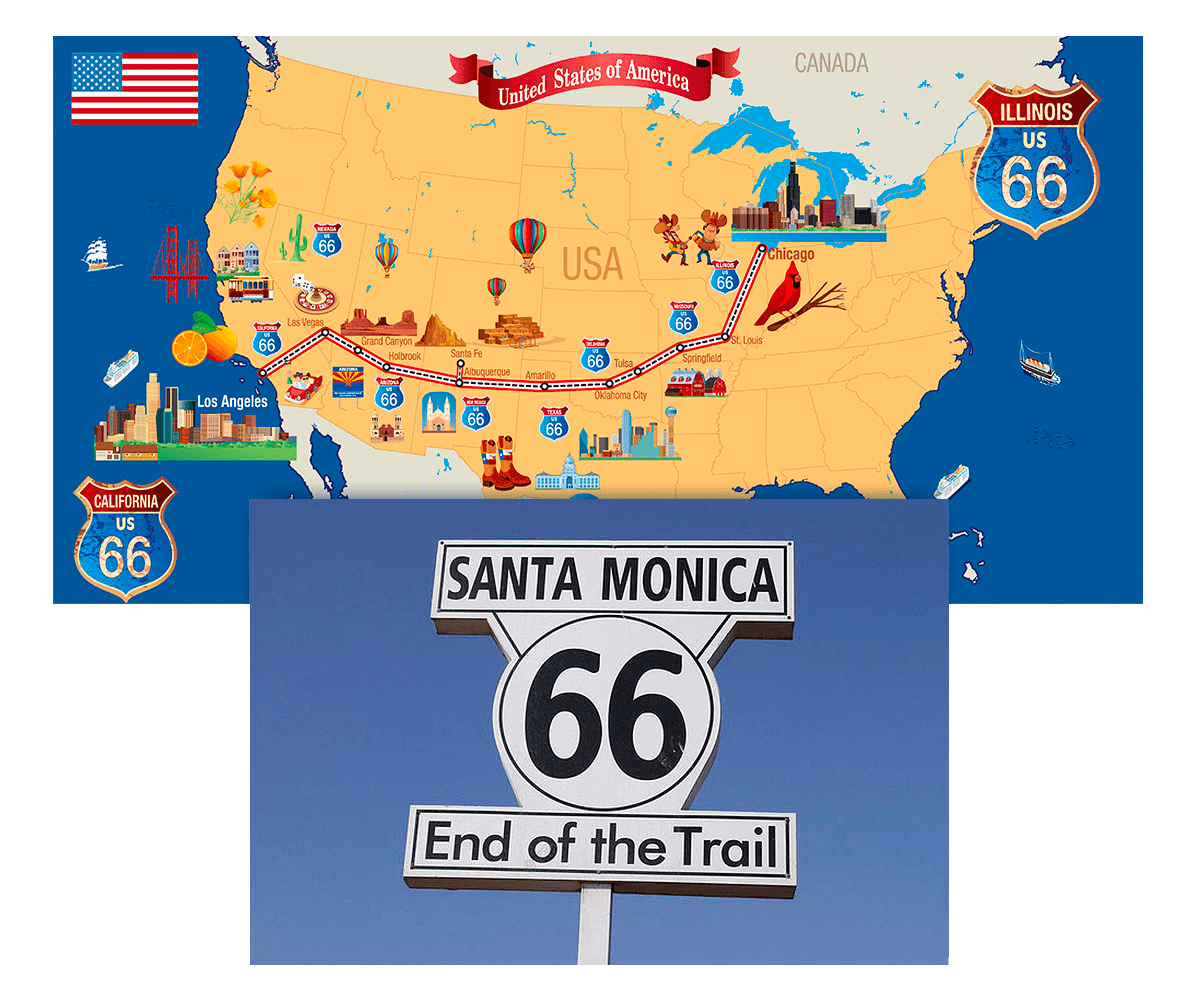 Here in Los Angeles, another journey begins — California Route 1.
It runs along the Pacific Ocean coastline, leading through unimaginable beauties, bypassing the small town of Santa Barbara, the coastal Big Sur Park, briefly deviating from Silicon Valley, and ultimately bringing you to San Francisco.
I see no reason not to set off immediately following it.