Thailand. Bangcock
Wires.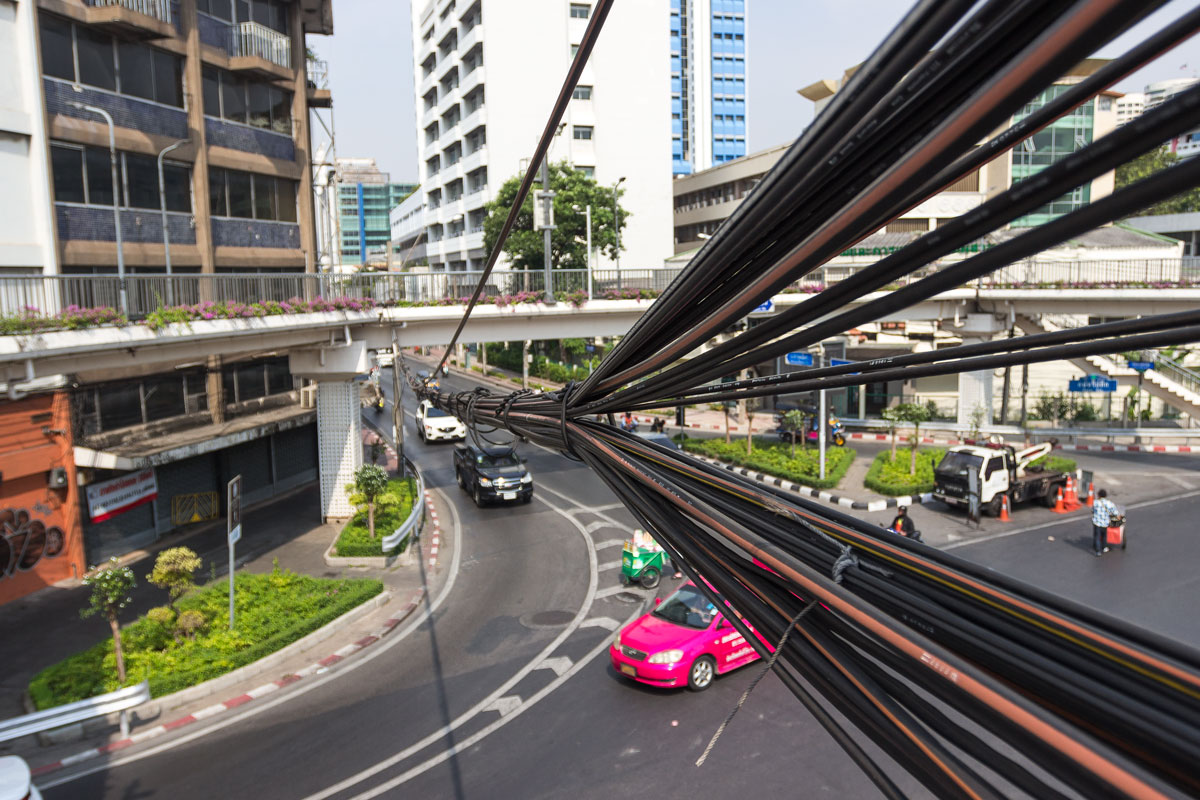 Seems we're somewhere in Asia.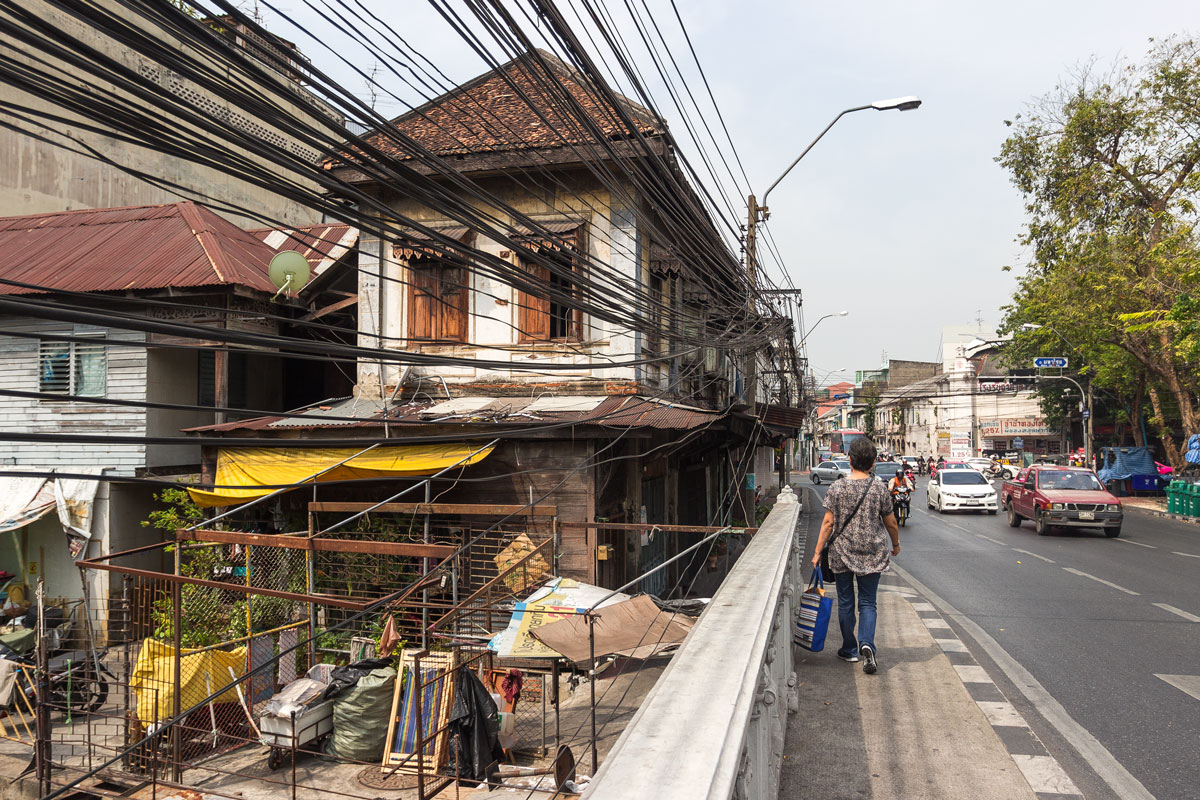 Buddhas.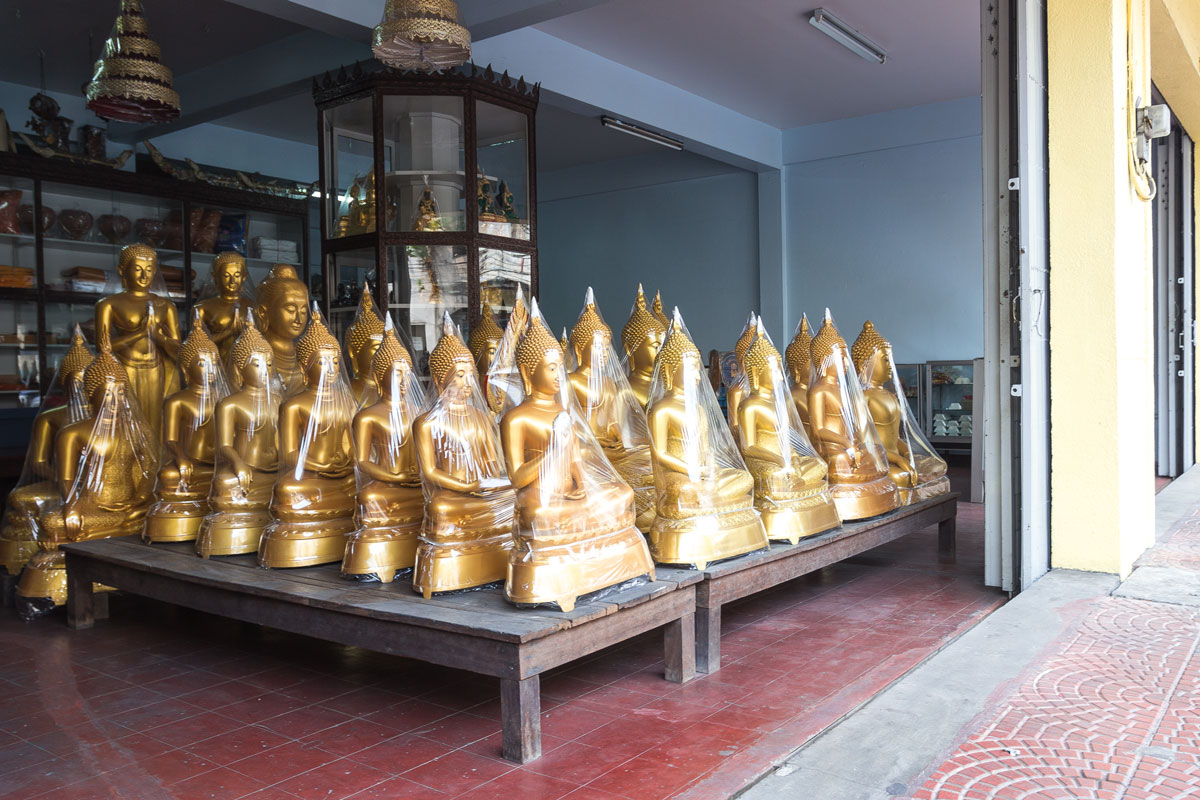 Seems like it's Thailand. How do you say "Hello" in Thai? Something like "Sawatdee."
Sawatdee!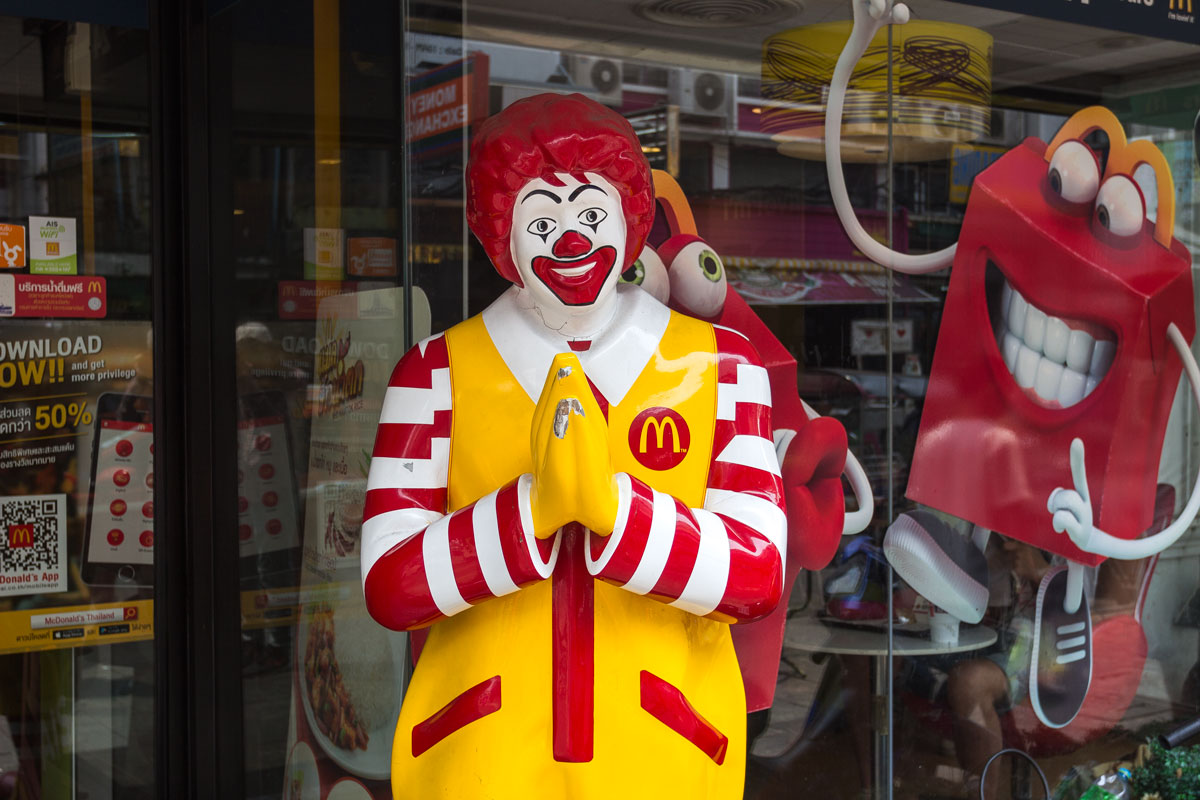 I always thought that Thailand was only suitable for a boring beach vacation and had nothing to offer to a real traveler. In many ways, that's true, but Bangkok is not the most popular vacation spot in this country. It's more of a transit point for further trips to resorts like Pattaya or Phuket. Nevertheless, it's possible to stop by for a couple of days.
⁂
Tourists with huge backpacks wander around Bangkok in a funny way. Why do they need so many things? Let's assume that not everyone can travel with a small bag, and many choose a spacious tourist backpack. But many arrive with two or even three backpacks!
There's a couple walking down the street in the tourist district: a nice girl and her slightly overweight, glasses-wearing companion. The girl leads the way, pushing through with her chest, glancing into every other hostel. The guy lags behind with an empty gaze, silently following her, not understanding how he ended up on this hot, crowded street from their cozy apartment.
The girl has two bags, while the guy has four: a large tourist backpack on his back, a small backpack on his chest, a small shoulder bag, and a small waist pouch for money. When the girl walks straight down the street, the guy simply follows her; but as soon as the girl abruptly turns and enters an alley, he gets lost and takes a couple more steps forward out of inertia before realizing the disappearance.
Or there's a group of three tourists walking in search of accommodation. Two of them have backpacks on their backs and chests. The third person has a chest-mounted backpack attached to the back one, creating quite a funny structure; and they're also holding a skateboard in their hands. The group walks down the street looking for a hostel and comes across a sloppy sign painted in white: "Three'o Guest House."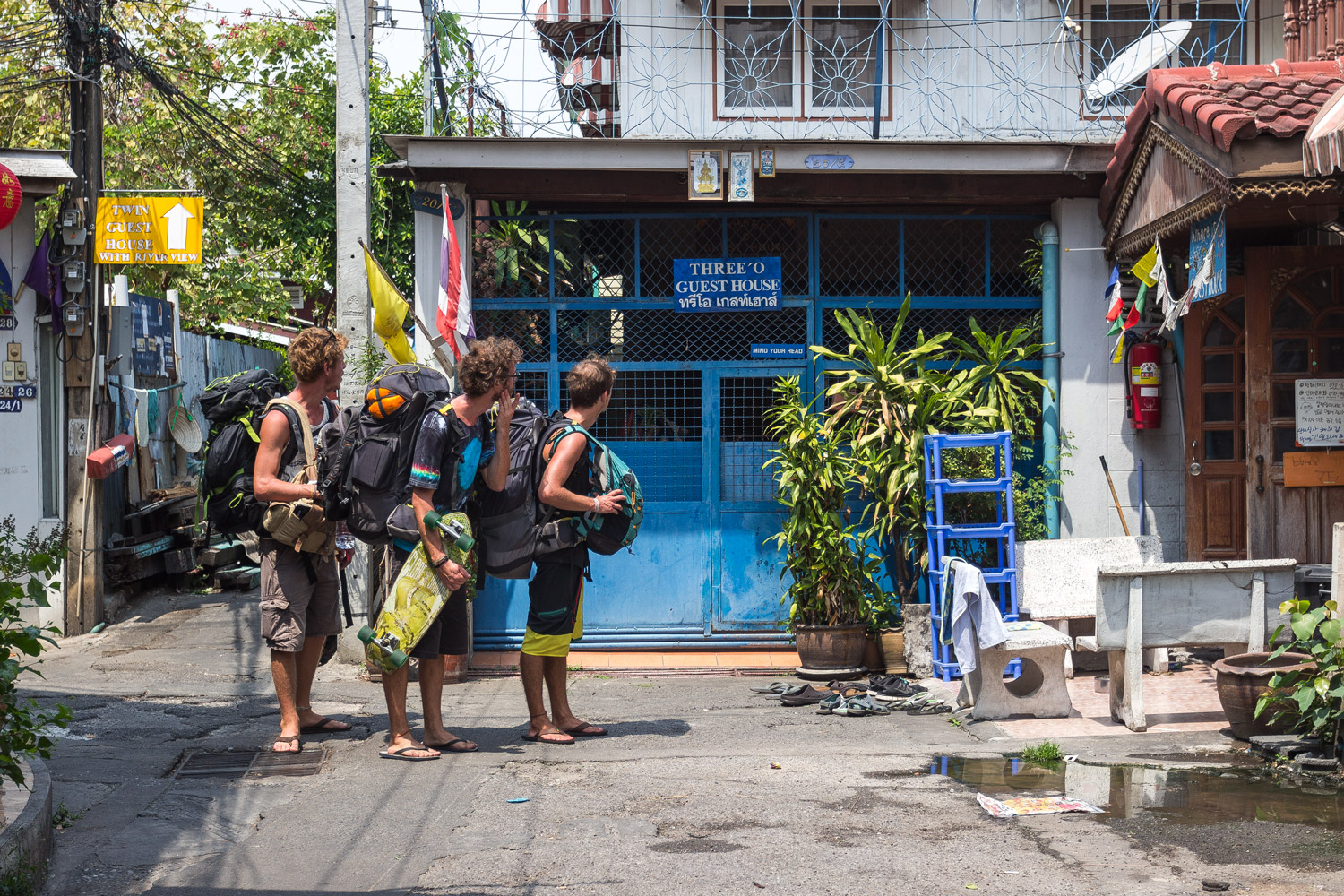 These compulsive backpack carriers are called backpackers.
The favorite place of backpackers in Bangkok is Khao San Road. In this short street and the surrounding neighborhoods, there is a huge number of cheap hostels, cafes, restaurants, massage parlors, brothels, and shops.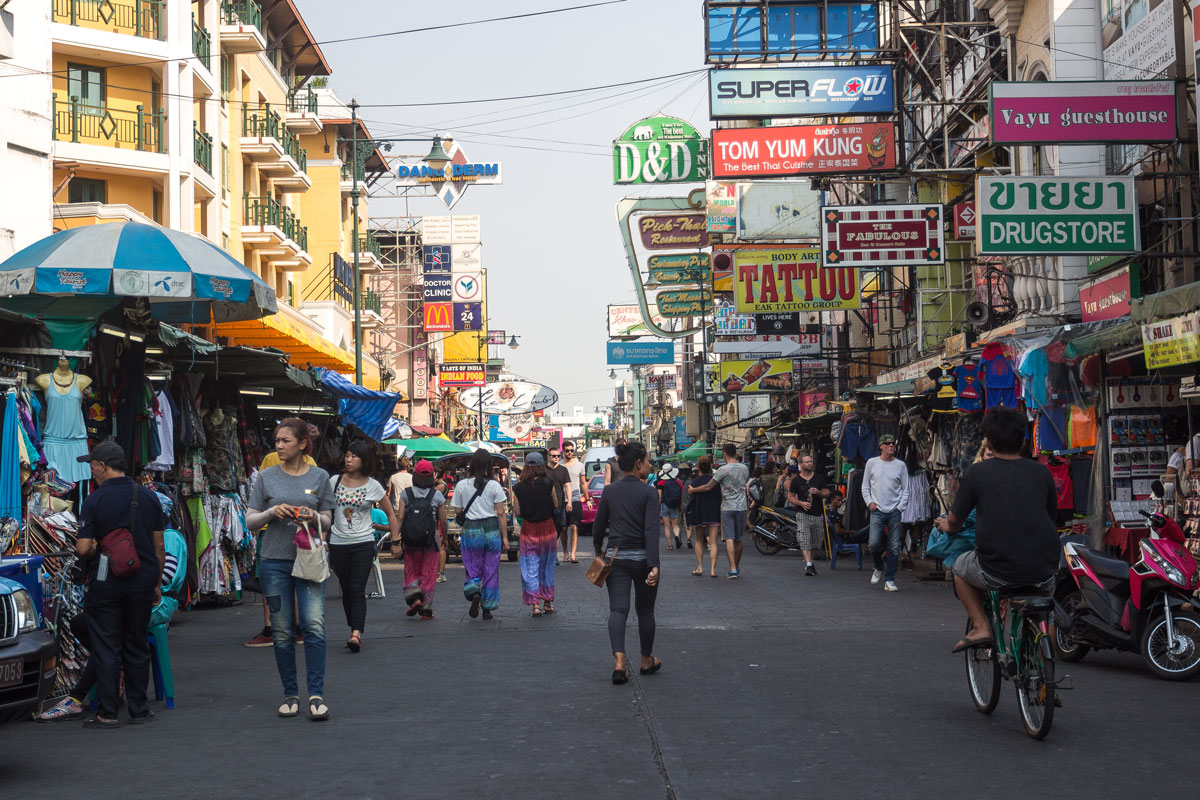 The entire Khao San Road, as well as a large part of Bangkok, is cluttered with advertising signs. Typical Asia.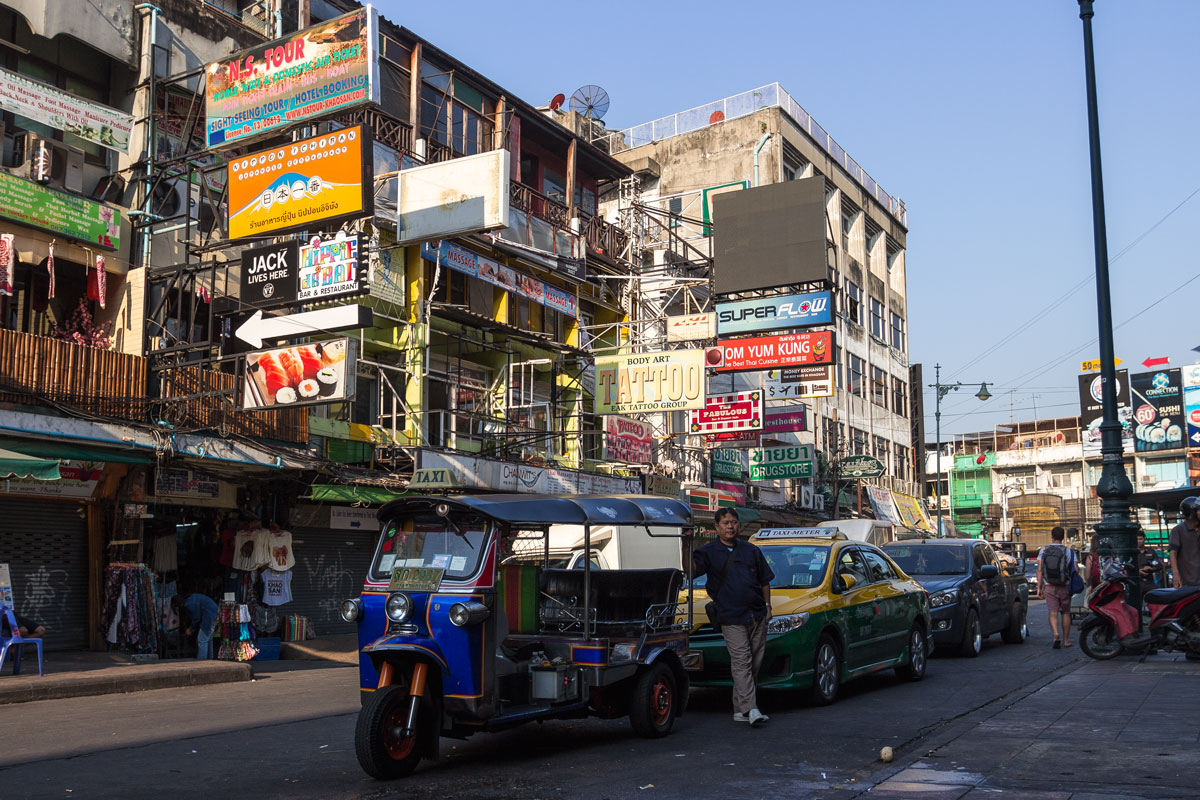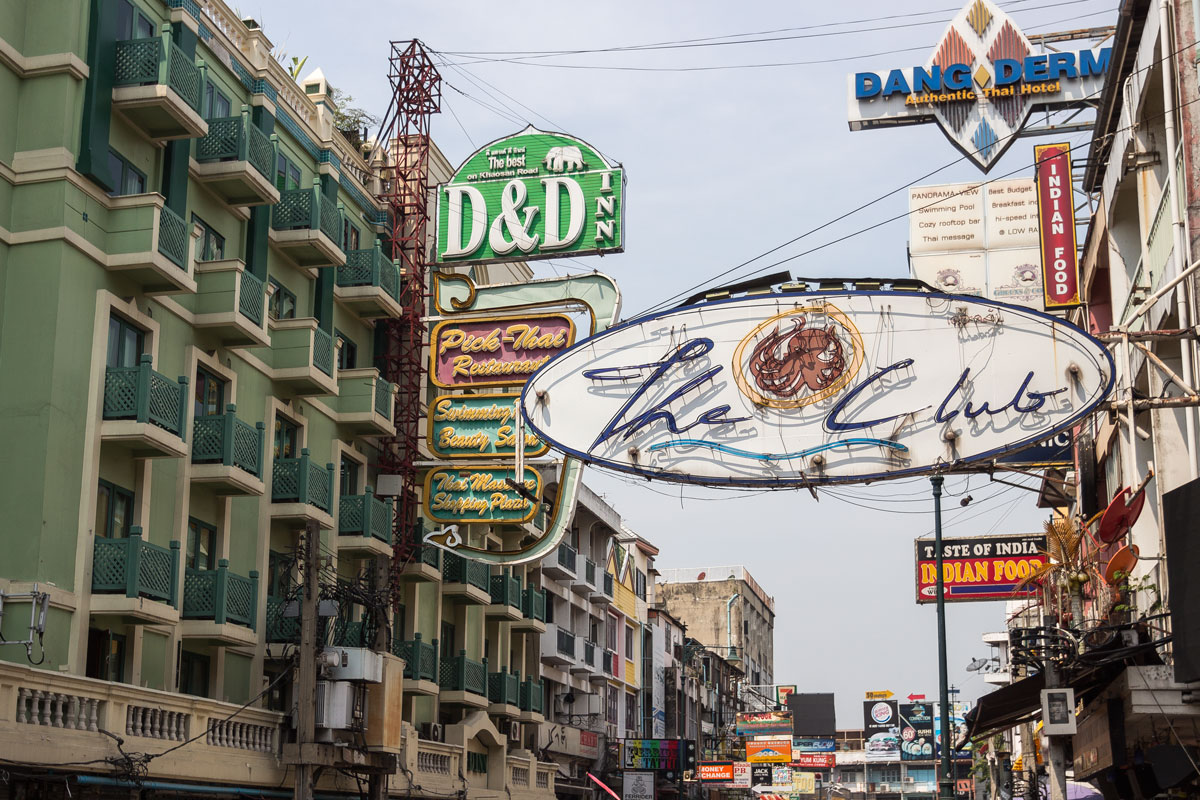 Thai massage is offered everywhere in Thailand. Rows of reclining chairs can be found ubiquitously, where tourists lie down and enjoy while their feet are being massaged with oil.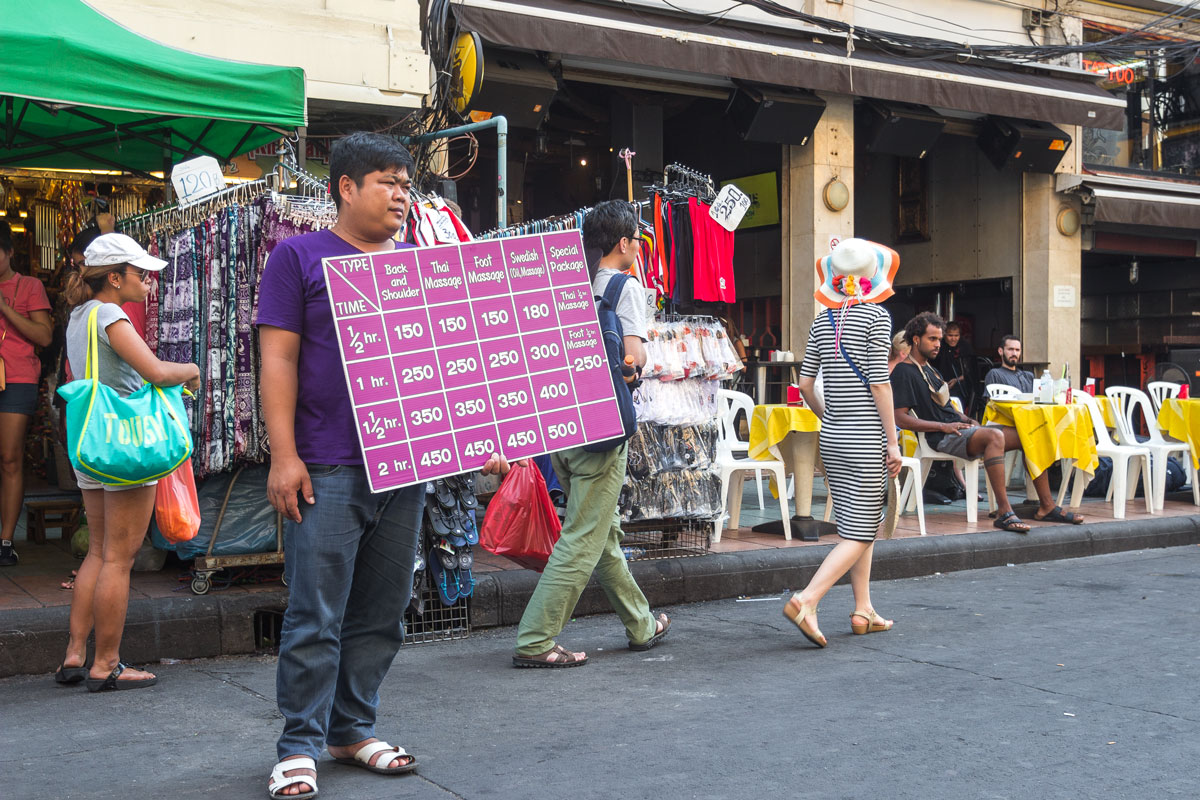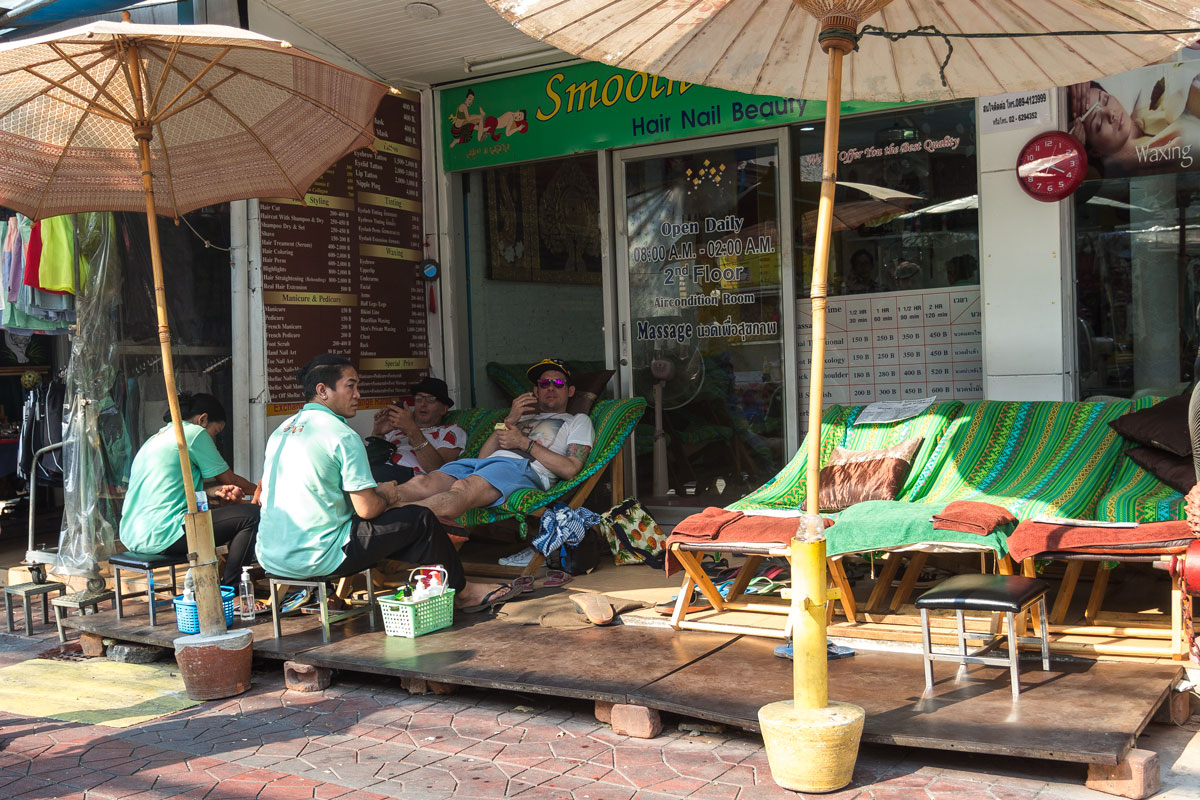 Thailand has the same weather all year round. Therefore, tipsy Thais can lounge anywhere on the street throughout the year. When I was walking to the hotel, he was lying face up. When I walked back after two hours, he was in the same place but face down.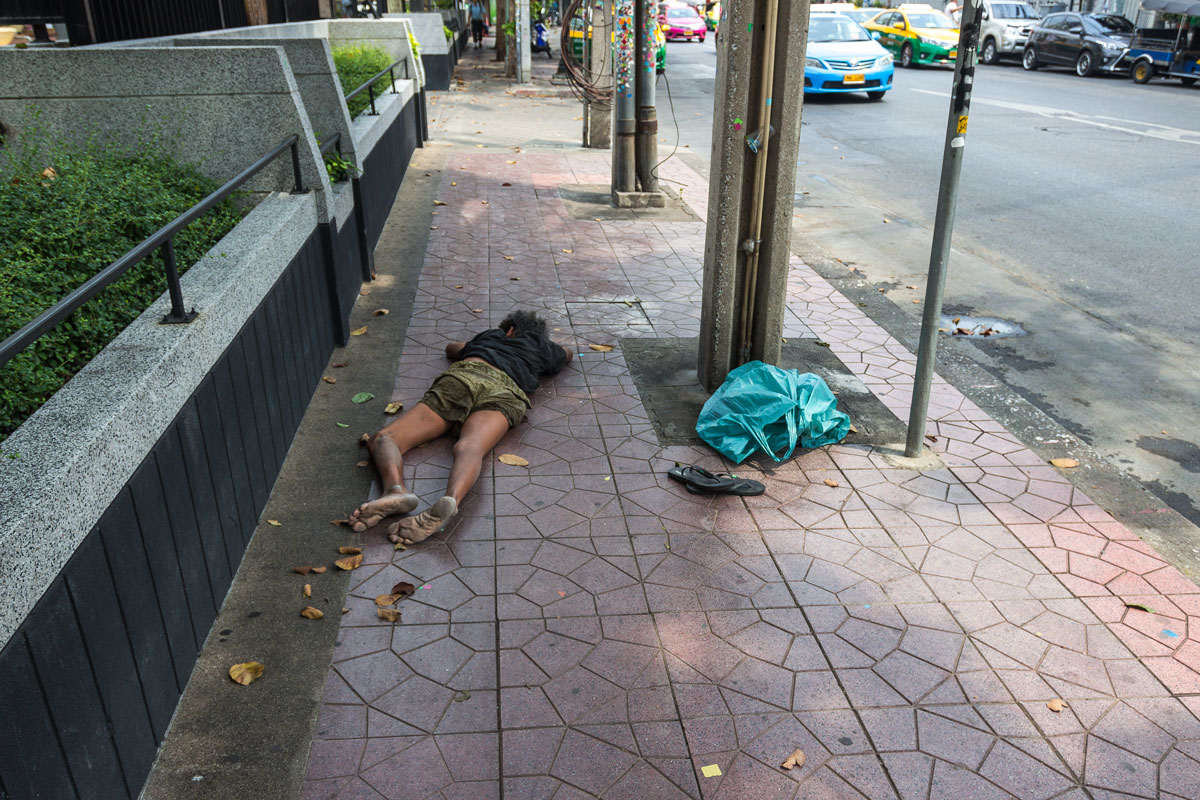 Broom seller.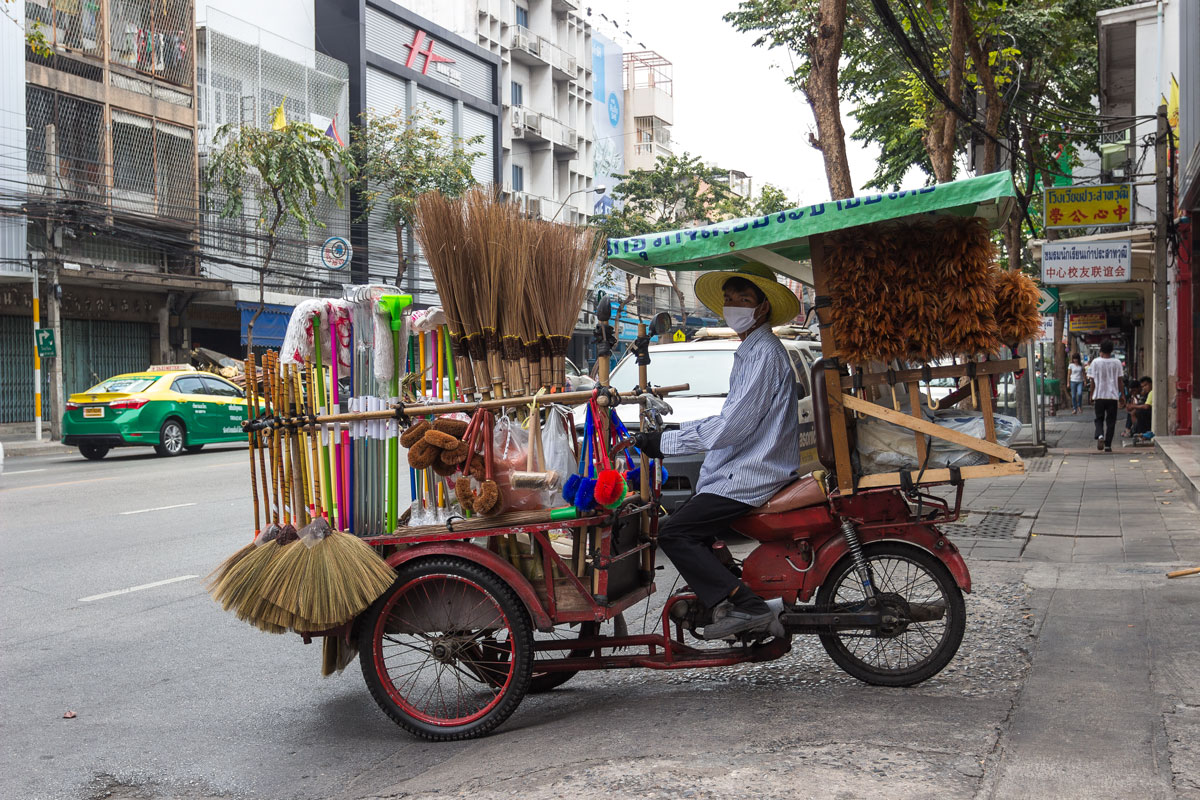 Taxi driver.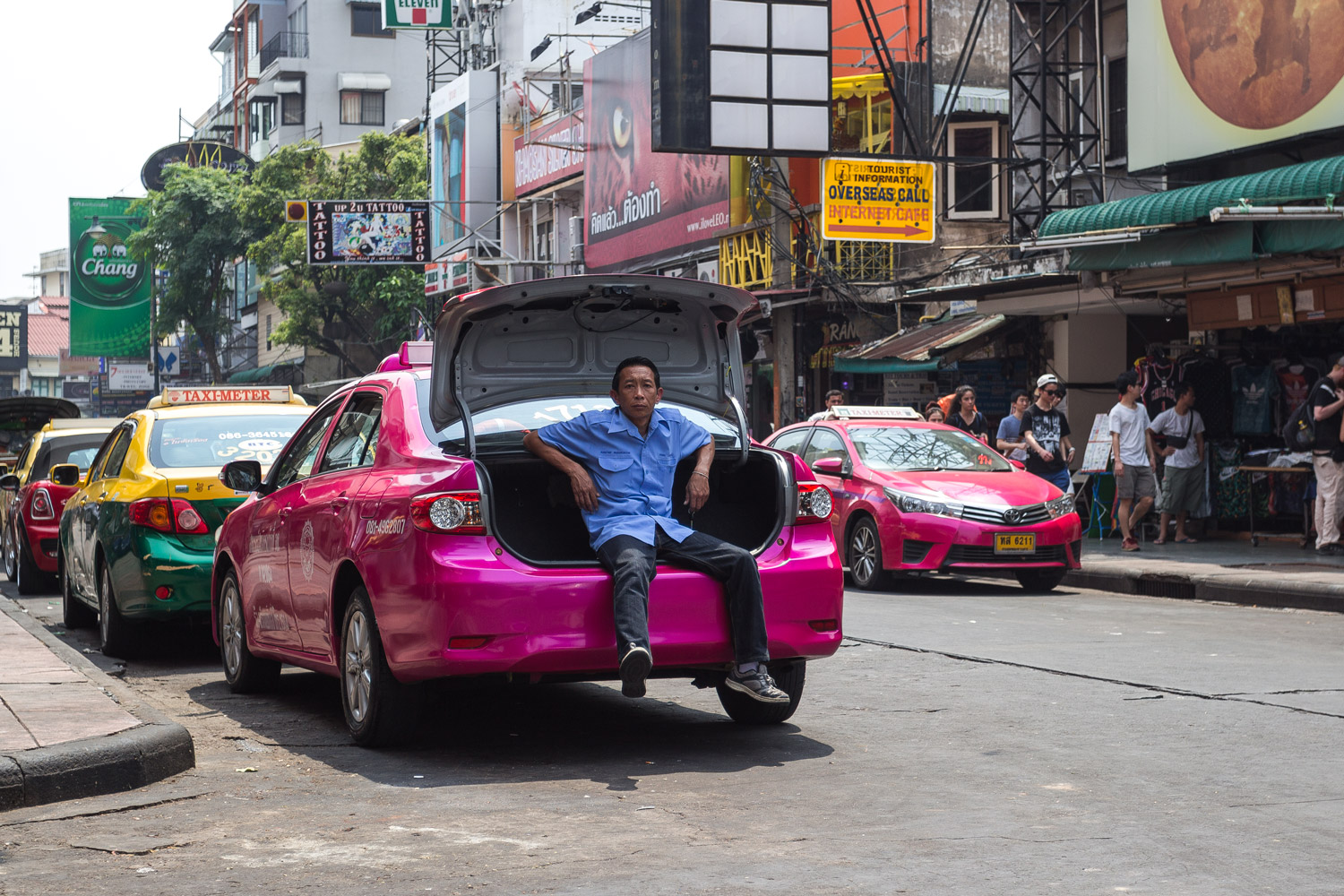 The streets of Bangkok are bursting with a variety of food. Food stalls are found at every step.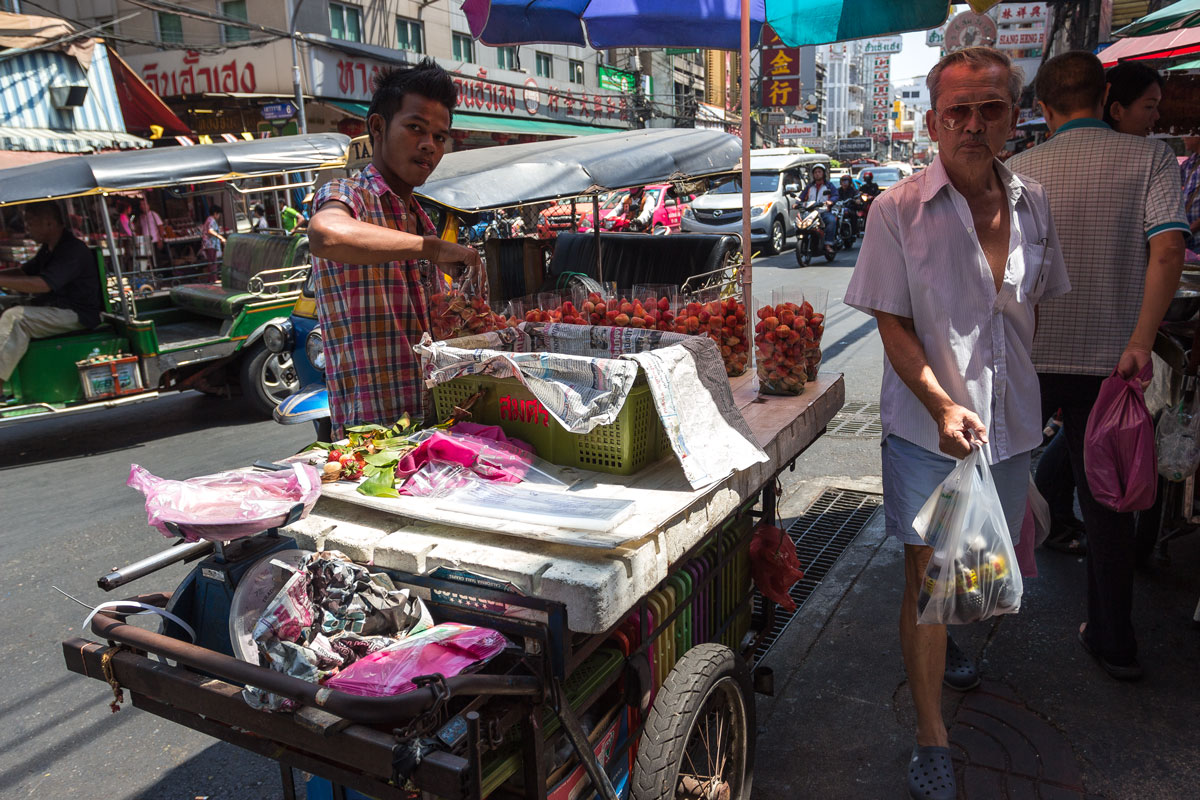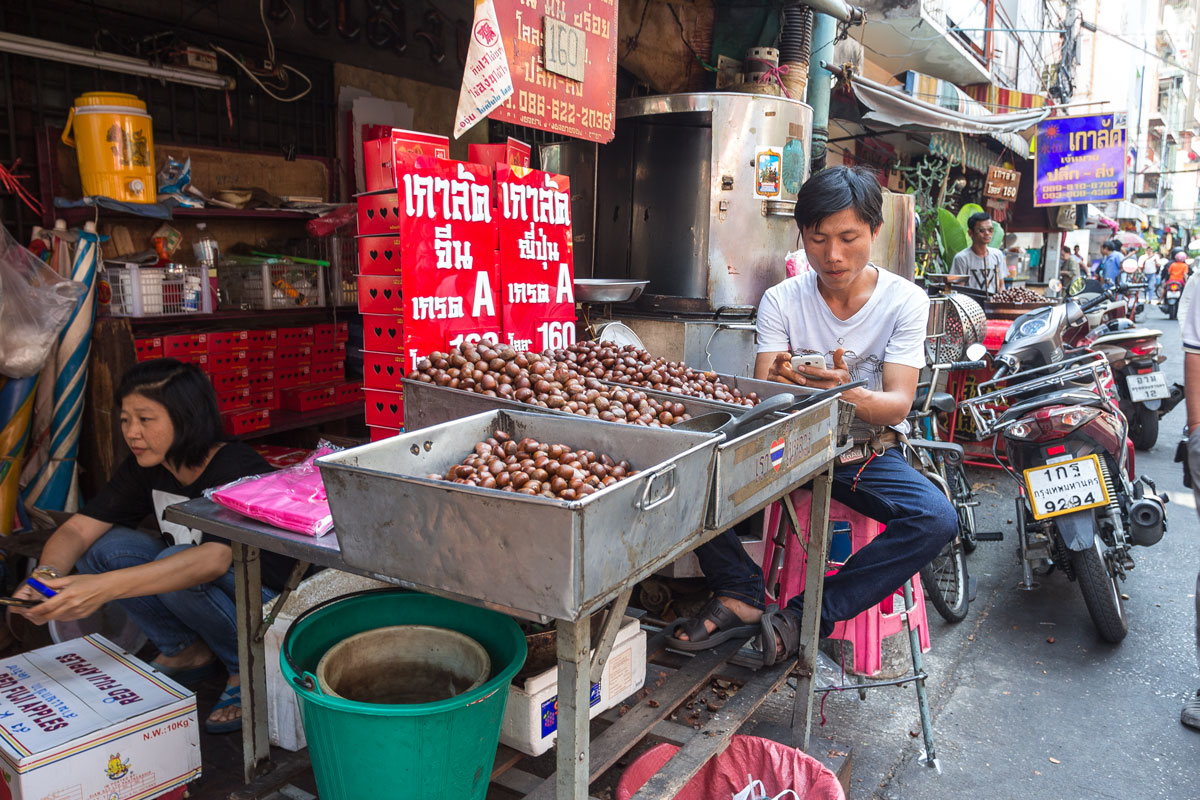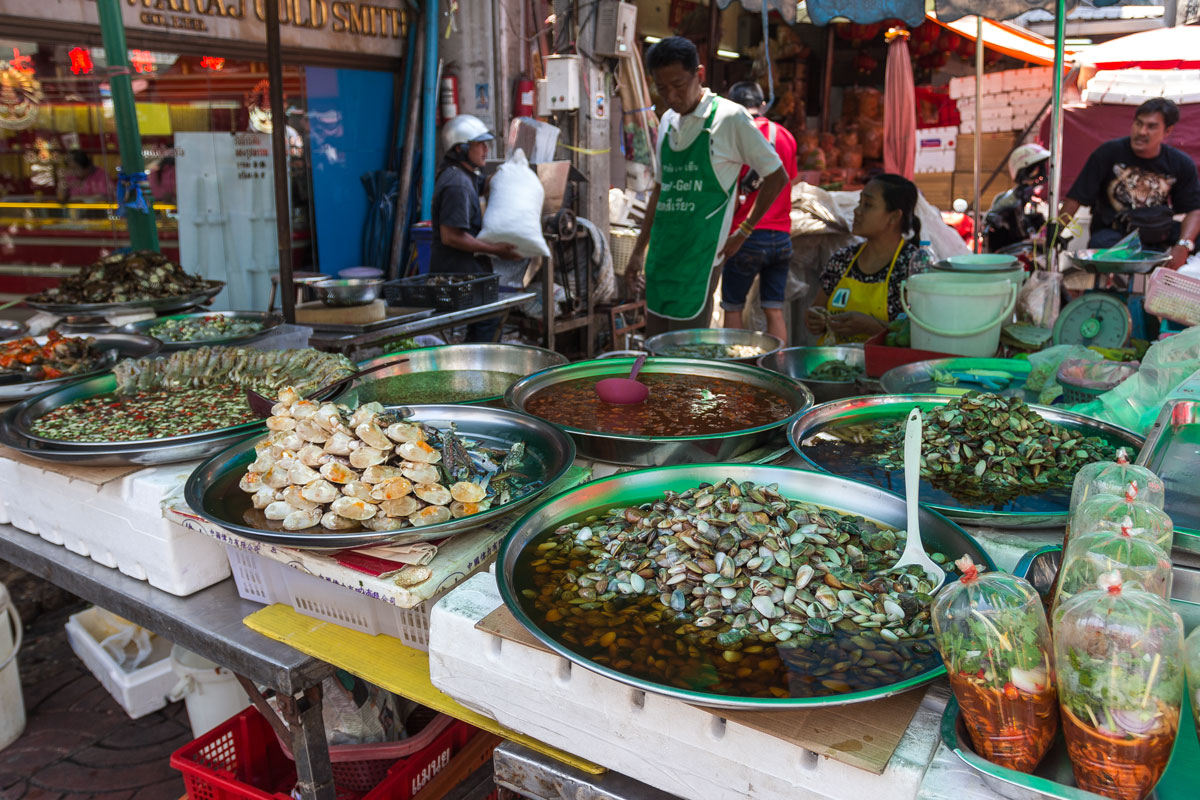 Flatbreads and fruits are the most popular items. Coconuts are very affordable in Thailand, ranging from 50 to 100 rubles for a fresh coconut that is opened with a machete in front of you and served with a straw. It's wonderful to drink cold coconut water from a refrigerator, but refrigerators are not available everywhere, so the juice is typically consumed warm.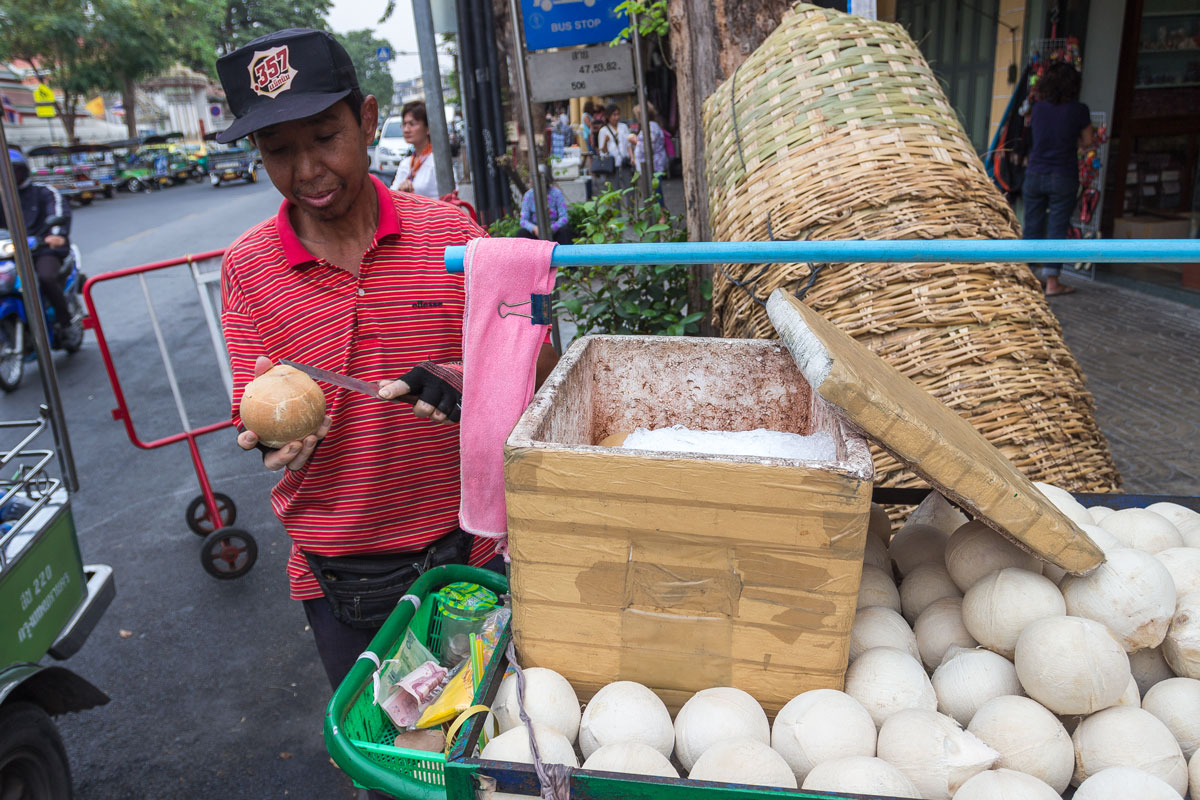 In order to serve an endless stream of customers, Thais have learned to work like robots in a factory. They prepare flatbreads with astonishing speed and dexterity. While one is being cooked, another one is being filled.
On the city streets, it is common to encounter Buddhists in orange robes.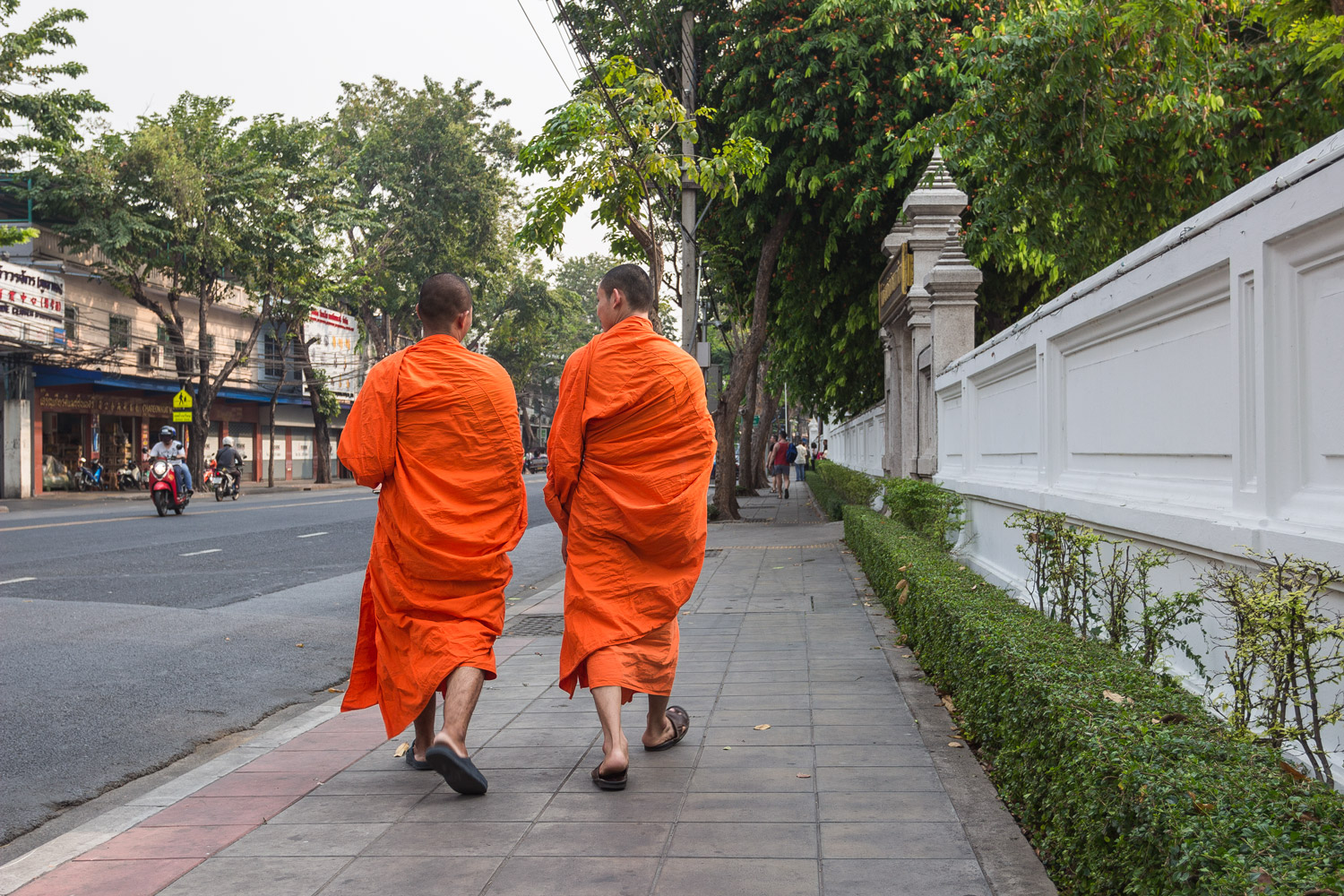 Buddhists are modern people. They all walk around with mobile phones and take selfies.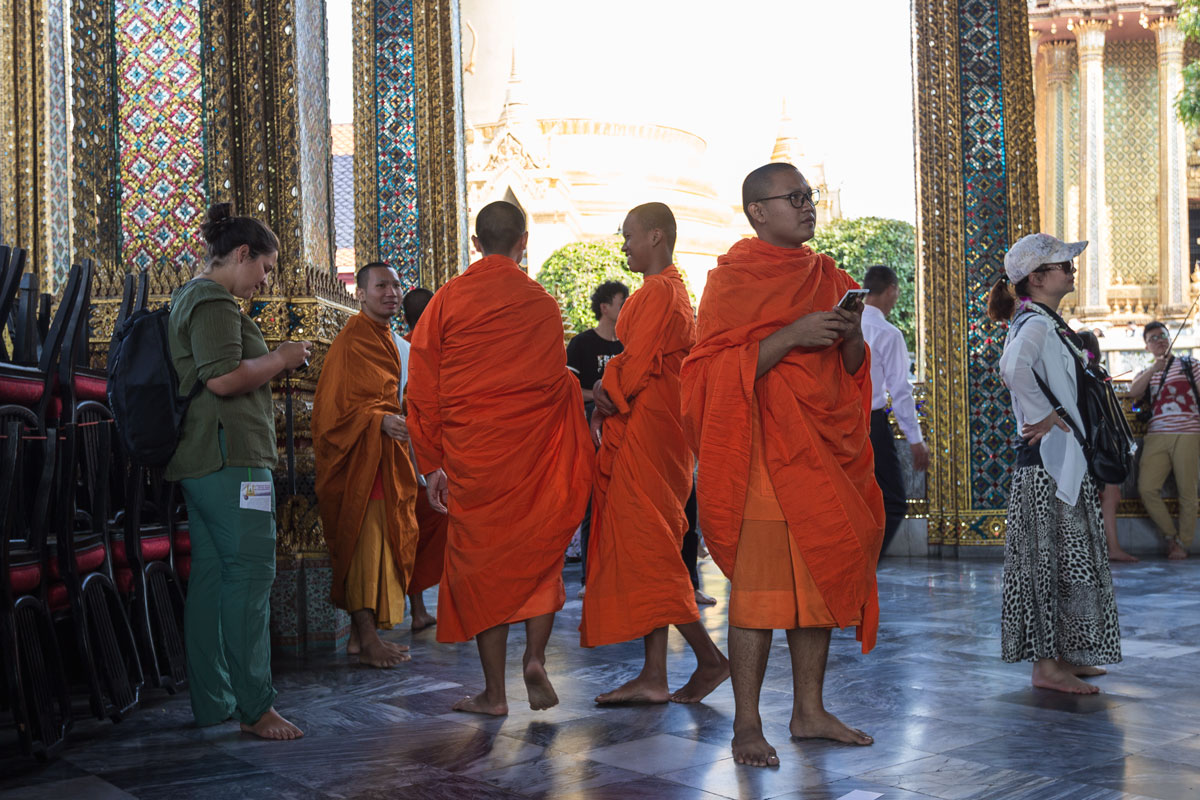 There are more Buddhas in Thailand than snow in Russia in winter. A tiny emerald Buddha stands in the darkness of the temple.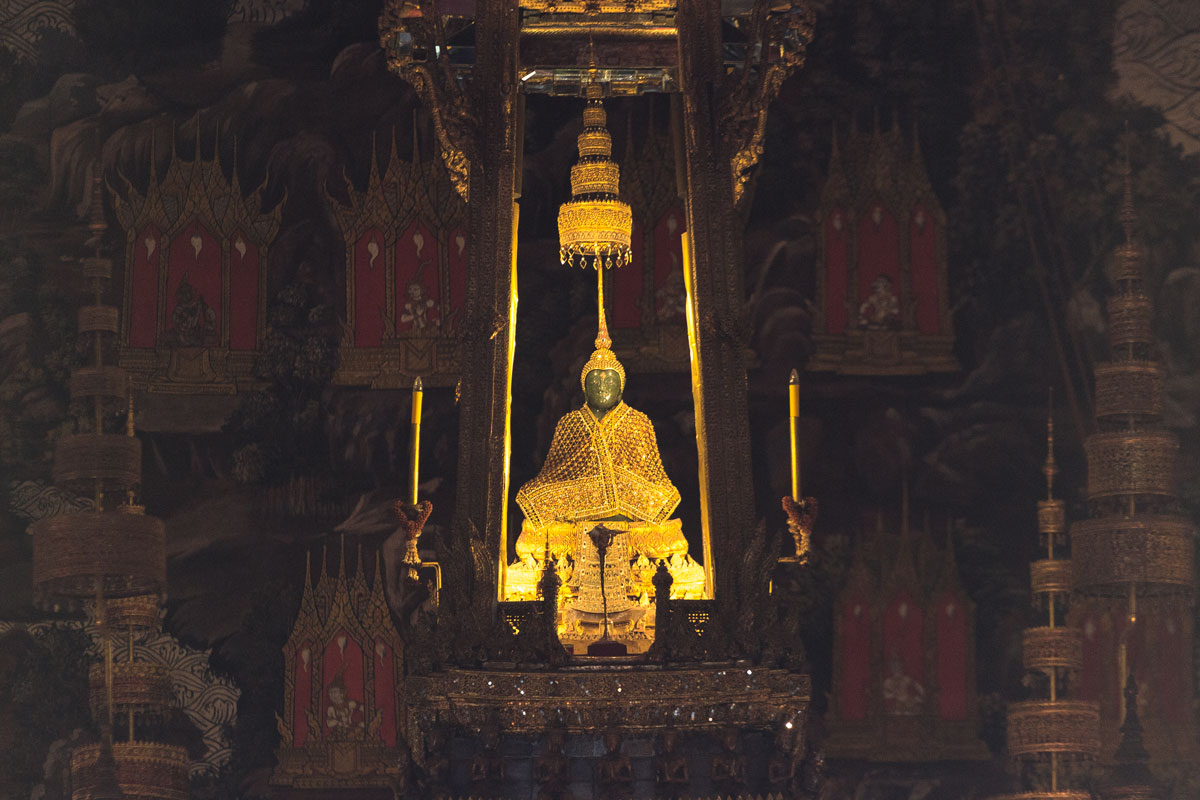 In another nearby temple, there is a gigantic reclining Buddha.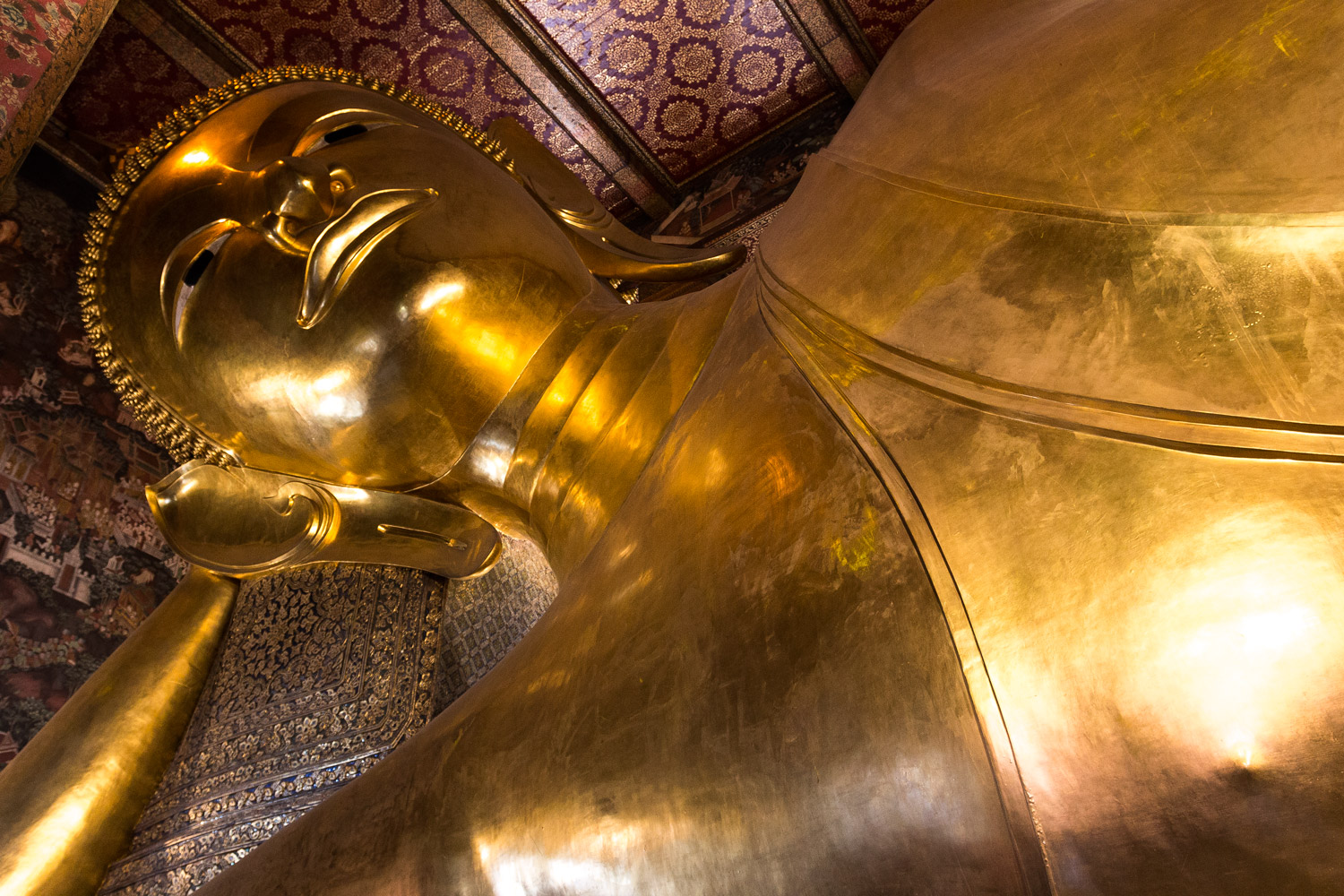 Between the temples, there is a long row of identical Buddhas.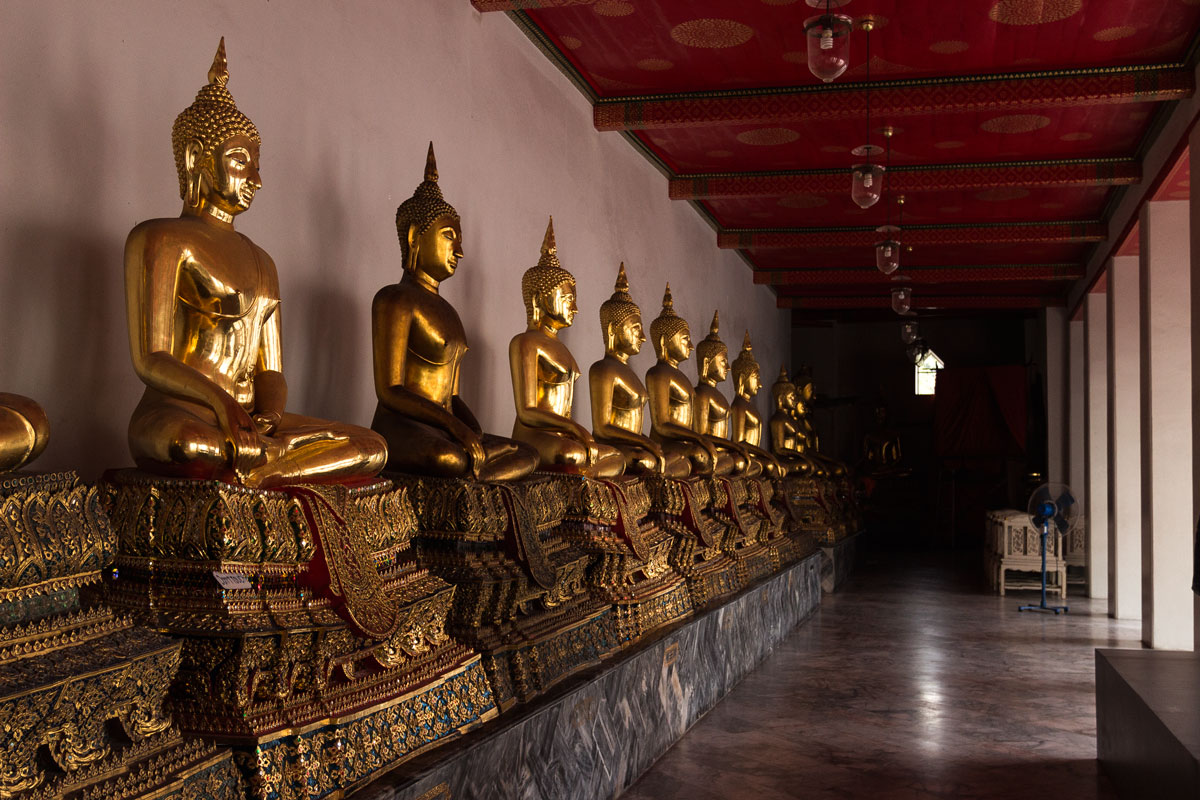 But it's not worth being charmed by Buddhism: it's far from peaceful. It is just as totalitarian a religion as Orthodoxy. The story of Buddhist terrorism in Myanmar and Sri Lanka goes beyond the scope of this article. What does fit, however, are the huge billboards welcoming you right at the airport.
"No Buddha head! It's wrong to use Buddha as decoration or tattoo".
Disrespect towards Buddha in Thailand is punishable by law. In order to export a figurine, one needs to obtain permission from the Department of Fine Arts and pay a duty of around four thousand rubles. Then a tag will be attached to it and a special permit will be issued. In most cases, customs officials do not notice small figurines in luggage, but if they do, they can confiscate them. As for a tattoo with Buddha, they may refuse entry at the airport, as has happened in Sri Lanka.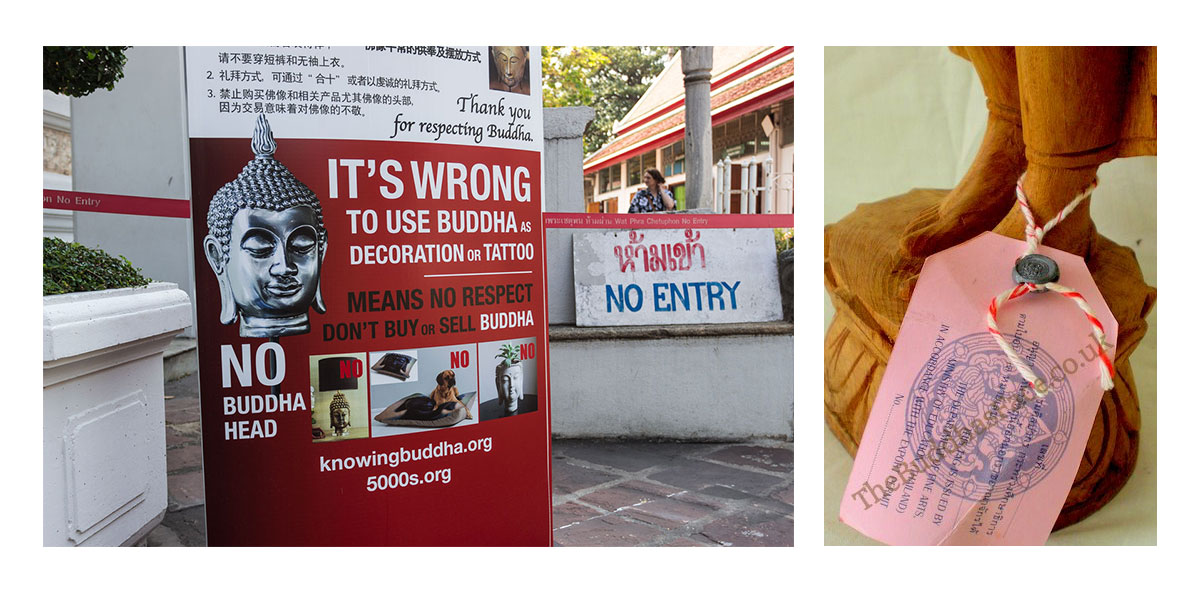 Thailand is mistakenly called the Land of a Thousand Smiles. This is a profound misconception. The country of a thousand smiles is, firstly, the United States, and secondly, India. Thai people are not as friendly as they are claimed to be. There are enough cases of violence and robbery in Thailand, although not as many as in neighboring Cambodia and Vietnam. However, if a foreigner gets into a fight with locals, regardless of fault, a crowd from the entire street will instantly gather against them.
Every other Thai taxi driver and every first tuk-tuk driver tries to deceive tourists by selling them the story that a certain palace or museum is closed for visit, and then charmingly offers a city tour. He will indeed arrange a tour, but not around the city, rather to souvenir shops, where he receives a commission for each customer.
Nonetheless, tourists are a major source of income for Thailand. That's why they try to treat them well here. For instance, they hang announcements on poles:
"Beware to tourists! Grand palace and Temple is open everyday 8 am – 4 pm. If someone say is closed don't believe! They are scamming you! Be careful!"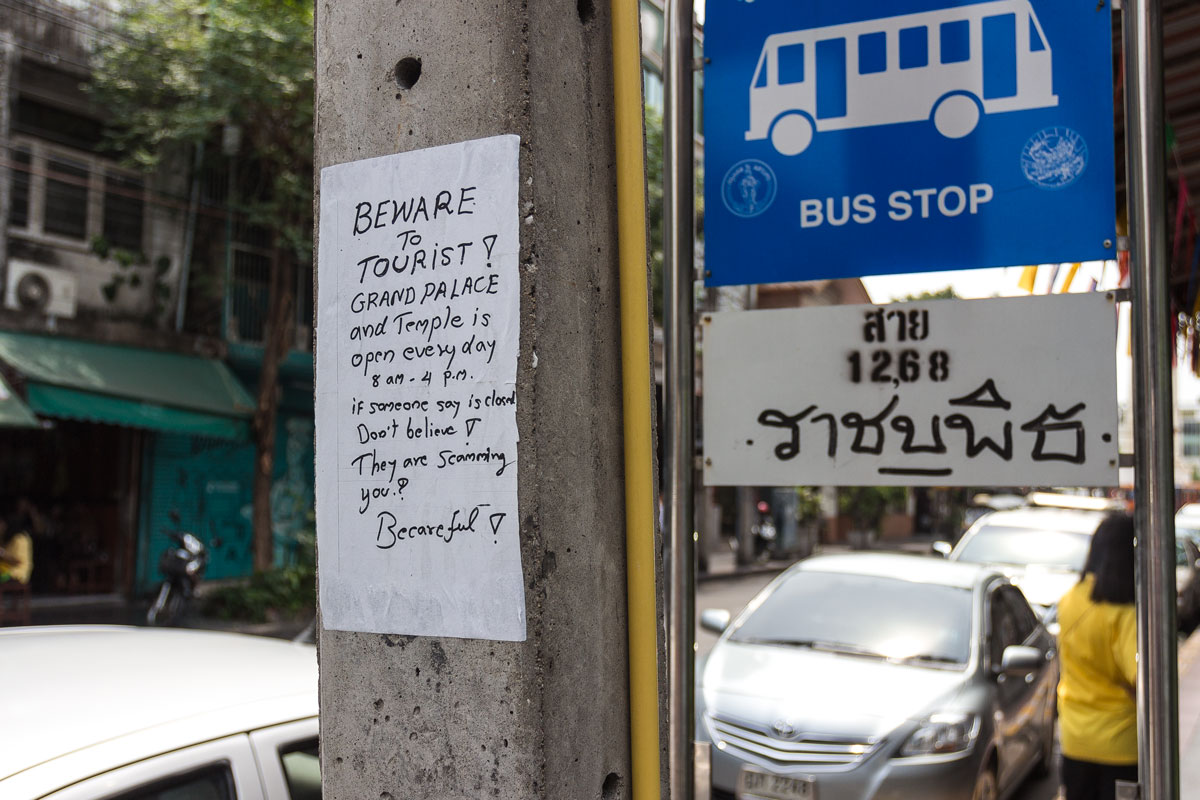 The Grand Palace is the central attraction for tourists in Bangkok. Everyone who visits the city comes here. In addition to the two main Thai Buddhas, the palace grounds are dotted with stupas.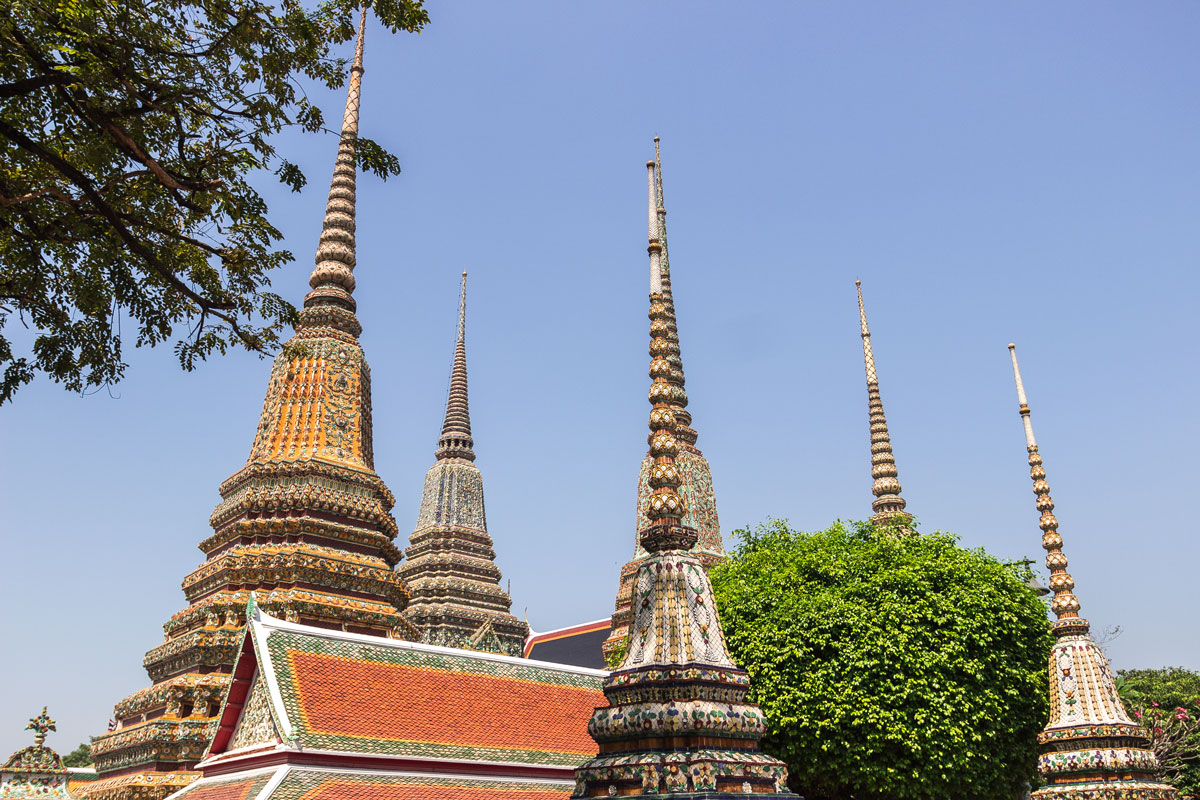 A stupa is a Buddhist relic, resembling a candy with colorful sprinkles in shape.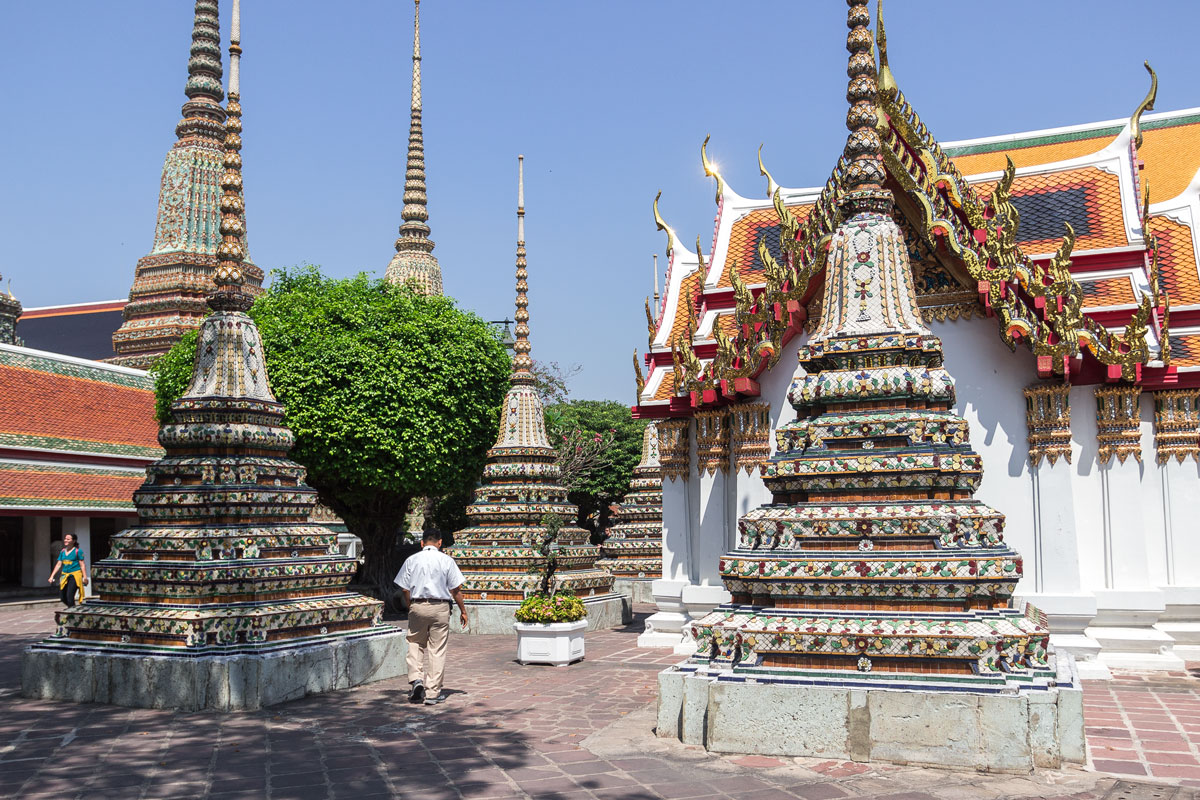 Inside a stupa, there is nothing; it is made of earth, bricks, or stone. Stupas were built as burial mounds. Essentially, they are beautifully decorated tomb-like structures.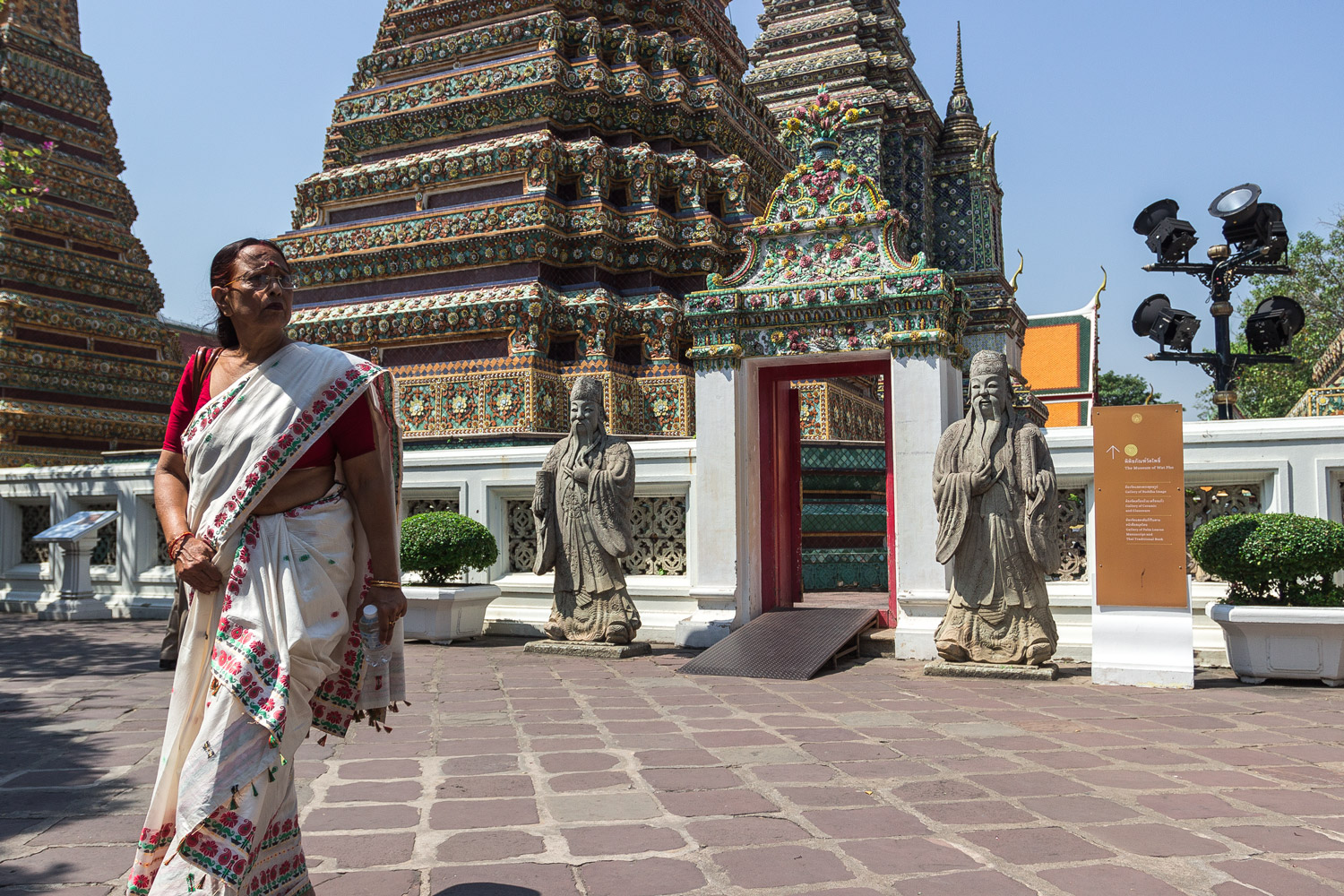 Thai architecture is a rip-eye.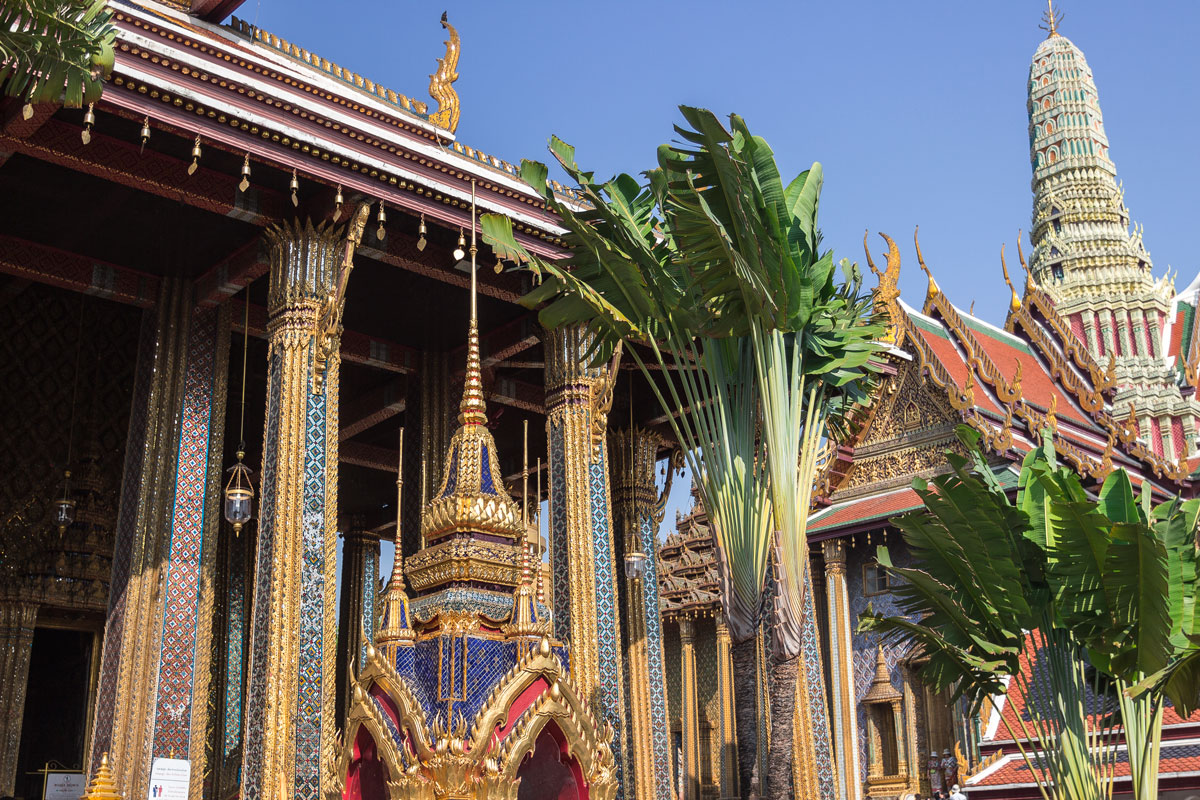 In a sense, it's all fine, of course. But a little stand out.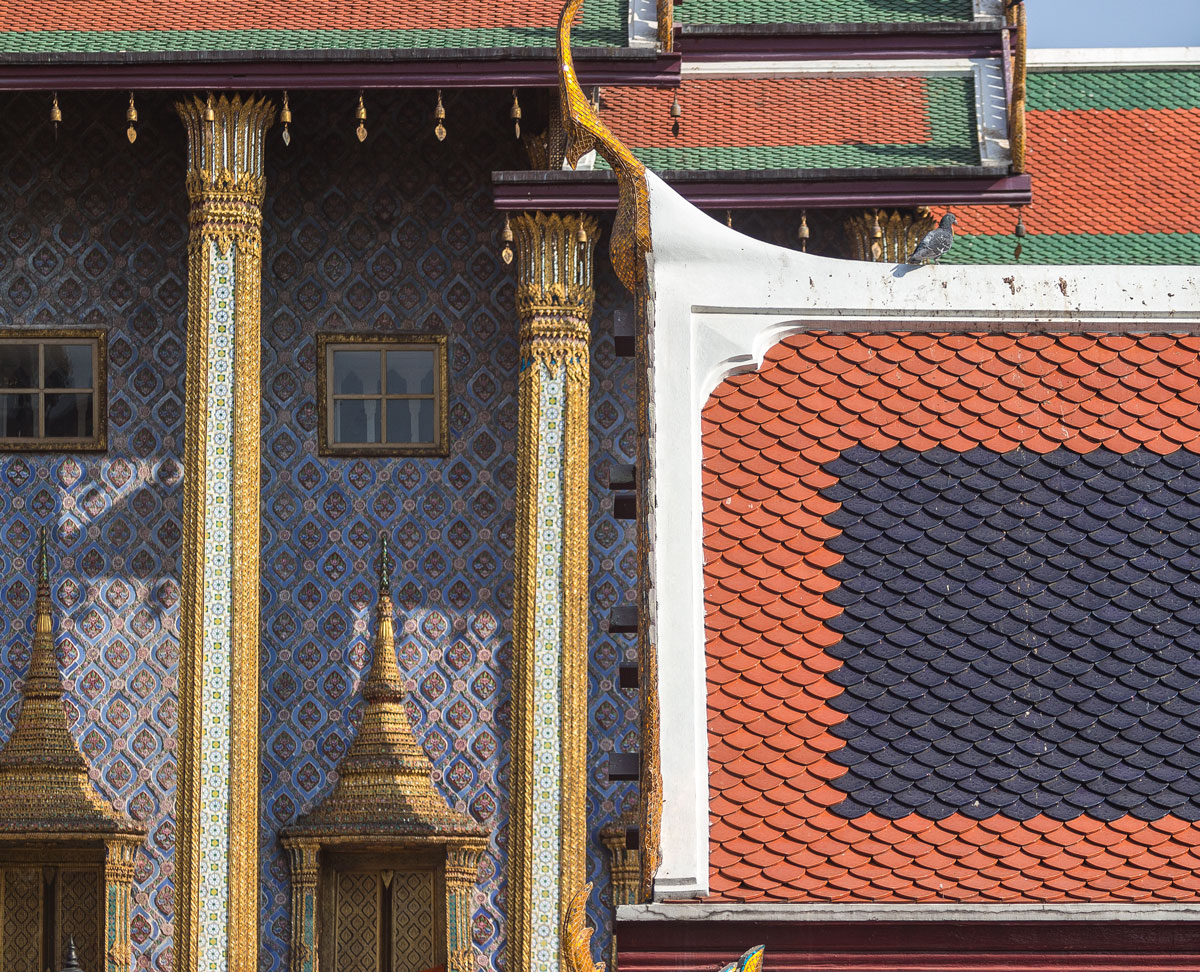 One can spend hours walking and collecting patterns.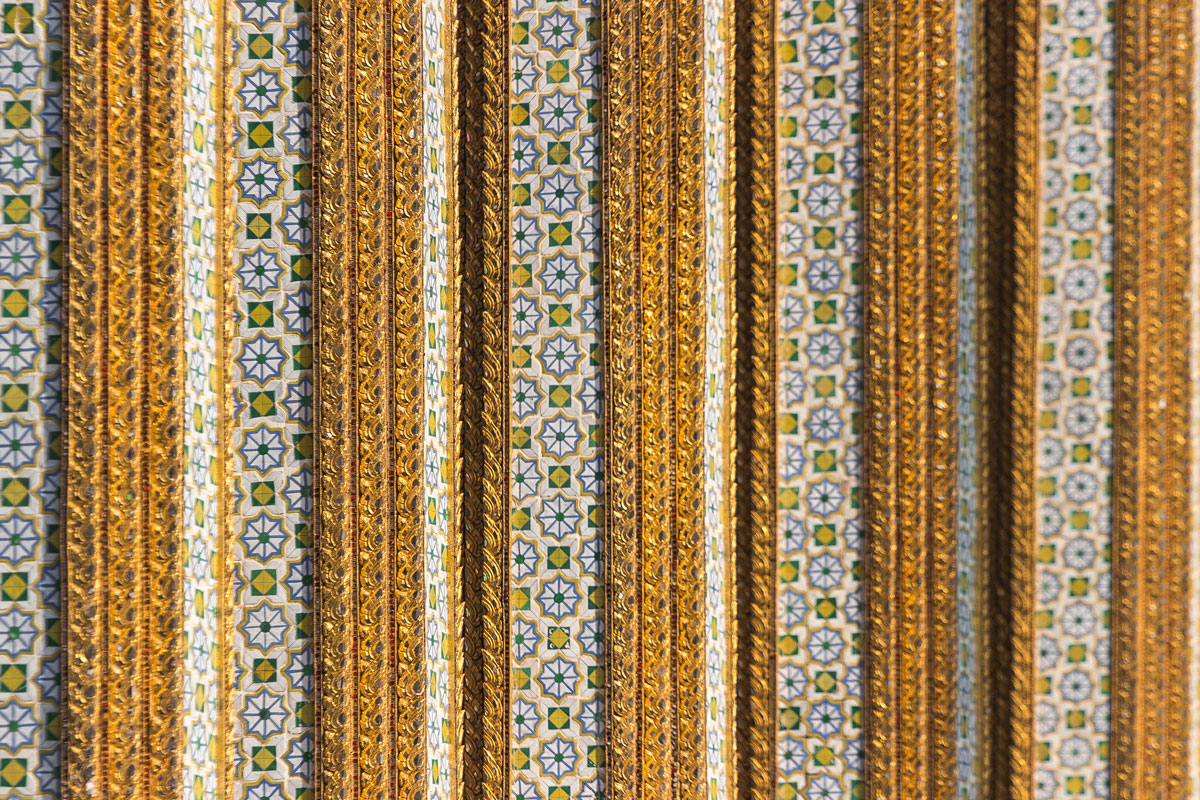 Or perspectives. It's strange that Thai culture is not at all related to drugs in the process. Does meditation give such a high?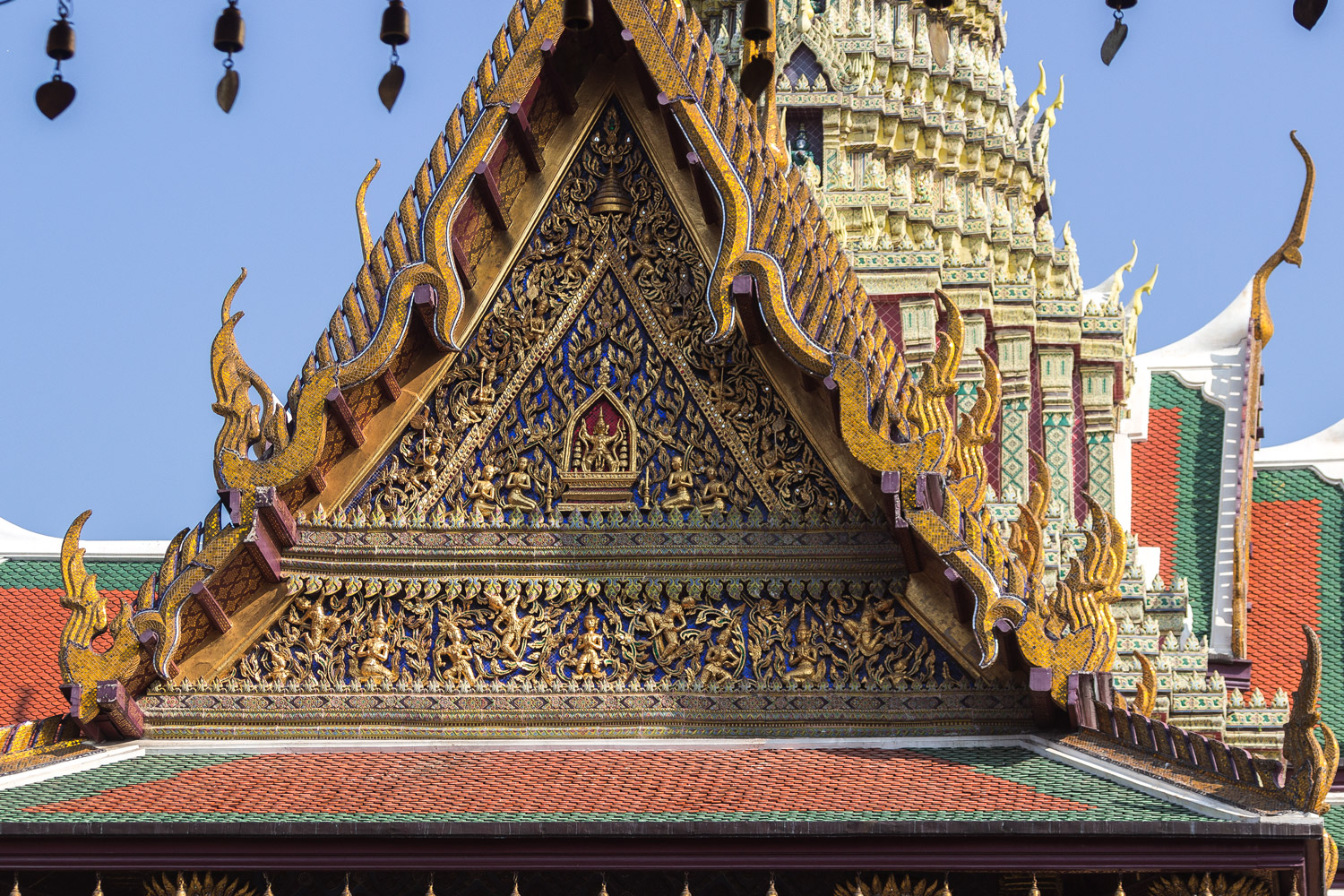 Bangkok's transportation system is well-developed.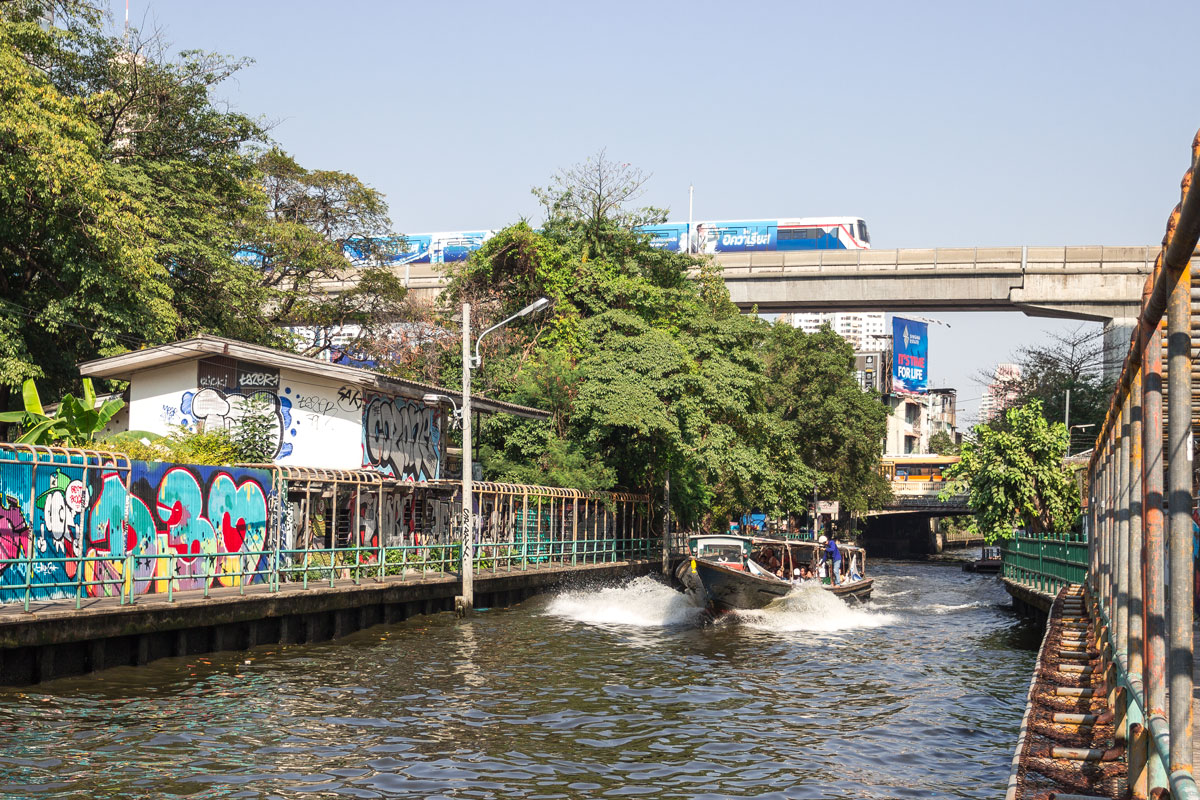 The most convenient way to get around is by subway. All trains have air conditioning, and several metro lines were built at different times and are operated by different companies.
The metro staff is extremely helpful. A police officer met this visually impaired person at the turnstiles, escorted them to the platform, and helped them board the train. Then, at the destination station, another police officer approached them and assisted with disembarking.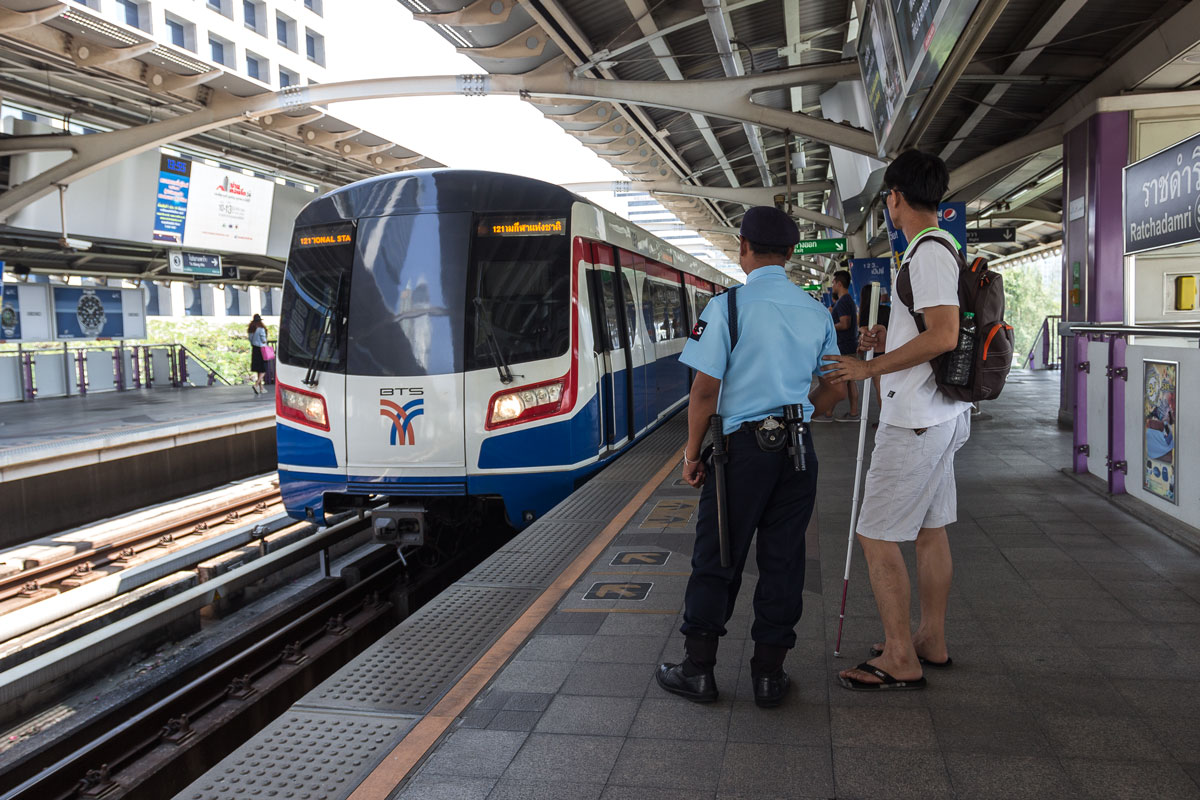 Most of the lines are elevated and sometimes pass between skyscrapers. The trains are driverless.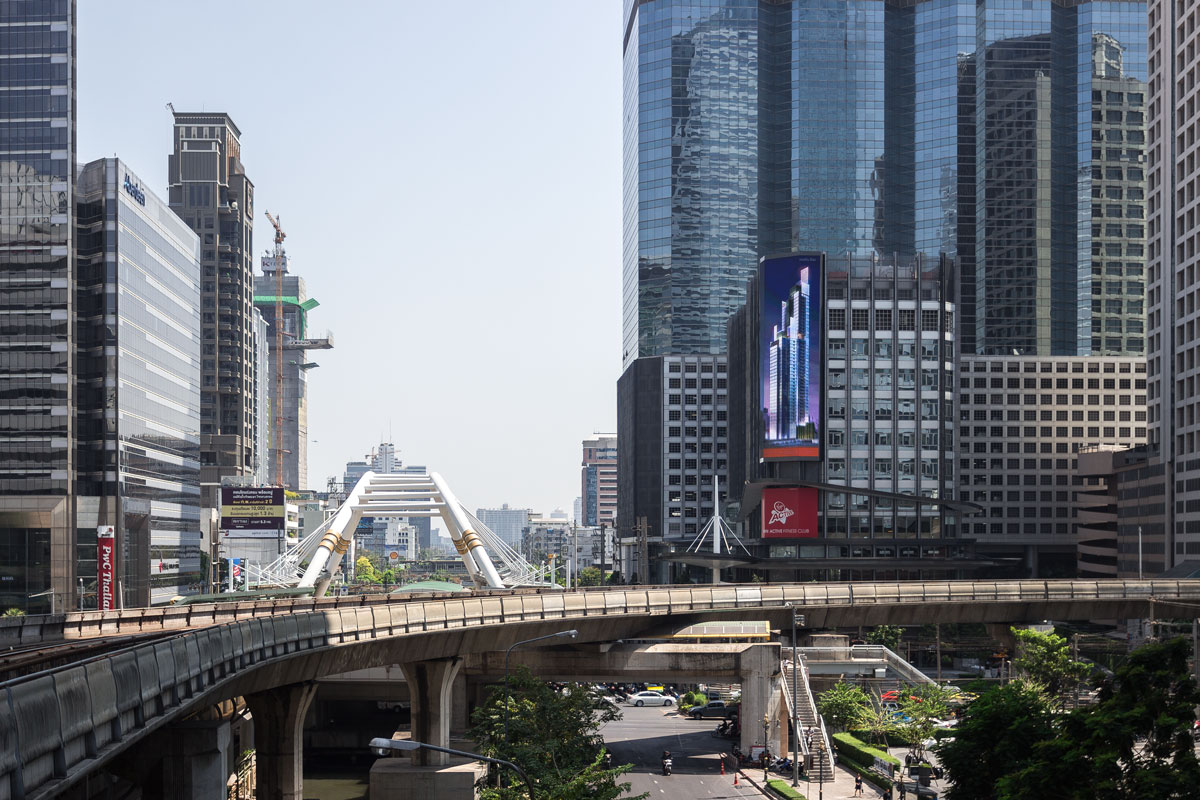 Monstrous elevated walkways connect directly to the stations, seamlessly blending into the buildings.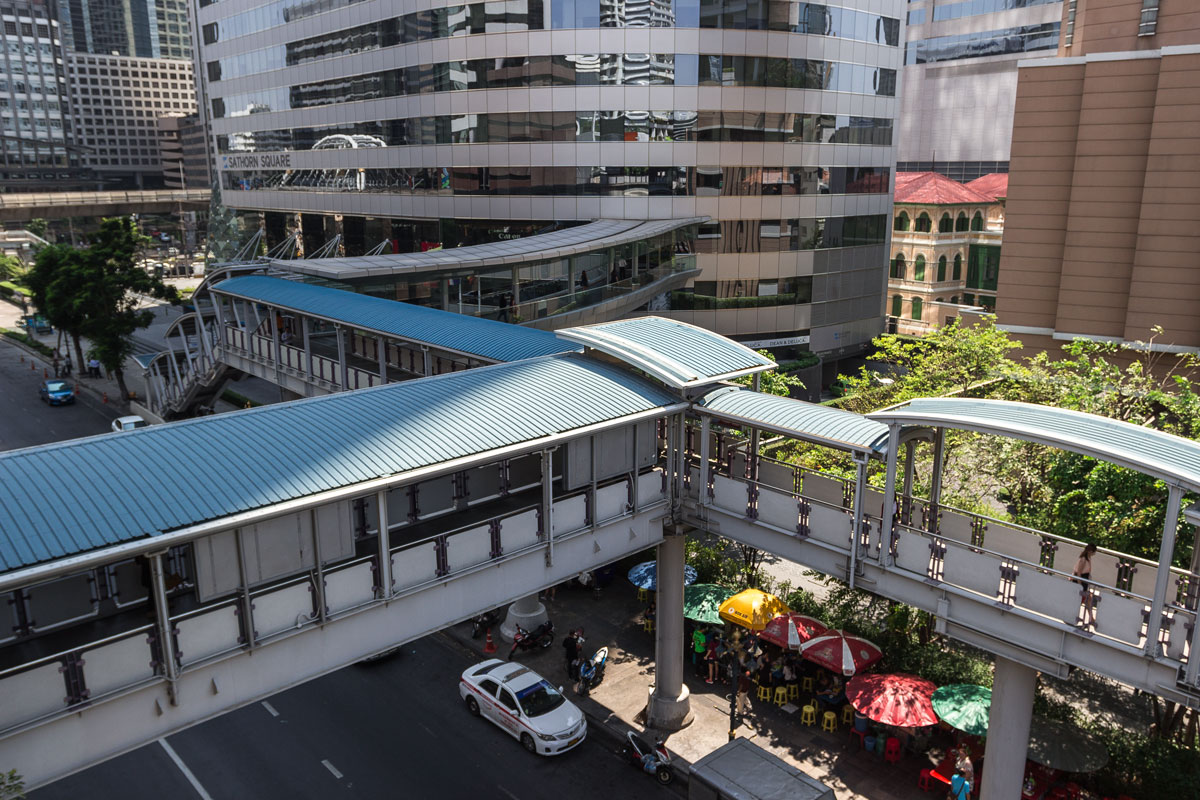 Metro elevated tracks often run directly above the streets, just a few meters away from the windows of residential buildings. It's another typical Asian landscape: a street with a stone ceiling.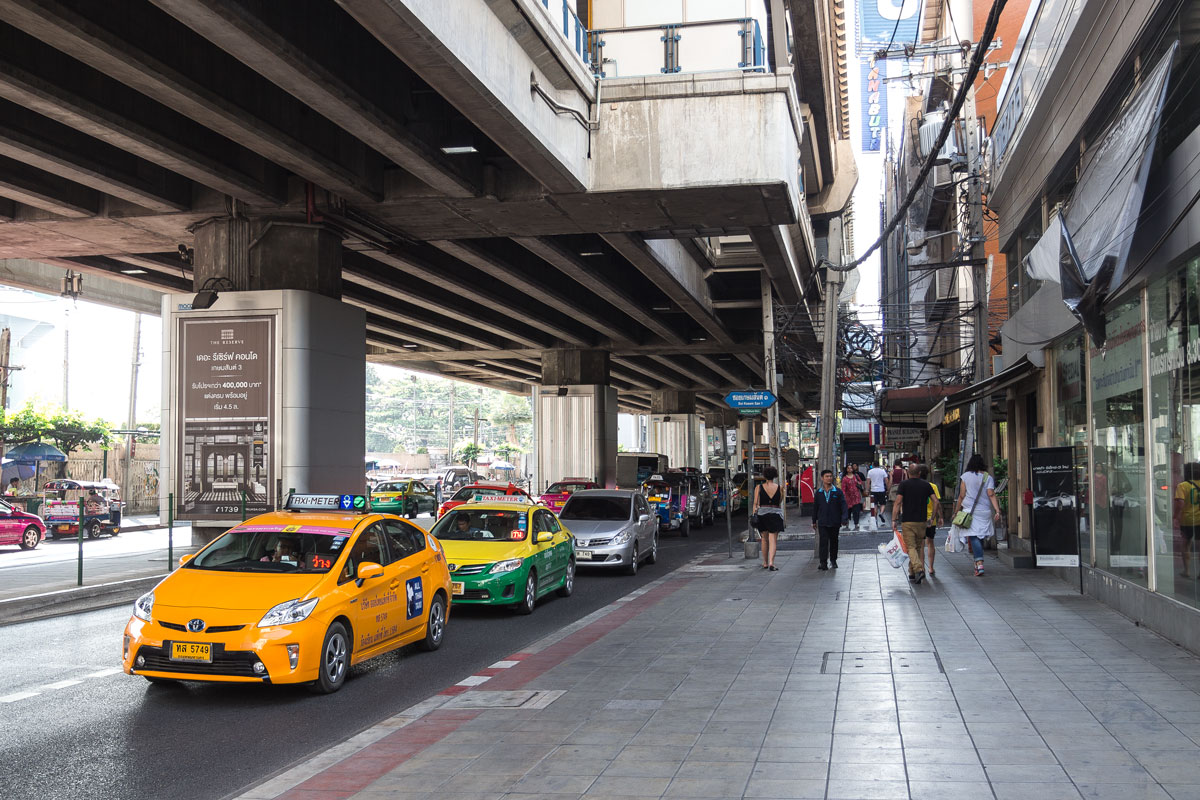 The most incredible mode of transport in Bangkok is the river tram. It's not some expensive yacht that operates for tourists every half an hour. Here is a stop.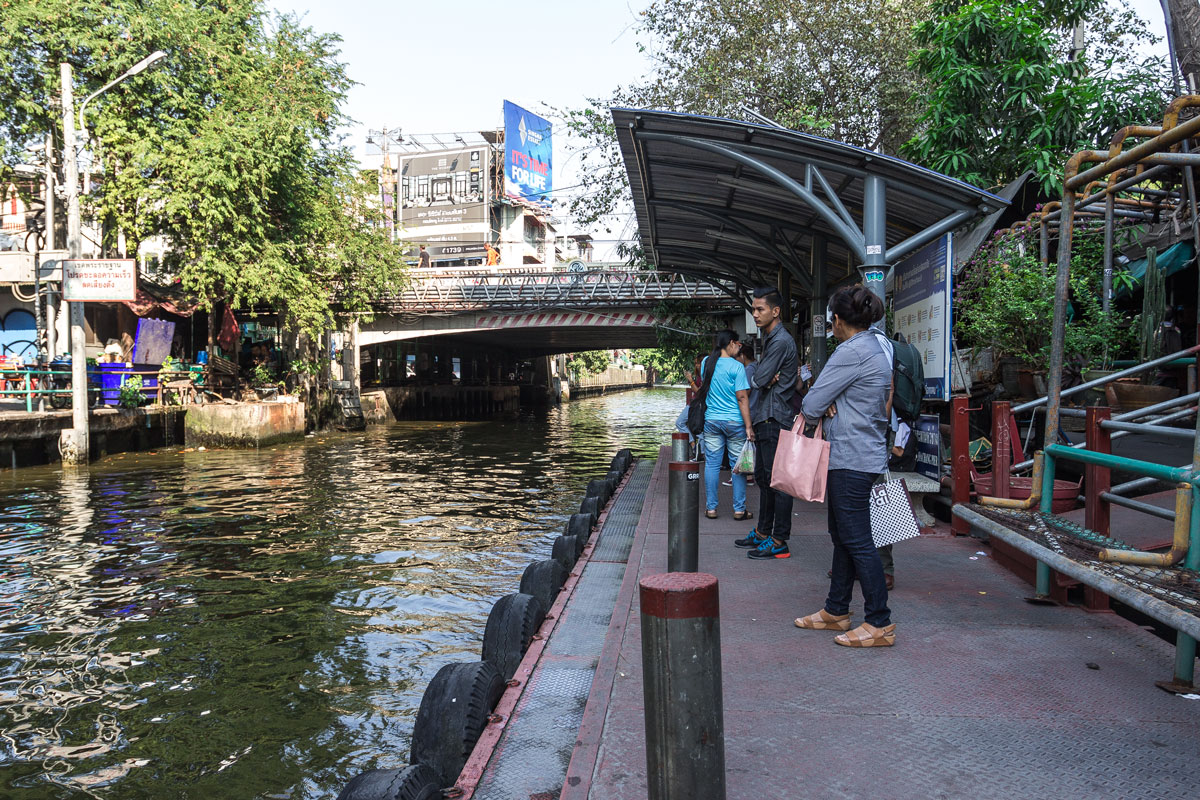 Here comes the boat approaching.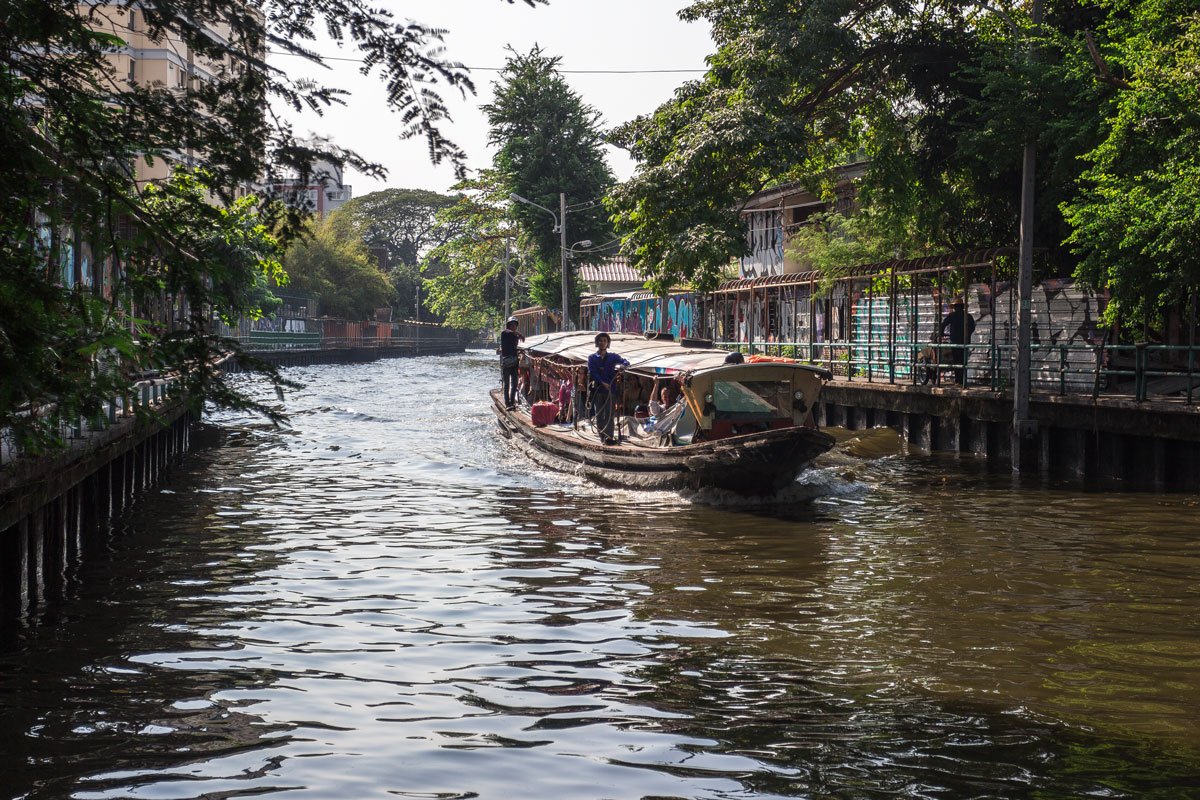 It runs regularly, every 5-10 minutes. The ticket is approximately like the one for a bus, depending on the distance. You come, wait for your route, and get on. The boat is covered with a tarp to protect from splashes — and off we go. A conductor-equilibrist walks along the edge, collects fares, and issues tickets. Just like a bus. Only water instead of asphalt.
But it's impossible to ride buses. They are slightly better than Indian ones: at least people don't hang out of the windows. It's hot inside, no air conditioning, and it's crowded. The traffic jams in Bangkok are terrible. It's easier to walk.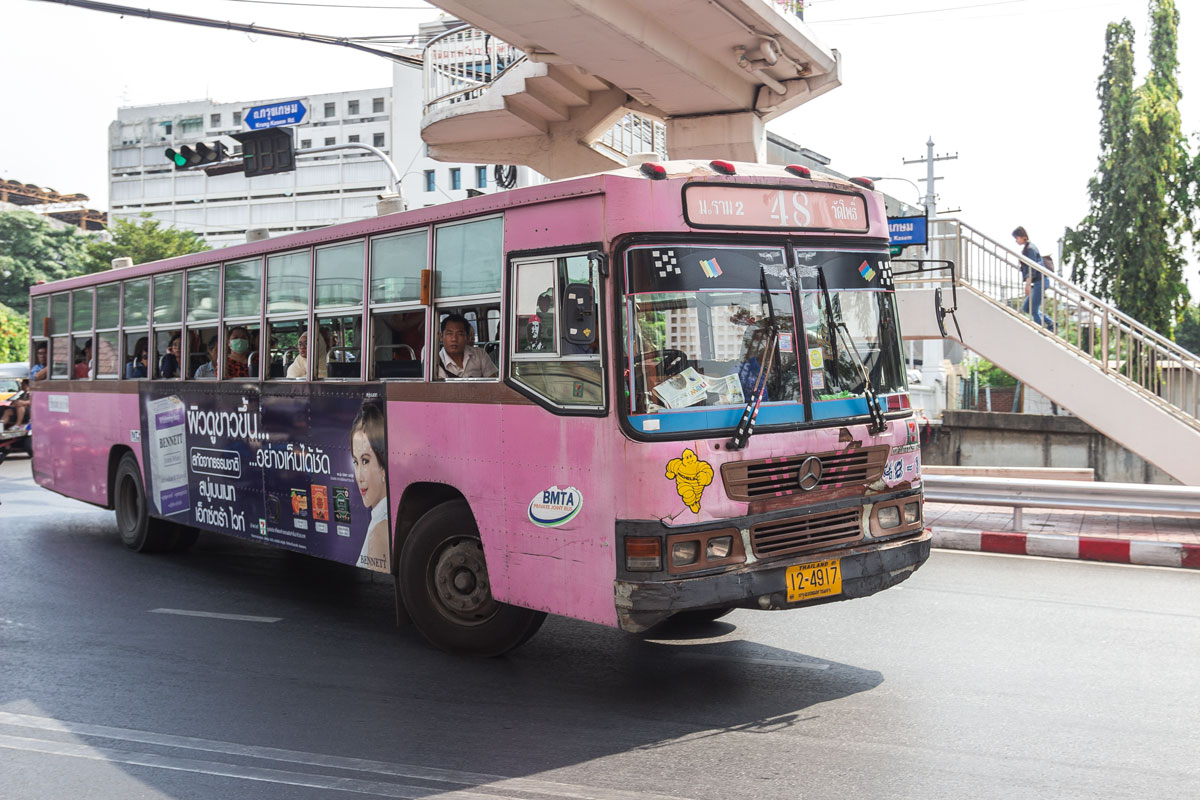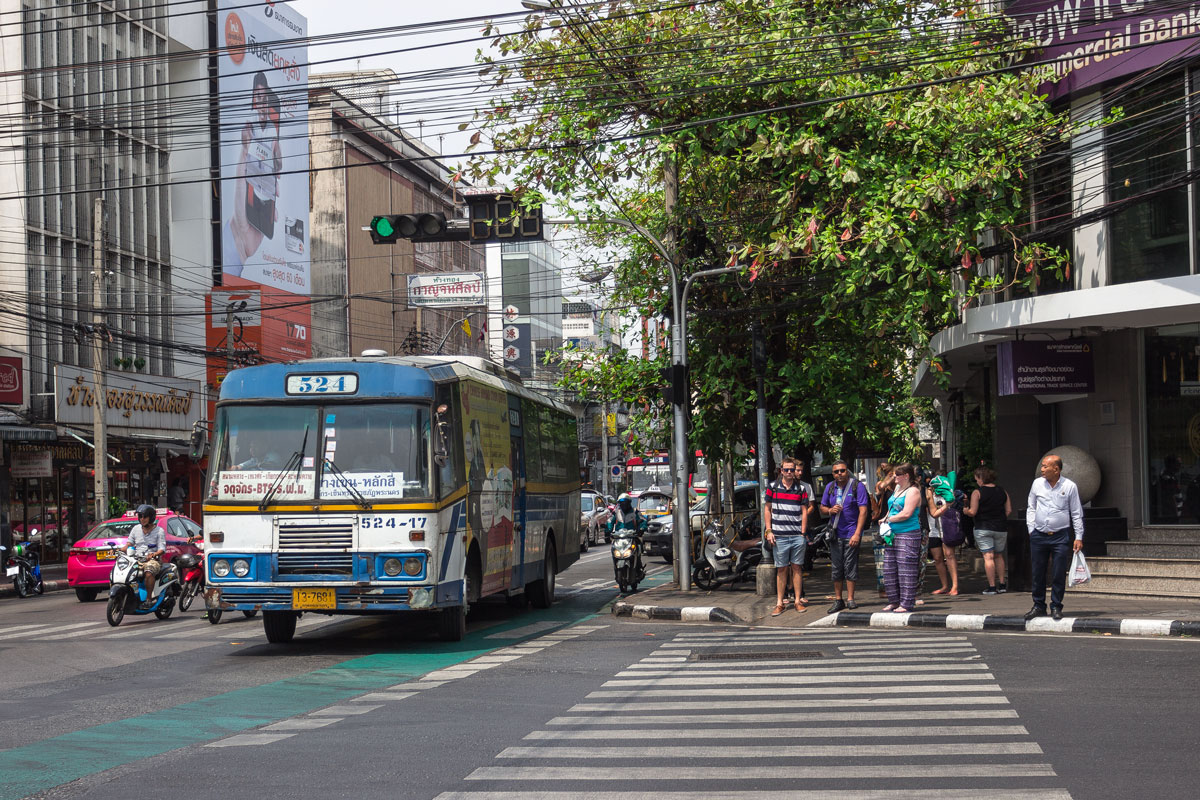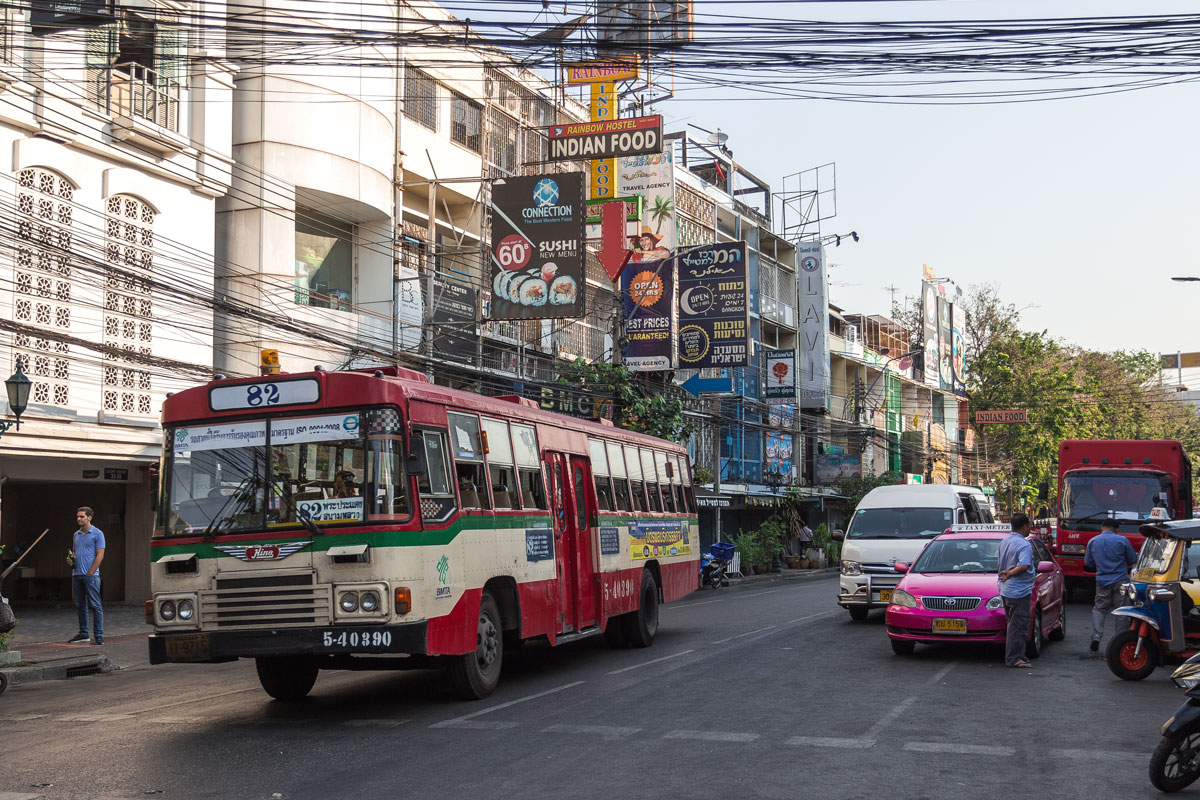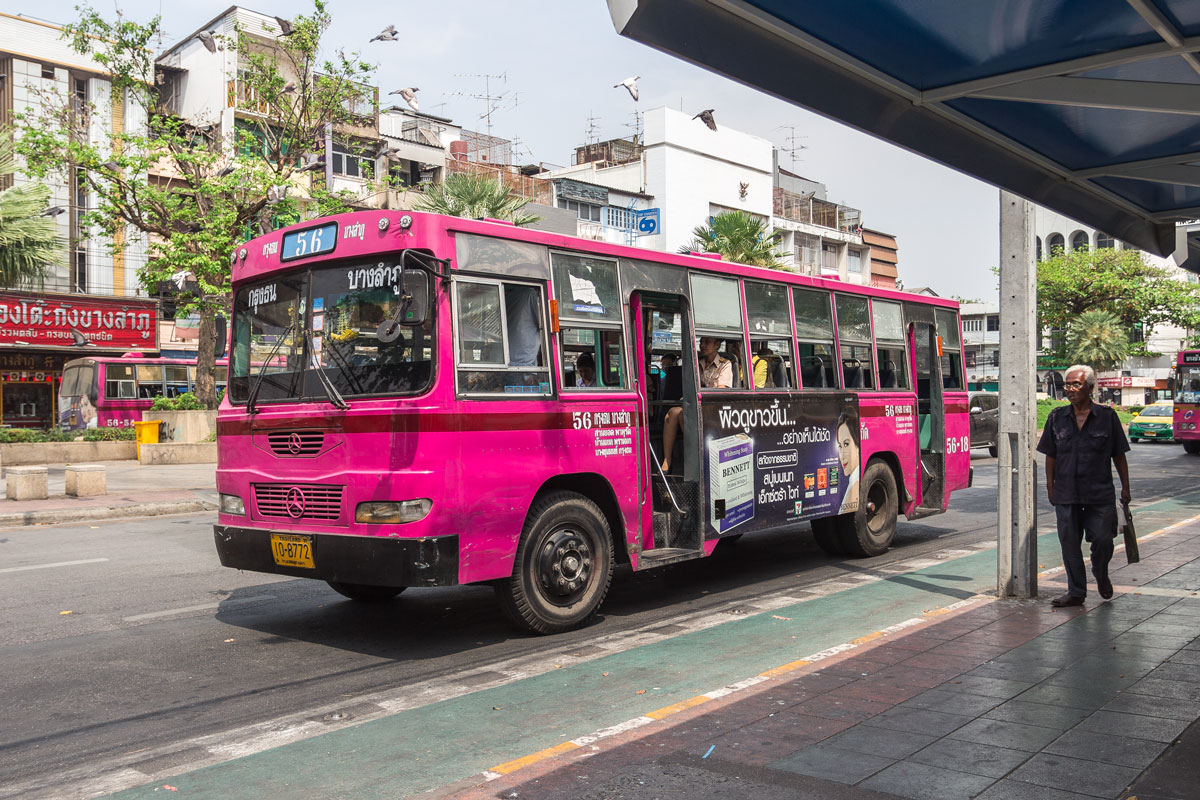 And of course, the tuk-tuk motorbike. Just like in any Asian country. It costs a little less than a taxi, but tuk-tuk drivers are always ready to rip you off and persistent like mosquitoes. I can't wait for the moment when I visit all the countries where they ride these noisy contraptions. That will be a celebration: to forget about them once and for all.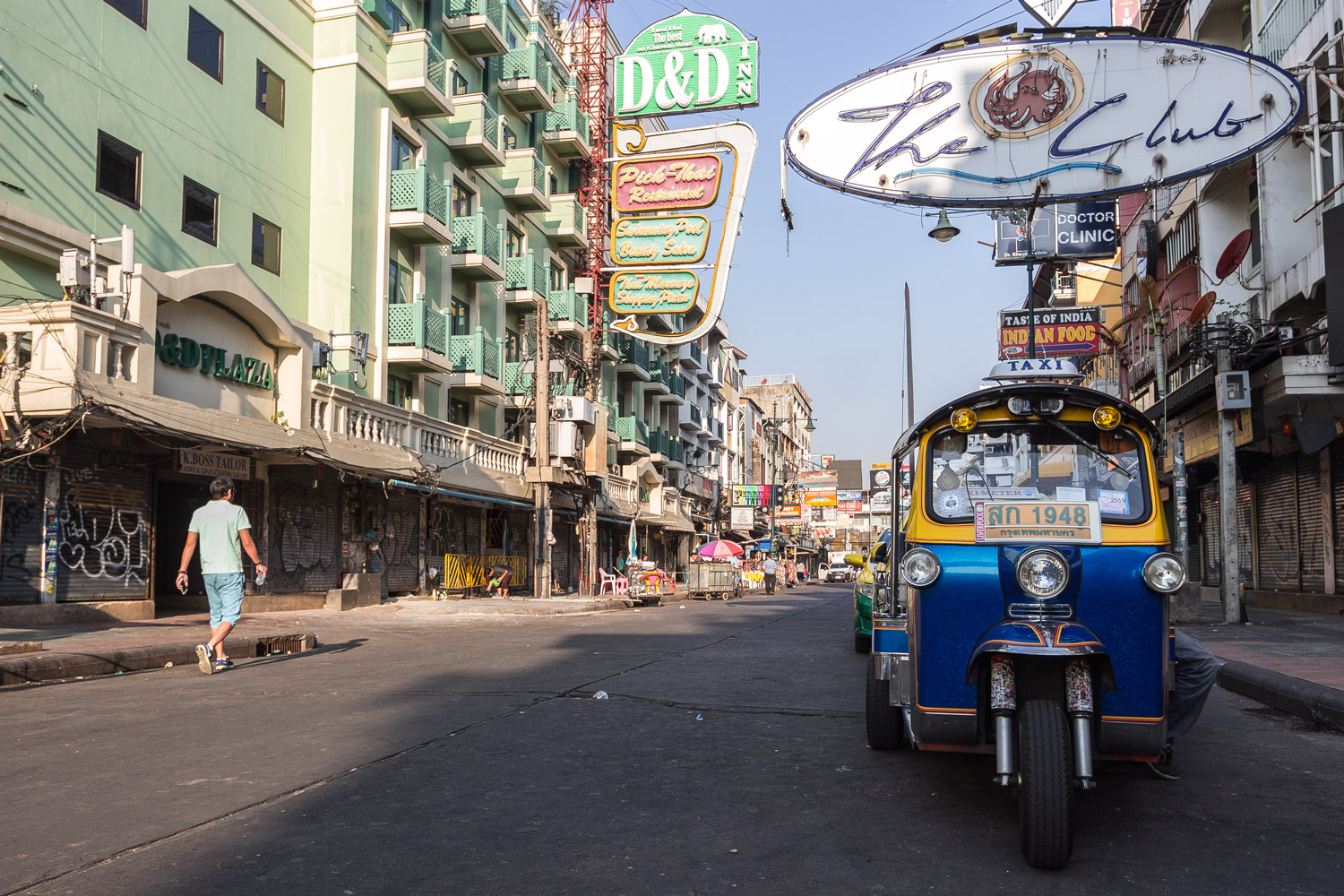 In general, in Thailand, there are ten motorcycles for every car. It's extremely difficult to walk near the highway: dusty, noisy, and twice as hot as on the street.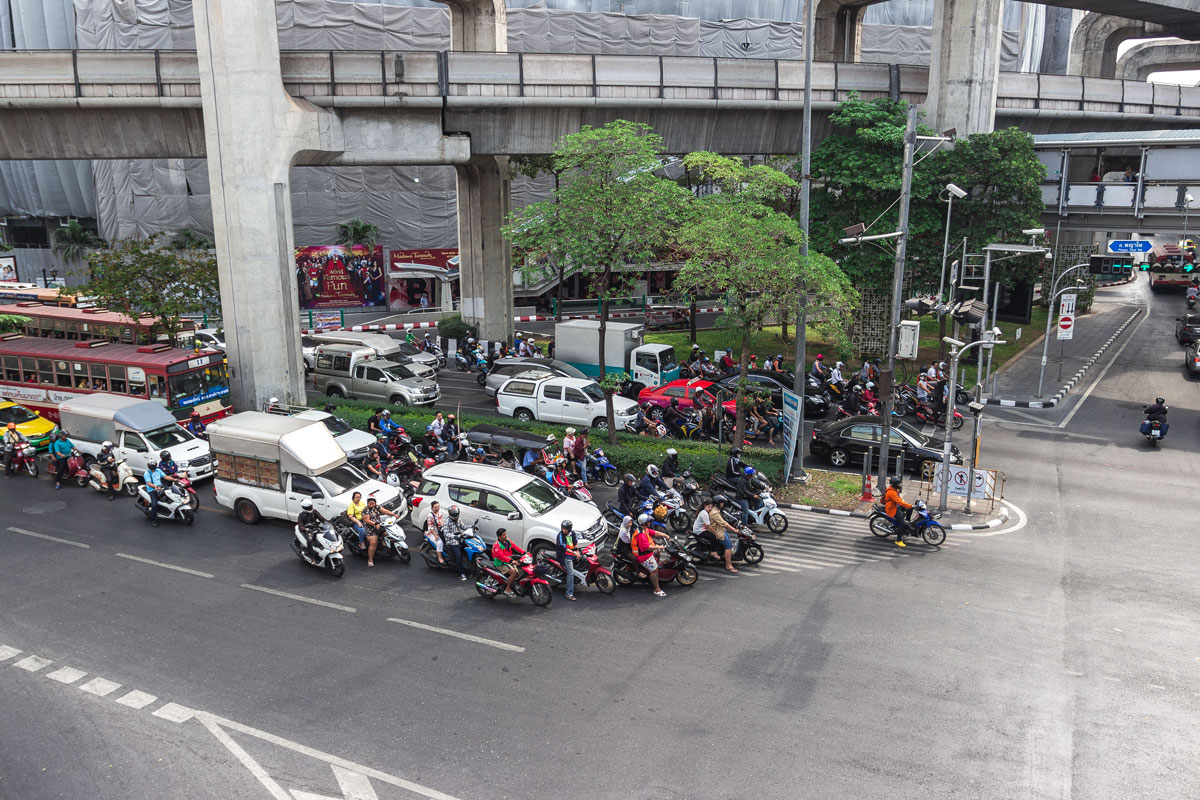 In most of Bangkok, there is low-rise construction.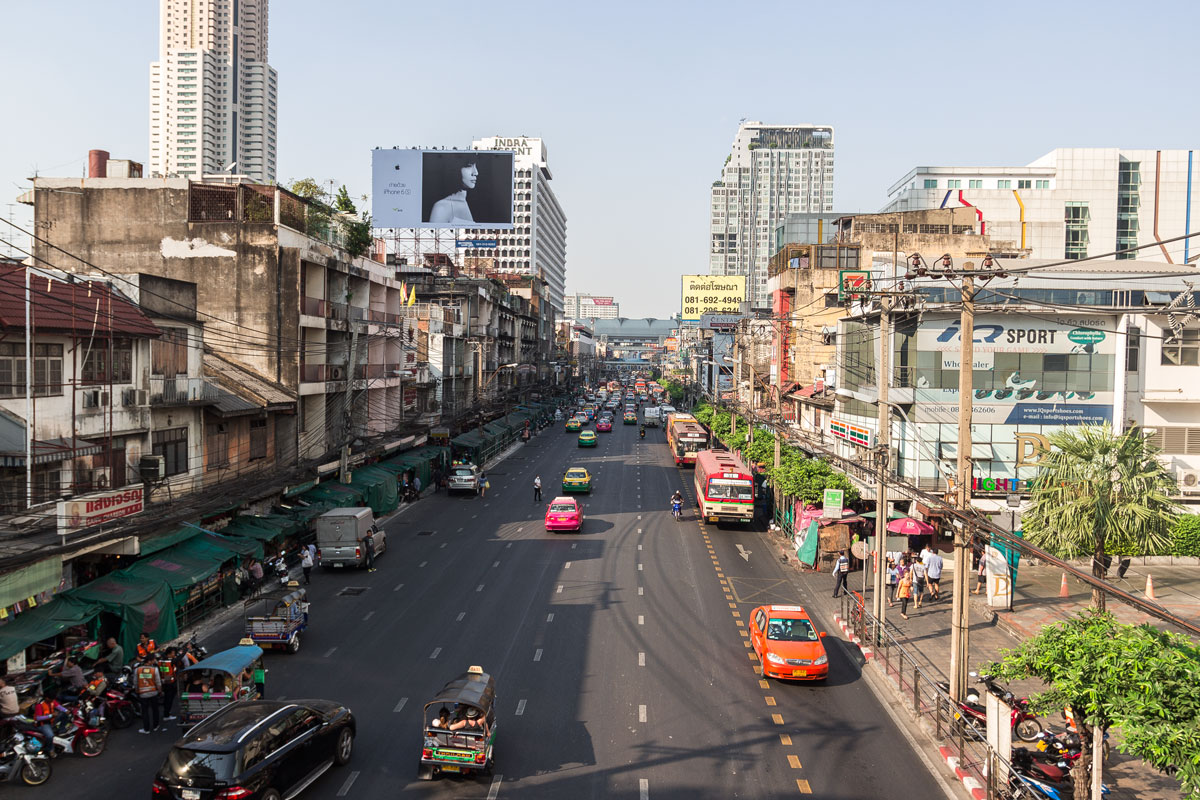 The houses are not far off from Indian ones. Unpainted walls made of cheap materials get covered in mold and turn black due to the heat and humidity.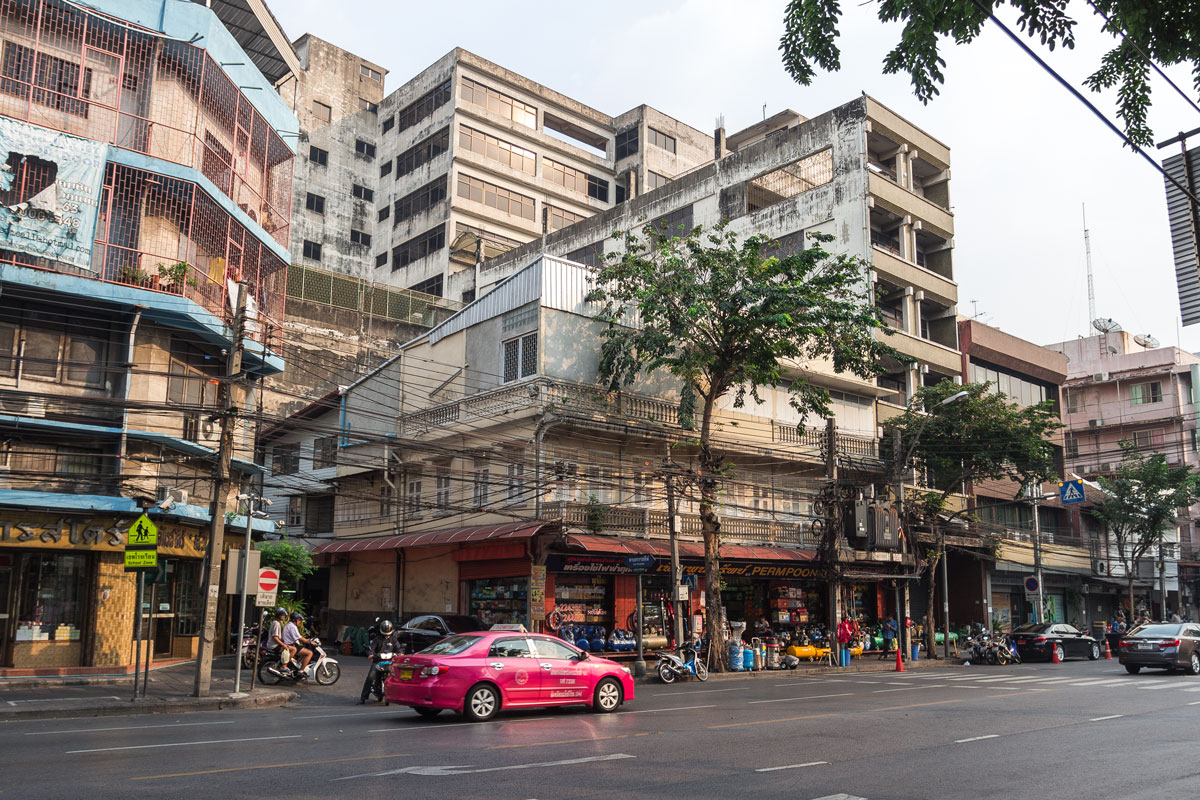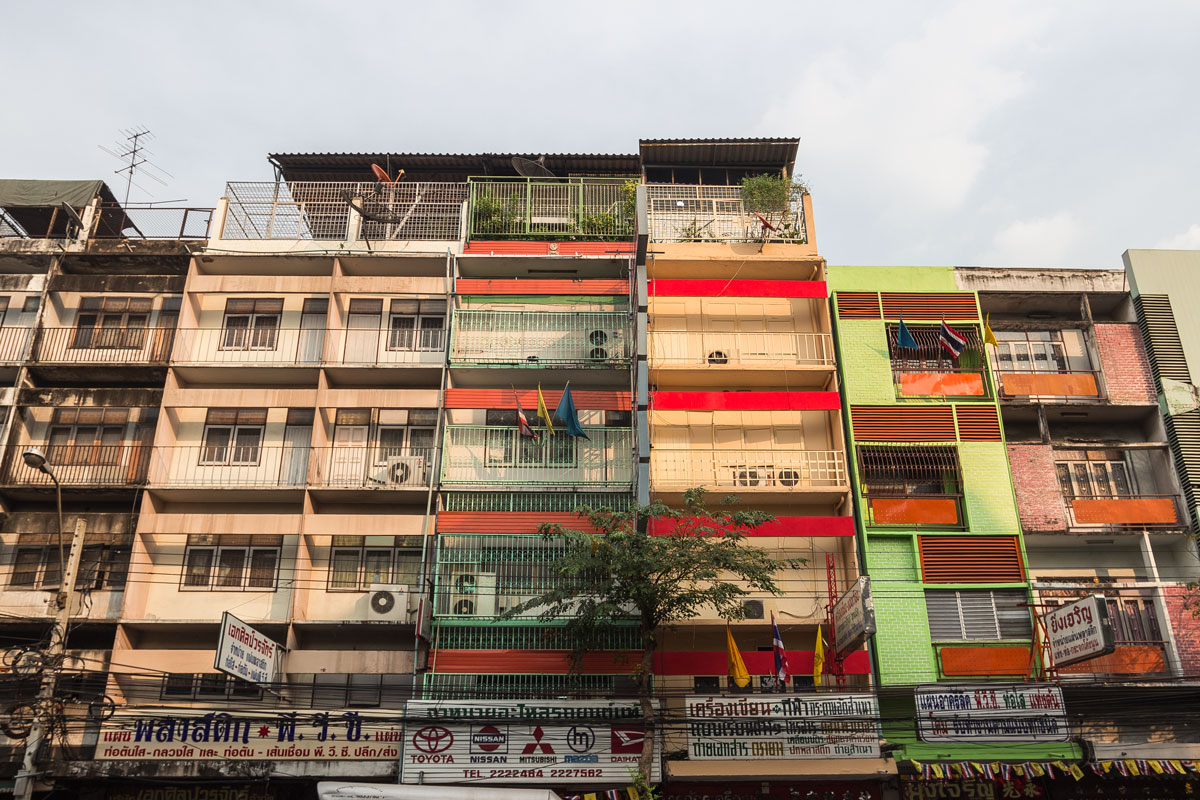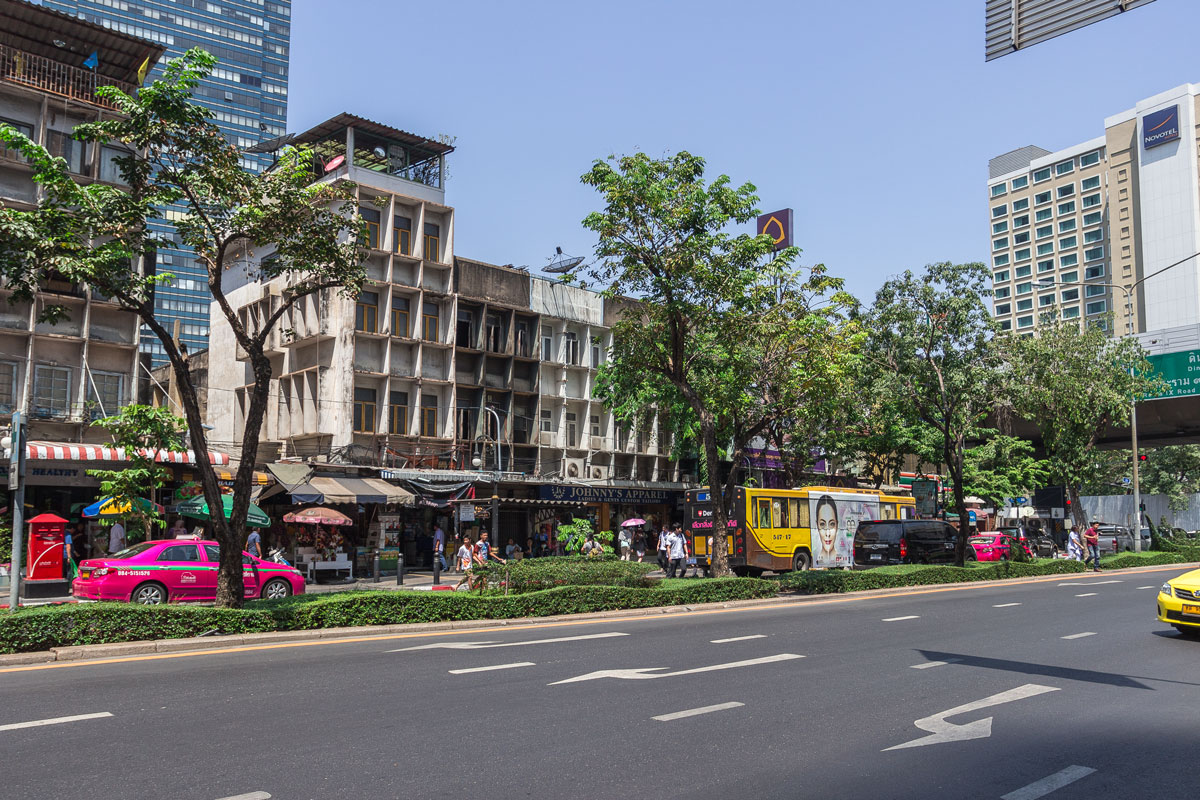 However, the streets are much cleaner and more spacious.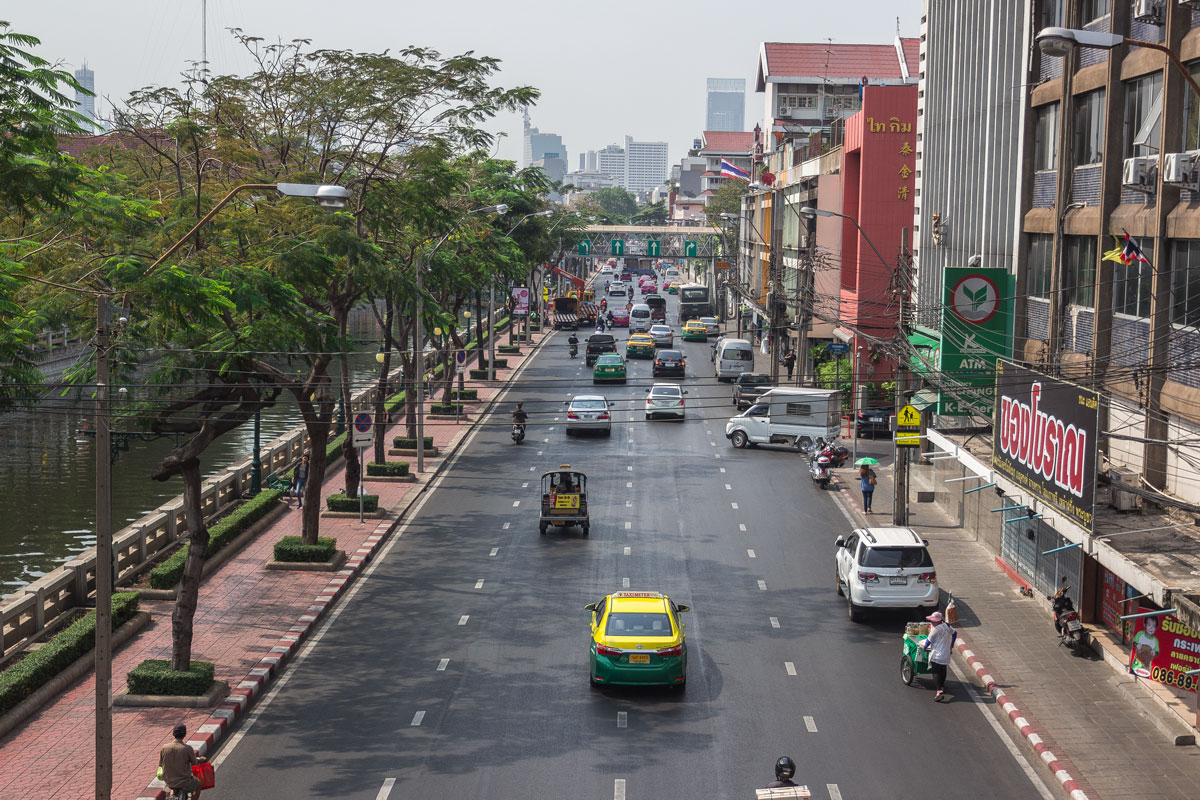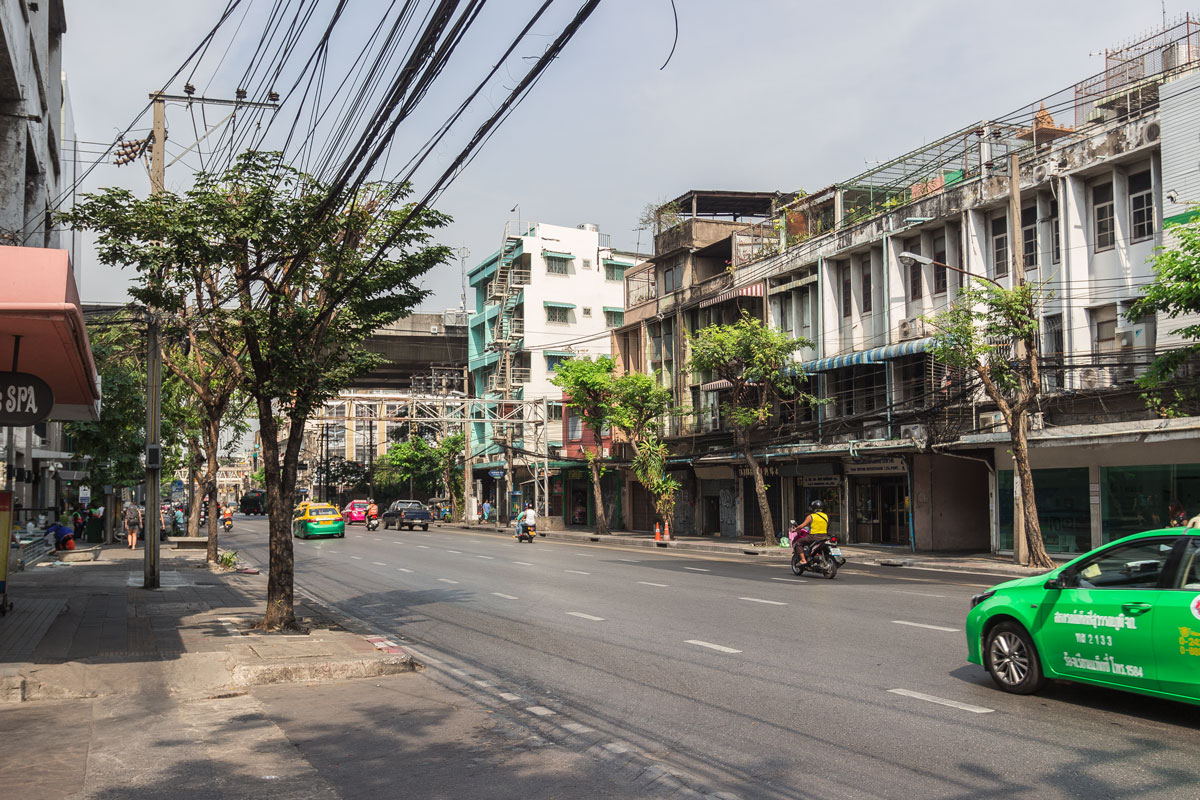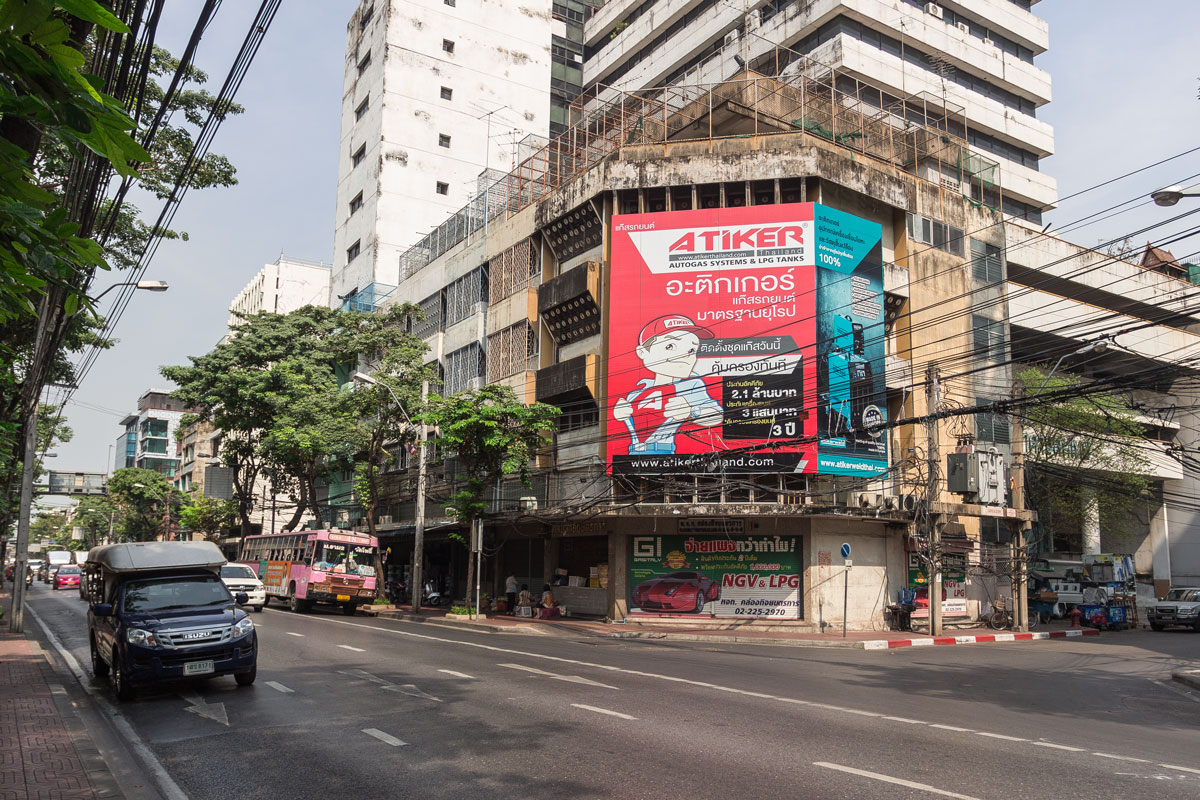 The alleyways are also well-maintained.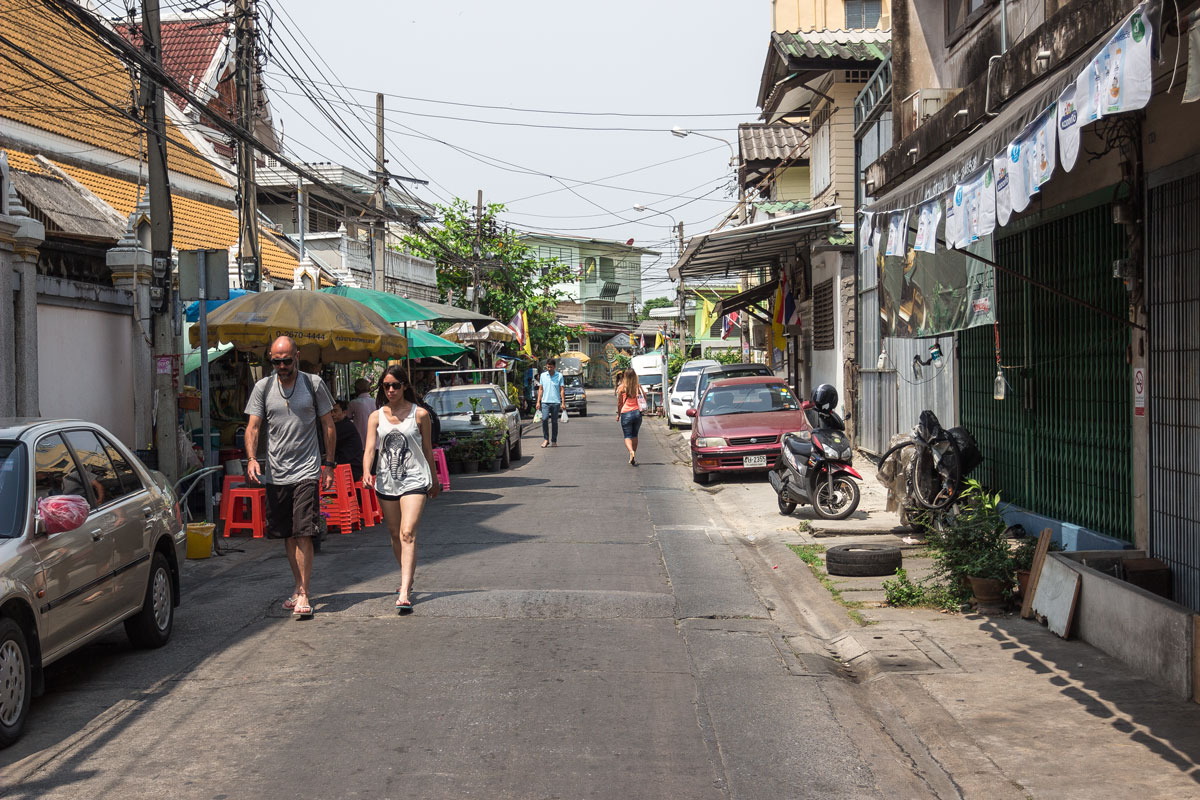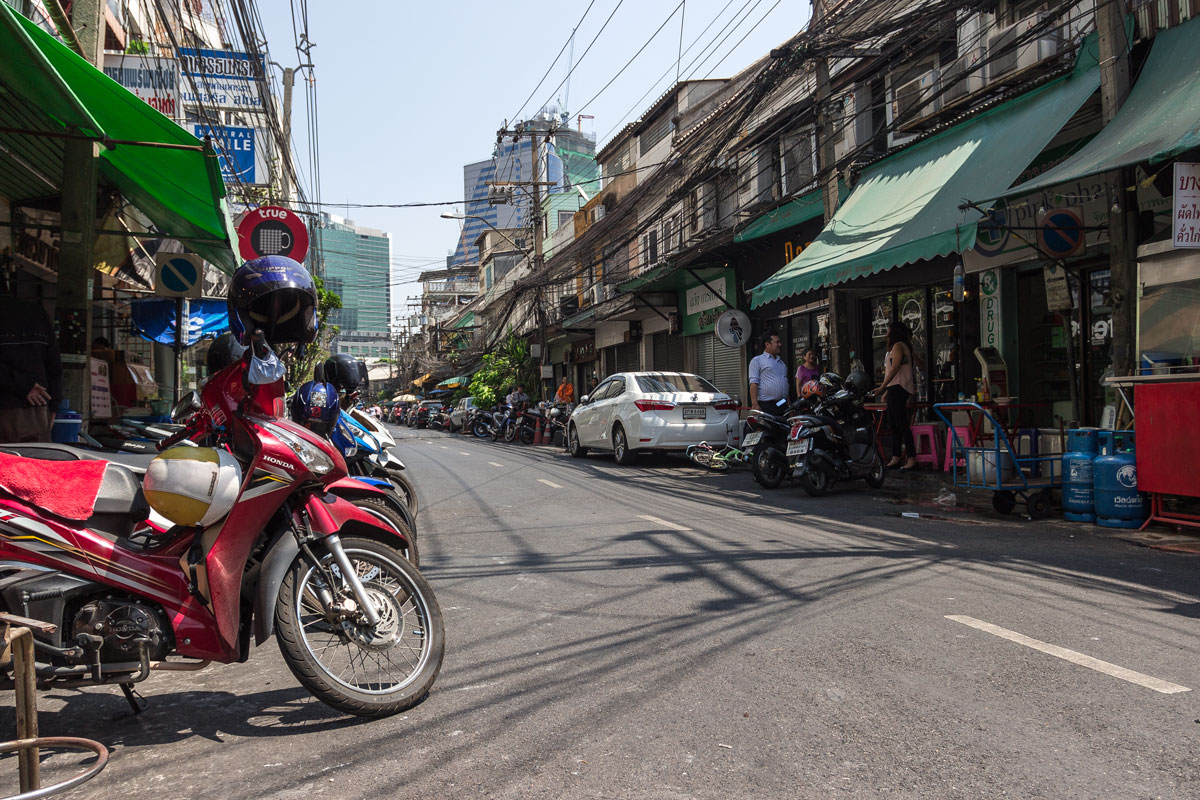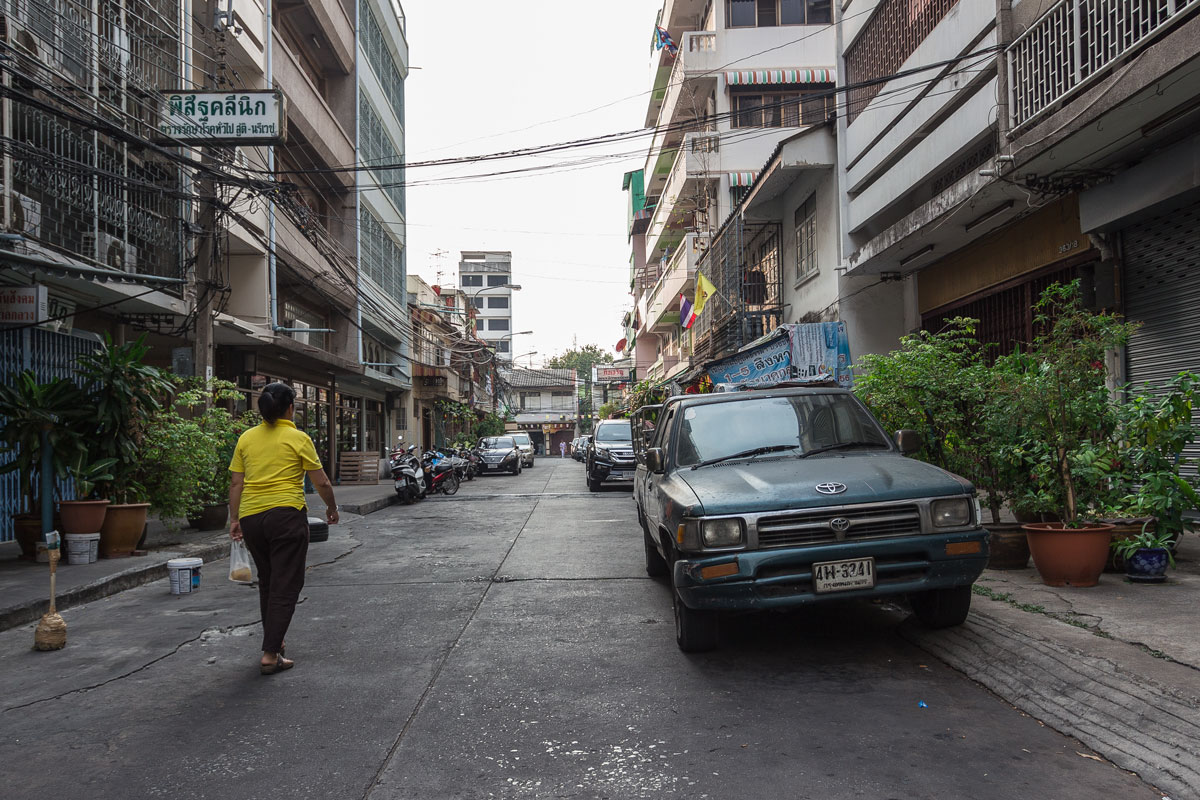 Chinatown is the busiest district of Bangkok.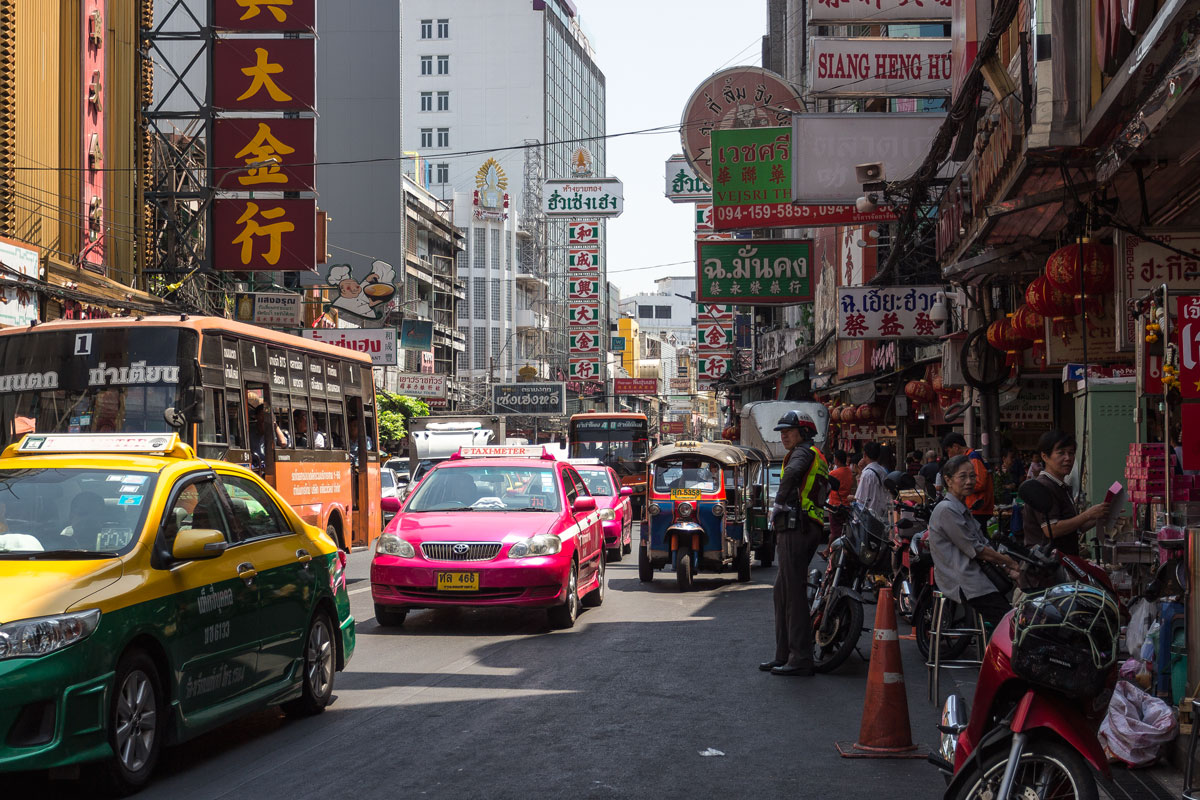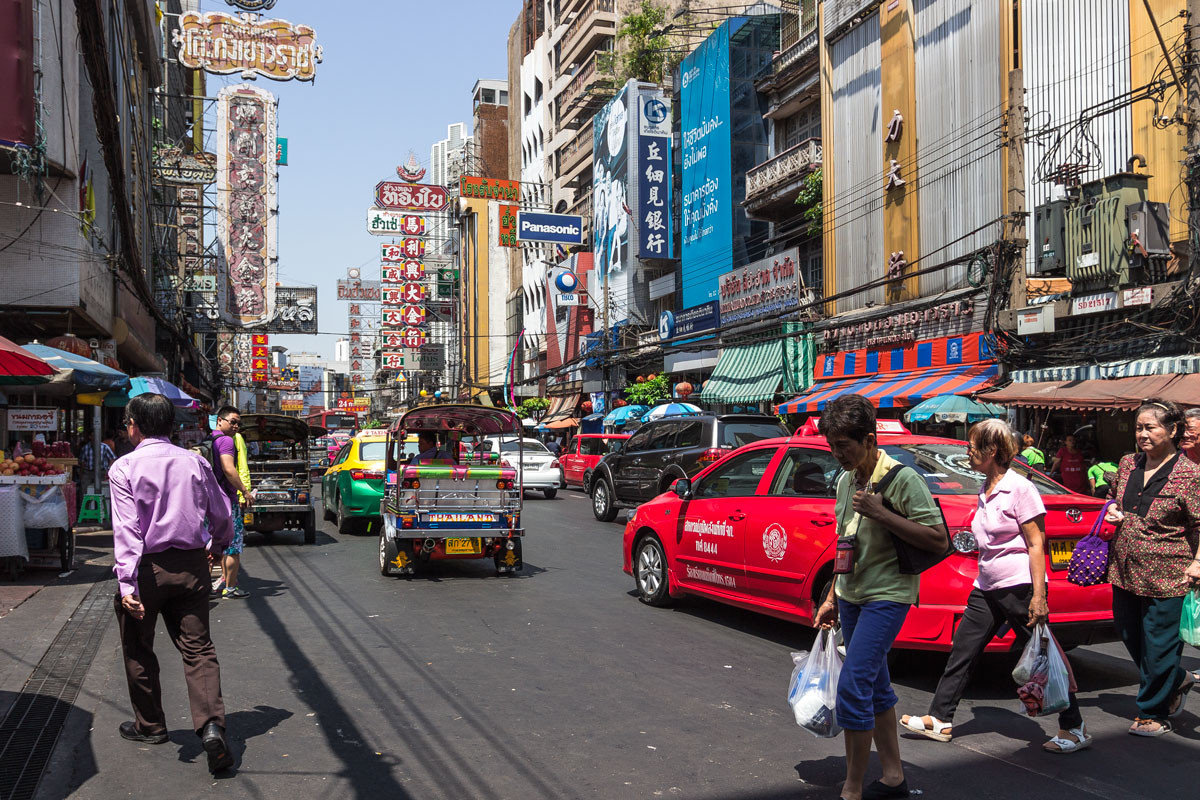 There are a couple of districts with slums in the city, but they say they are completely unremarkable compared to India. Sometimes you can come across makeshift houses made of iron sheets even in the city center, so going to the slums is not necessary.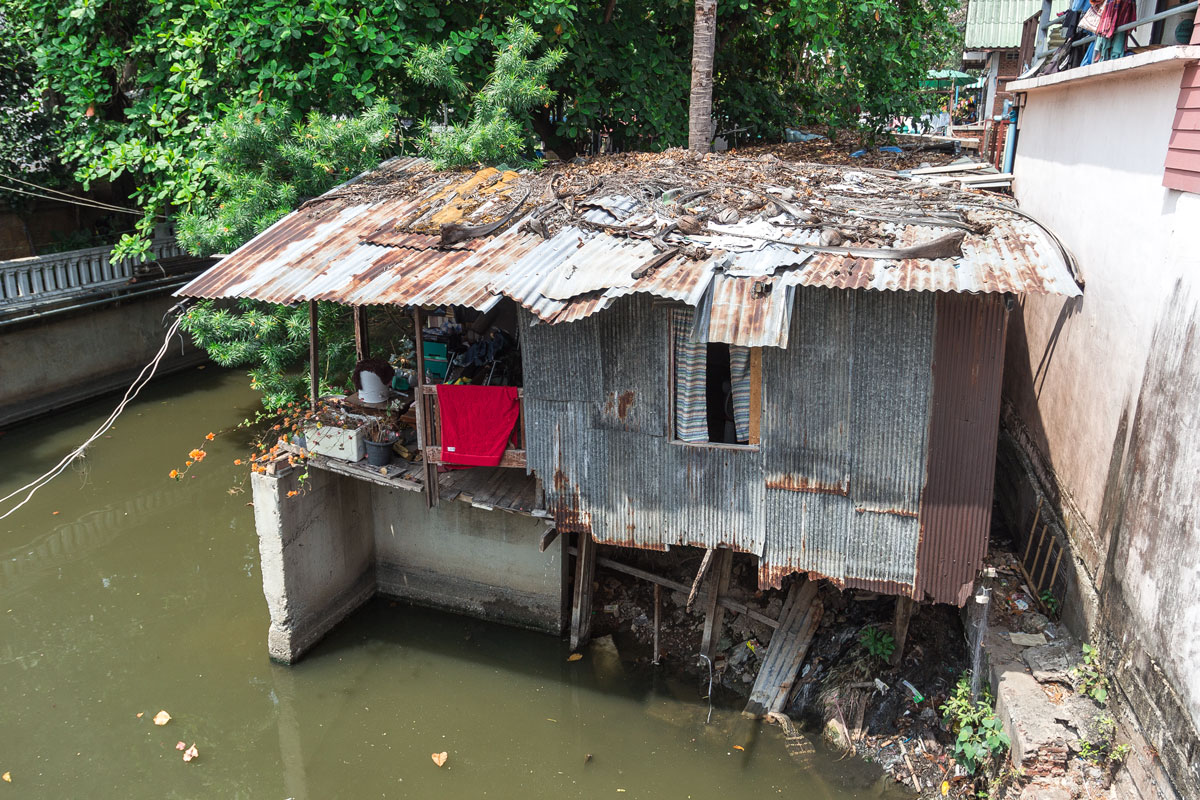 Bangkok has a large number of skyscrapers, but they are all somewhat underwhelming. There isn't a single truly impressive one.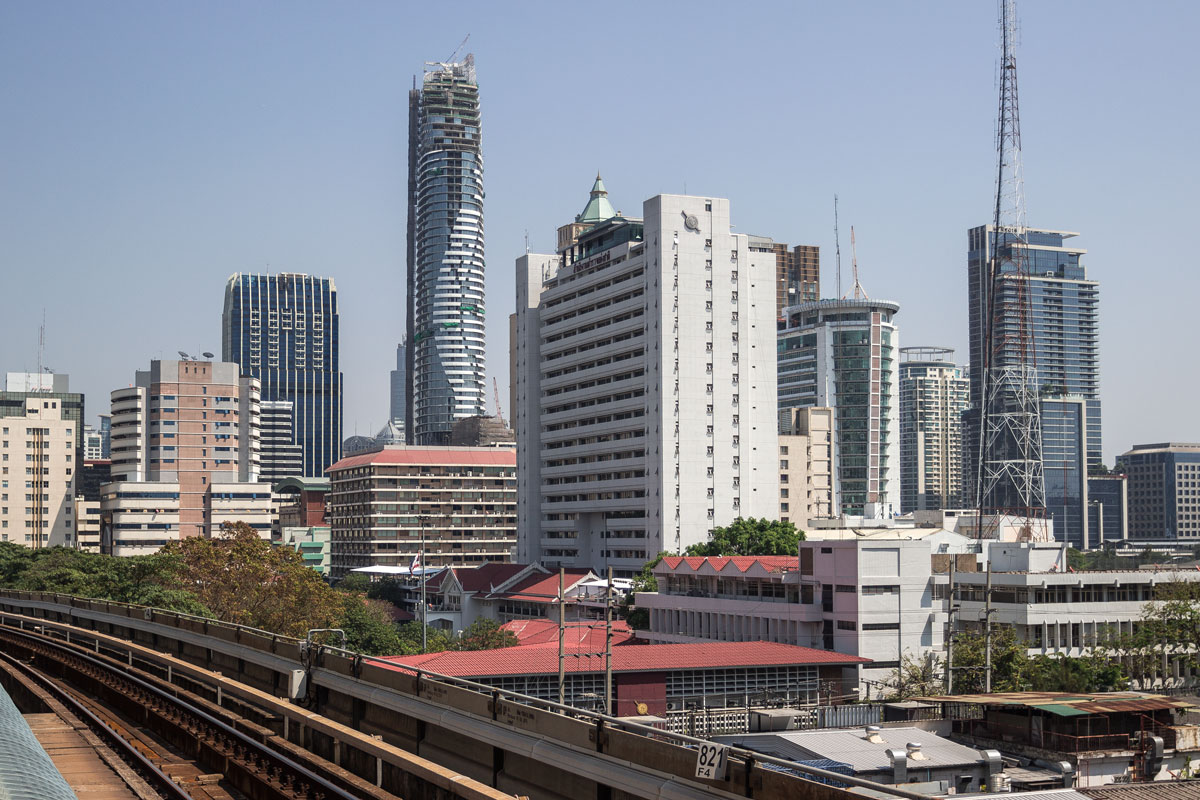 It's more like oversized panel buildings.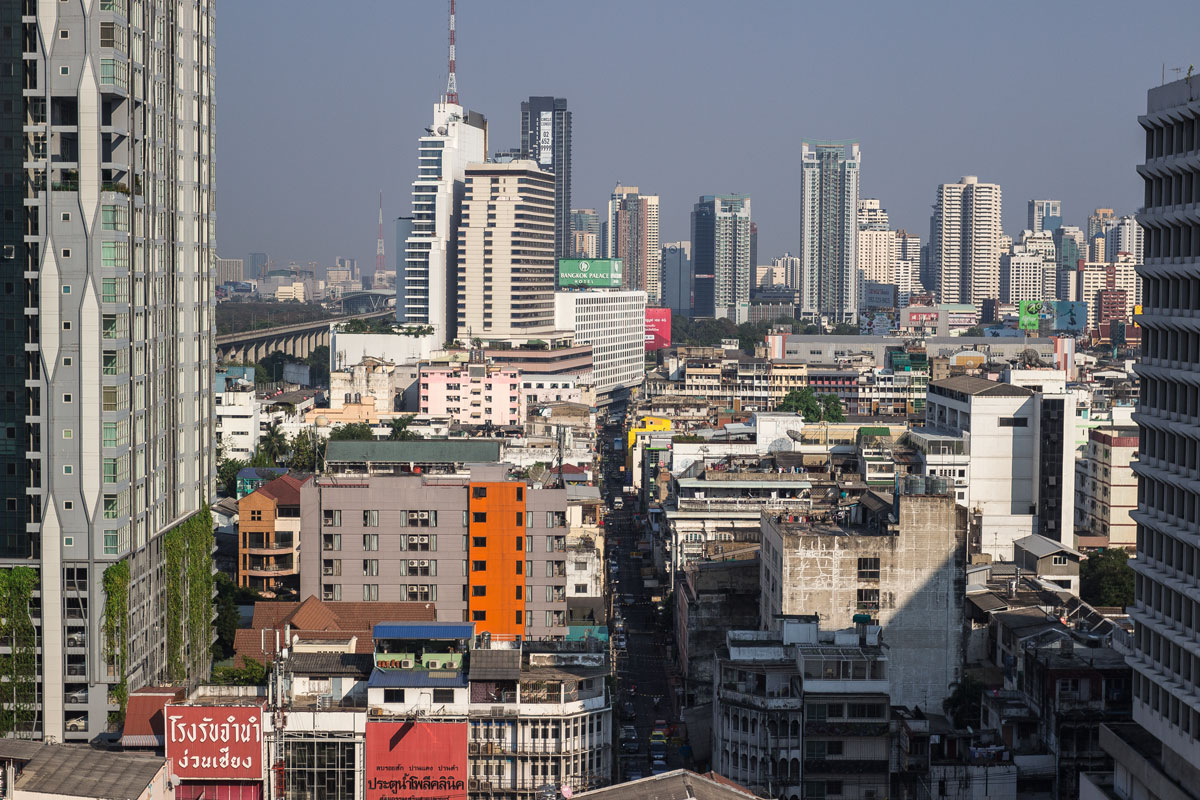 In the midst of these high-rise buildings, can easily sprawl a marsh of old shacks intermixed with the pointed roofs of temples.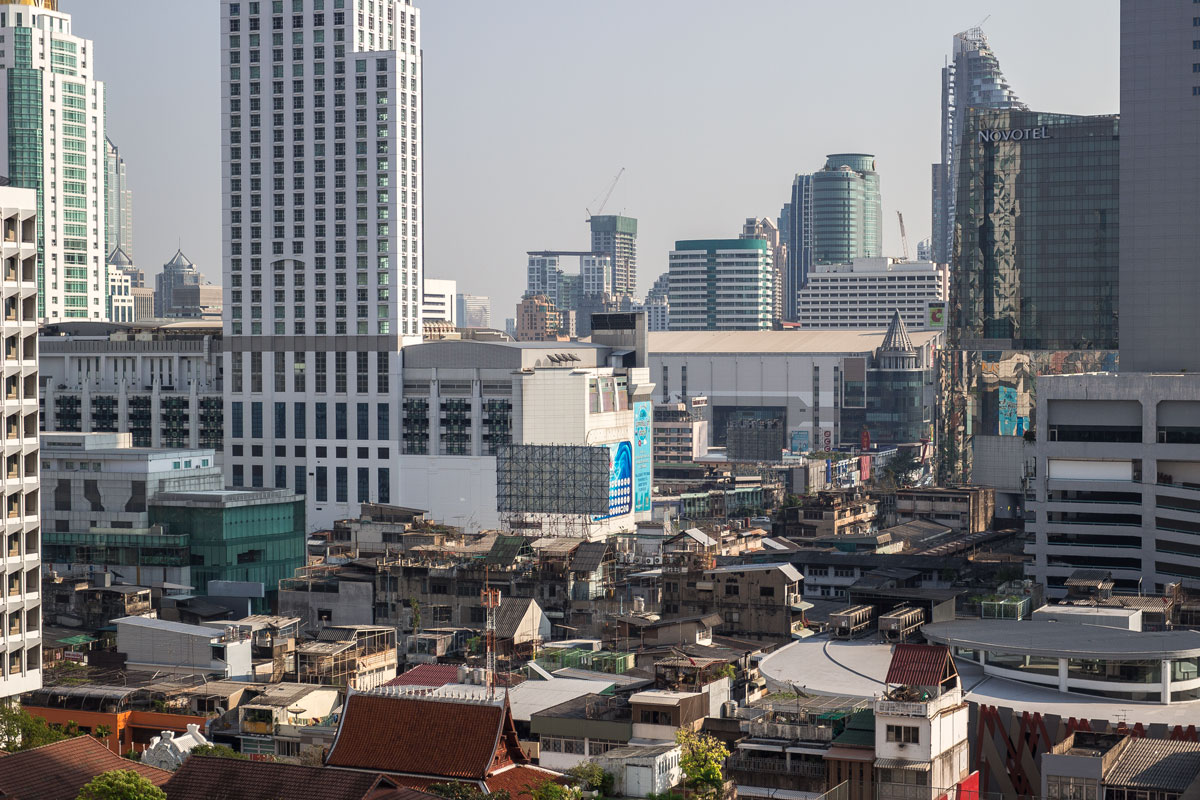 Bangkok from above.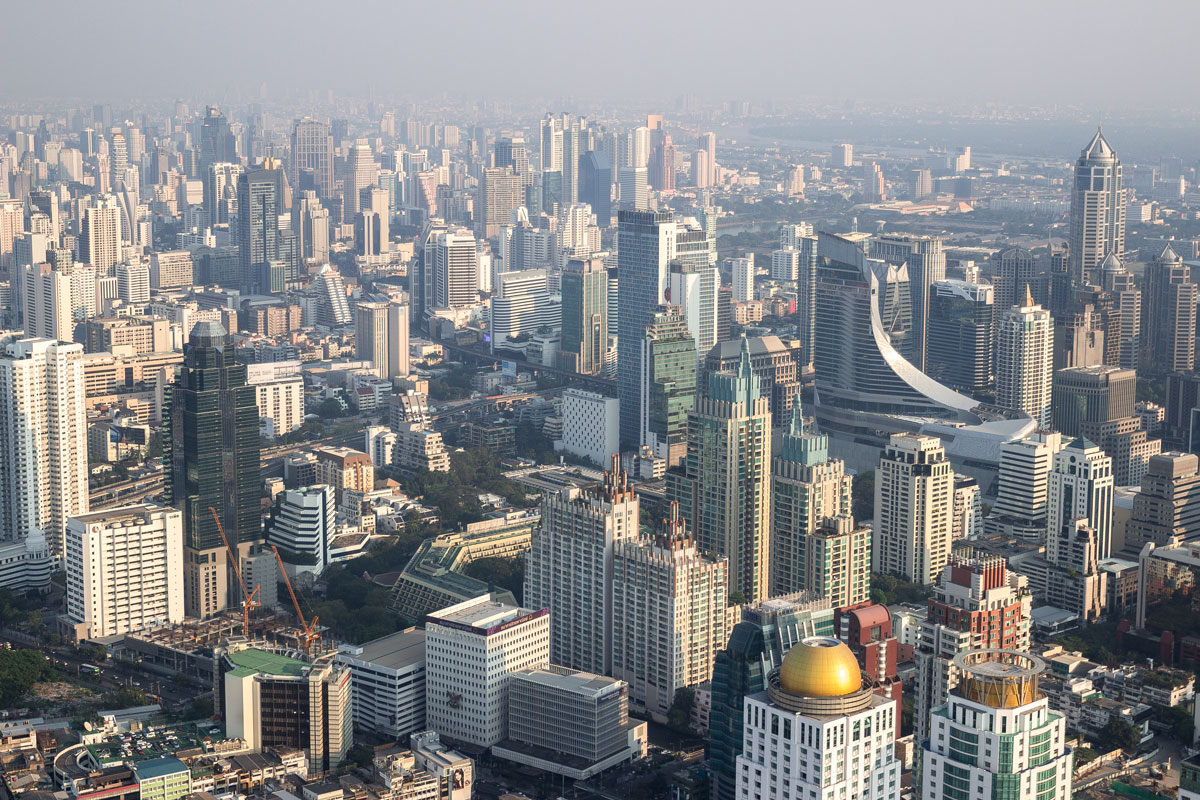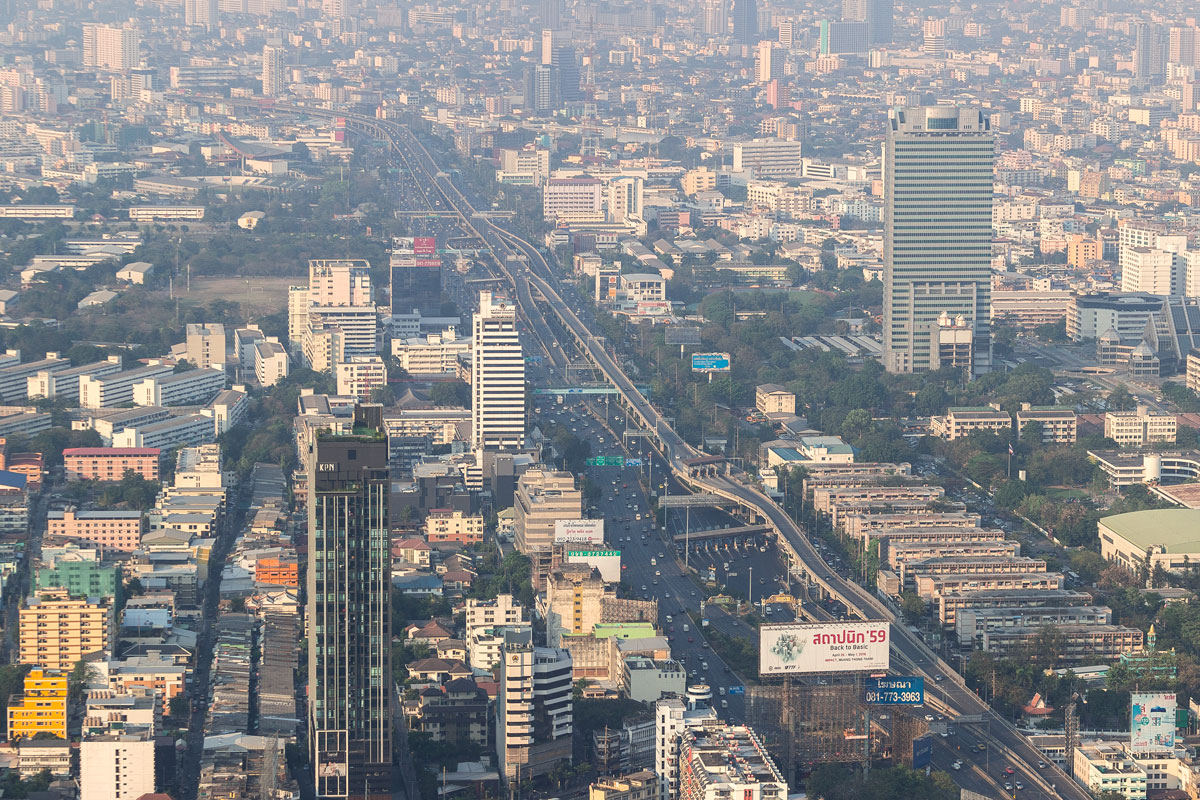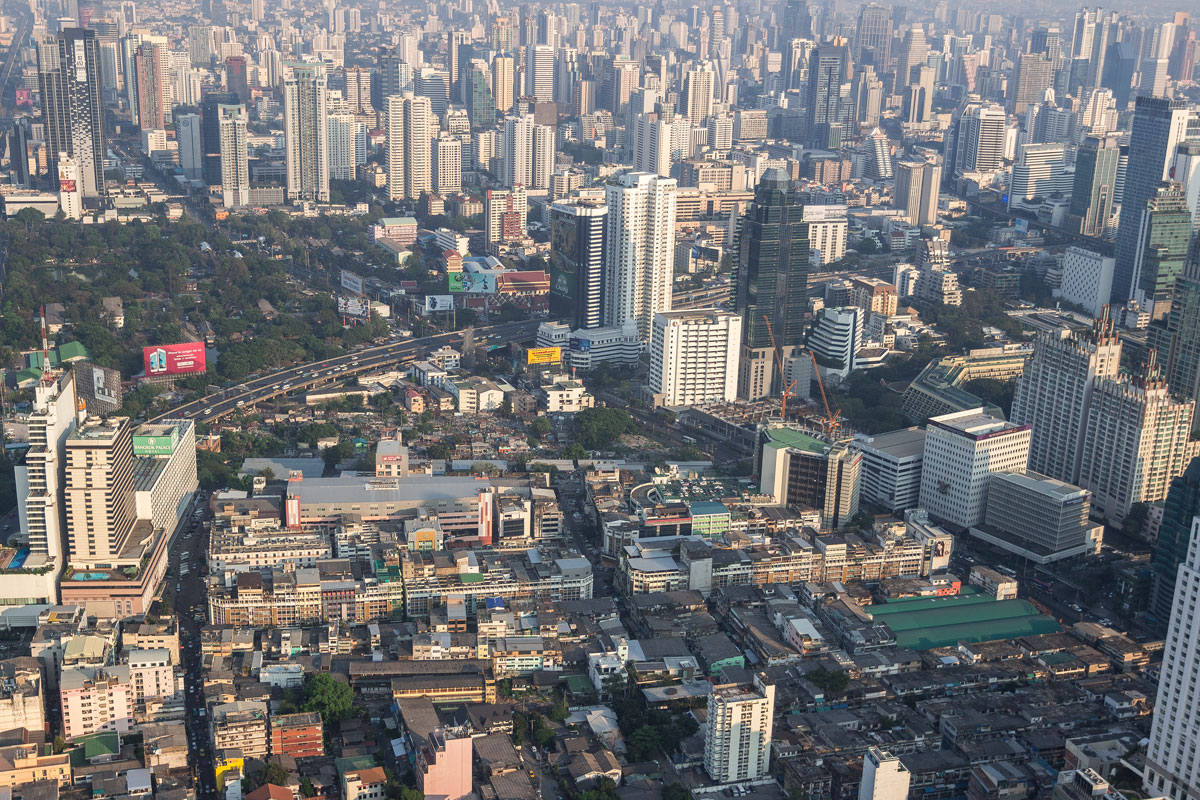 One of the largest malls in Bangkok.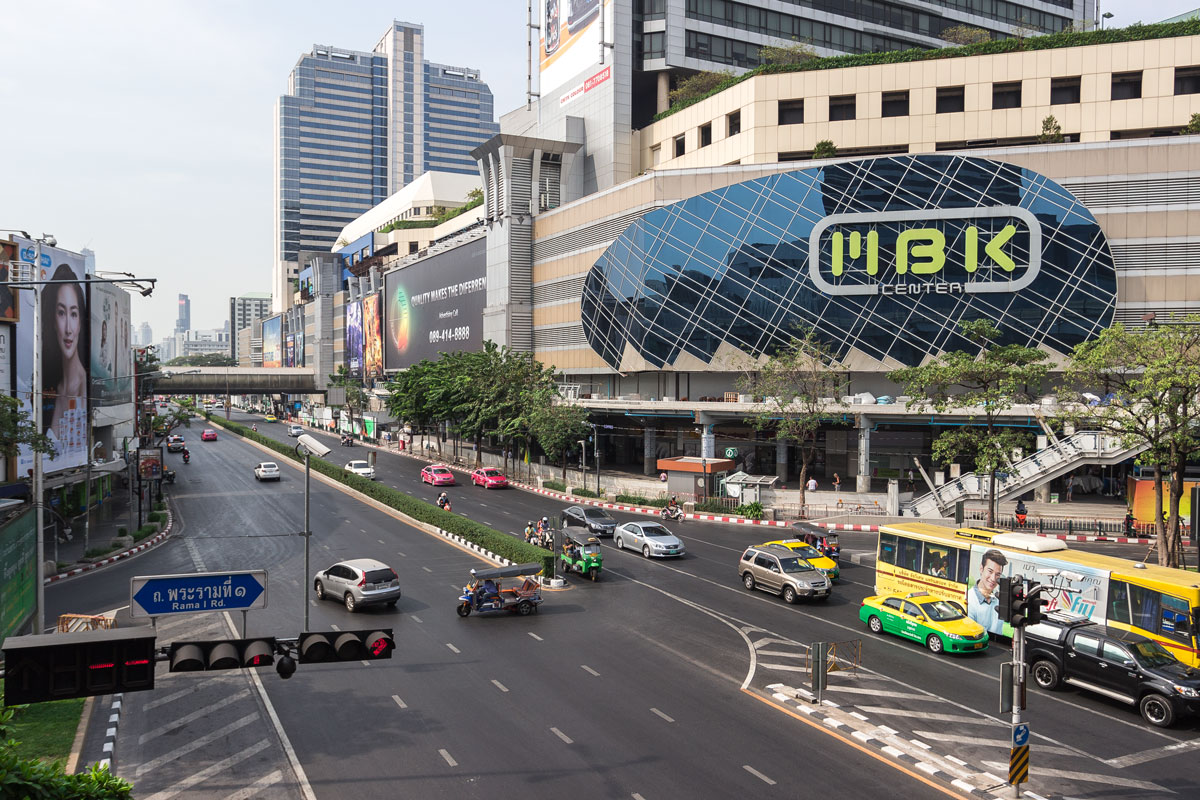 Another popular place is the "Siam Paragon" mall.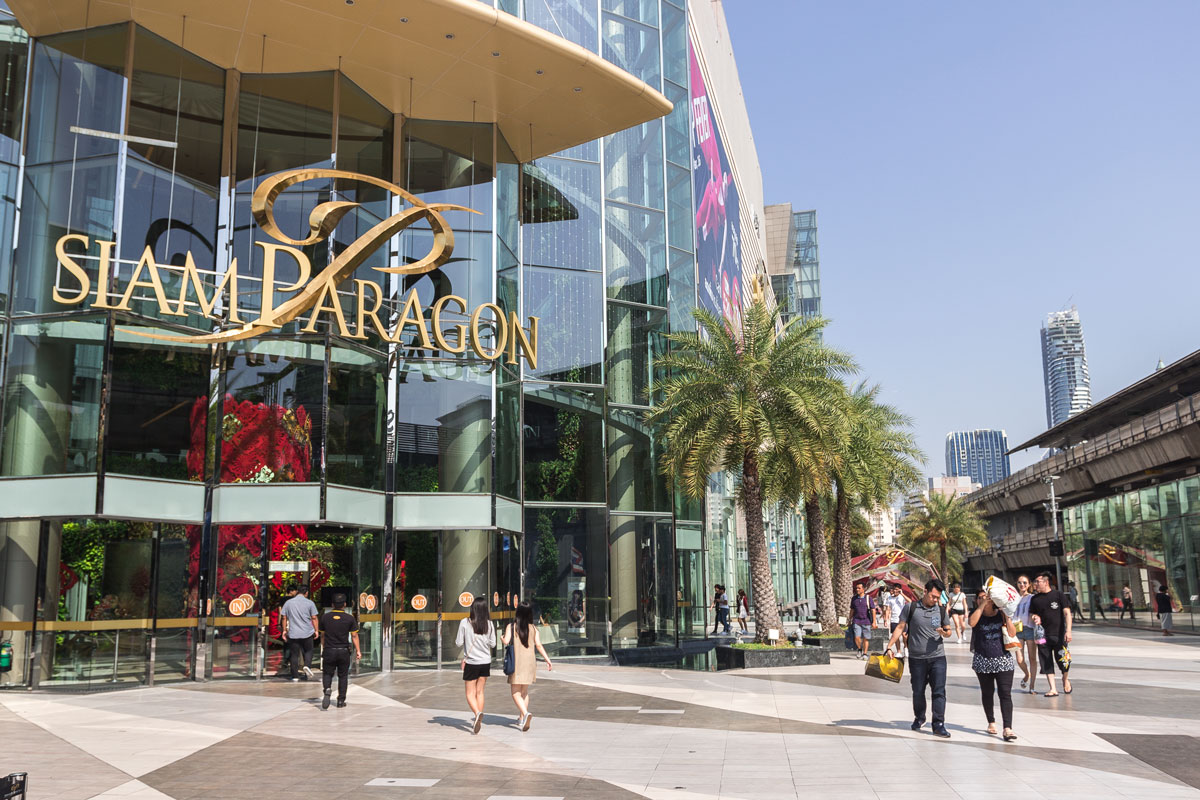 And of course, the story about Thailand would not be complete without mentioning the local prostitutes. Laugh as we may, but many tourists come here just for that: to find a pretty Thai girl. Sex tourism is highly developed in Asia, despite prostitution being officially illegal. But what wouldn't one do for a client!
At night, the streets of Bangkok undergo a transformation. The eye-catching billboards light up in various shades of pink, and it immediately becomes clear why they are hanging there: Bangkok by night turns into one big fuckodrome the size of an entire city.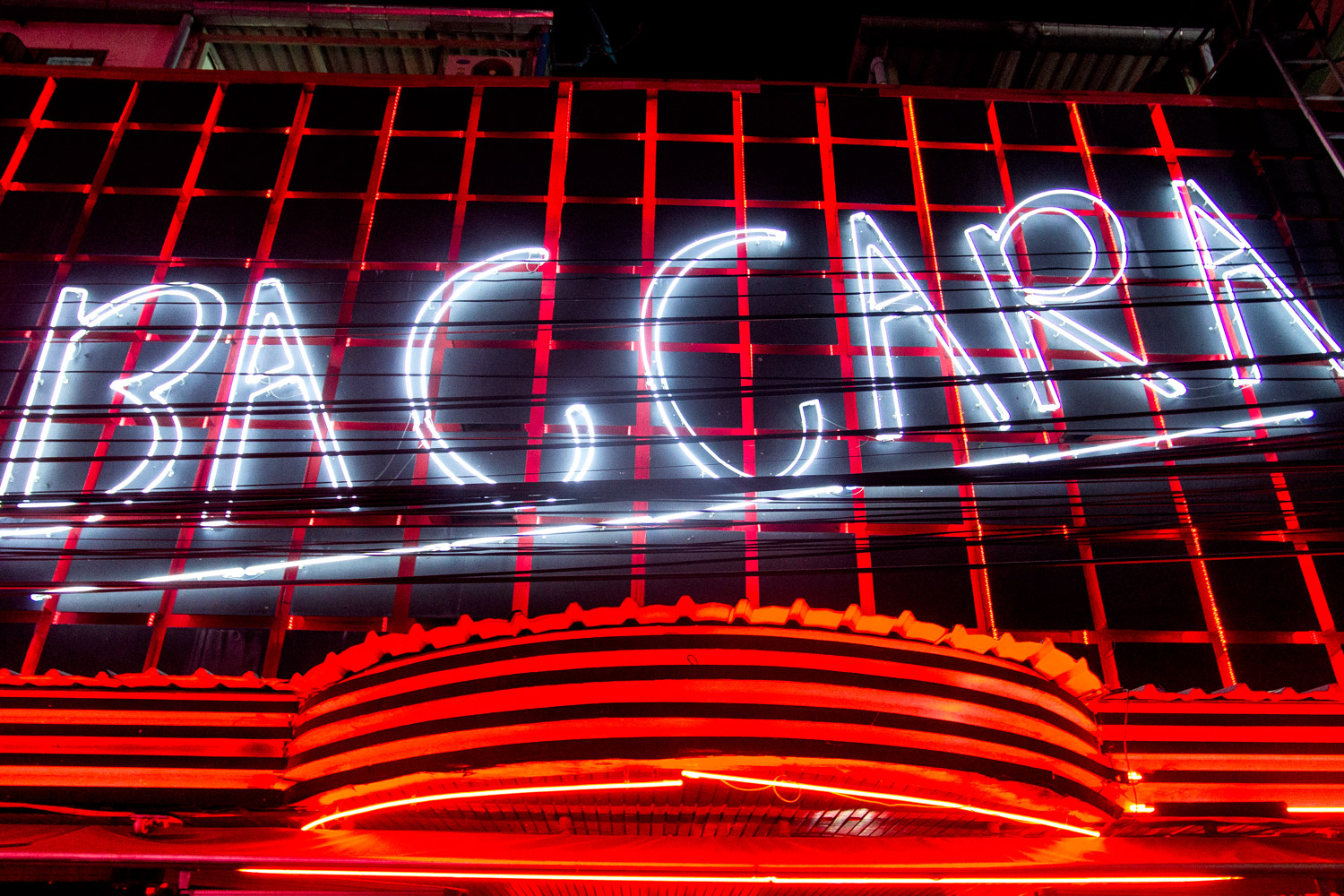 The most notorious street with prostitutes is Soi Cowboy. It is a tiny section of the city, about a hundred meters long, and here the prostitutes make the rounds right in panties and bras.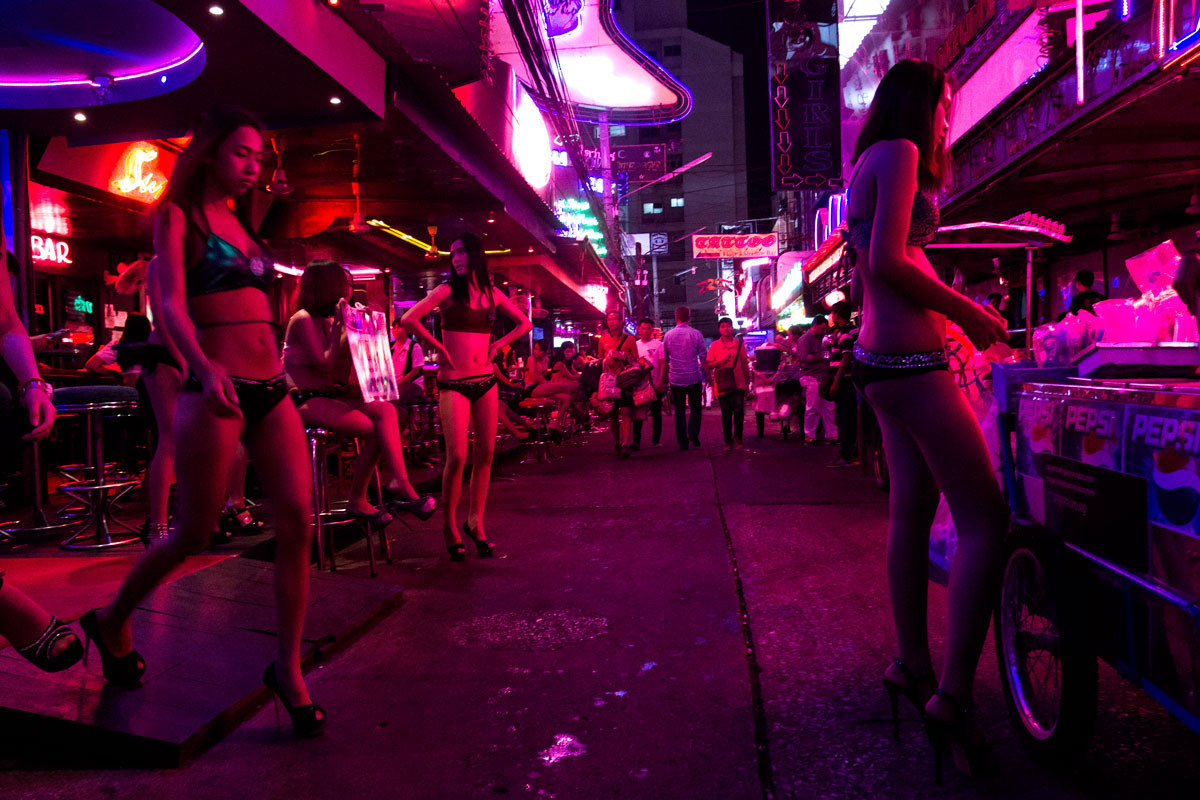 Taking photos here is not recommended, but once again I got lucky. However, the girls were very shy about the camera and turned away.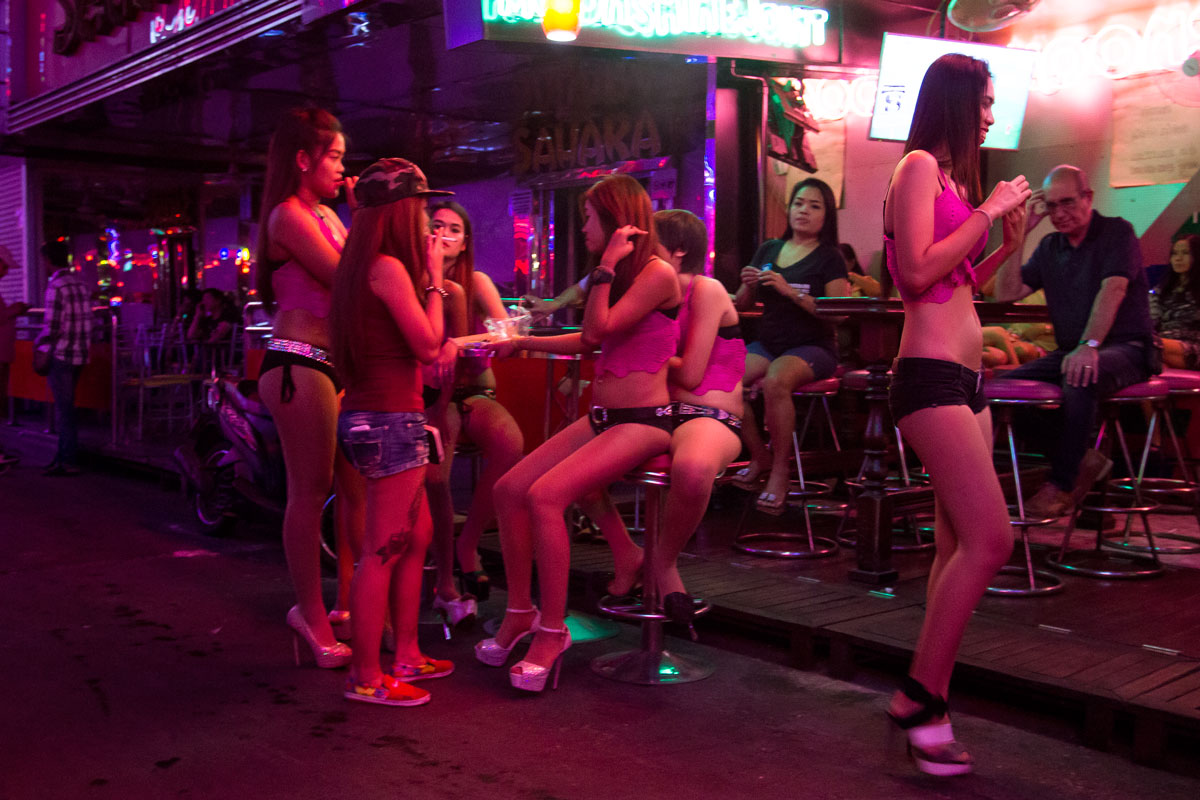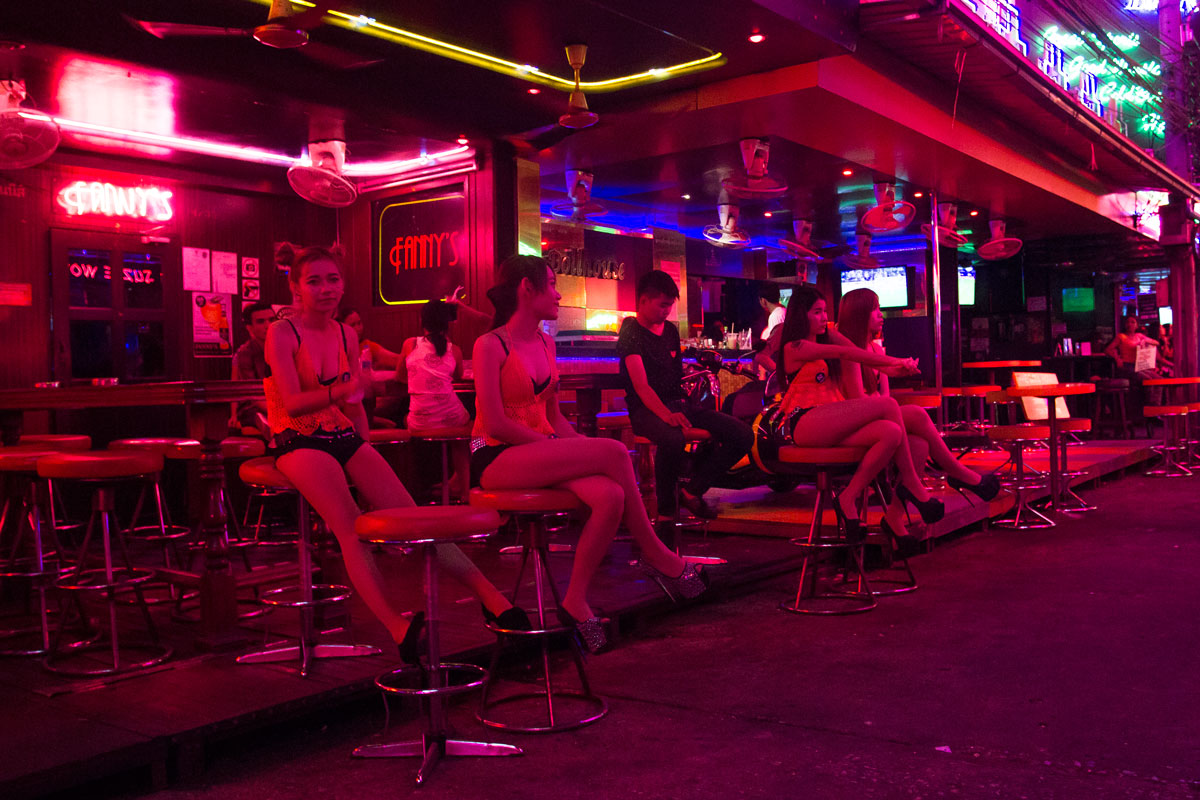 On other streets, the girls are not standing openly but wait inside a bar. Outside, there are people holding menus and enticing customers. Once inside the bar, the client buys the girl a so-called "lady drink" – a regular cocktail but at a very high price. Once the plan of drinks is delivered, the client can take the girl to a room.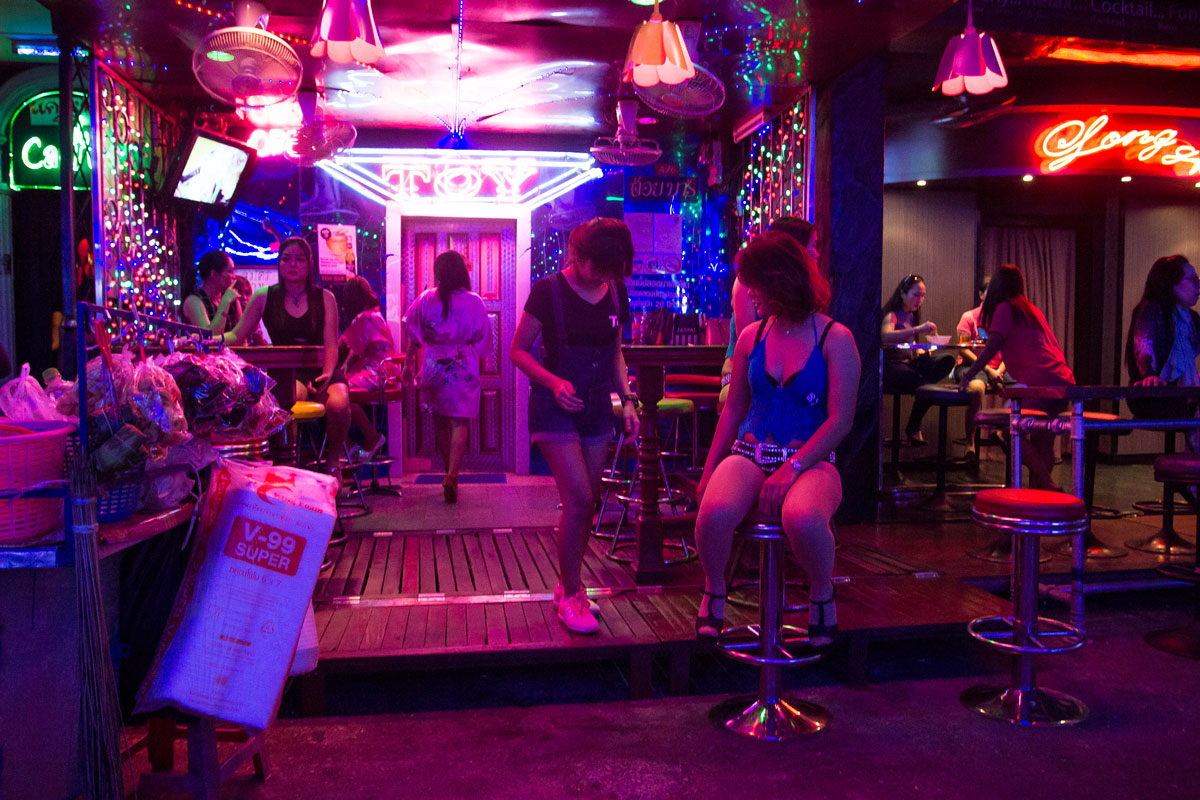 No hustler allowed me to photograph the pricelist. It is said that hiring a prostitute in Bangkok can cost anywhere from two to five or ten thousand rubles, depending on the type of service, bar, and bargain skills.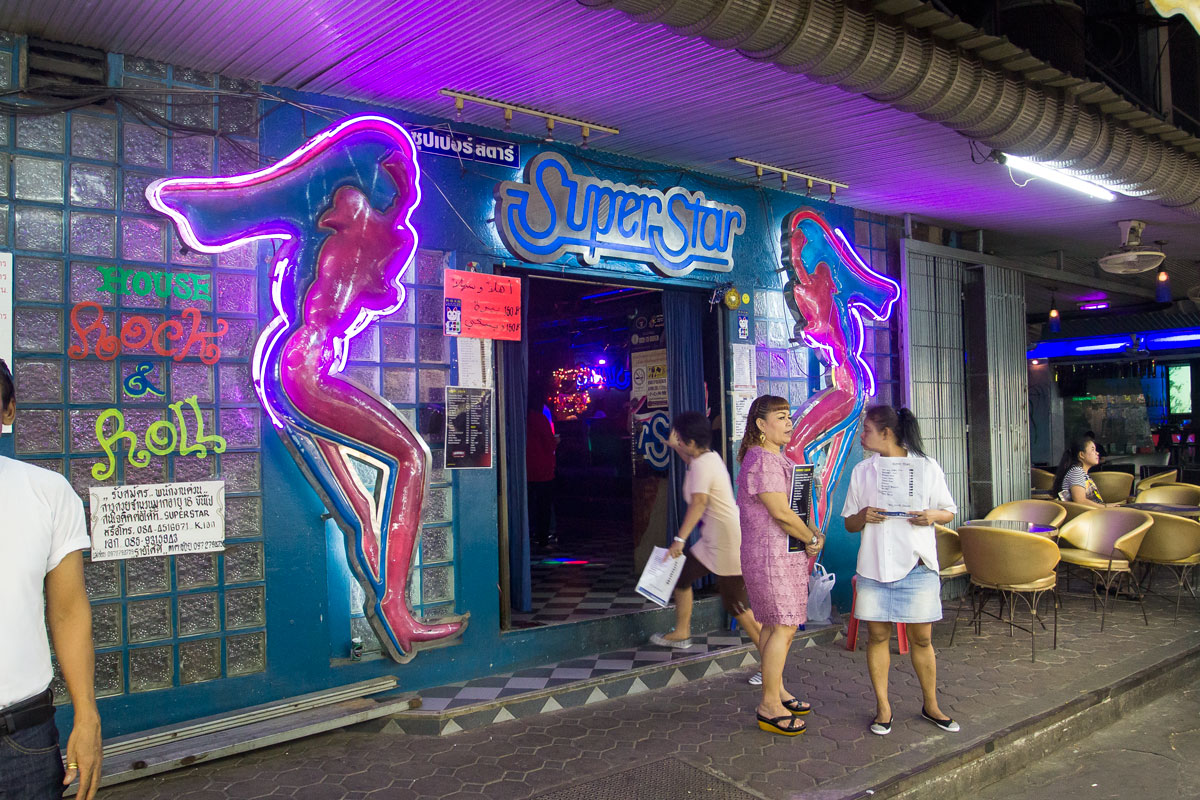 However, the author was more interested in the signs. That's how they are here. Neon. Like in America.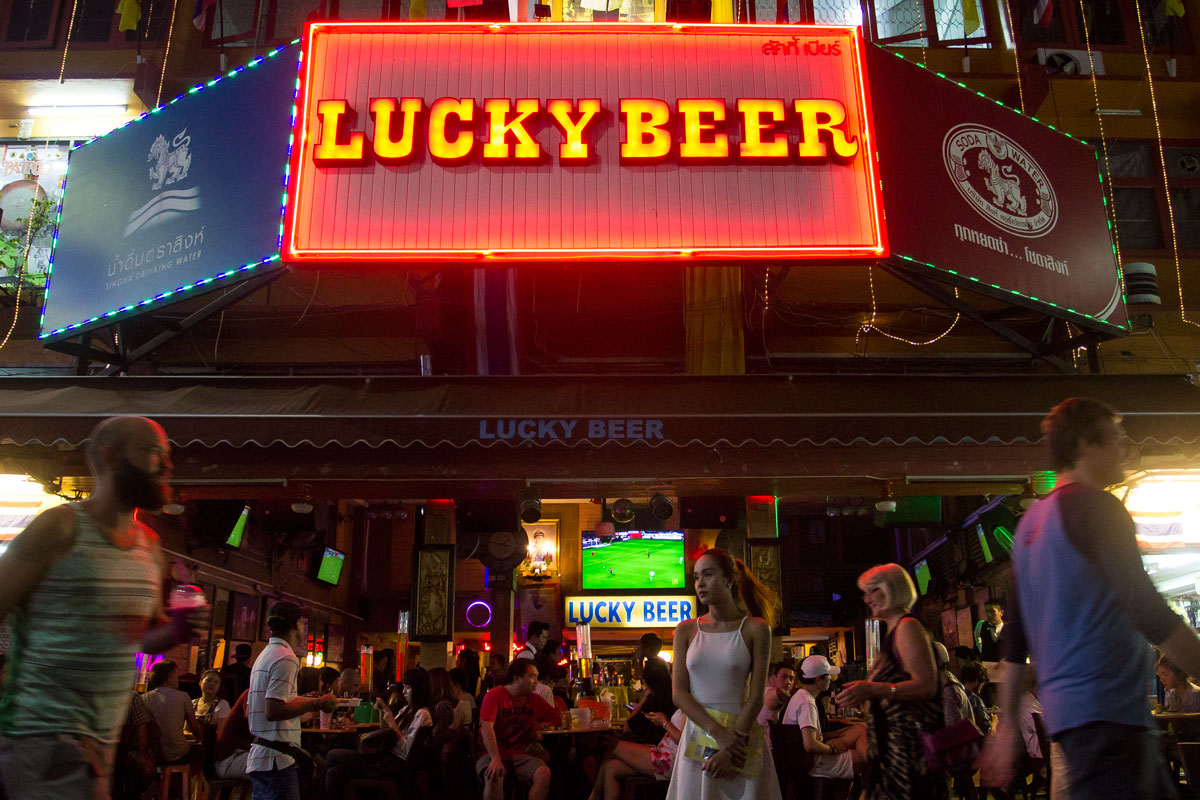 Alright, let's head to Laos now.