Ho Chi Minh City
The old name of the city was Saigon. Probably even someone who has never been interested in the history of Vietnam has at least heard this name in passing. It has become a generic term for the military conflict between Vietnam and the USA. The reader has also heard the new name Ho Chi Minh City. The city is named after the Vietnamese communist leader Ho Chi Minh.
Ho Chi Minh City is completely different from Hanoi. Completely. If you bring the reader here with their eyes closed, and then take off the blindfold in the city center, the reader will think they have been brought to Paris.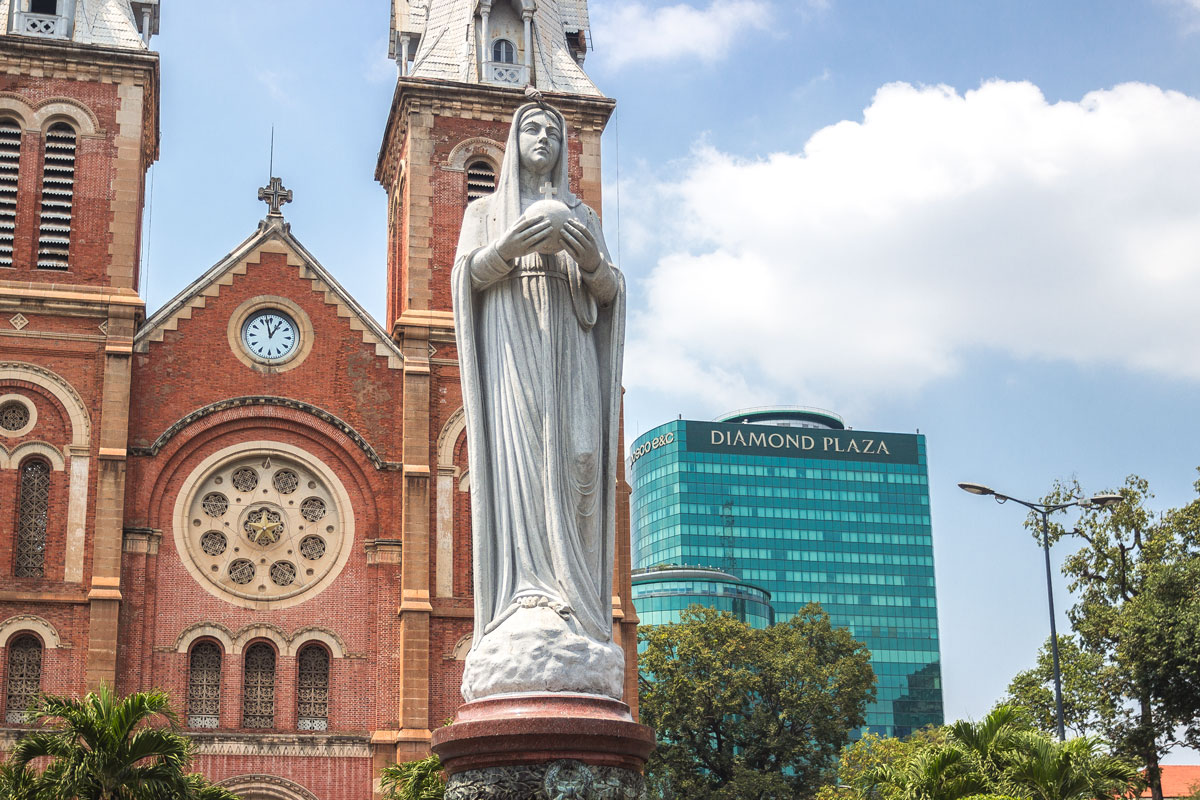 And they would be right to think so. The architecture is indeed French, colonial. And the skyscrapers are very modern and of high quality.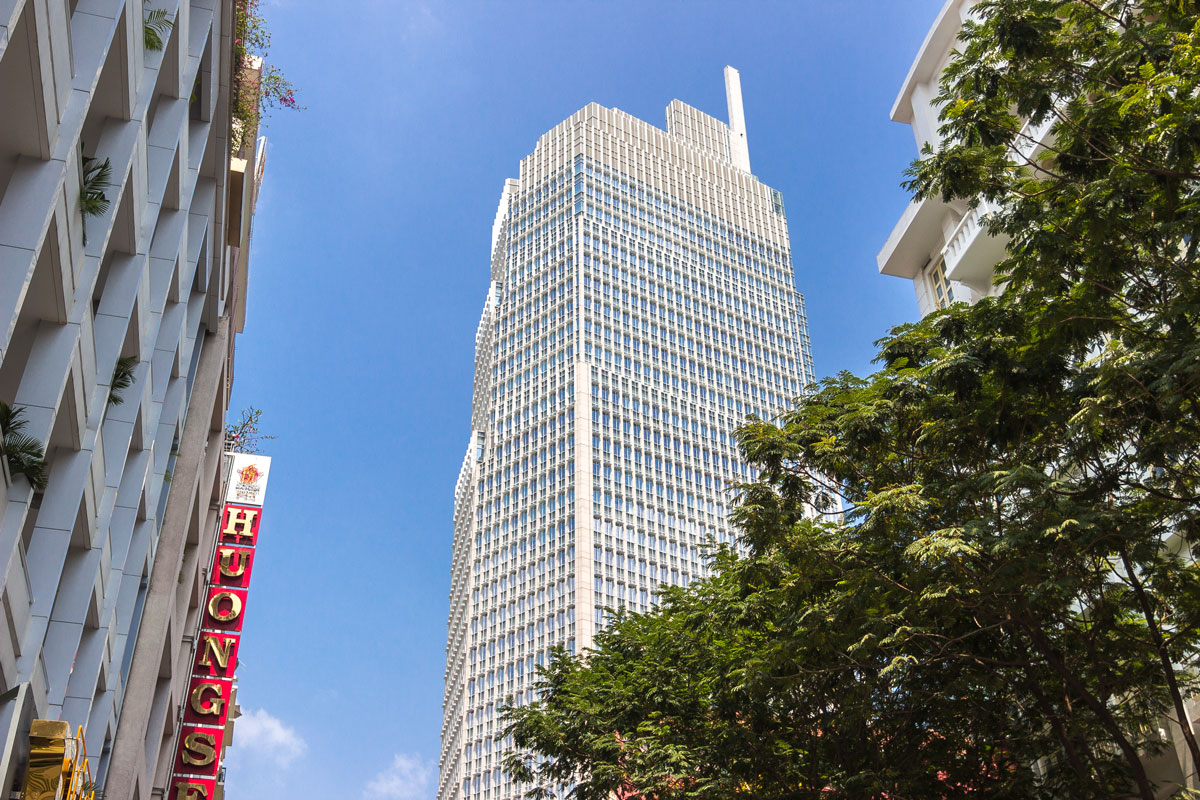 The tallest skyscraper in Ho Chi Minh City is the Bitexco Financial Tower. One would never have thought that this skyscraper is located in Vietnam. It resembles Dubai, especially with its gigantic helicopter pad embedded right into the tower.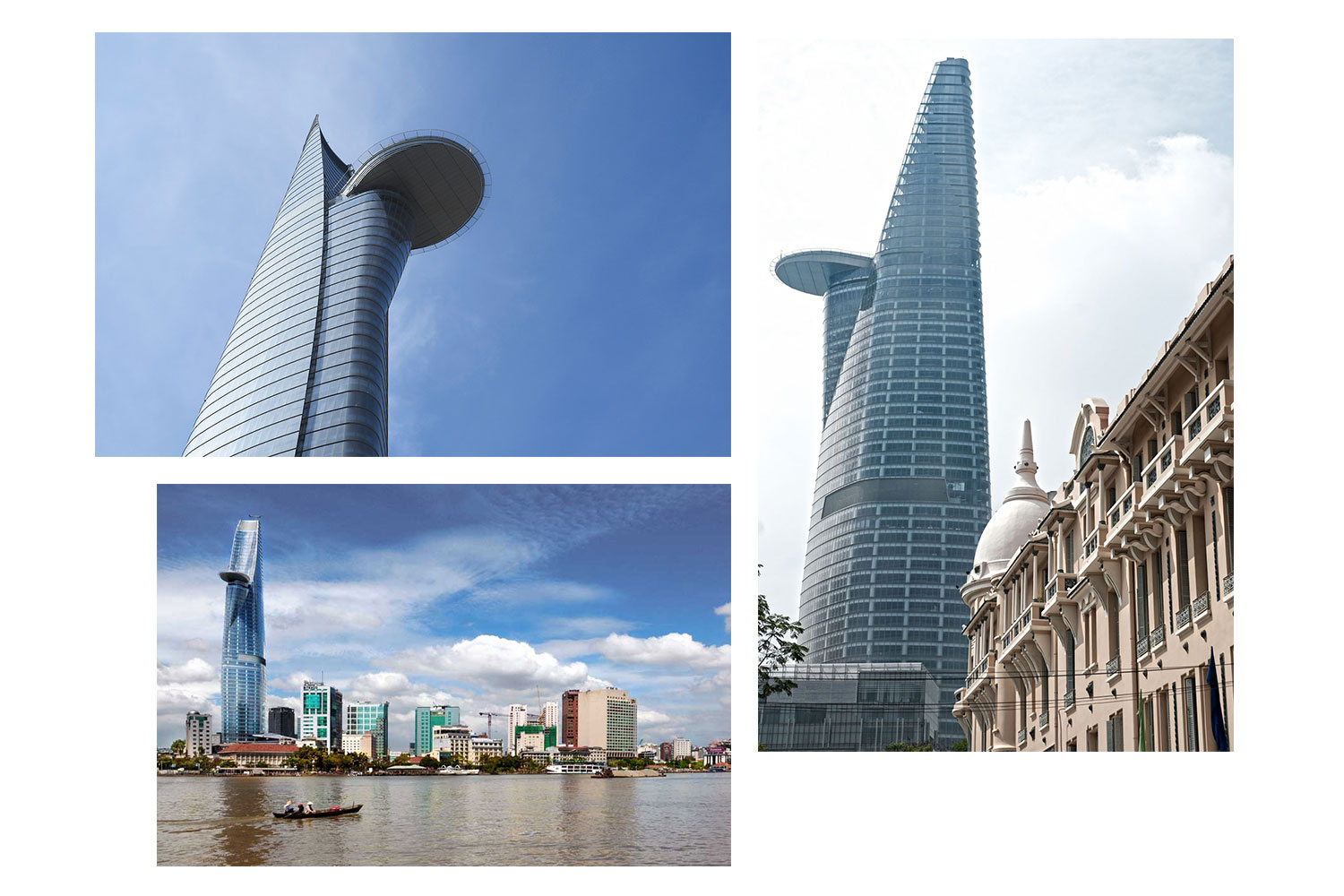 Investments are currently pouring into Saigon, the economy is growing, and the environment for IT startups is developing. The city is full of foreigners who come here not only for tourism but also for business visits. So Saigon simply has to look good.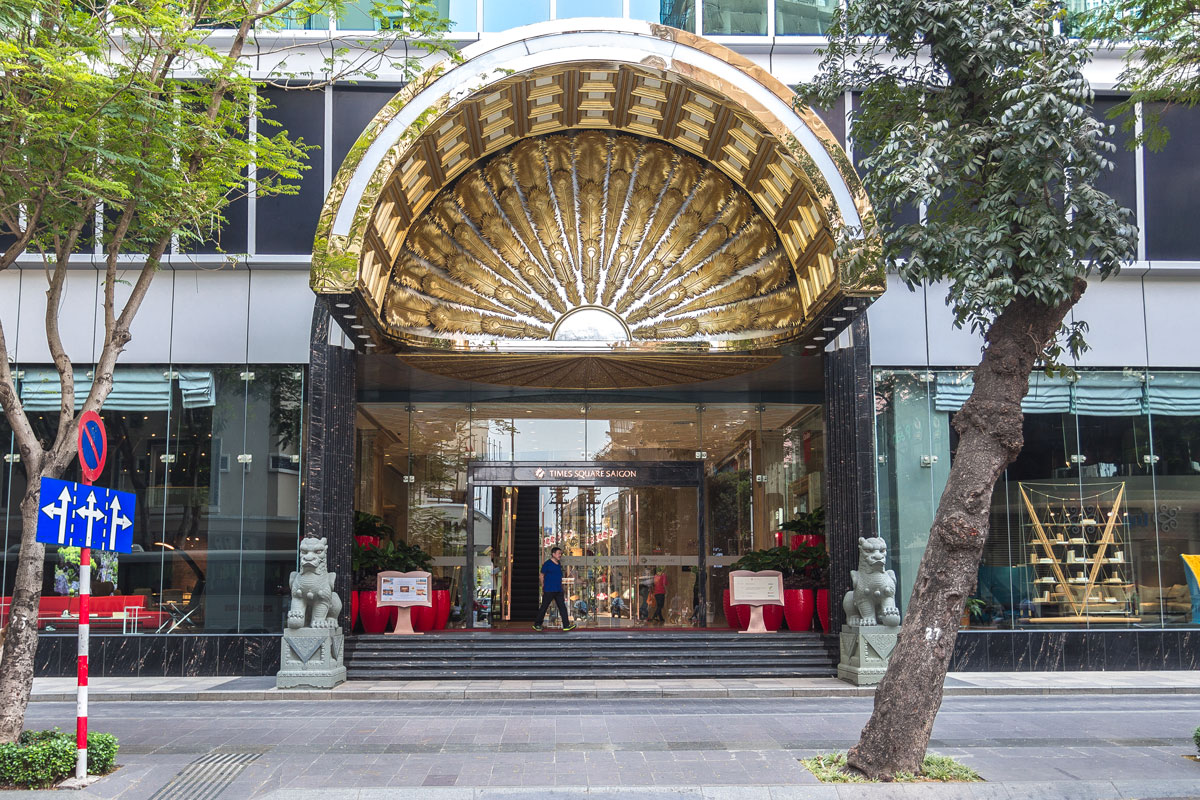 And it looks good!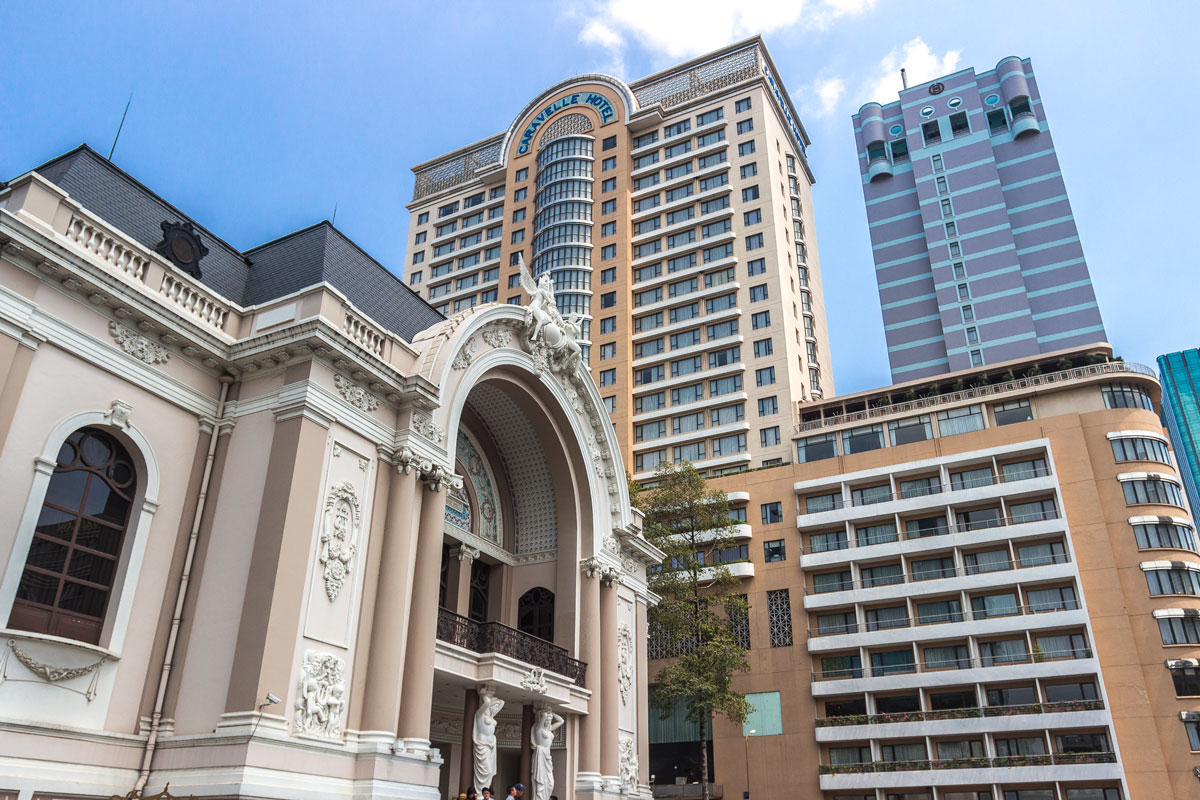 Only upon closer inspection, against the backdrop of glass skyscrapers, remnants of old shanties can be seen sprouting.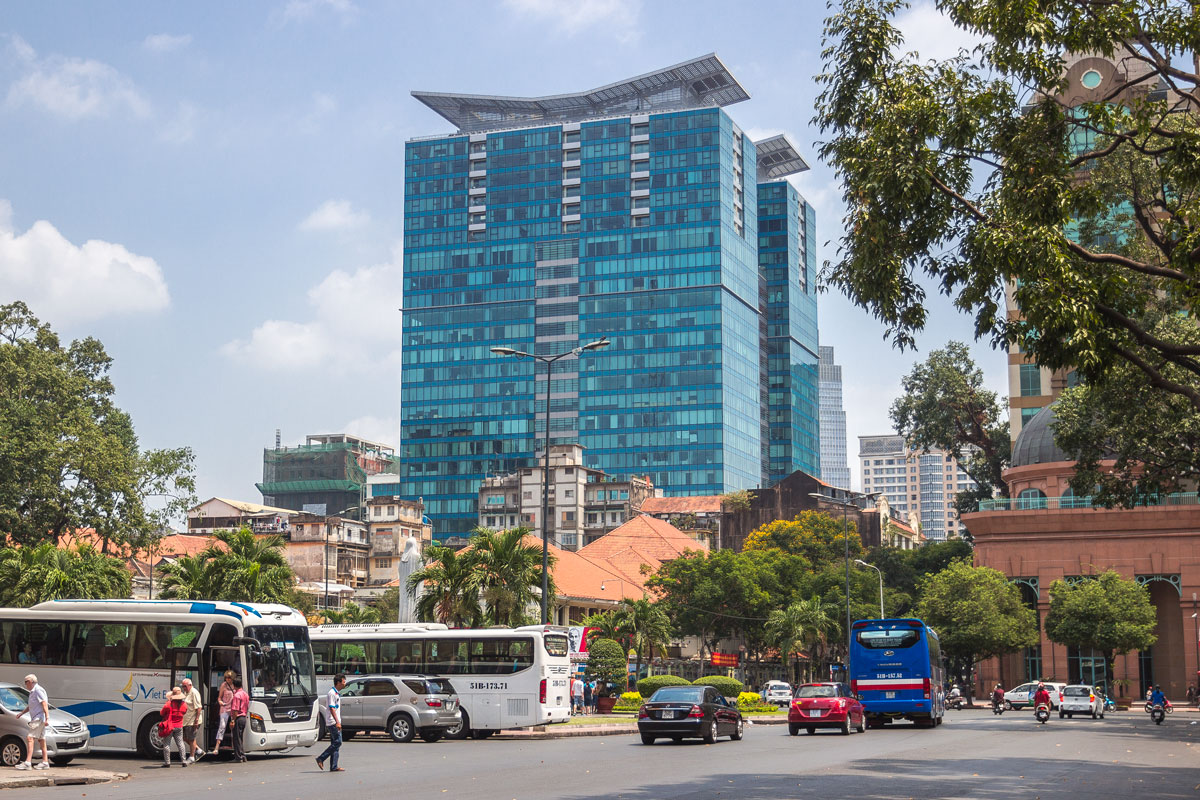 The streets in the center are immaculate. Fresh asphalt, well-manicured lawns, neat tiles on the sidewalks with curbs, and even a pathway for the visually impaired.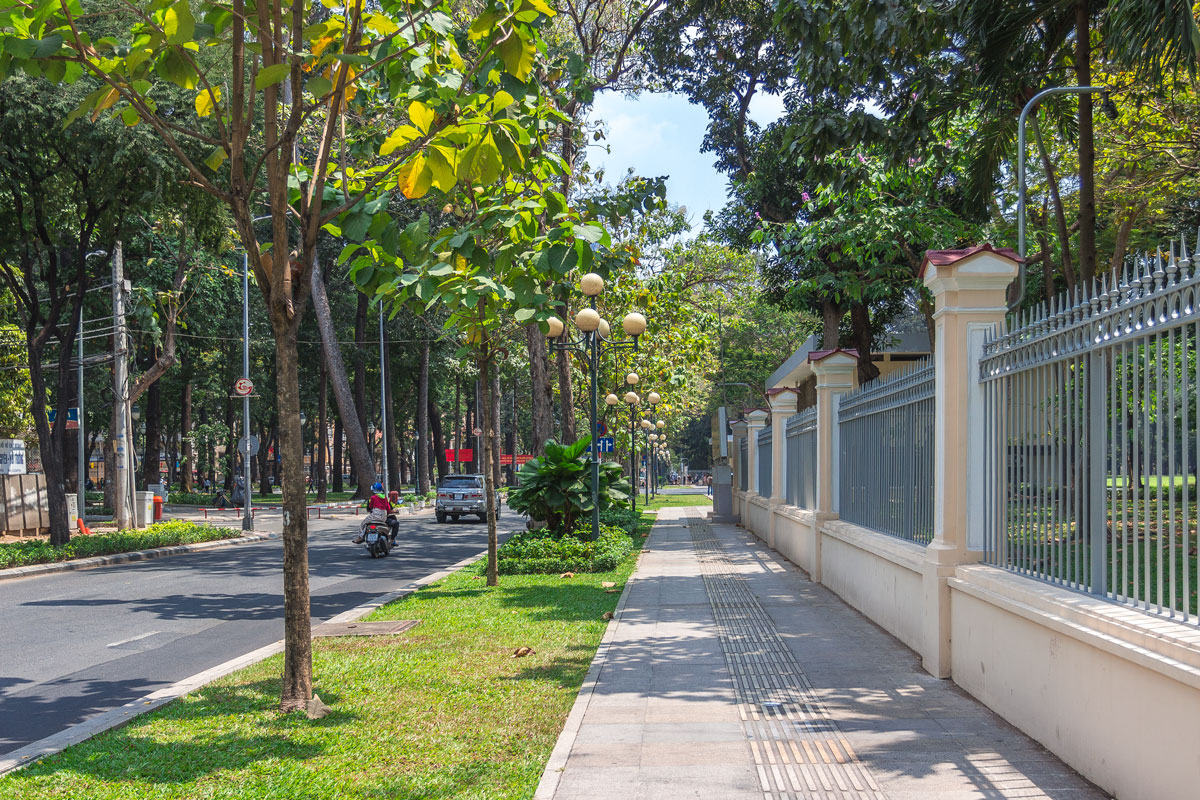 The city is full of cafes and restaurants of European standards. I don't know who the owners of these establishments are, but even the signs and facades look decent.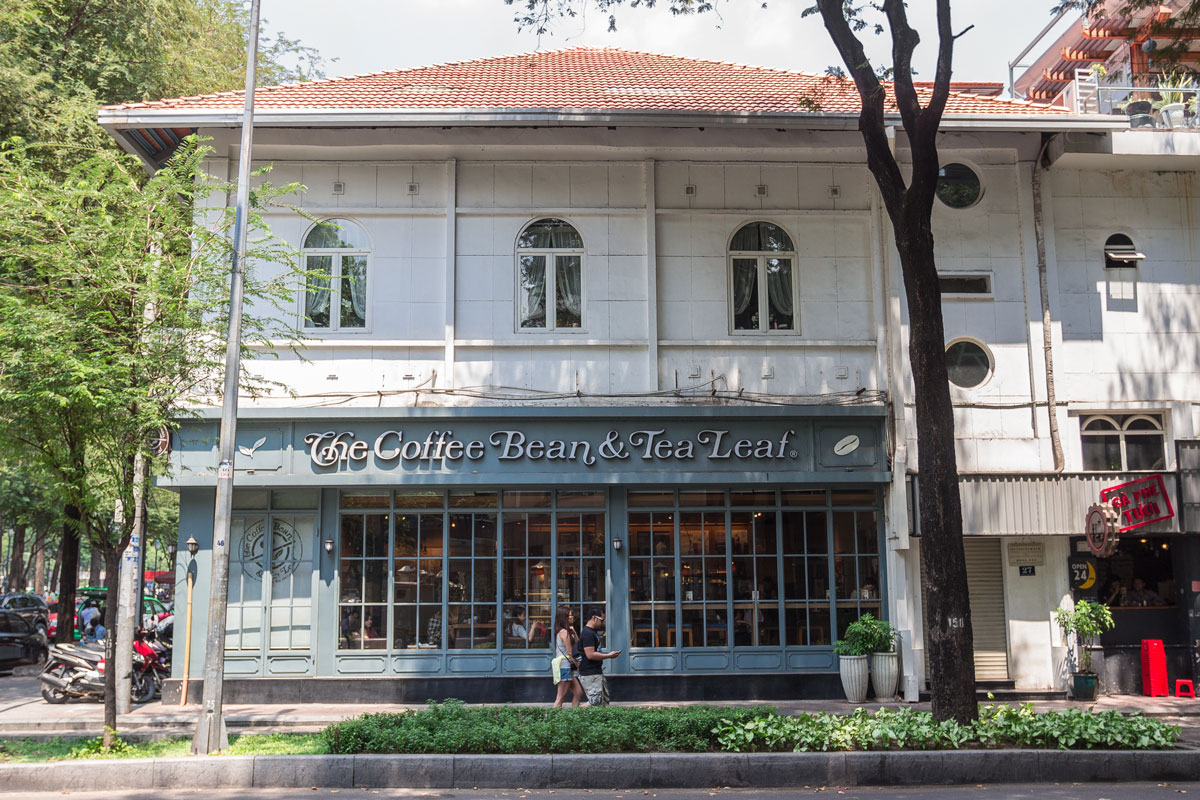 Even street vendors here don't use simple pushcarts, but rather upgraded ones. Just take a look at how well-made the vegetable baskets are and how thick the wires they're hung on. In Hanoi, everyone walks around with small plates instead of baskets, hanging on flimsy wires. But here it's like Dolce & Gabbana.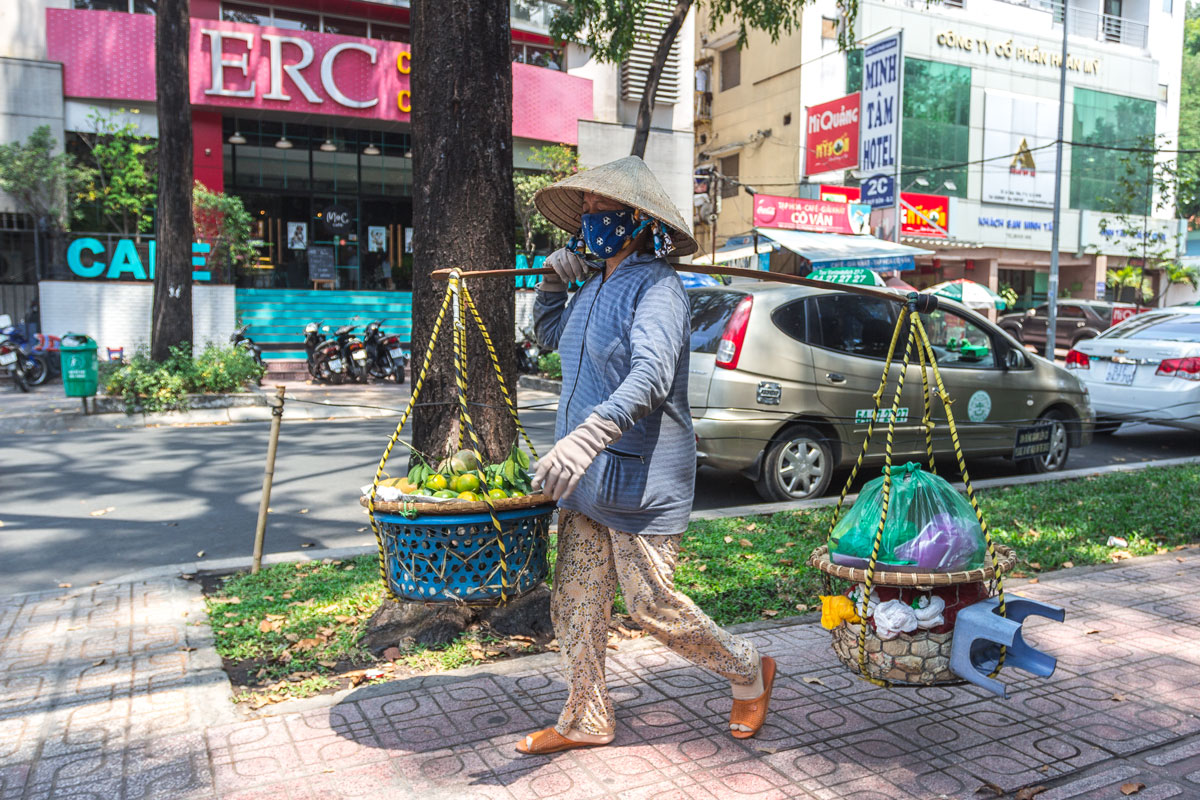 The bus stop is no worse than the one in London.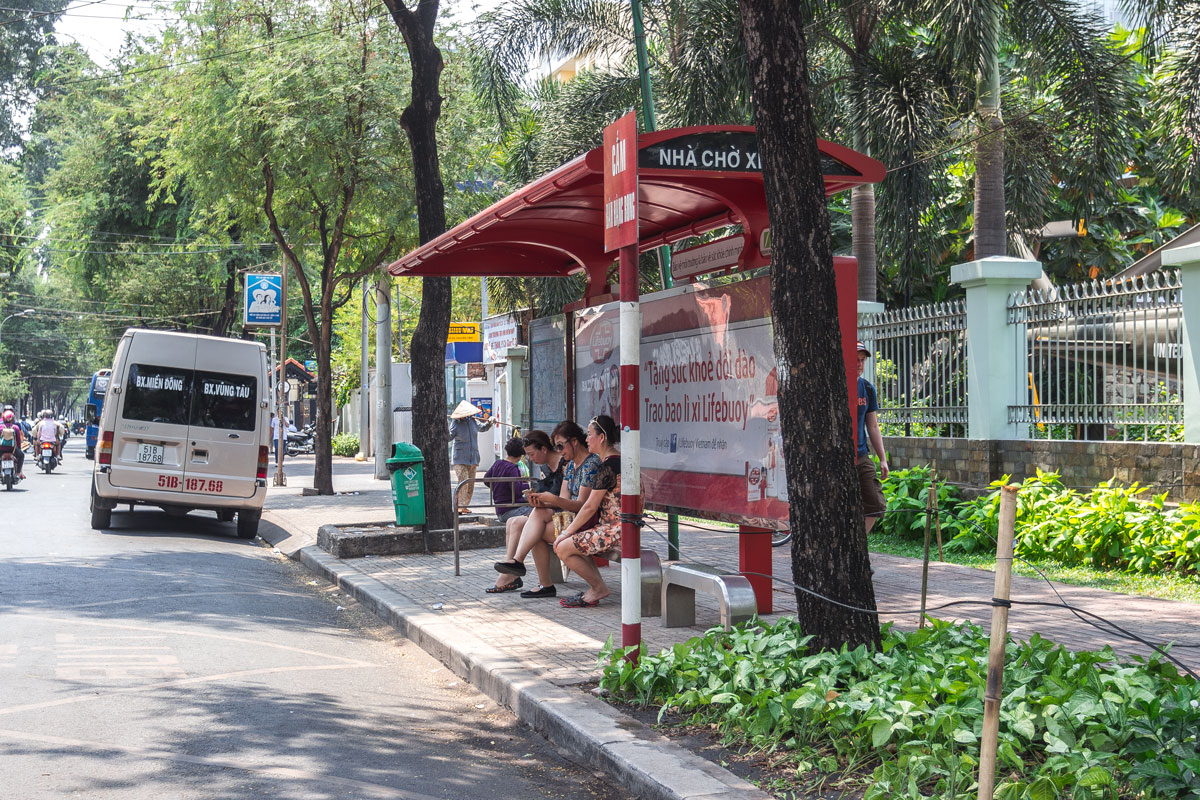 Reunification Palace, the former Presidential Palace of South Vietnam. After its capture in 1975, the Vietnam War came to an end.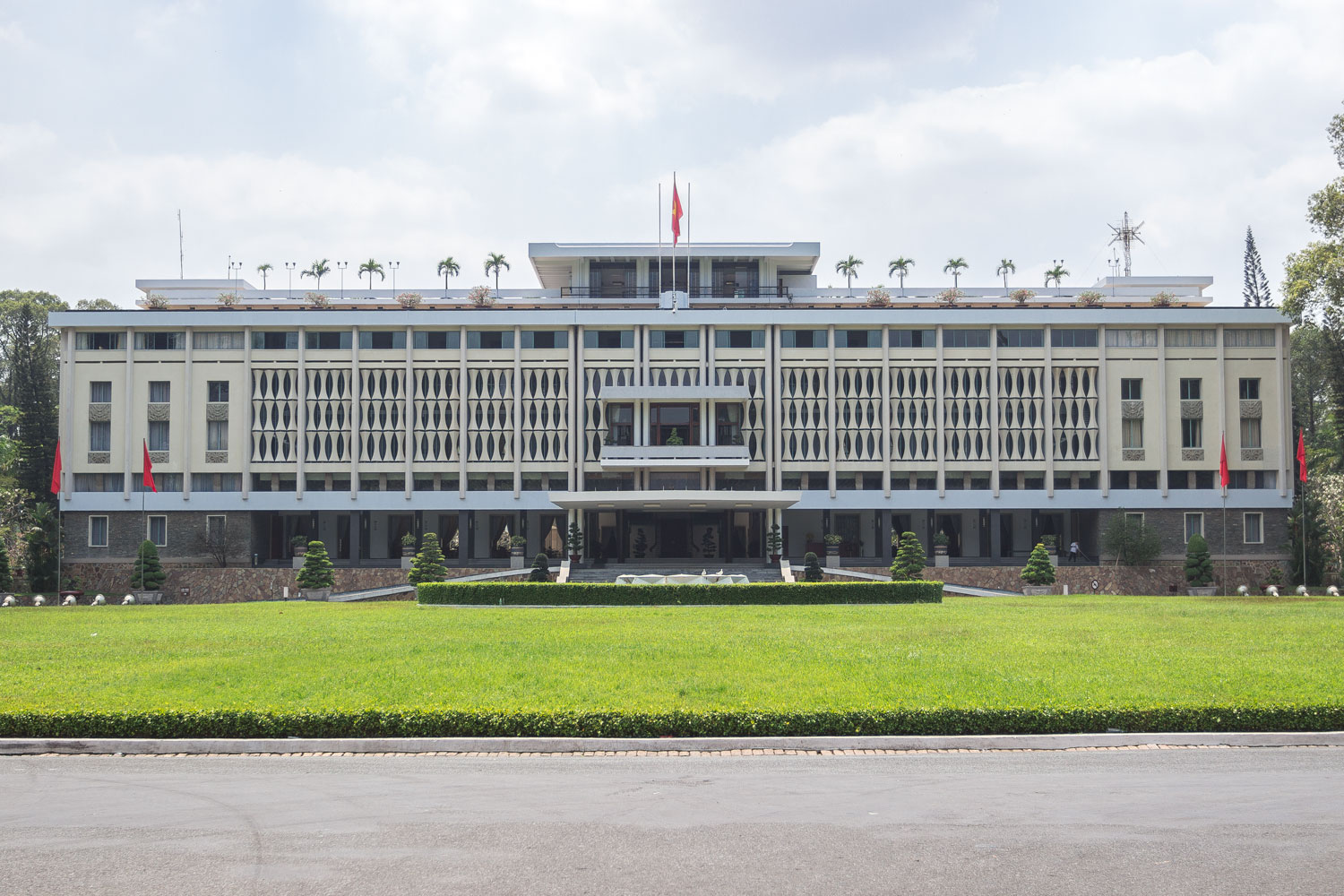 Despite Saigon having adopted a capitalist system long ago, red propaganda banners are hanging everywhere on the streets.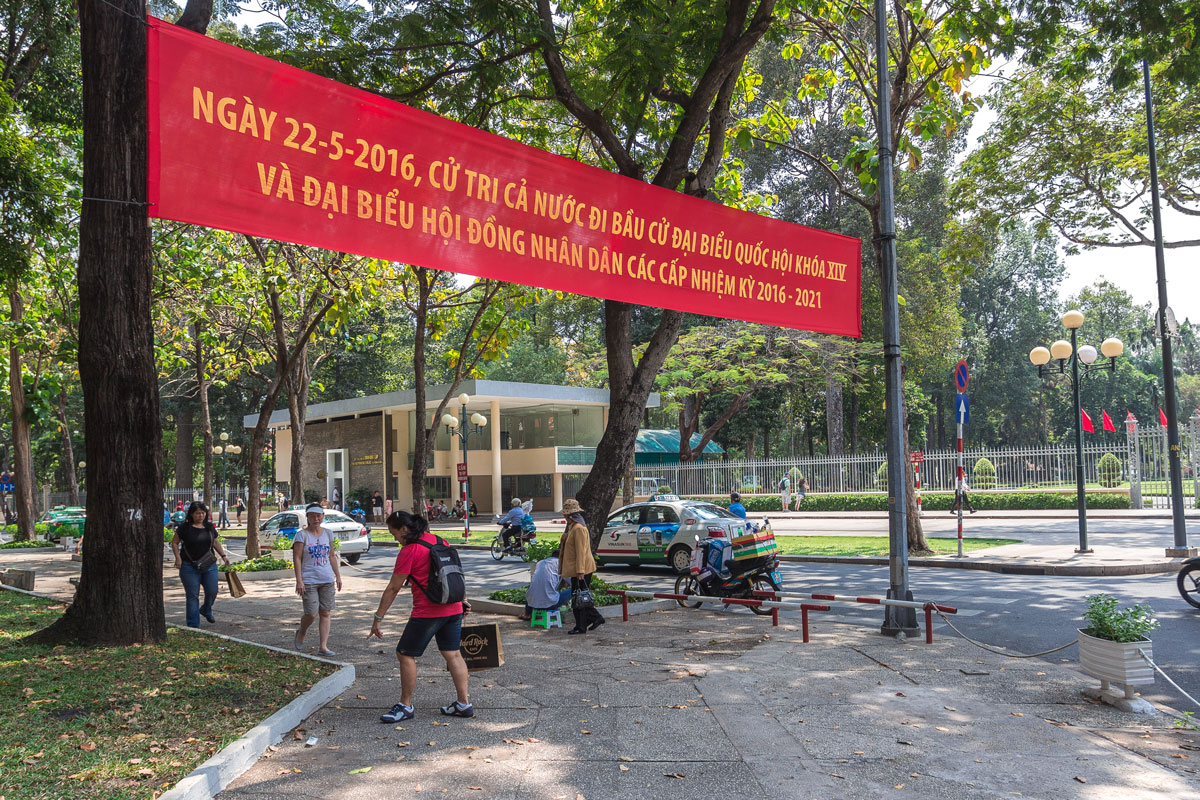 The poster tells us about the 12th Congress of the Communist Party of Vietnam. All of this looks incredibly funny. What kind of party congress is this, guys? Just leave it already, don't interfere with building skyscrapers.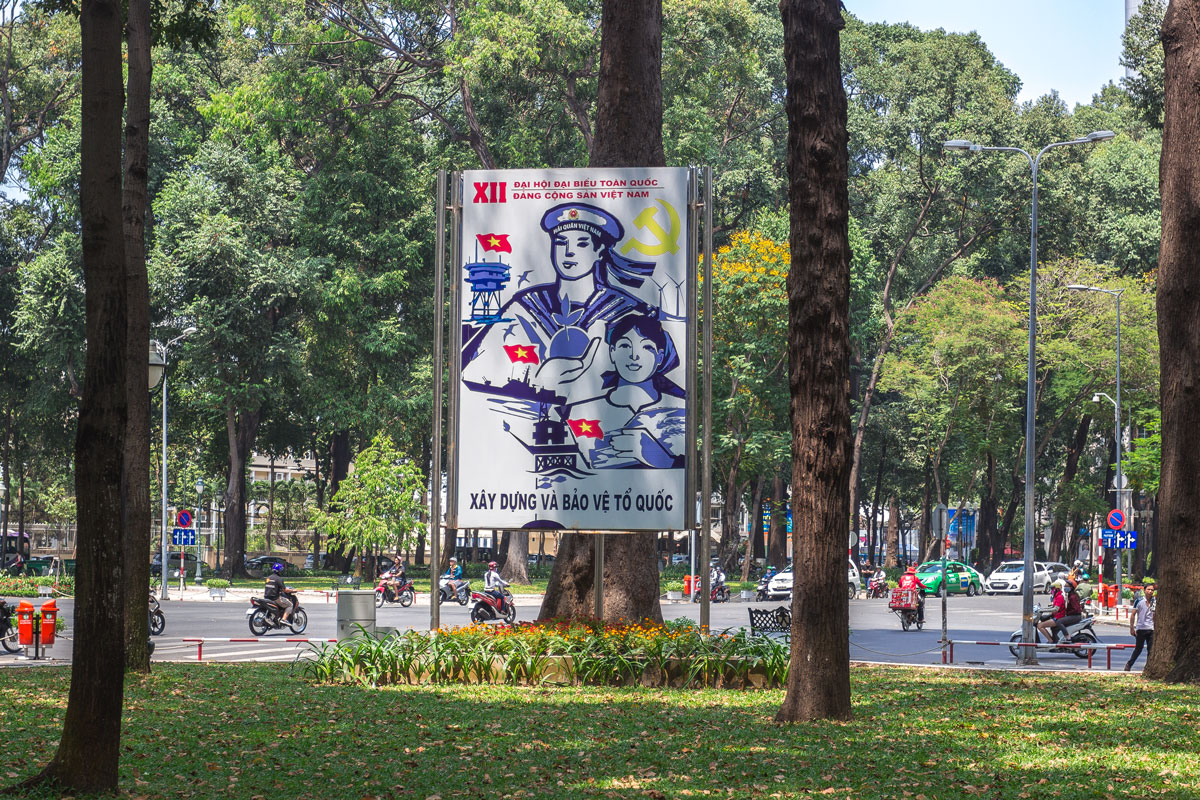 From the height, Ho Chi Minh City resembles Bangkok.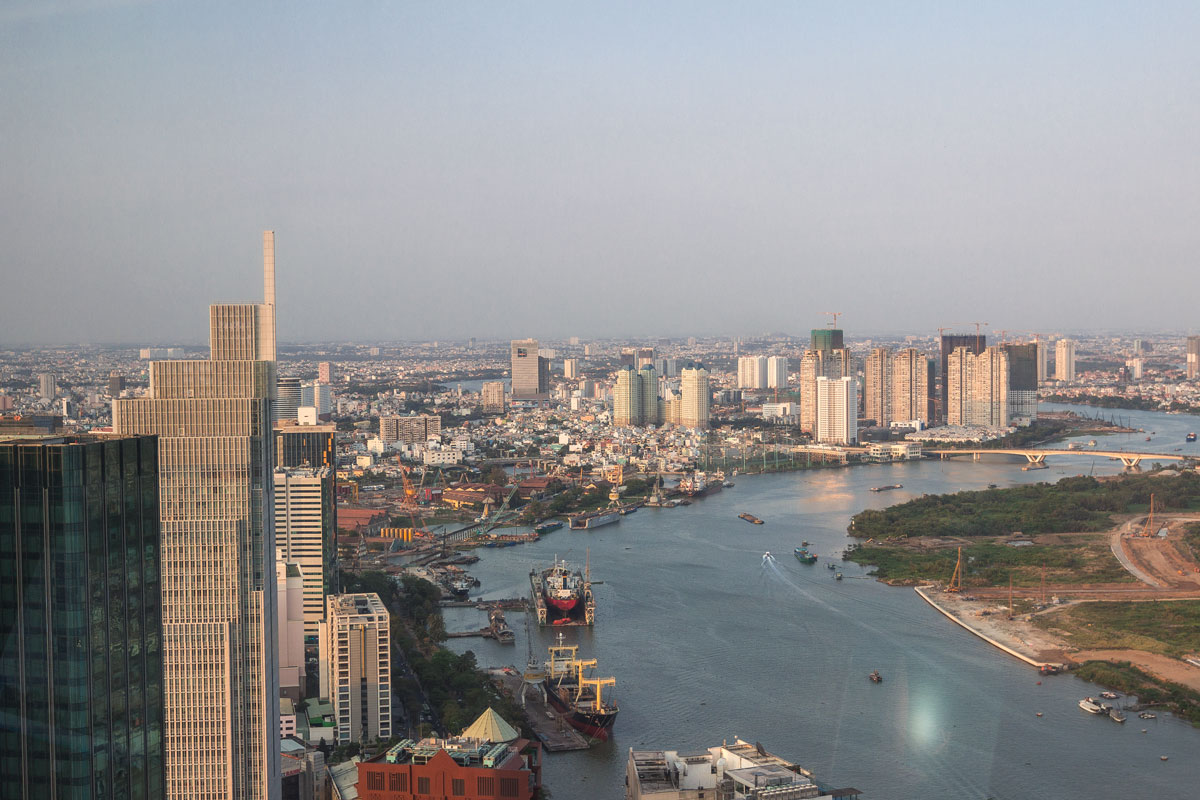 The city is gradually being filled with residential high-rise buildings.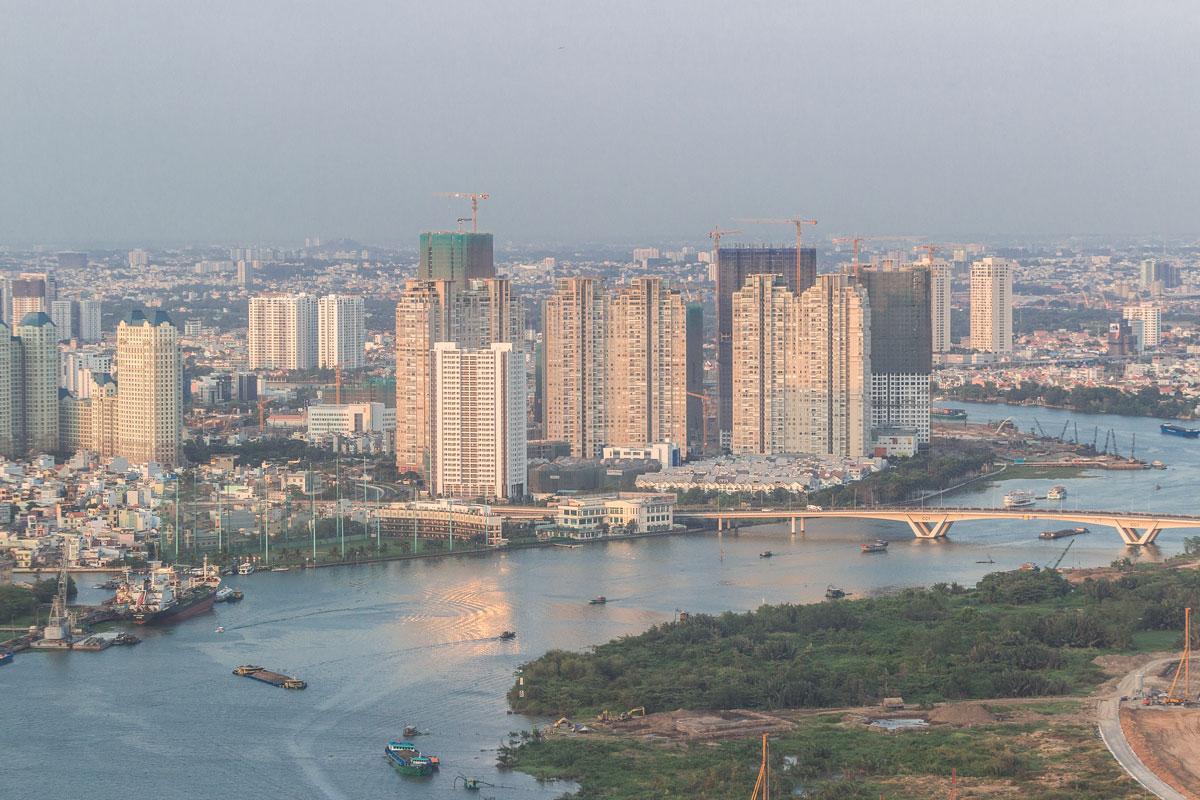 A significant portion of Saigon still remains low-rise. This is clearly visible from above. The number of modern housing units increases each year, but for now, buildings still grow like solitary stems amidst vast concrete fields.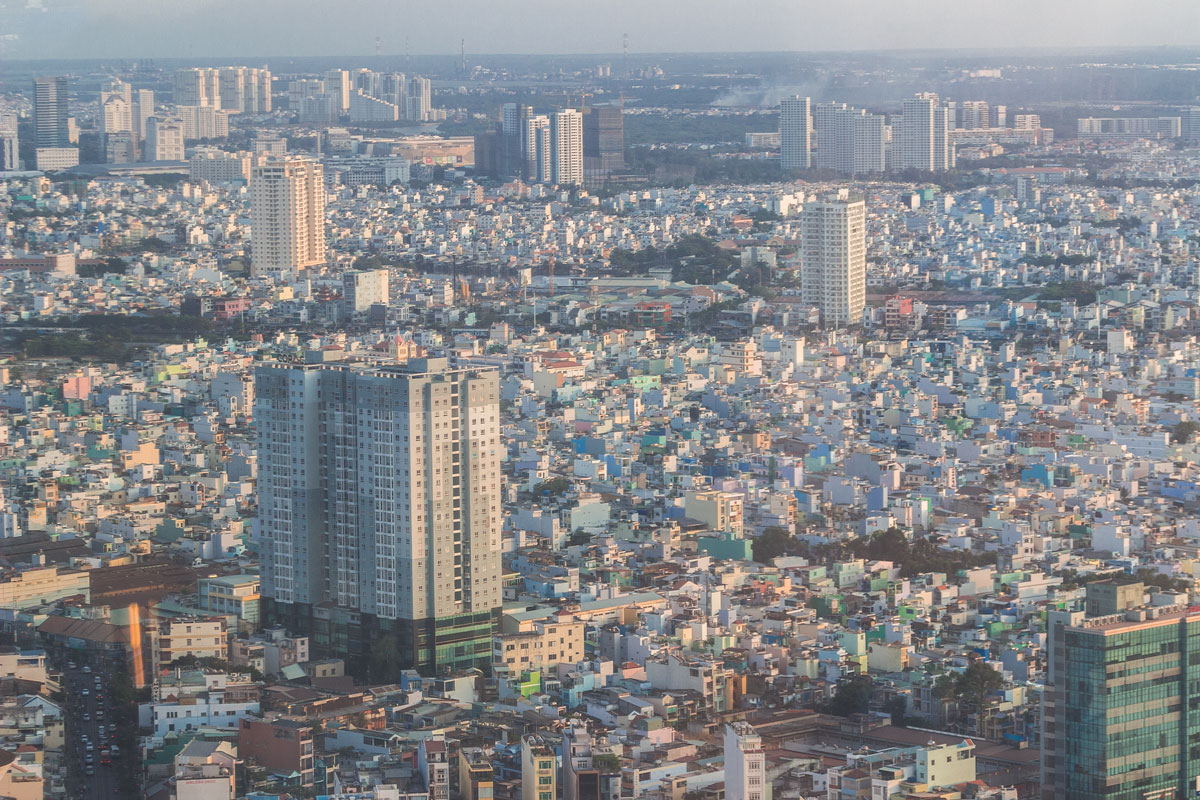 But even these concrete fields are not like the ones in Hanoi. Saigon is good even outside the city center. The streets are noticeably cleaner, and there are also some gigantic trees growing here.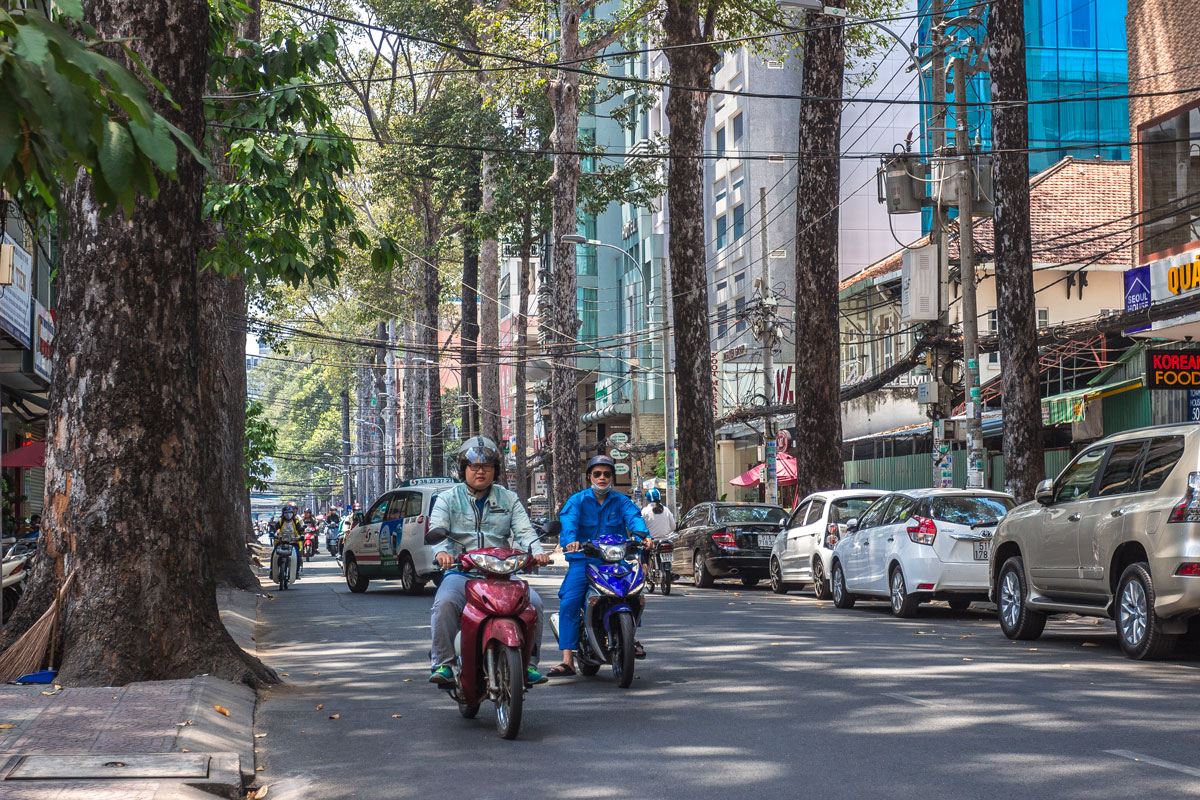 And the houses here are equally gigantic and narrow.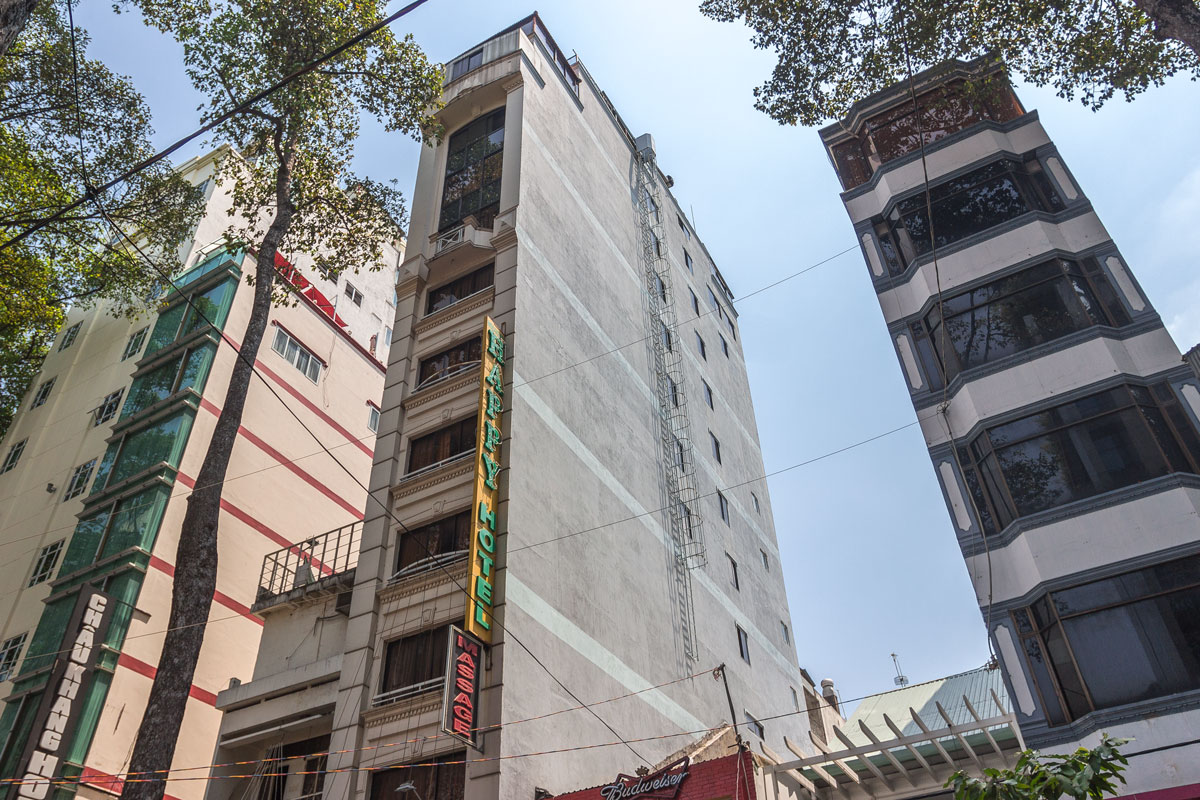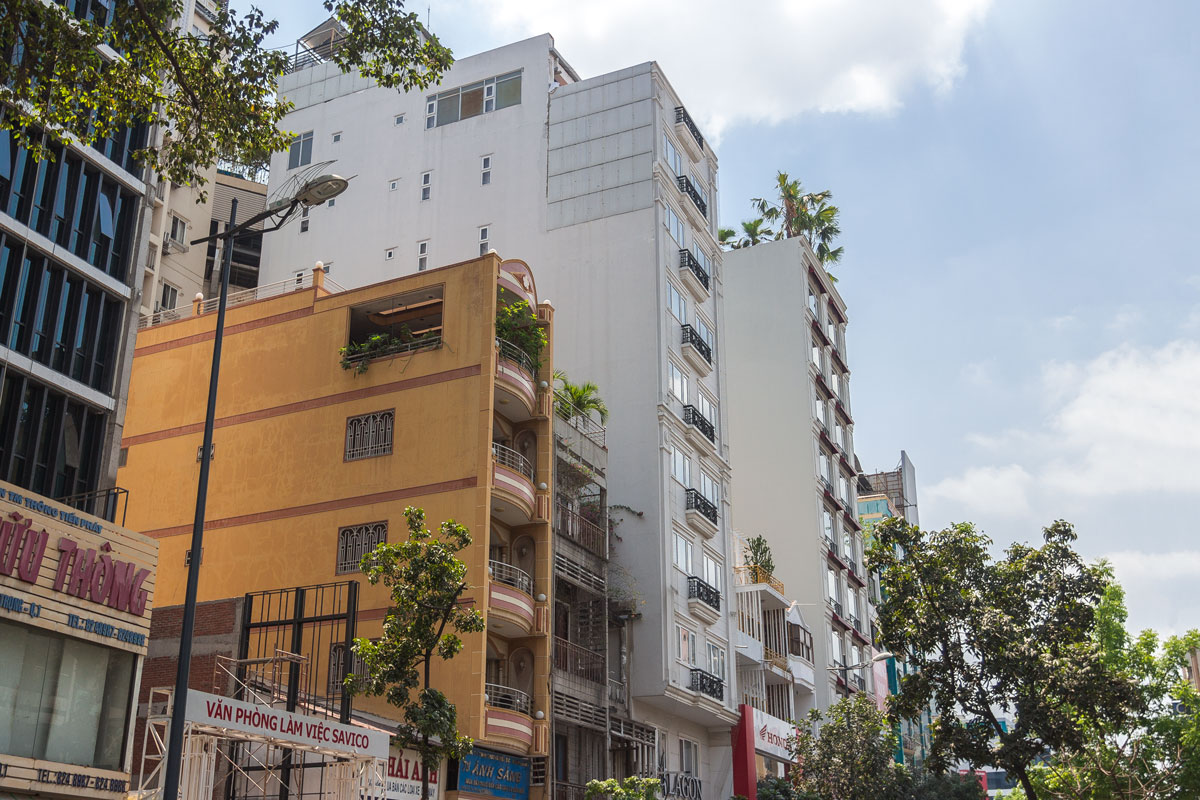 Residential areas. Everything is clean and beautiful.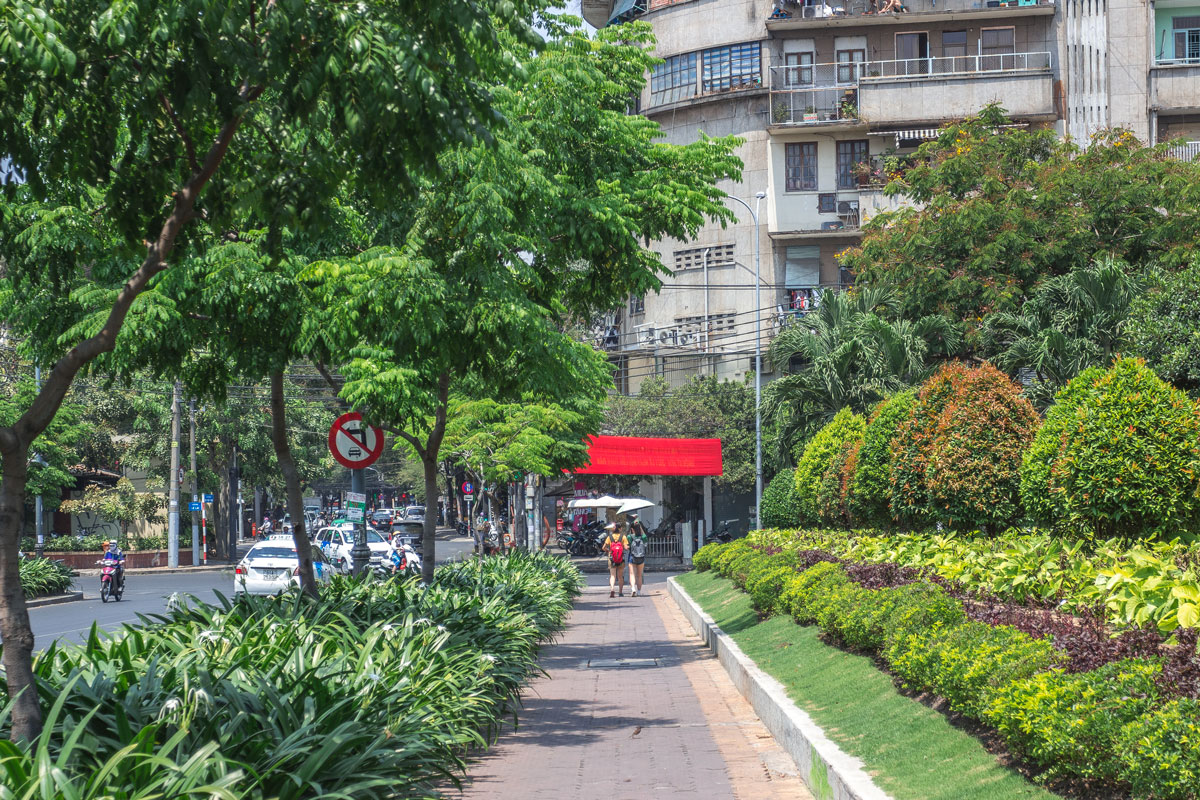 Only the tourist quarter, where the cheapest hotels and hostels are located, reminds us of the dirtiness of Hanoi.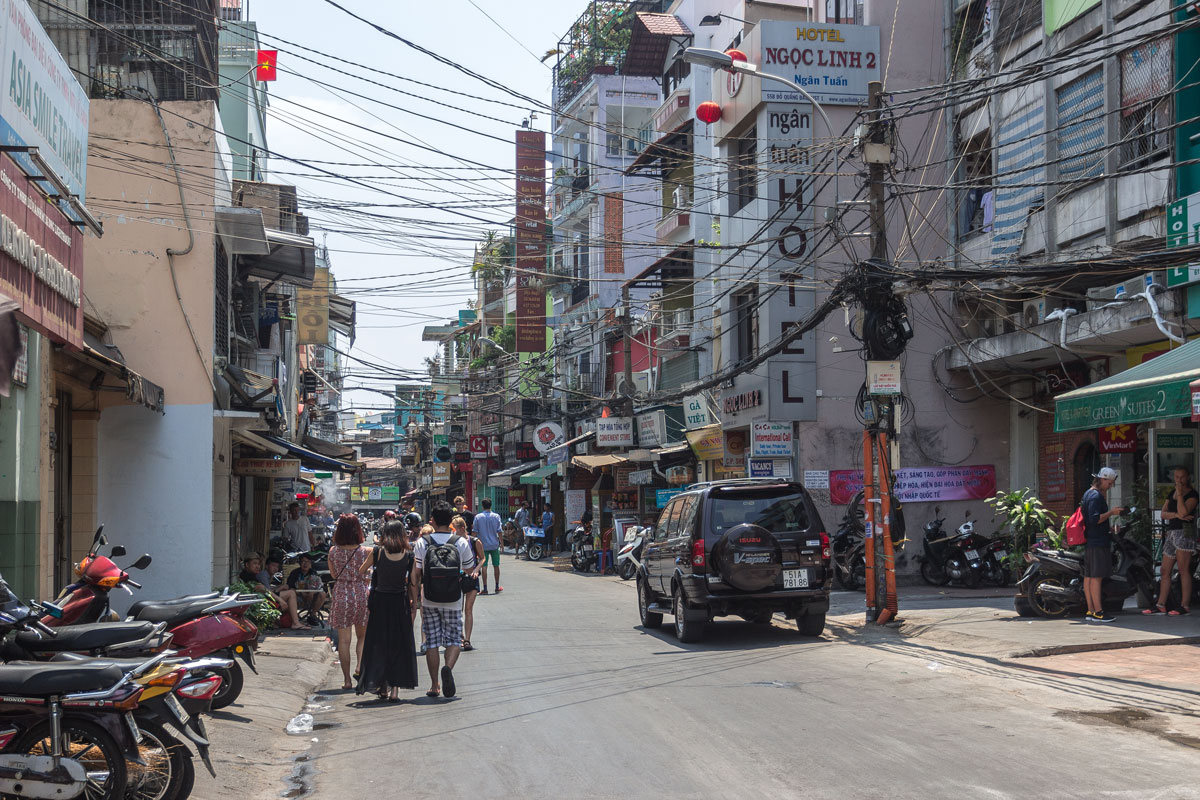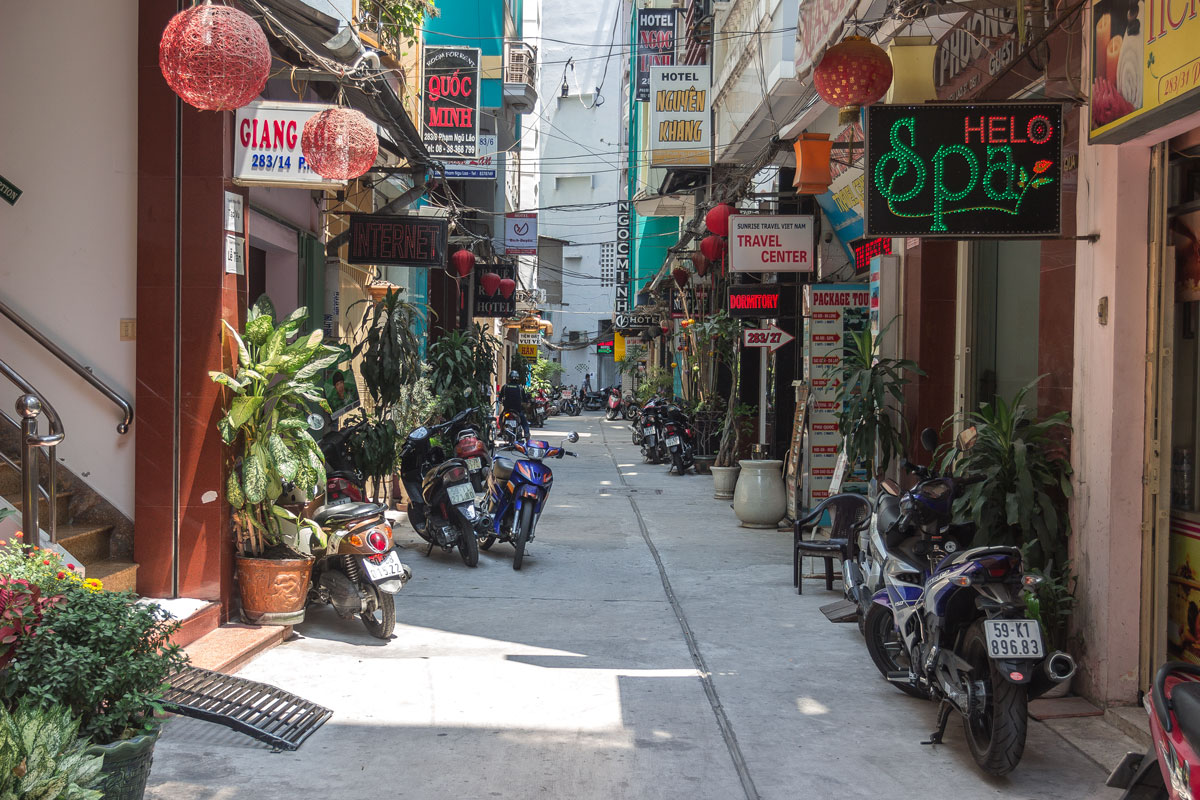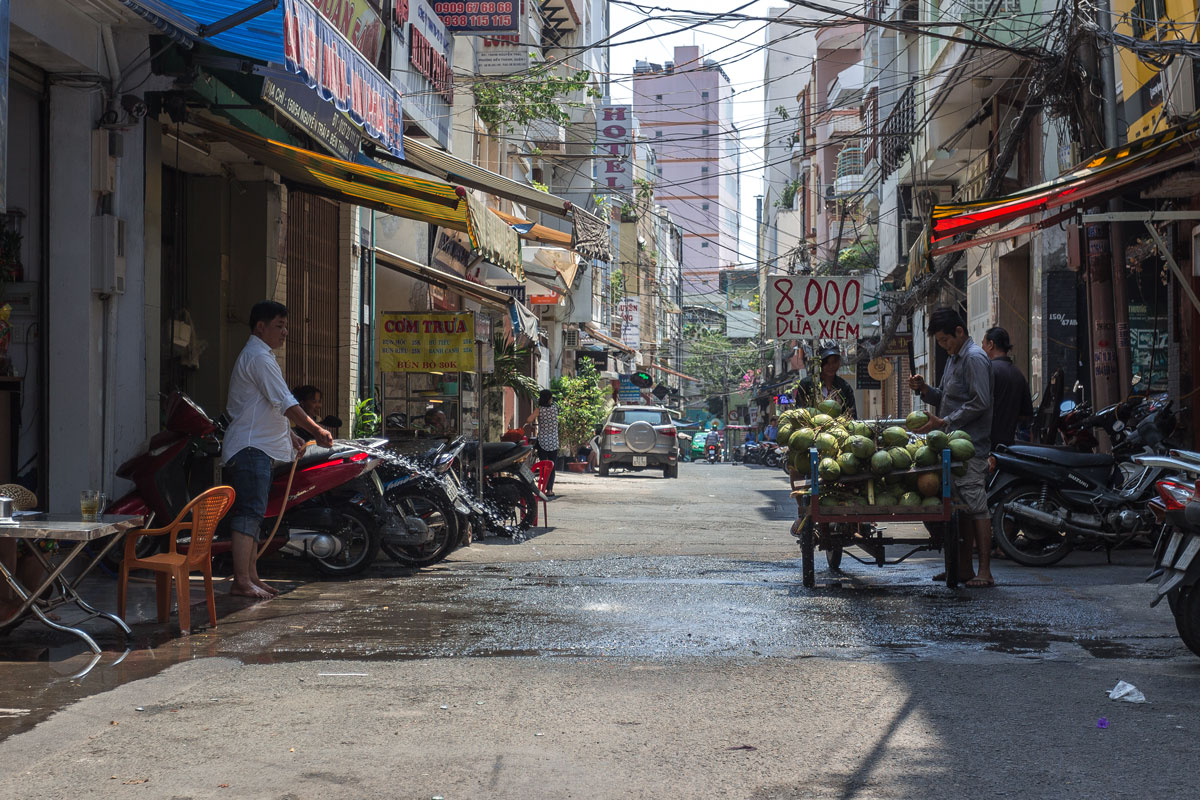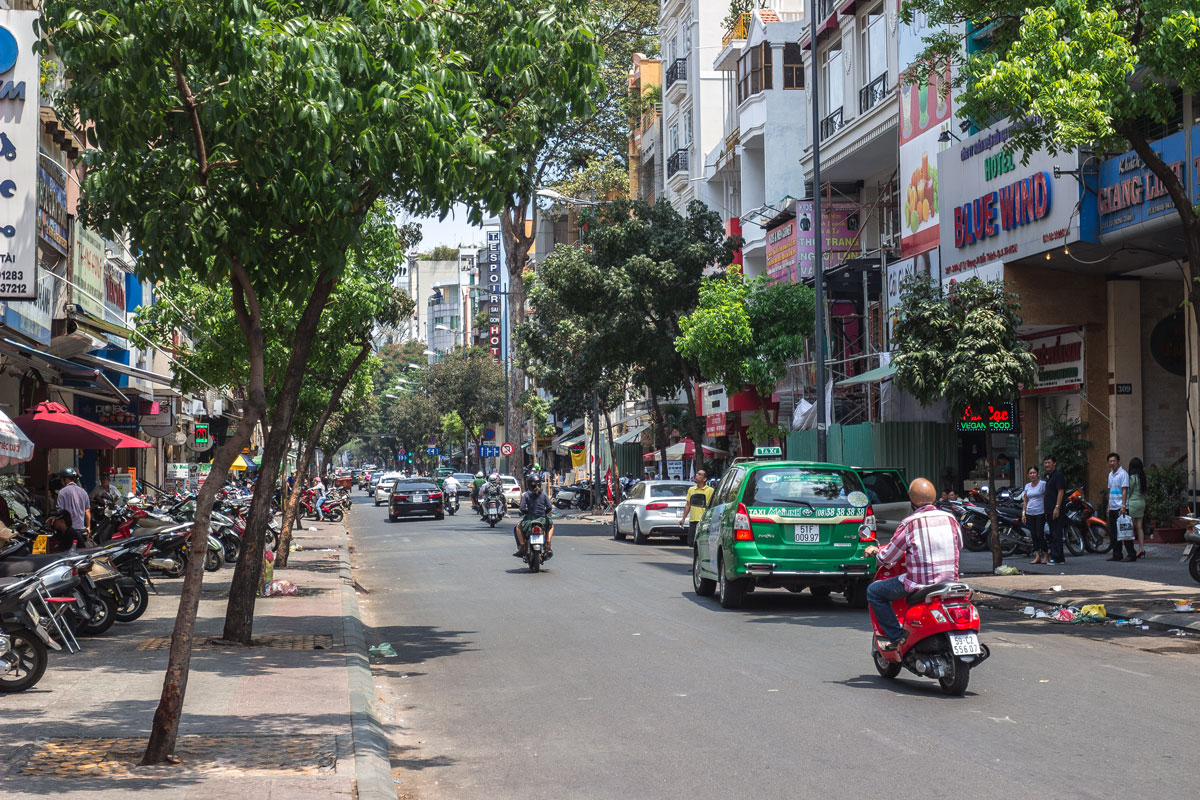 Here, too, everything is cluttered with advertisements, but even the poorer neighborhoods of Ho Chi Minh City cannot be compared to the best places in Hanoi! If this were North Vietnam, the advertisements would be hanging right over the French facades in the city center. But in the south, the center is beautifully preserved, and all the advertisements hang where they should — in cheap tourist areas on shabby establishments.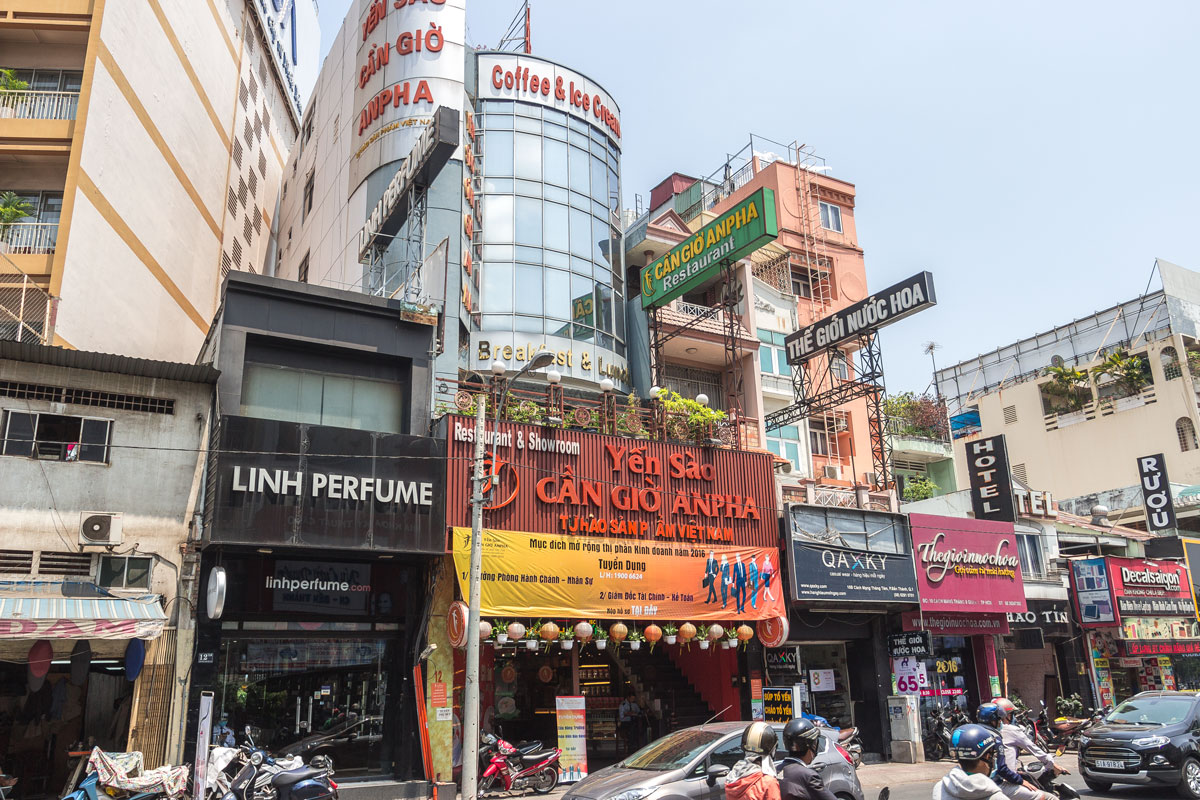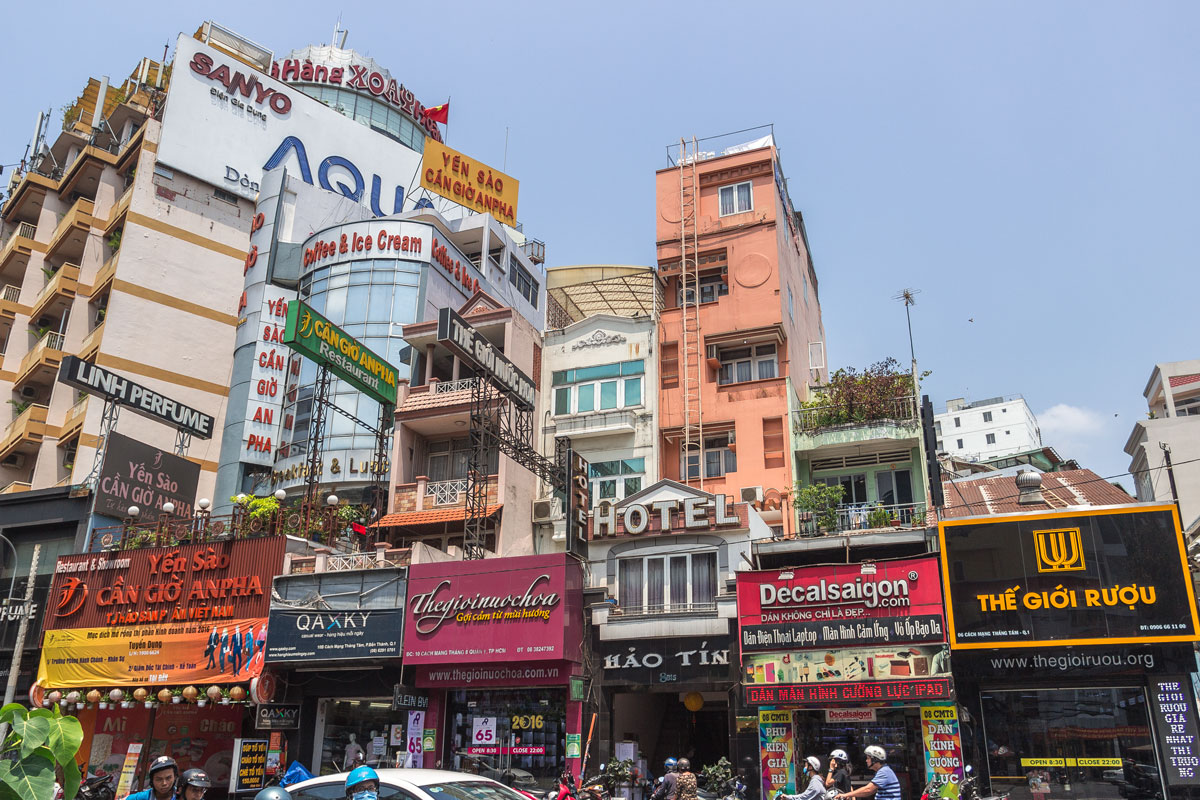 And of course, Vietnam wouldn't be Vietnam without a tangle of wires on the poles and crowds of motorcyclists. By the way, motorcyclists here hardly ride on sidewalks, unlike in Hanoi. They are all well-behaved.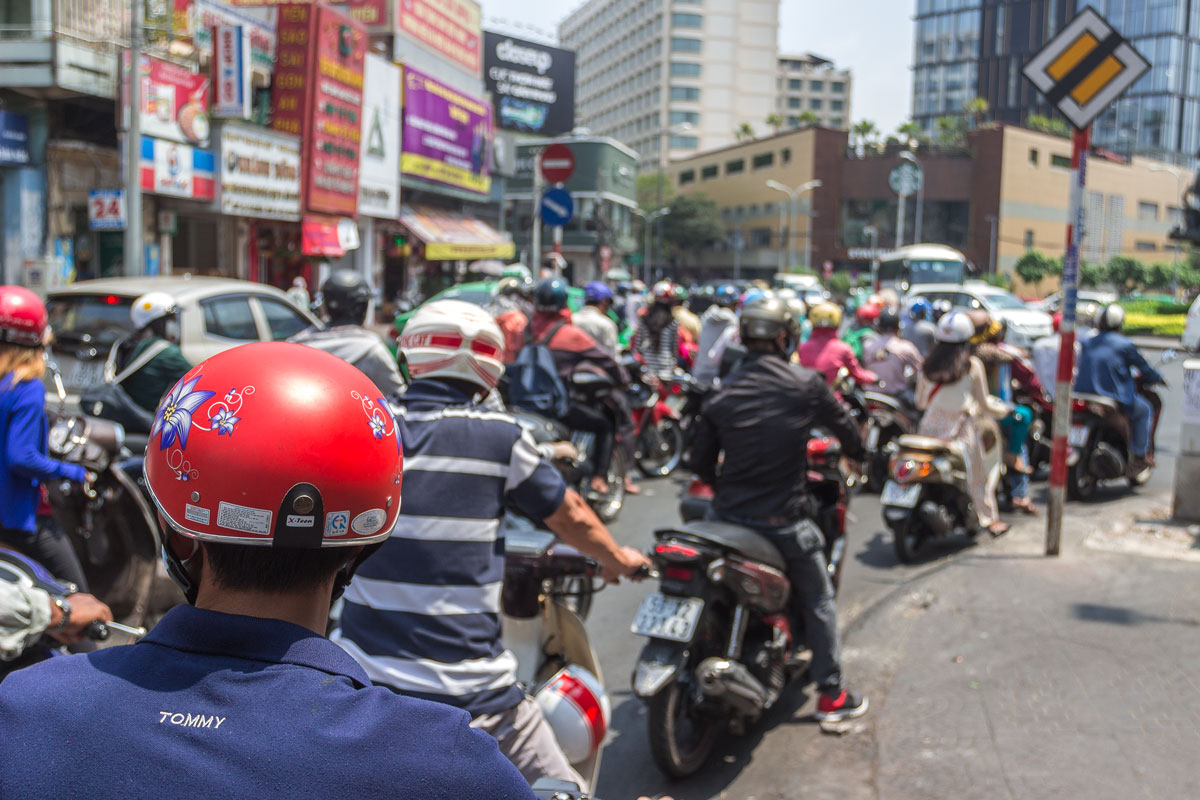 What can I say... I was expecting ruins and theft in Saigon. I read all sorts of nonsense. I even planned how to secure the camera on my body so that it couldn't be taken away. When I arrived and saw the skyscrapers, I couldn't understand for a long time if I had actually ended up in the right place.
Well, is everything so good in Ho Chi Minh City? Is there no trace left of old Vietnam? Okay, a spoonful of tar has still been found. There are real slums in the city, even more slum-like than in Hanoi.
They are very difficult to find if you don't specifically search for them. A tourist will never stumble upon these places in their life. The slums of Saigon are neatly hidden behind high-rises. I found them in some study on social issues in Asian countries. I walk around the city with a special map, and still, I see nothing. Only later did I realize that I need to cross the river via a bridge at the tricky junction it forms.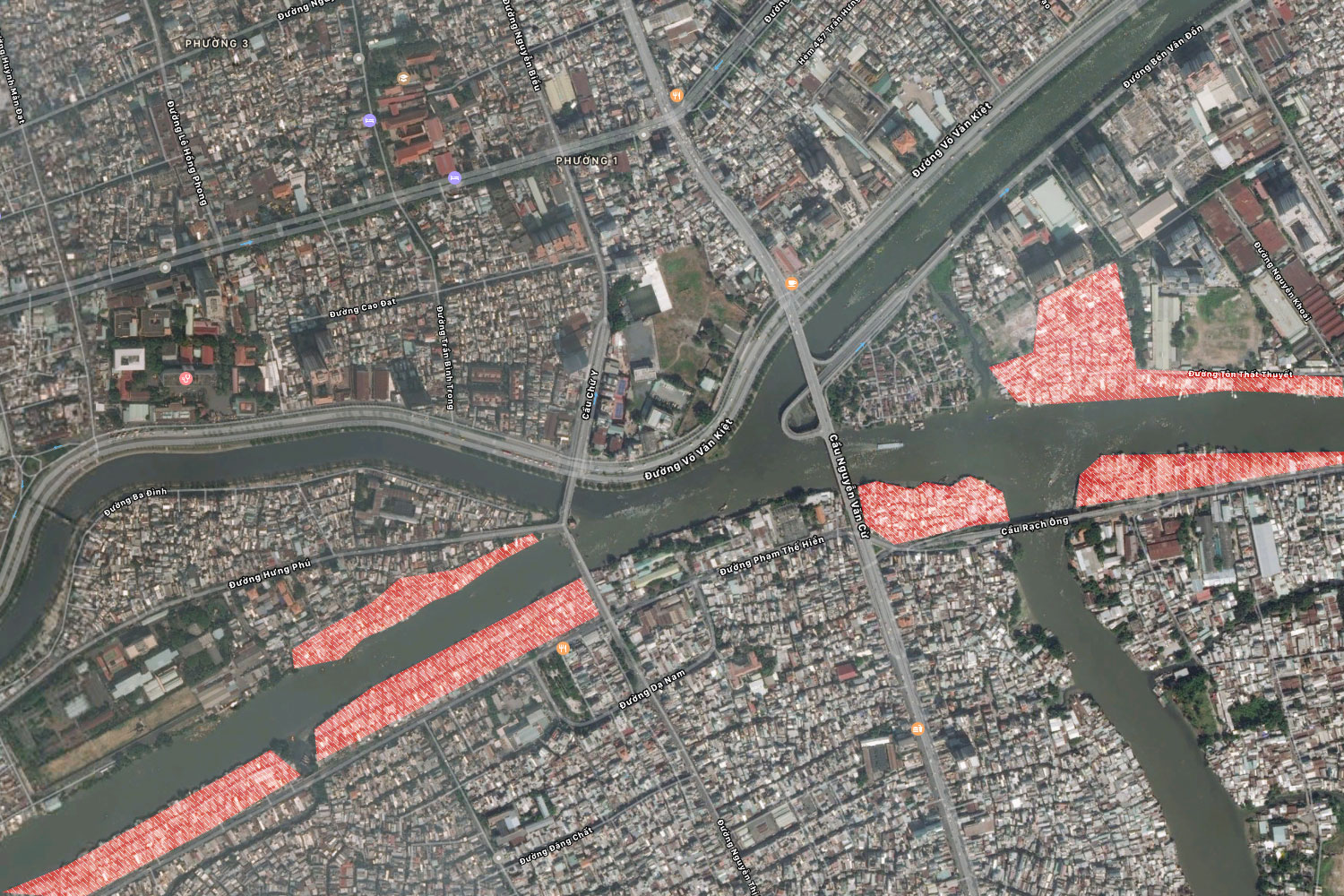 And right along the second riverbed is where these thickets lie.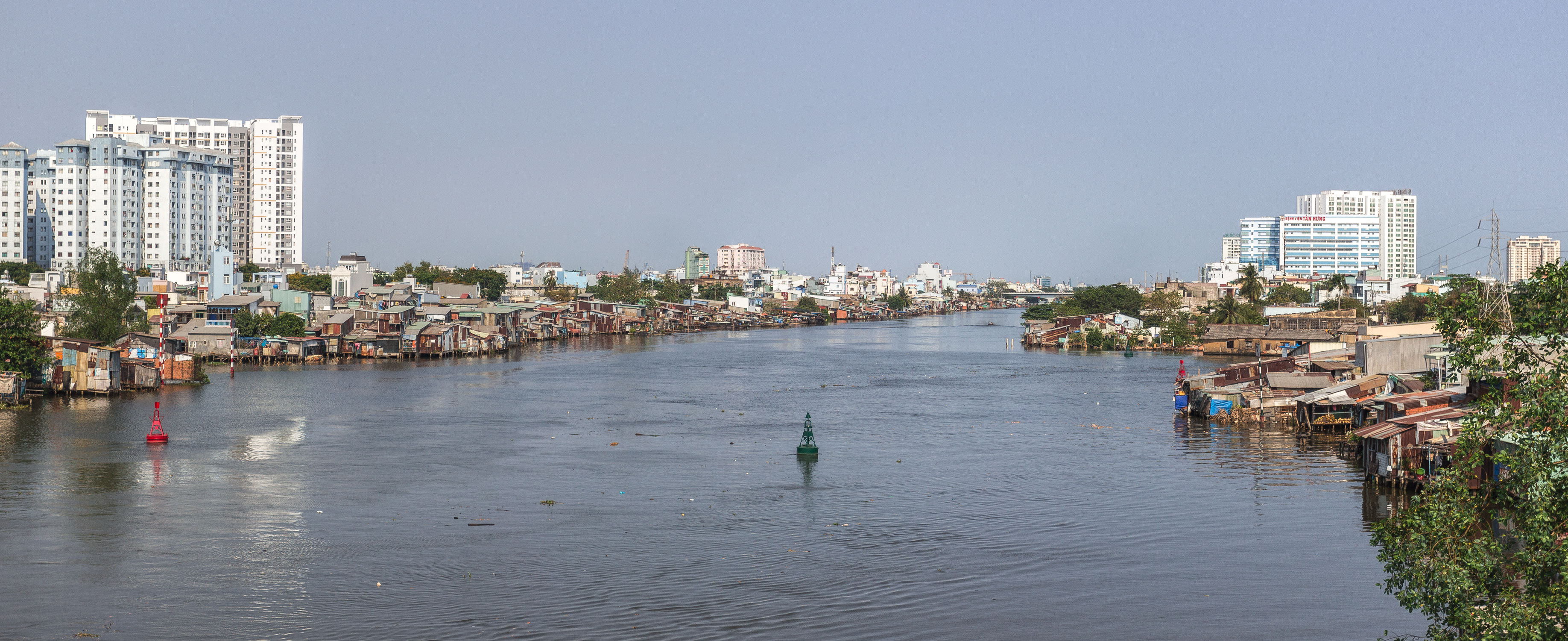 Here they are, my precious. The genuine slums.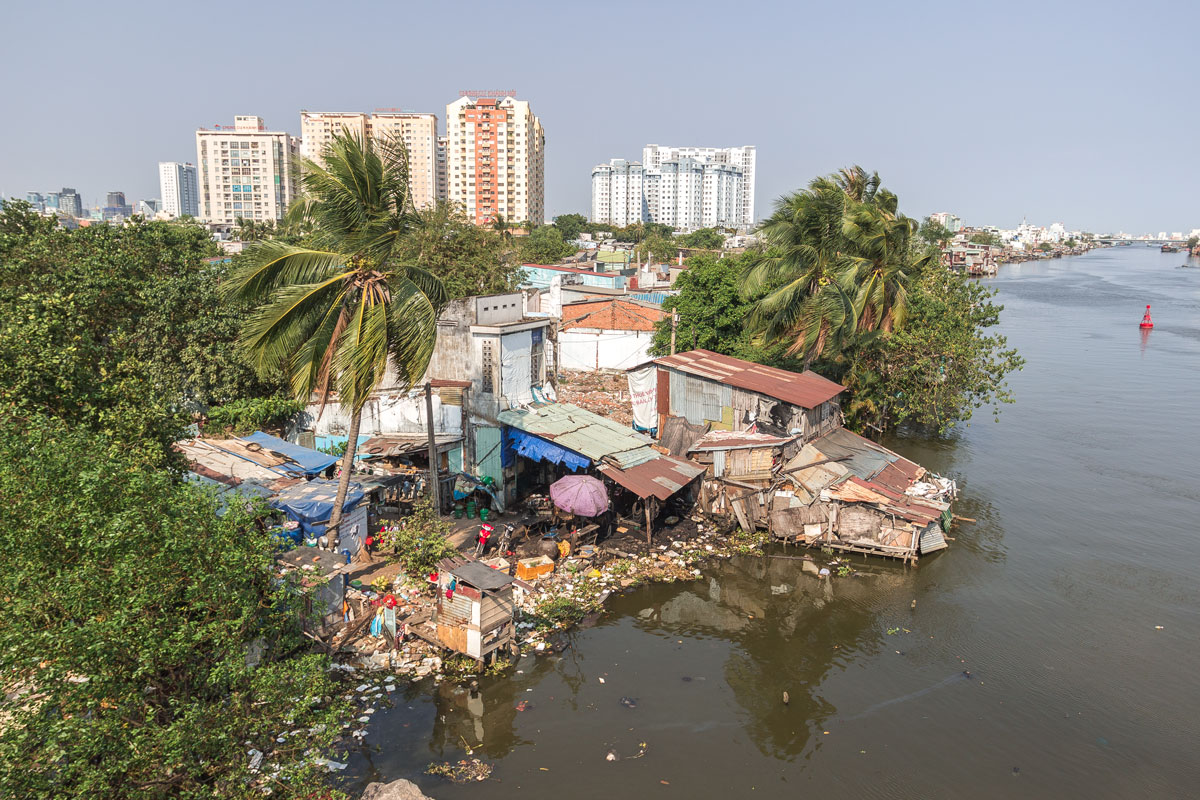 Just like in Africa.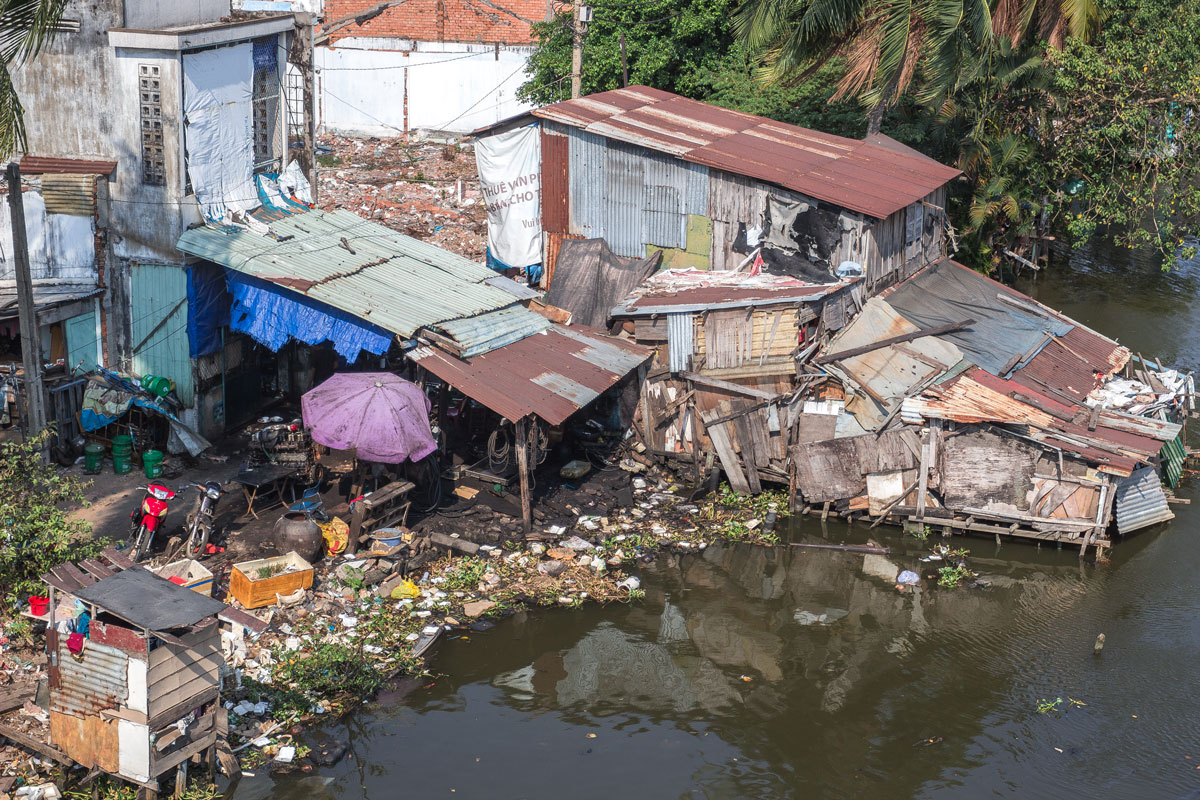 The poorest self-built houses. Slums are not just poor neighborhoods; they are independent settlements without infrastructure and population records.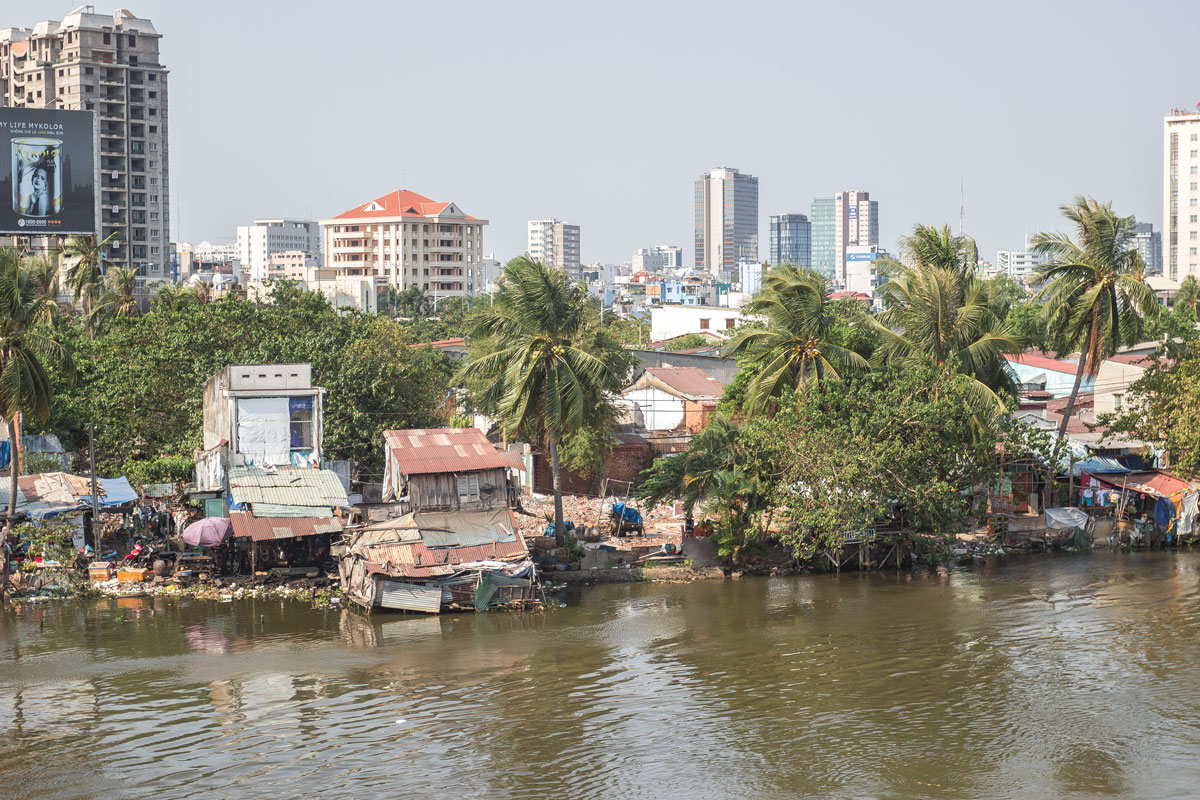 In the background, there are new residential buildings, and there is still a lot of construction going on around. The authorities say they are actively addressing the slum issue. Perhaps they will relocate poor Vietnamese people to these new developments.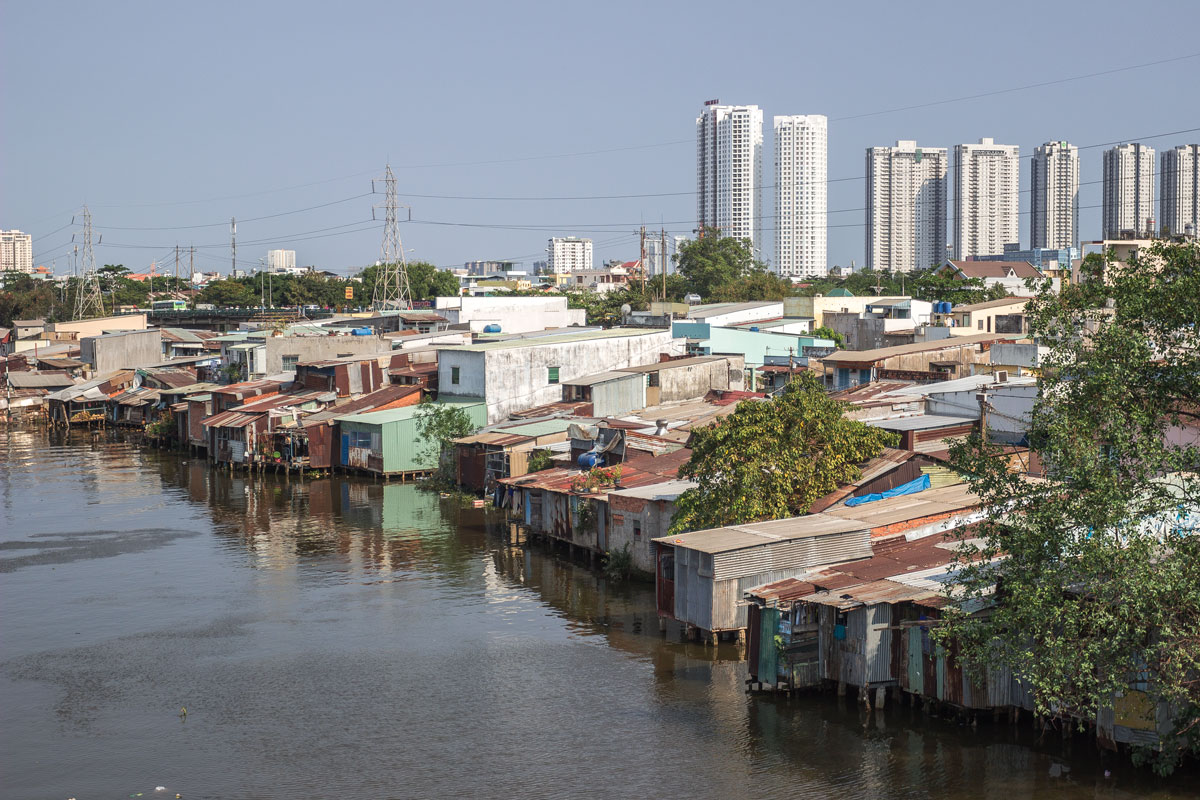 Inside the slums, it's not that bad. It's poor, but much better than Bangladesh.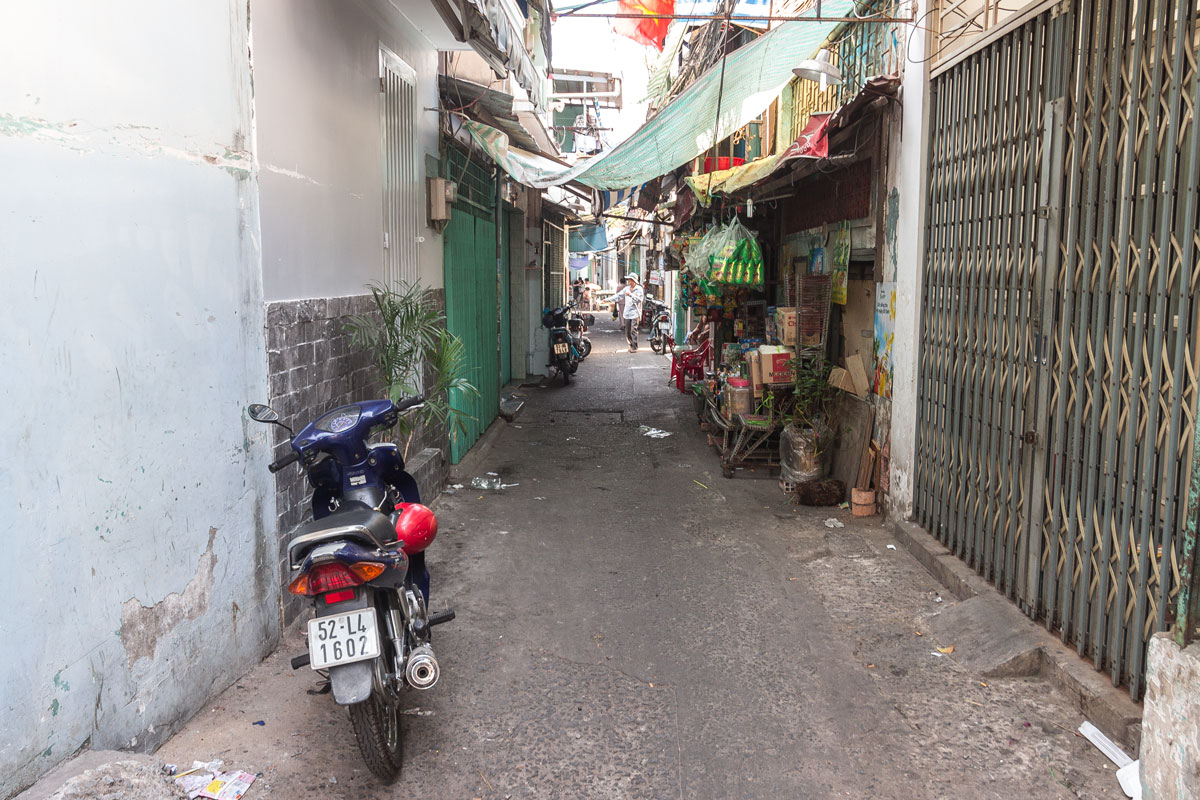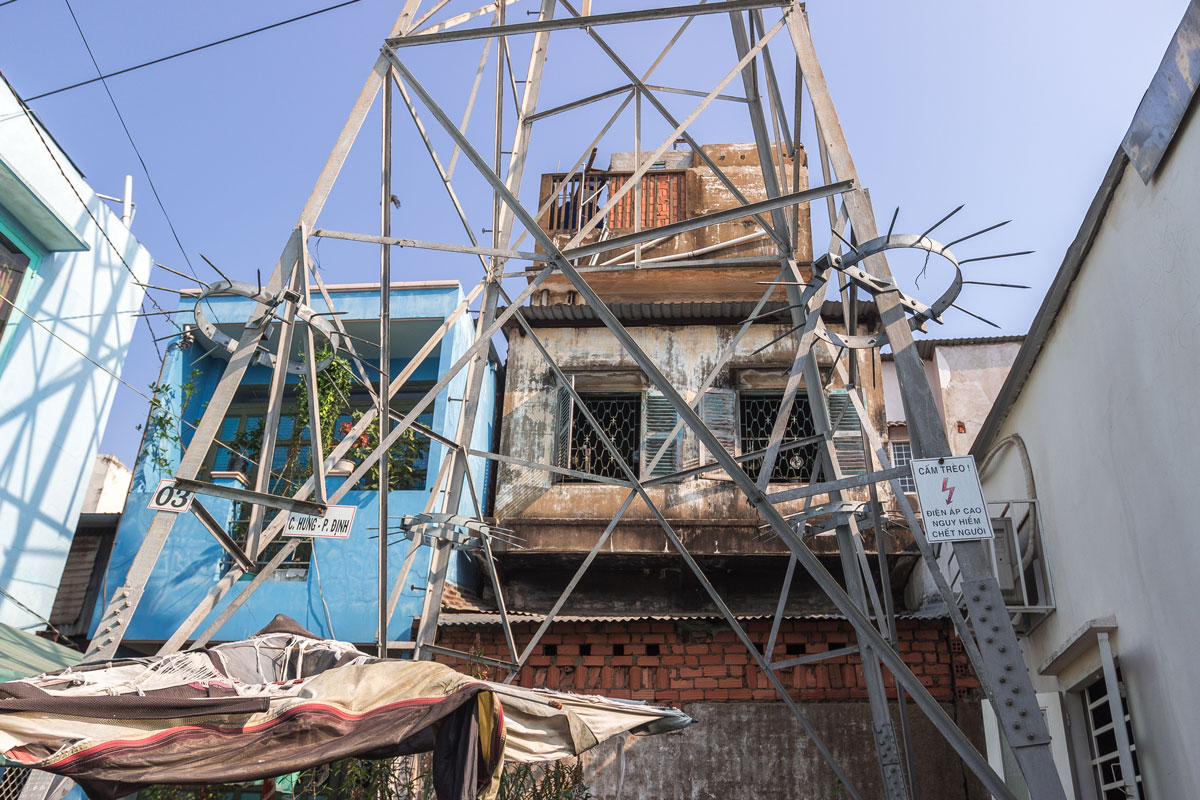 It's livable.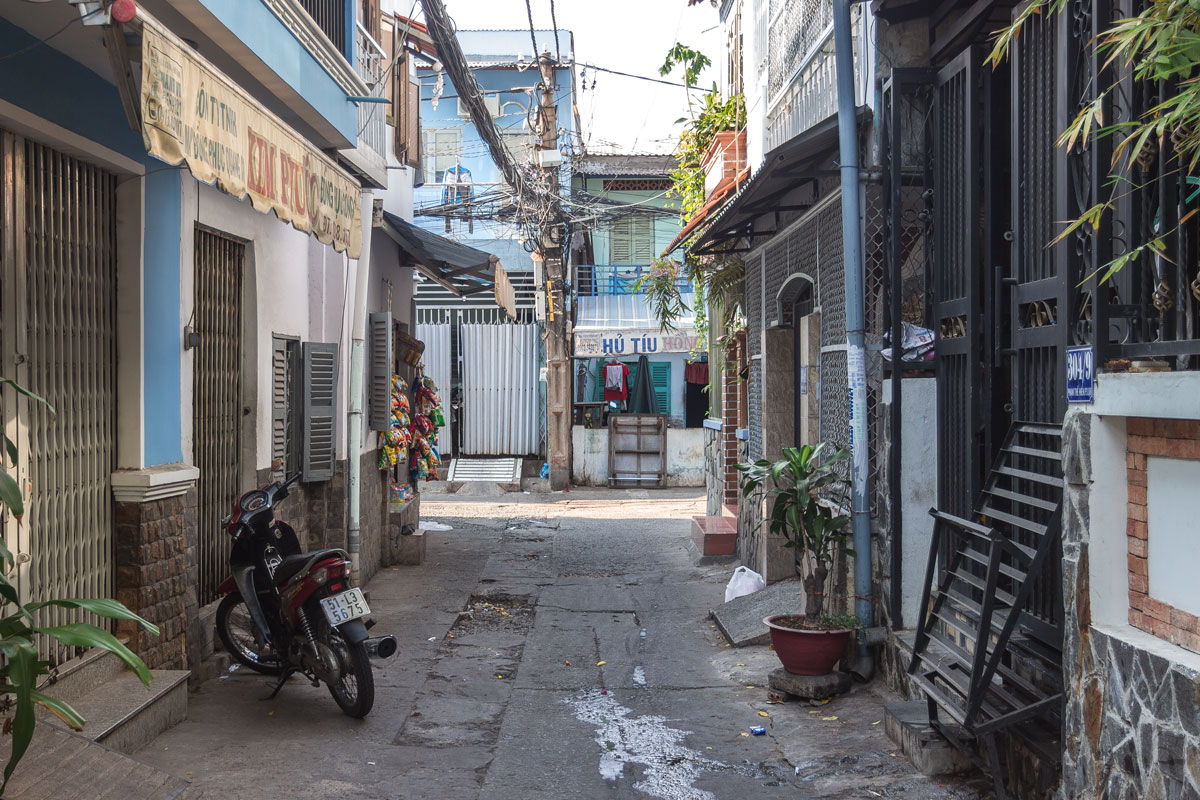 The local corner boys drinking beer.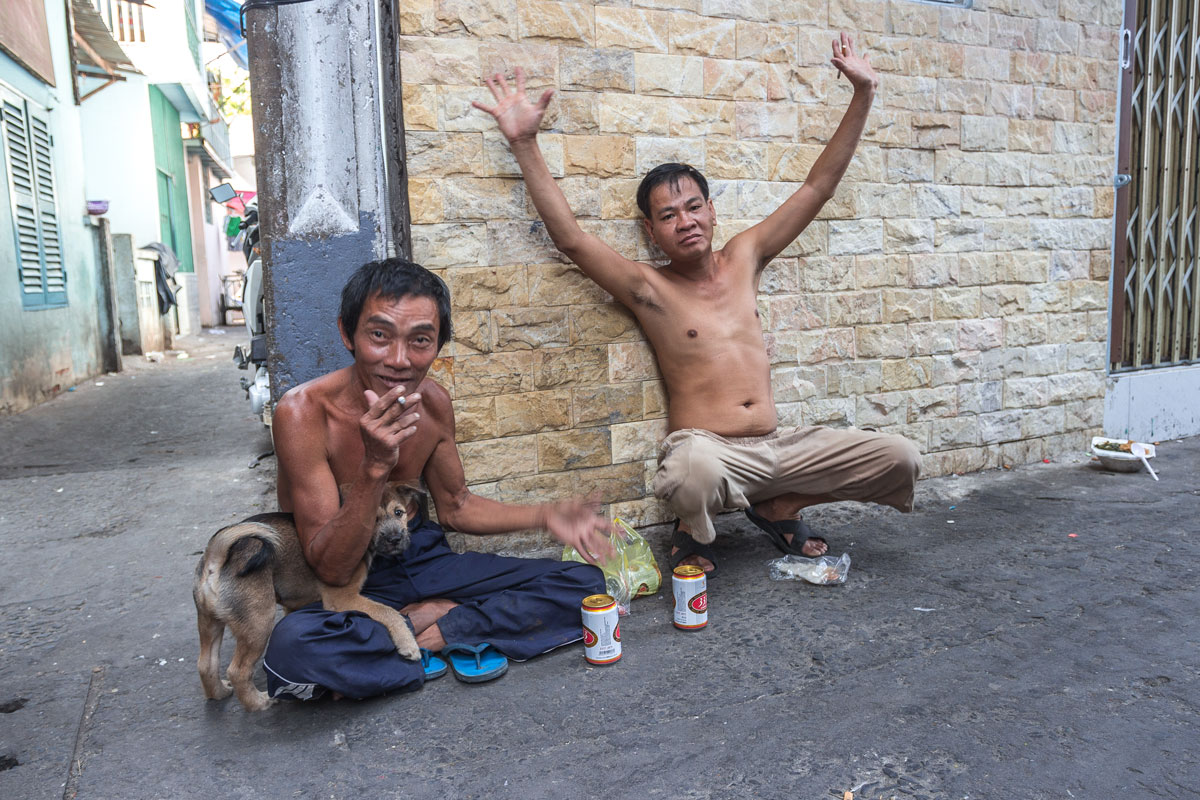 Once again, I am convinced that the most kind and open people live in the slums. They have nothing but a small fragile house and a plate of rice for lunch. Yet, when they meet a foreigner, they smile, approach the camera, and invite them to visit their home.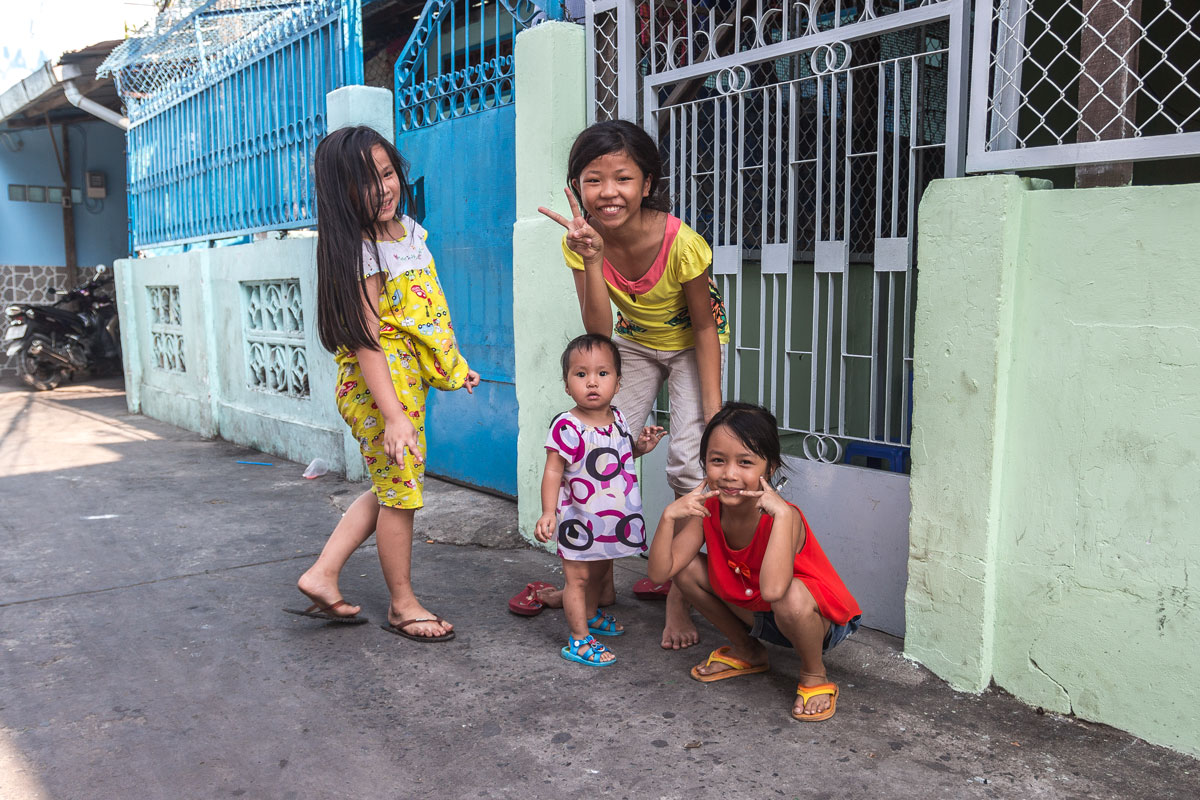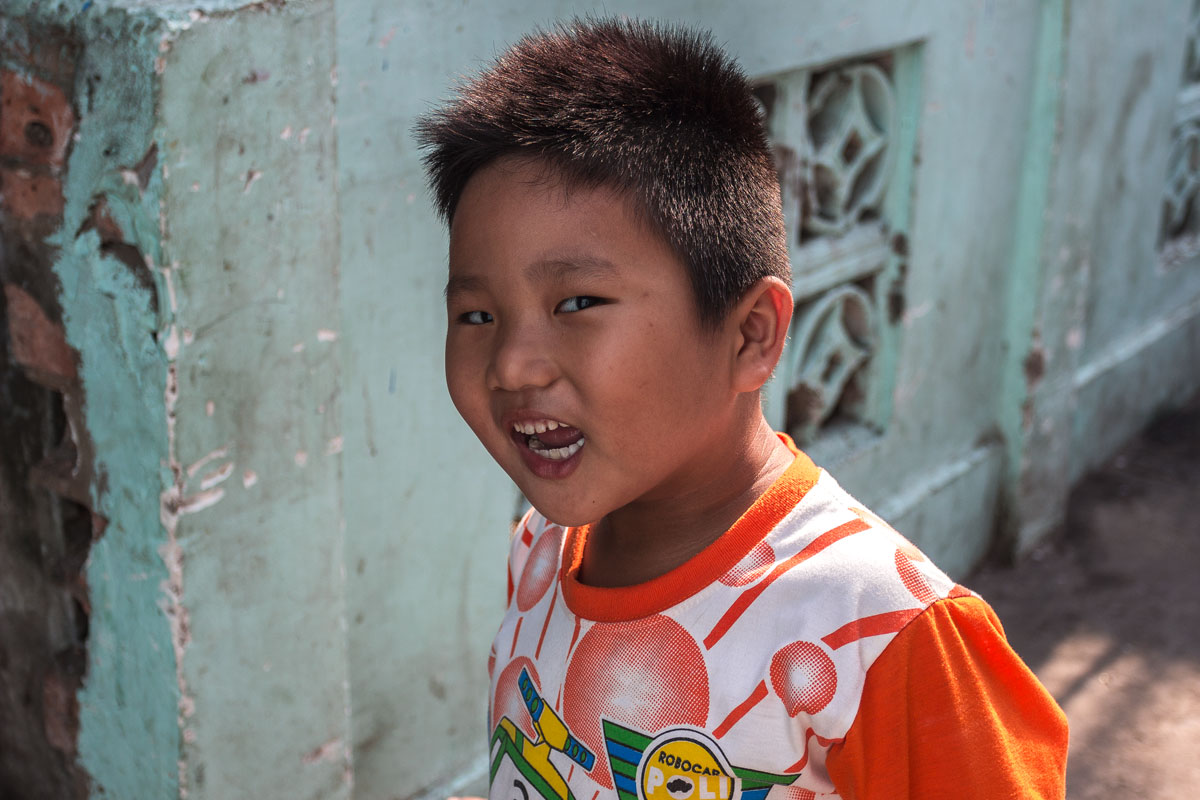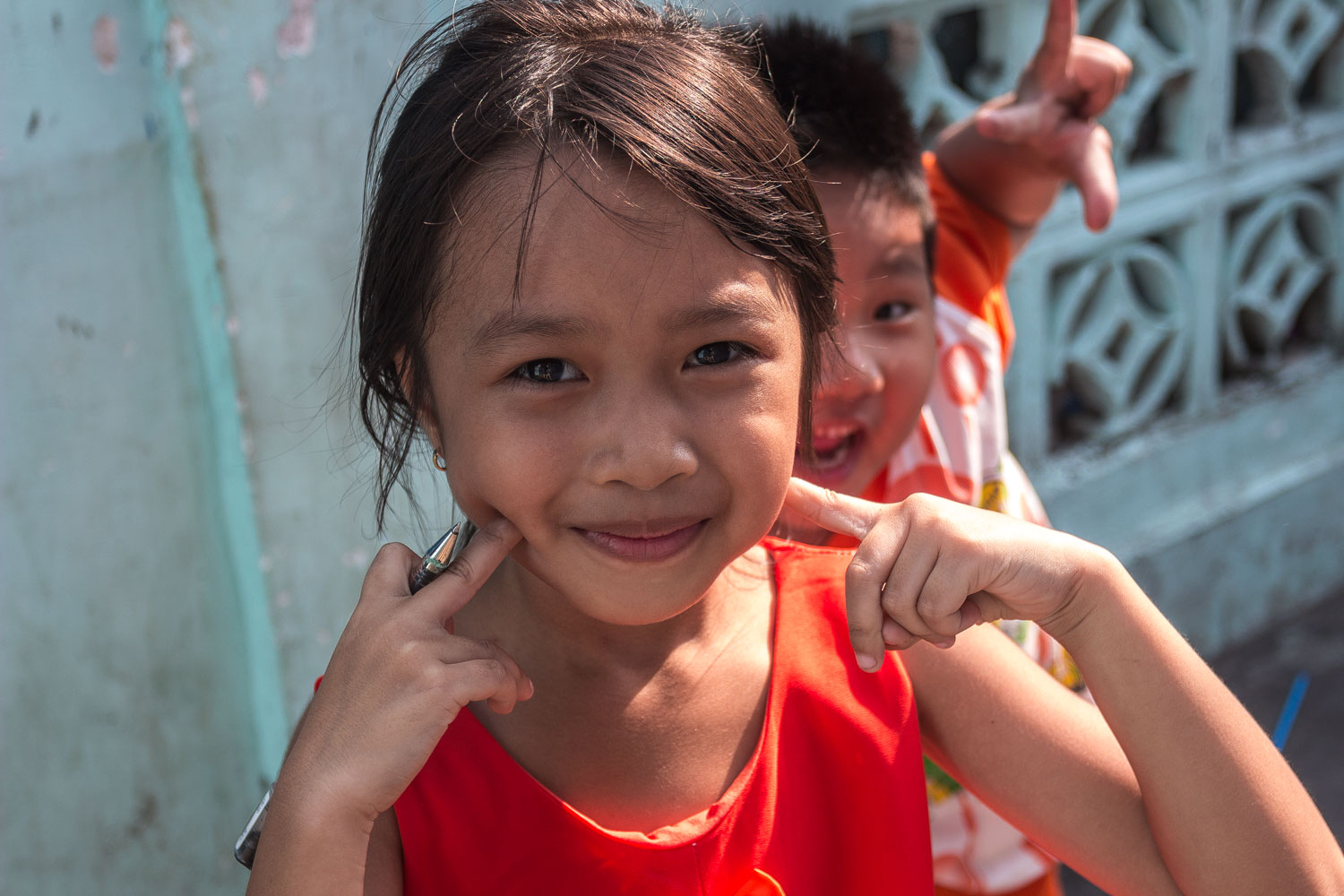 How can one fear them after experiencing such kindness?
They say, though, that in Latin America, things are completely different, and one can be shot in the slums. I don't know. Maybe there are some distorted slums there. I will check someday. But for now, let's go to Cambodia.